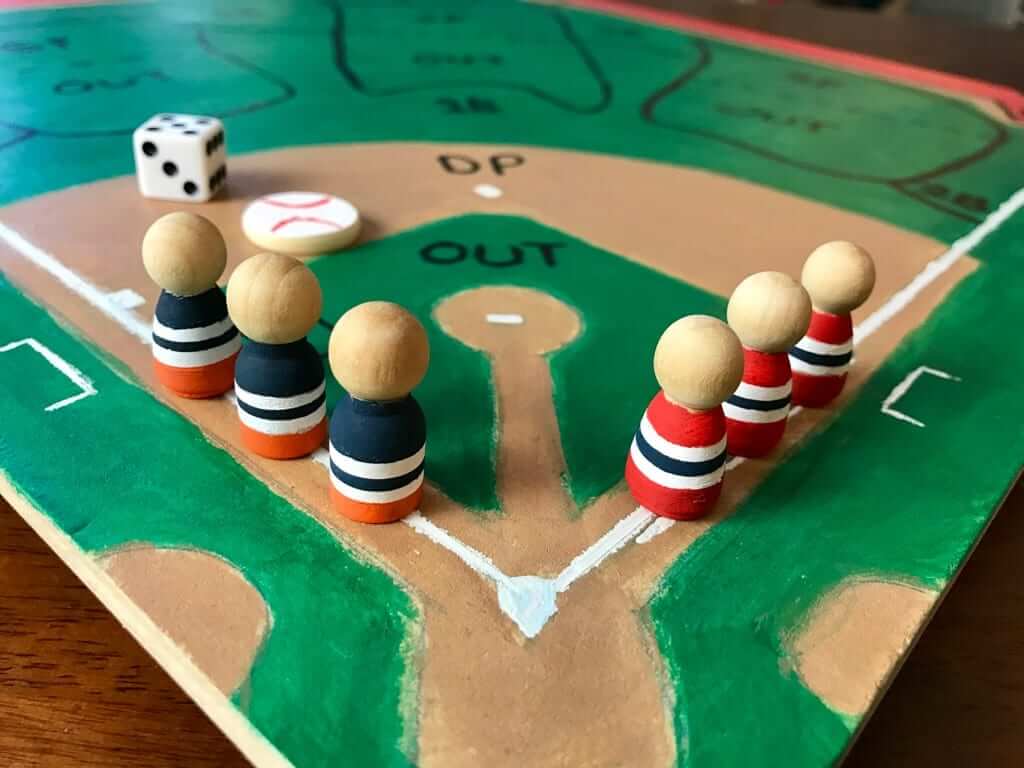 For most of today's photos, you can click to enlarge
[Editor's Note: Today we have a guest entry from Jeff Callahan, who's come up with a great DIY project. Enjoy. — PL]
By Jeff Callahan
I've always loved ballparks, and I recently built one of my own — sort of. It's a tabletop baseball game that's similar to the classic paper football game where you nudge the "ball" across the board.
The basic premise is that you flick a wooden puck (the ball) across the board, which has regions designated for outs, double plays, sacrifice flies, singles, doubles, triples, and home runs. There's also a die, which can be rolled head-to-head with your opponent for stolen bases. To give you an idea of how it works, here's a short video of me "hitting" a home run:
Hitting a HR in the #tabletop #baseball game I created! #boardgames #creative pic.twitter.com/AwPkClLaJn

— Jeff Callahan (@thejeffcallahan) January 24, 2017
I first got the idea for this game in 2003, while sitting in algebra class. I created that first "ballpark" out of a piece of notebook paper, and I've developed the idea further since then. Unfortunately, I no longer have that original piece of notebook paper, but I do my first prototype board, from 2015, which I made using Pages for Mac (and probably most of the ink in our printer):
That was a decent starting point, but I wanted more. Initially, I wanted to use a fancy wood, like mahogany or cedar, to create a new game board. But my wife, who's an artist who works with wood, recommended that I choose a wood that's easy to manage and carry around with minimal alterations, so I went with particle board. I asked an employee at Home Depot to cut it to size.
Once I had my piece of wood, I began marking it up to create the game board. I love stadiums that have odd dimensions, so I included as much variety with the outfield dimensions as I could while keeping it fun to play:
If you look closely, you'll see lots of small blue dots scattered across the layout. That's because I "batted" and recorded over 100 hits to make sure the hit-to-out ratio was reasonable.
The next steps were to apply the first coat of acrylic paint, and to use masking tape to help apply the foul lines:
Then I added a second coat and a matte finish, and boom — I had a stadium.
Now that I had a ballpark, I needed players to play in it. In the early days, we used Clue game pieces. But it didn't feel right having Colonel Mustard stealing third when he was supposed be murdering Mr. Boddy, so I decided to create my own players.
I purchased blank game pieces from a craft store and thought about how to paint them. I knew I wanted the players to reflect the uniform element I love most: the socks. I'm a St. Louis Cardinals fan, so I designed one team with a stripe pattern based on the Redbirds' classic socks and stirrups:
For the second team, I used a navy/orange color scheme. I've always loved how teams like the Tigers and Colt .45s have looked when wearing those colors on the field.
Getting the stripe pattern on these small pieces was difficult. I used electrical tape, which worked really well.
Final step was to paint the wooden puck/ball to look like a baseball. With that step completed, I was ready to play ball.
Now that this game is complete, I've started on a new project. Can you guess what it is? Here's a hint:
———
Paul here. Let's have a standing O for Jeff and his awesome project. Thanks so much for sharing it with us, Jeff.
•  •  •  •  •
The Ticker
By Paul

'Skins Watch: Cleveland will reportedly be the host city for the 2019 MLB All-Star Game. It'll be interesting to see how much, if at all, Wahoo is used in the game's promotional graphics. Looking back at previous ASGs played in Cleveland, the 1997 logo was Wahoo-free, but the 1981 logo included Wahoo. The press pin for the 1963 game included Wahoo, as did the pin in 1954. (Logos notwithstanding, Cleveland sure has hosted the game a lot of times!) … More on the Wahoo/All-Star connection in this good analysis piece (from reader/commenter Andrew). … The 2018 U.S. Open golf tournament will take place at Shinnecock Hills on Long Island, which is promoting the event with, among other things, this cap (from drewizz, who didn't give his real name).

Baseball News: LSU will retire Todd Walker's No. 12 on April 14. … Whoa, check this out: Willie Mays in a circa-1980 Giants pullover jersey, which he never wore on the field (from Ferdinand Cesarano). … Here's the first thing I've heard or seen about new Spring Training caps. Isn't the Reds version the same as last year? (From Andrew J.) … Longtime Uni Watch reader/contributor Cort McMurray has written a piece about which Astros cap Jeff Bagwell should wear on his Hall of Fame plaque. … The Indians are giving away a bobblehead during spring training featuring uniform that's no longer part of the team's wardrobe (from Robert Hayes). … At the end of yesterday's lede, I showed a photo of Mary Tyler Moore wearing a Twins jersey and toss her cap in the air while making an appearance to throw out the first pitch. Turns out the back of that jersey had a "Moore" NOB and an American flag patch. … Yesterday's entry included a mention of how the Brewers used to bring relief pitchers to the mound on a Harley-Davidson motorcycle. While trying to find a photo of that, Paul Deaver found two shots of the Braves using a Harley scooter in 1959. Look here and here. … This seems odd: Former UNC baseball player Dustin Ackely had his number retired last night — at a UNC basketball game. "As far as I can tell, that's not a jersey style he ever wore at UNC," adds James Gilbert.

NFL News: Should've seen this one coming: It appears that the Pro Bowl will have a Color Rash theme (from Wyatt Beltz). … The Maryland Transit Authority has unveiled some buses with Joe Flacco wraps. Note the absense of the NFL and Nike logos (from Kevin Beebe). … Former Eagles RB Brian Westbrook says he didn't like the blue/yellow throwbacks that the team wore in 2007 (thanks, Phil). … Packers RB Ty Montgomery, who was originally signed as a receiver and continued wearing No. 88 after moving to the backfield, will get a new number next season. … Kit Kat, the chocolate bar, produced a promotional Marcellus Bennett jersey with a misspelled NOB (from Chris Flinn). … I talked on a Vermont radio station yesterday about the Super Bowl uniforms and the Celtics' advertising patch. You can access the audio here. … Here's a close-up of the Super Bowl LI patch on a Pats jersey (from Moe Khan).

College Football News: The Senior Bowl has some seriously ugly neon practice jerseys. … "I received my 2017 Syracuse Football schedule email this morning and immediately noticed the different jersey," says Brandon Munger. "The 'skyscraper' number font seems to have been replaced with something much better and the number is outlined in (hopefully) white. I don't know if these changes are for real, but one can hope!"

Hockey News: Fans attending "watch party" for last night's Blues game got these team logo socks (from Stan Capp). … A Connecticut legislator has proposed a Hartford Whalers logo license plate. Kinda surprised that wasn't already available (from @LouiseBrooksFC). … Tragically Hip-themed jerseys tomorrow night for the OHL's Kingston Frontenacs. … Here's a shot of a 19-year-old Wayne Gretzky playing baseball while wearing nothing but sneakers and short-shorts (from @PleatedFront). … Brad Marchand of the Bruins wore former teammate Milan Lucic's gloves last night. Here's Marchand from last night, here's an old shot of Lucic, and here are the two gloves side by side (from Peter Fahey). … Also, as you can see in that previous photo of Marchand, he appears to have his sleeves tailored extra-short (from Shane Bua). … The Erie Otters will wear these jerseys for "Guns and Hoses Night," which will benefit local police and firefighters.

NBA News: The 76ers will wear these Chinese New Year shooting shirts prior to tonight's game against the Rockets. Houston will wear the same New Year's uniforms we've seen them wear in the past. … NBA coaches wore bow ties last night, in memory of former NBA Coaches Association head Michael Goldberg, who passed away earlier this week (from Zachary Loesl).

College Hoops News: Duke head coach Mike Krzyzewski, upset with his team after a loss to NC State, has banned his players from wearing Duke apparel on campus (from Brinke). … The Colorado coaching staff wore sneakers for Coaches vs. Cancer last night. Note the ref's pink whistle, too (from Andrew Wharton).

Soccer News: Info on Tottenham's 2017-18 kit has leaked. The big news is confirmation of the rumored change from Under Armour to Nike (from John Muir).

Grab Bag: F1 driver Lewis Hamilton has challenged fans to design his new helmet. … New hat for golfer Dustin Johnson. … New 150th-anniversary logo for the province of Ontario. "What makes it especially grotesque is that it cost the taxpayers of my province $30,000 to create this piece of crap!" says a disgruntled Sandy Dardick.
•  •  •  •  •
QBC reminder: I'll be chairing the Mets uniform panel at tomorrow's Queens Baseball Convention. Panelists include Phil, Todd Radom, and other stars. Tix available here. Hope to see you there.