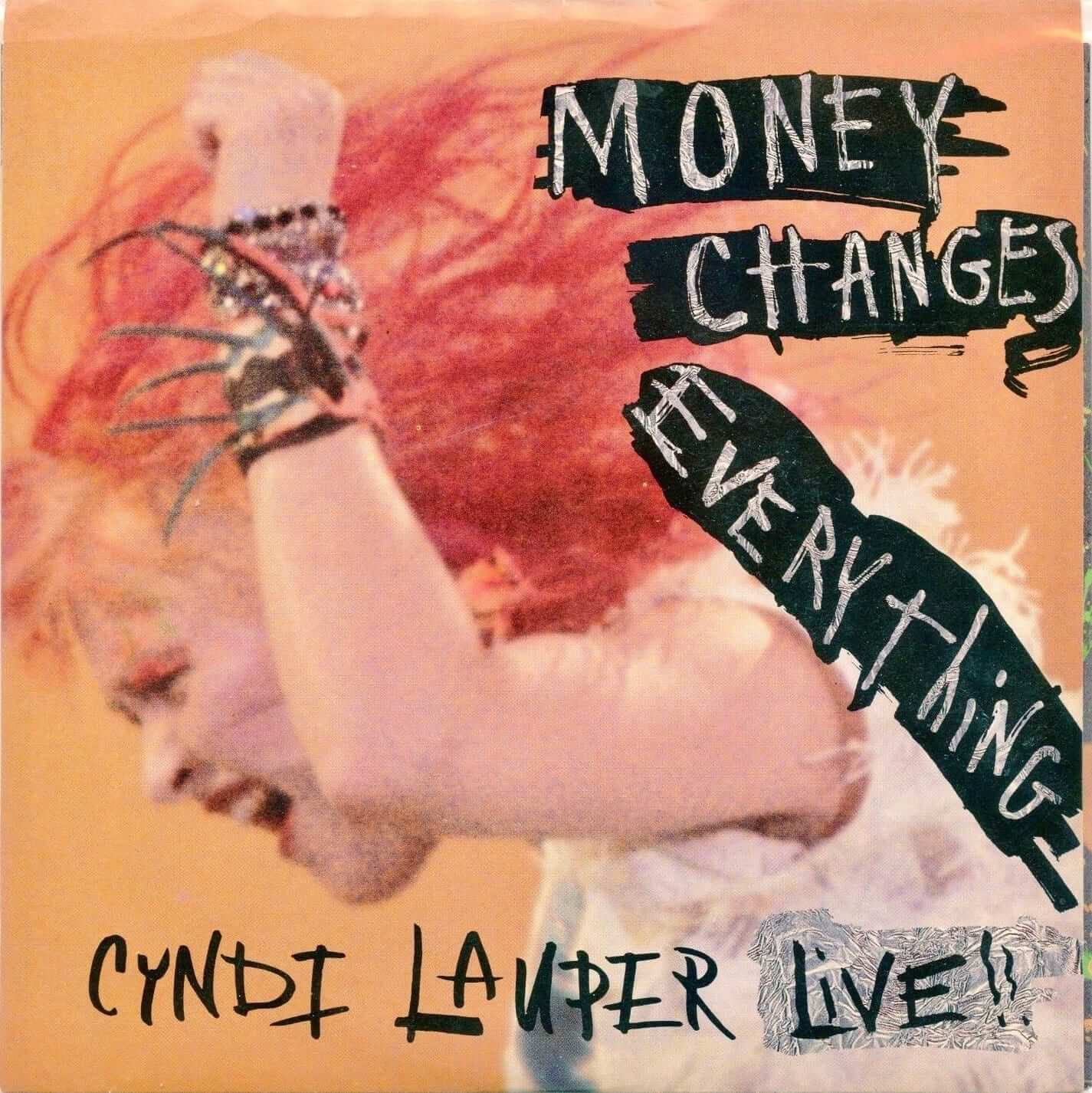 I've never been a huge Cyndi Lauper fan, but she was certainly right 35 years ago when she sang, "Money changes everything."
That's the biggest lesson of the past week, during which a great many of you have shared your thoughts about my plan, announced last week, to move Uni Watch to a paid subscription model.
Several hundred of you have expressed your thoughts on the matter — some in the site's comments and some in private emails to me. Some of those responses were incredibly positive (seriously, I was blown away by all the people who basically said, "Ready to subscribe — where do I sign?"), and others were just as strongly negative. Many were lengthy and thoughtful. I appreciate all of them, really.
Some of the feedback reaffirmed things I already knew (such as the fact that a lot of people really, really don't like paying for internet content). But I also learned a lot. For example:
• The pricing system I suggested in last month's announcement — $5 to $10 a month, with a discount for an annual subscription — was too high. Honestly, I was just winging it when I suggested that price range, but it's now clear to me that a better price would be something like $3.99/month, or $29.99/year.
• My timing was poor. As I mentioned in last week's announcement, we're planning a site redesign that will hopefully be an improvement over the current site, so it would have been better to launch the redesign and let you see the improvements before announcing the subscription plan.
• I heard from a surprising number of senior citizen readers who said they live on fixed incomes and can't afford to pay. That was a humbling discovery — I didn't realize we had so many readers in that category. (I also heard from a lot of teen-aged readers, but I expected that.)
• I already knew that we have a lot of readers who come to Uni Watch because of me (i.e., people who like my voice, agree with a lot of my positions, enjoy the non-uni content like "Culinary Corner" and the travelogues, etc.) and others who come here in spite of me (i.e., people who don't much care for me but put up with me because they enjoy the uniform coverage, or who just hate-read the site for some perverse reason I'll never fully understand). What I was really struck by, though, were the responses from the many people who fall in between — readers who don't feel strongly about me one way or the other but enjoy Uni Watch as a place to hang out with other people Get It™. Most of those readers seemed really disappointed by the subscription announcement. They value the sense of community around Uni Watch, and they felt that the subscription plan amounted to an anti-communitarian move. One reader went so far as to say, "I feel like a piece of me died today." Wow.
• The idea of a paywall seemed to shift lots of people into a transactional frame of mind: "If you want me to pay, I expect you to do this, you better stop doing this, and you'd better change this," and so on. I found myself slipping into that transactional mode as well, and I really didn't like that. I want Uni Watch to always be something I do because I want to, not because I have to or because someone expects something of me. Otherwise it isn't worth it.
With all of these things in mind — and, quite frankly, after several sleepless nights (which were at least as hard on the Tugboat Captain as they were on me) — I've decided not to implement the subscription plan after all. The site will still get a makeover this spring, but it will remain freely available to all, at least for the foreseeable future.
This means, unfortunately, that the site will still have lots of ads. In fact, it will likely soon have more ads, because our current revenue model isn't working (for reasons I spelled out last week), so we'll need to embed more ad units to help pick up the slack. And as for my complicity in the journalism industry's self-destructive content giveaway, well, I guess I won't be single-handedly saving the industry after all, at least not today.
I'm not happy about any of that. But I also wasn't happy about the idea of students and senior citizens not being able to afford the site, or about doing something that many readers perceived as being anti-communitarian, or about slipping into a transactional mindset. There's no perfect solution, but I've decided that keeping the site freely available is the least imperfect option, or the option I'm least uncomfortable with, or something like that.
However: We will likely set up some sort of system in which readers can support the site monetarily if they choose. It might be via Patreon, or via some other method. Participation will be voluntary, but supporters will get some sort of bonus — an ad-free site experience, perhaps, or access to a new message board section of the site, or a newsletter, or something along those lines. Still figuring out that part. But I will definitely be asking for your support, because getting by entirely on ads isn't going to cut it anymore.
This means people who are willing to provide that support will be subsidizing those who can't or won't. I'm not nuts about that either, but again, there's no perfect solution here. In the meantime: Please consider ordering a custom-designed membership card, or buying a T-shirt or mug — the site could use your support.
Okay, now let's shift into FAQ mode:
Ha — you caved!
I really hate the rise of the term "caved." It implies that anyone who changes their mind is exhibiting weakness, which is a pathetic way of looking at the world. The reality is that changing your mind often entails a lot of thoughtful consideration, acknowledging and learning from mistakes, listening to opposing viewpoints, and looking at the bigger picture, all of which takes a lot of strength, not weakness.
Just to be clear, I'm not saying today's announcement is an example of strength. But I assure you it isn't "caving," either.
In last week's announcement, you said you were going to reduce the level of your activity on Twitter. Now that you're not doing the paywall after all, what about Twitter?
I'll stick with my usual degree of Twitter activity, although I may be a bit more selective about tweeting or retweeting items that are going to end up in the Ticker, because people have said that the redundancy can be a drag.
Will the site continue to have travelogues, "Culinary Corner," and other non-uni content?


Yes. For better or worse (and I know there are plenty of you in each camp), the basic approach of the site's content will not be changing.
Today's entry mentioned the possibility of using Patreon. Didn't you say last week that you had problems with Patreon?

I said I had problems with the idea of some people paying while others got a free ride. And yeah, that aspect of Patreon remains problematic. But like I said earlier, there's no ideal solution, and this seems like the least imperfect solution for now. (As for Patreon itself, it seems like a fine platform, and I have no problem with it per se.)
When will the Patreon system, or other voluntary support system, be activated?
Soon after the redesigned site launches.
Will there be different levels of support, with different perks?
Probably. That sub-project is still in flux. One problem with running a daily site is that it's really hard to plan and execute big changes or new enterprises because you never get a chance to stop and catch your breath. It would be a lot easier to plan everything if we just stopped publishing for a week or two.
Is there any chance you'll do that?


I don't think so. I certainly don't want to do that. But it's possible that we might be inactive for a day or two right around the time of the re-launch. Obviously, I'll keep you posted.
You said today that you'll probably have to add more ads to the site. Will they be annoying ads, like auto-play videos and pop-ups?
I'm still going to try to avoid those. I'm also going to avoid putting ads in the middle of an article. But we will probably start having ads in between sections of a post — like, between the lede and the Ticker, or between Collector's Corner and Culinary Corner, or whatever.
I think that's it. Thanks for listening (again). I'm sure this back-and-forth on the paywall thing seems a bit ridiculous — sorry to have moved the goalposts. My apologies also to anyone who's disappointed by today's announcement. I assure you it wasn't made lightly. Finally, thanks again to everyone who provided feedback. I realize that all of the responses, pro and con, were rooted in the fact that you care about Uni Watch, and that's pretty special.
• • • • •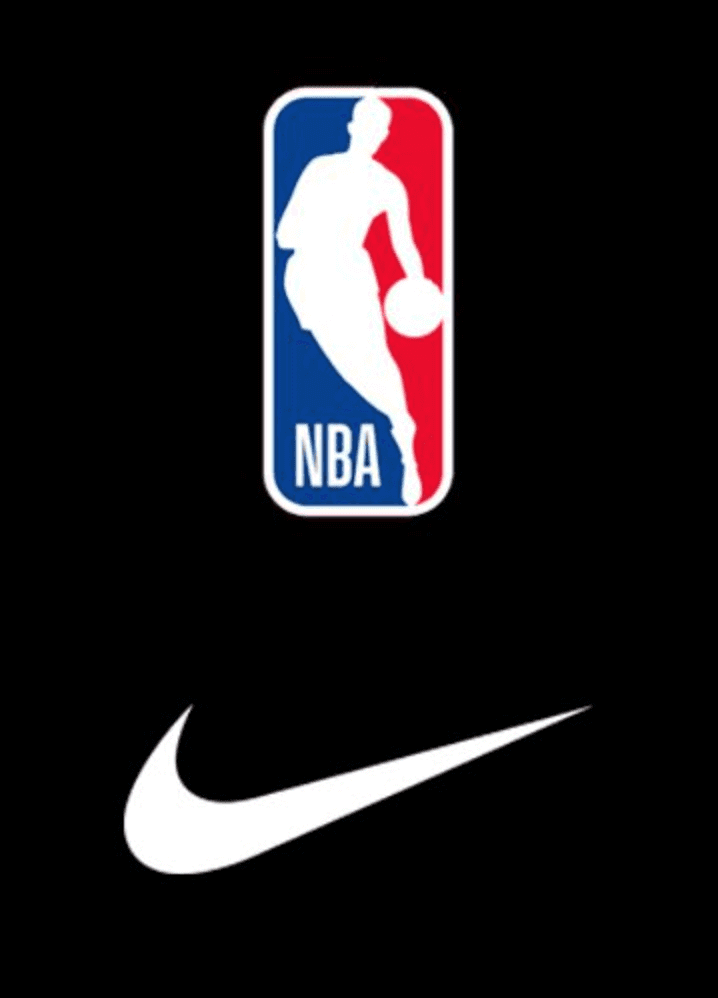 Report: NBA, Nike playing uniform puppet masters: The Boston Herald has published a faaaaascinating piece about the Celtics' uniforms that includes some disturbing info about how NBA uniforms are chosen on a game-by-game basis. Here are some key quotes:
"The league gives us a master schedule," said Celtics travel and equipment coordinator John Connor. "We put it on the wall and we just give out what's on the wall. We get the schedule and what we're supposed to wear from the league, and it's for the whole year. …

"They changed the tight colors, too," said Connor. "Nike will call out, like, they want green tights with the green uniforms or white tights with green uniforms, black tights on white. They actually script for like 50 percent of the games what everything has to be. It's a lot more restrictive."
Ugh — the thought of the league and/or Nike calling these shots is pretty gross, no? So much for spontaneity.
(My thanks to reader Darrell Hatfield for letting me know about this article.)
• • • • •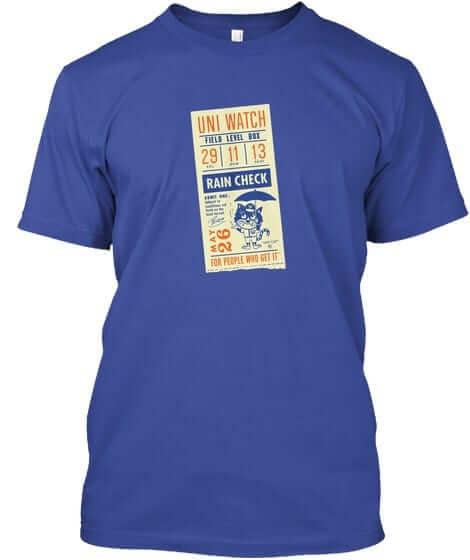 T-shirt reminder: Less than a week left to get our latest limited-edition Uni Watch T-shirt, designed by the great Todd Radom. It comes in a wide range of colors (including deep royal, as shown at right; click to enlarge) and is available from now through next Thursday, March 15. You can order it here. If you want a color that isn't shown, get in touch and I can take care of you. My thanks, as always, for your consideration.
• • • • •
The Ticker
By Kris Gross

Baseball News: Yankees manager Aaron Boone wore a different hat than the rest of the team yesteray (from Reid Cure). … This Delta ad uses an outdated Braves jersey (from Austin Gillis). … Yankees slugger Aaron Judge and Under Armour couldn't close a deal, so he now wears Adidas (thanks Phil). … This plumbing company logo looks very familiar (from @MatthewGreen73). … The Indianapolis Indians will pay tribute to their big league parent club with Pirates-themed jerseys three times this season (from Megan Brown). … Reader Mark Gonillo passed along a photo of this Hartford Yard Goats hat he bought. After doing some digging, he uncovered that it's a tribute to the Hartford Senators, "a minor league club from early 1900s, whose most famous player was Lou Gehrig," said Mark. … Game-Worn Guides author Bill Henderson is selling some reproductions of the San Diego bicentennial patch that the Padres wore in 1969. If you want one, you can order one here. … The Bowling Green Hot Rods will play as the Catfish, a name used before the team moved to Bowling Green (from Eric Leach). … According to info in the middle of this page, the Twins' move to matte helmets was based on a suggestion by team owner Jim Pohlad's wife (from Barry Brite). … Instead of having the scoreboard show standard head shots for each player who came to bat, the Reds used portraits drawn by Arizona elementary school students (from our own Alex Hider).

NFL News: Not surprisingly, the Browns' uniform redesign is underway (from Bob Moon). … Speaking of, here's a look at the Browns uniforms throughout the years (thanks Phil). … Very odd maker's mark placement on Derrick Thomas's jersey in this old-school photo (from Ben Nicholas). … An artist has redesigned all 32 NFL team logos (from Mike Tremblay). … Located in this story about a Maryland high school basketball player, Jordan Fischer spotted a Peyton Manning jersey with Marvin Harrison TV numbers.

College Football News: Alabama QB Jalen Hurts wore an Auburn jersey to pay off his Iron Bowl bet with Charles Barkley (thanks, Paul). … Some uni number changes for Oklahoma (from Sam McKinley). … A Gators fan at the SEC hoops tournament celebrated Florida's 2006 championships in football and basketball (from Robert McClimans).

Hockey News: The Blue Jackets have a history display at their arena. It includes a jersey with a number font that the team has never used (from Darrell Dawson). … Pitt's AHCA team wears throwback colors. Looking good! (From JJ.) … ECHL clubs Indy Fuel and Cincinnati Cyclones will team up for Nickelodeon Night this evening (from Jay Stancil). … Also from the ECHL, Alzheimer's awareness jerseys on tap for the Tulsa Oilers tonight (from Mike Iles). … A jersey and stick from Canada's 2018 women's team at the Olympics are headed to the Hockey Hall of Fame (from @Mr_Furski). … Patrick O'Neill came across this old photo of a 1950s game between the Cincinnati Mohawks and Troy Bruins. Note the primitive-looking helmet — very cool! … Pink in the rink promotion this weekend for the Idaho Steelheads (from Brett Thomas). … Centennial High School in Minnesota wears large uni numbers on the front of the jersey (from TJ Gulenchyn).

Basketball News: Isaiah Thomas of the Lakers has switched his number from 7 to 3 (from Mike L). … Michael Porter Jr. made his return to Missouri, creating a Porter and Porter Jr. NOB situation (from Aaron Hill). … Uh, go LongHorned Frogs? (From Chris Howell.)… Cross-listed from the college football section: A Gators fan at the SEC tournament celebrated Florida's 2006 championships in basketball and football (from Robert McClimans). … North Carolina head coach Roy Williams tried, but failed, to rip his suit coat in half on Wednesday night (from Kary Klismet). … Citrus-themed game last night, as USC and Oregon State went yellow vs. orange (from Josh Claywell). … The Erie BayHawks will become the Erie Pepperoni Balls for tonight's game. … Stanford's black numbers on red jerseys are really hard to read.

Soccer News: With the Columbus Crew potentially moving, a fan movement called Save the Crew has come out with its own "Community Kit" jersey, designed to show support for keeping the team in Columbus (from John Flory).

Grab Bag: New logo for the ski jumping World Cup in Slovenia. "Ever seen a 7 used as a P before?" Jim Vilk asks. … Roger Federer has a new shoe (thanks, Brinke). … Frankenjerseys from the Long Beach State/Mount Olive volleyball match this week (from Jeremy Brahm). … This bag manufacturer says you don't need an expensive logo, all you need is your initials (from Jason Hillyer). … The Guinness Book of World Records created the world's smallest ad in 2000, when they created their website (from James Gilbert). … News station WRTV in Indianapolis added a memorial band to their logo to honor a fallen officer (thanks Alex). … An iconic neon palm tree was taken by an Anchorage trash company, and now the government wants it back (from John Muir).