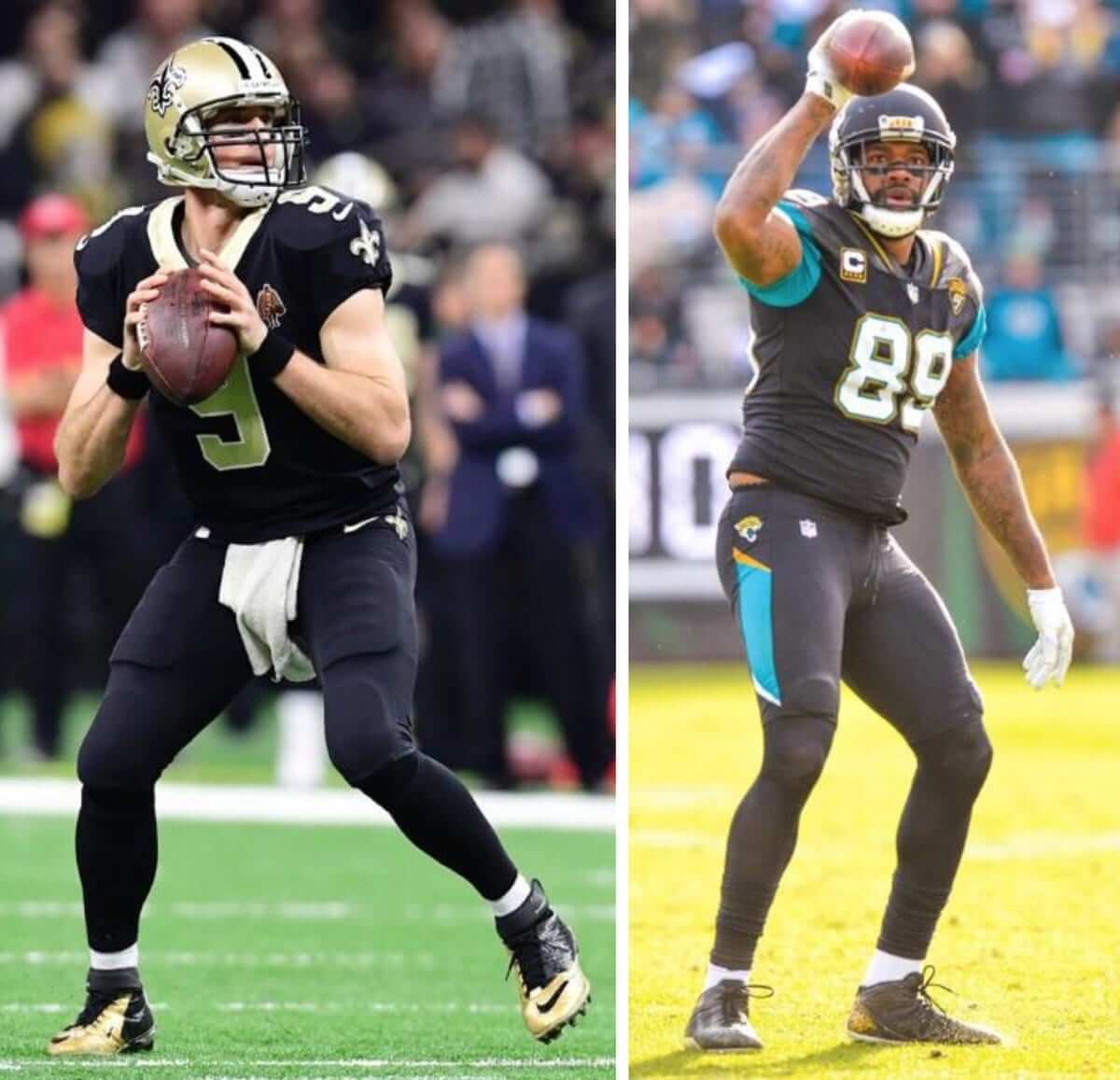 Yesterday was Black Sunday in the NFL, as the Saints and Jags went mono-black for their respective playoff games — not the best look for either team — and won.
Realistically, it's highly unlikely that either of these clubs will make it to the Super Bowl. And even if the Saints make it, they'll be the designated visiting team and would presumably end up wearing white. (Yes, it's possible that the AFC team could opt to wear white as the designated home team, but none of the remaining AFC teams have any history of wearing white at home, so it's highly unlikely.) There's a vague chance, however that the Jags could make it to the Supe and end up wearing mono-black.
If that happened, it would be a Super Bowl first. No team has ever gone mono-black in the big game. In fact, I'm pretty sure no Super Bowl team has ever gone mono-anything except for the Seahawks, who wore their scuba suits in Supes XL and XLIX. (I'm leaving out the teams that have gone mono-white, obviously, since that feels like an entirely different category.)
I'm in no hurry to see a mono-black Super Bowl team (or a two-tone Super Bowl helmet, for that matter), so I'm hoping the Jags get picked off next week.
A few other notes from yesterday's games:
• Although the Saints/Panthers game was played indoors, Panthers defensive back Daryl Worley wore a balaclava. If you look at photos from recent games, it turns out that he's been doing this for at least several weeks now, and this wasn't the first time he's done it at an indoor stadium. Weird.
• Doesn't it seem a bit odd to see a former player wearing the jersey of another player? Former Bills running back OJ Simpson apparently watched yesterday's Buffalo/Jacksonville game while wearing a LeSean McCoy jersey, and former Saints running back Reggie Bush showed up at the Saints/Panthers game wearing a Will Smith jersey.
• This whole thing with Bills fans and Andy Dalton has really gotten out of hand.
Meanwhile, the Rams lost on Saturday, so we won't have to worry about seeing their mismatched uni set in the Super Bowl.
(My thanks to all contributors, including Moe Khan, Frank McGuigan, and Josh Stewart.)
• • • • •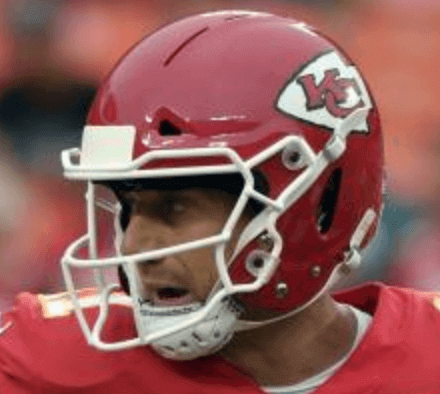 Vicis update: On Friday I published an interview with Vicis CEO Dave Marver. If you missed it, I strongly recommend reading it — Marver had lots of very interesting and informative things to say.
Several readers responded by posting comments about something that I neglected to ask Marver about, namely that the Vicis helmet has an unusually large front bumper plate. This is particularly evident on Chiefs quarterback Alex Smith's helmet, because the Chiefs are one of the two NFL teams that wear blank bumpers (the other is Washington). Why did Vicis make this design element so large?
I followed up with Marver by email and got this response:
We designed it to be relatively large and flush in order to make it easier for equipment staffs to affix their teams' custom 3D bumpers. This was a design decision based on equipment manager feedback and driven by our desire to deliver a helmet that was convenient and efficient for EQMs to customize and maintain.
So there you go.
• • • • •
NBA Uni Tracking
By Collin Wright
On Friday the Knicks became the final team to participate in a color-vs.-color game, wearing blue in Miami while the Heat wore red. I'm surprised we made it all the way to January with a team managing to avoid a color-vs.-color matchup.
The latest game stats can be seen below (click to enlarge):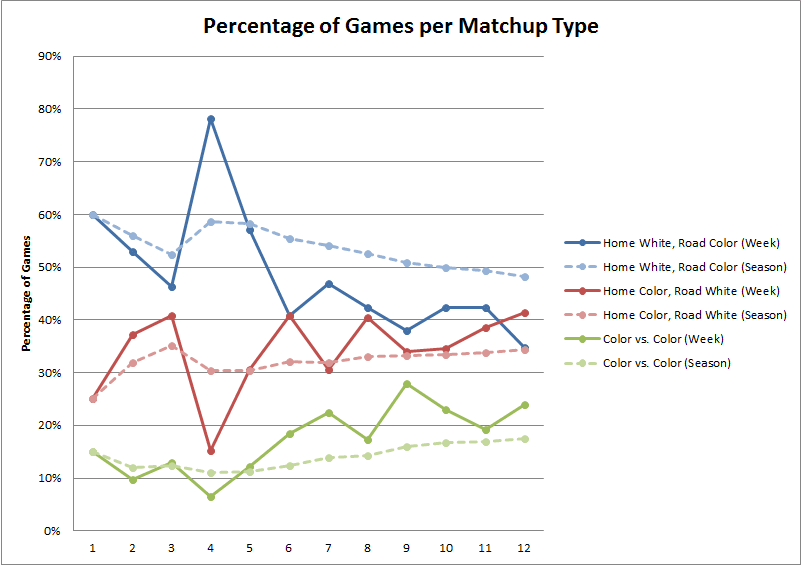 This past week was the first time all season that traditional matchups (i.e., with the home team wearing white and the road team wearing color) were not the most common format across the league. In 19 games (41%), the home team wore dark while the visitors wore white, meaning that traditional matchups fell to a season-low 16 total games (35%).
There have not yet been any sightings of any teams' fourth uniform. Since only four of those are white, I think we can safely assume we'll continue to see more teams wearing dark at home as those designs begin making their on-court debuts.
• • • • •
Membership update: Four new designs have been added to the membership card gallery (including Keith Seminerio's card, shown at right, which is based on the old midfield logo at Giants Stadium — an interesting request that turned out quite nicely). The printed/laminated versions of these cards should ship out in a day or two.
If your New Year's resolution was to finally sign up for a membership already, there's no time like the present. And remember, a Uni Watch membership card entitles you to a 15% discount on any of the merchandise in our Teespring shop. (If you're an existing member and would like to have the discount code, email me.) As always, you can sign up for your own custom-designed card here, you can see all the cards we've designed so far here, and you can see how we produce the cards here.
• • • • •
Wooly bully: Sometimes you hit the daily double while shopping for vintage clothes. That's what happened to me on Friday night, when I visited my local vintage outlet and found two excellent Woolrich items, beginning with this very nice brown-check shirt, which I scored for only 10 bucks (click to enlarge):
It's really nice and warm — perfect for winter.
At the same shop, I found this gorgeous Woolrich jacket. It was a bit more money — $30 — but totally worth it:
The jacket isn't heavy enough for winter, but I look forward to wearing it in the spring, and then again in the fall.
• • • • •
The Ticker
By Jamie Rathjen

Baseball News: The Japanese team Hiroshima Carp and the local volleyball team, JT Thunders, put together this T-shirt featuring the baseball team's mascot, Carp-boya, wearing the volleyball team's jersey (from Jeremy Brahm). … Carp-boya previously got a makeover for each of the Hiroshima area's 23 districts to capitalize on the Carp's first Central League pennant for 25 years in 2016. … Kevin Clark found these Phillies- and 76ers-themed fight song recordings. … A's president Dave Kaval hinted that the team might wear 1968 throwbacks on April 17, which is the 50th anniversary of the team's first game in Oakland (from Richard Paloma).

College Football News: Here's a shot from a 1969 game showing two Ohio State players wearing mismatched TV number styles. Also, note the hip pad on No. 52, something you don't see anymore these days.

Hockey News: In the KHL on Saturday, Dinamo Riga goalie Jānis Kalniņš had a shot from Salavat Yulaev defender Maxim Goncharov break through the webbing in his glove and land in the net. Luckily, that was Salavat's first goal of the game instead of the overtime game-winner (from @TheGoalNet45). … The British Columbia Hockey League's Vernon Vipers (a Junior A league, one tier below major junior) hosted a throwback game in several senses of the word: They played at their old arena (having moved out in 2001) on the 80th anniversary of its opening and wore uniforms inspired by the 1938 edition of the minor-league Vancouver Lions. Submitter Wade Heidt also sends us an article in the local media leading up to the game. … The AHL's Springfield Thunderbirds wore 1990s Springfield Indians throwbacks on Saturday night. "The team was the affiliate of the Hartford Whalers at the time, and the color scheme reflects that," says Josh Tremblay.

Basketball News: Color-vs.-color game between Wichita State and South Florida yesterday (from @Paturn). … Cincinnati, which is sharing Northern Kentucky's arena because of renovations to its own arena, installed its own court there yesterday (from our own Alex Hider). … Cross-listed from the baseball section: Kevin Clark found these 76ers and Phillies-themed records.

Soccer News: Here's a look at the ball and sleeve patch for England's FA Cup, which the top two tiers entered at this weekend's 64-team third round. However, it didn't look like many teams wore the sleeve patch; only those in the seven games on TV and a few others, perhaps. Most — including Swansea City and both second-tier Reading and fourth-tier Stevenage — still wore their league's patch. … West Ham United goalie Joe Hart wore a cap thrown to him from the stands. More pictures here (from multiple readers). … Liverpool midfielder Philippe Coutinho moved to Barcelona this weekend in one of the most expensive transfers in history. Liverpool are offering anybody who bought a Coutinho shirt this season a £50 voucher (from Josh Hinton). … Mexican team Club América's forward Darwin Quintero wears FNOB, or maybe we can call it the opposite of FIOB (from Gar Nunce).

Grab Bag: Cross-listed from the baseball section: The Japanese baseball team Hiroshima Carp and the local volleyball team, JT Thunders, put together this t-shirt featuring the baseball team's mascot, Carp-boya, wearing the volleyball team's jersey (from Jeremy Brahm). … Northern Districts, one of New Zealand's regional cricket teams, outfits the Knights, their team in Twenty20 competition, in mono-pink (from @dhyatt). The team's colors are otherwise maroon and yellow. … Alan Kreit was late-night channel surfing and stumbled upon a darts tournament with interesting outfits. (It appears to be the BDO world championship in England, which just opened this weekend.) "The fans were interesting as well," he says.
• • • • •
Click to enlarge

What Paul did last night two nights ago: A few weeks back I mentioned how much I loved Some Gauls, the new album by the NYC indie-rock band Scupper. I went out to see them at the Gutter on Saturday night, and holy shit did they tear it up. Great tunes, great band. Granted, they're friends of mine, but I became friends with them because I like their music, not the other way around. They'll be playing again on Jan. 20 at Muchmore's and on Feb. 3 at the Cobra Club, and you should totally be there.
I shot a bit of video of their set, although the lighting turned out kinda dark:
If you haven't yet listened to Some Gauls, you can stream it below (for some reason the embedded player is starting on the fifth track, but you can just skip back to track No. 1 to hear the album from the beginning). If you like it — and it's hard to imagine anyone not liking it — do the right thing and pay for the download.
Also: Scupper's drummer will be moving upstate in late February, so the band will need a new drummer. If you think you're up to the task, let me know and I can put you in touch with the band.