Yesterday was a big day for alternate NFL jerseys, beginning in Jacksonville, where the Jaguars wore their teal alternates. According to the Gridiron Uniform Database, it was the first time since 2013 that they wore teal, and the first time since 2006 that they wore teal over black (additional photos here).
In other news from around the league yesterday:
• The Eagles wore their mono-black alternates (additional photos here):
• The Titans wore navy blue over powder blue. According to the GUD, they hadn't worn that combo since 2007 (additional photos here):
• The Panthers wore their blue alternates (additional photos here):
• What is it about the Sunday-night slot that makes some teams lose their minds? This time around it was the Dolphins, who went mono-aqua:
• The Saints went mono-black.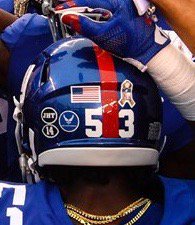 • A few weeks ago the Giants added a "14" memorial decal for former quarterback Y.A. Tittle. Now they've also added a "JHT" decal for Joan Tisch, the widow of former co-owner Bob Tisch, who died last week. When you throw in the military decals that the Jints wore for G.I. Joevember yesterday, it made for a very crowded helmet:


• Washington players apparently changed their facemask clips from clear to yellow:
.@PhilHecken @UniWatch Kirk Cousins (& many other 'Skins) switched from clear facemask hardware to gold hardware. Old on left, new on right. pic.twitter.com/CIjGvlByYK

— The Tao of Steve B. (@SteveBCreations) November 6, 2017
• Giants defensive back Landon Collins wore a camouflage New York Rangers shirt during pregame warm-ups.
• Only one team wore white at home: the Cowboys.
• Here's a list of players who protested during the national anthem.
(My thanks to Matt DeMazza for the Ladon Collins item.)
• • • • •
NBA Uni Tracking
By Collin Wright
Three weeks into the NBA season, the percentage of color-vs.-color games has remained low. One reason for this: the prevalence of blue uniforms across the league. Fifteen teams use blue as their primary colored uniform (I am including the Hornets' teal), and those teams obviously cannot go color-vs.-color against each other. Things may change, however, when teams unveil their second alternate uniforms, which is expected to happen after Thanksgiving.
One note: When the Lakers wear yellow at home, we had been treating that as white. But as several readers pointed out, that created problems when the road team wore white against the Lakers. So if the Lakers wear yellow at home, we're now treating that as a colored uniform, even though it was their primary home design in the past. The numbers in this week's chart have been recalibrated to reflect that change:
[table id=34 /]
Two additional observations that I'm continuing to keep track of:
• The Kings still have only worn their purple uniform. They are the only team to wear only one uniform for every game this season.
• The Cavaliers have alternated their uniform choice in every game. They are the only team that has not yet worn the same uniform in consecutive games.
(Collin Wright's NBA tracking updates appear each Monday.)
• • • • •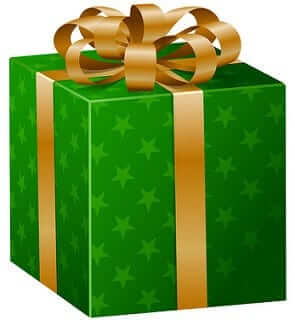 Gift Guide reminder: I'll soon begin work on my annual Uni Watch Holiday Gift Guide. If you have any suggestions for items or companies that should be featured, I'm all ears. Thanks.
• • • • •
The Ticker
By Jamie Rathjen

Baseball News: In this week's Saturday Night Live Weekend Update, SNL cast member Leslie Jones appeared in a segment about the World Series with Astros players George Springer, Alex Bregman, and José Altuve. The three players' jerseys all had the World Series and Houston Strong patches, but the one they gave Jones had neither (good spot from John Chapman). Jones's jersey had "Player" and No. 17 on it (from John Dorfman).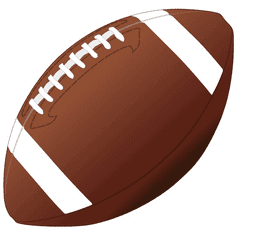 Football News: NFL Films recently made a video on the stories behind several current and retired players' numbers (from William Yurasko). … Oklahoma wore a helmet decal recognizing the opioid crisis on Saturday (from John Fitzgerald). … Army QB Ahmad Bradshaw was missing the "A" in his last name on the front of his jersey (from Arthur Savokinas). … The New York Times has a good piece on the paint jobs of college football equipment trucks (from Tommy Turner).

Hockey News: The Kamloops Blazers (WHL) wore camouflage jerseys and helmets and a poppy for good measure on Saturday (from Wade Heidt). Wade says that the jerseys were announced beforehand, but not the helmets. … From the NWHL: A shot by the Boston Pride's Meagan Mangene broke the skate boot of the Connecticut Whale's Elena Orlando. … Ray Hund sent us some vintage hockey YouTube videos, including 10 minutes of footage from the 1966-67 NHL season.

Basketball News: Kevin Love of the Cavs tore his jersey in frustration after checking out of last night's game (from Robert Hayes). … UNC Wilmington center Trey Kalina has FNOB, but it's spelled wrong (from Kenneth Watlington).

Soccer News: In the NCAA, Columbia and Harvard's goalies were wearing the same color shirt; goalie kits have to contrast with both teams and each other (from Alexander Ganias). … Crystal Palace players were wearing both solid blue socks and blue with a red stripe yesterday (from Derek Linn). … The Remembrance Day poppies have returned once more, as next week is an international break. Six teams, four of which are outfitted by Macron, joined the trend of placing the decal close to their maker's mark: England's Stoke City and Scotland's Ross County, Motherwell and Hibernian. The other two were Manchester United and the outfield players for Heart of Midlothian. Hearts seem to be the only example of a genuine lack of other space in the upper shirt area. … Premier League Bournemouth did not wear a decal this week, but some players wore a black armband, not to be confused with the PL captain's armband, which also featured a poppy. … Besides Ross County, the Scottish teams to wear poppies did so with a four- rather than two-petaled version. … Juventus had announced throwbacks for this week, but it turned out that the shirts had the Serie A sleeve patch and sneaky black-on-black Adidas and Jeep logos. … With Scotland's new kit having just been revealed, Scottish fans talked about their favorite Scottish kits (from @jhardest).

Grab Bag: The designs for the medals of the 2018 Commonwealth Games, to be held in the Gold Coast, Australia, have been released (from Graham Clayton).