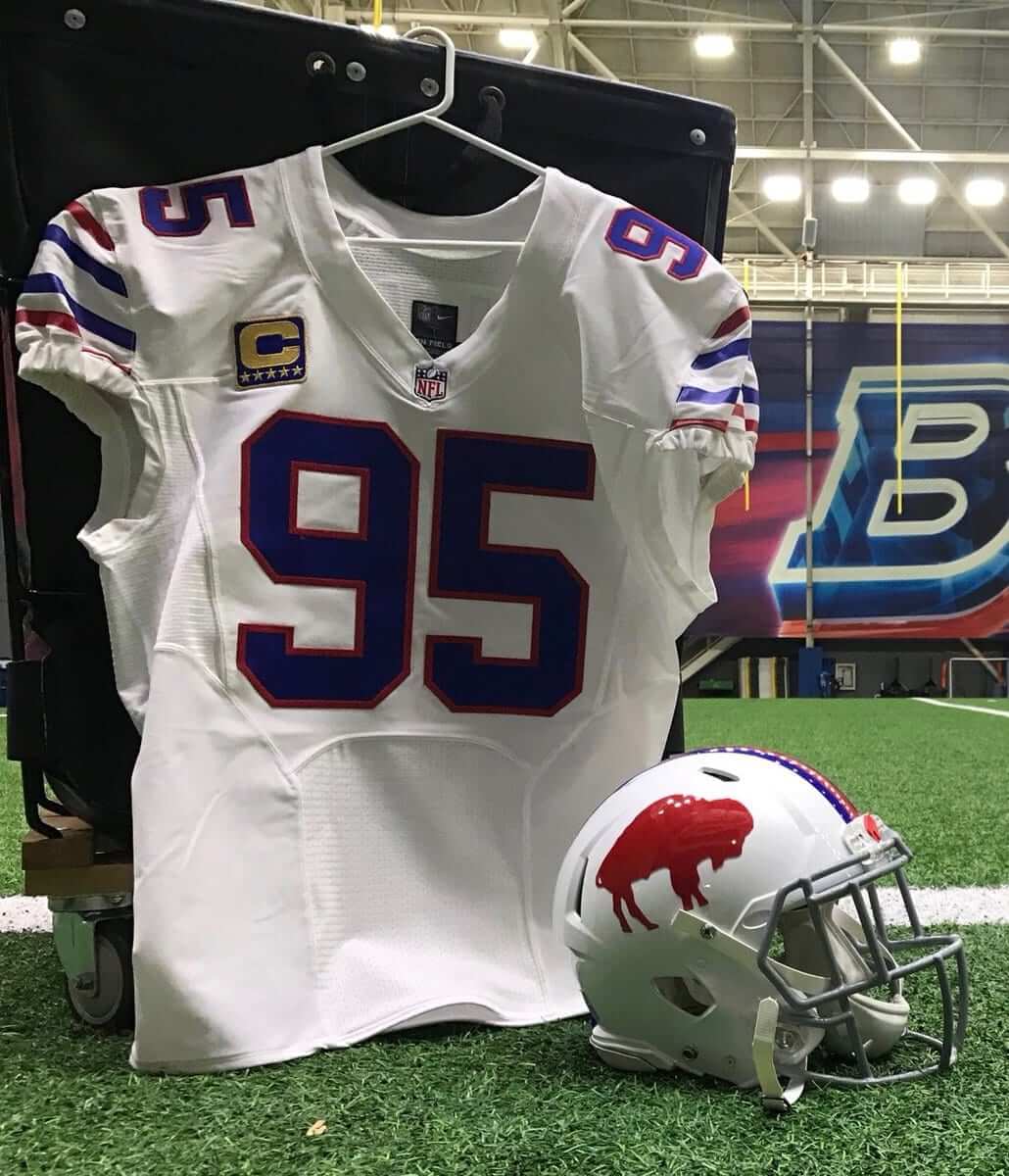 Click to enlarge
I went down a new rabbit hole yesterday. It began when the Bills announced that they'll be wearing their white "standing buffalo" throwbacks this Sunday. They tweeted the photo you see above.
I immediately noticed that the jersey they used features the old Elite 51 tailoring template. But Twitter-er Matt Eichmann noticed something that I missed: Look closely at the photo and you'll see that the captaincy patch has five stars!
For those who don't know (or just need a refresher course): Prior to 2007, a handful of NFL teams had occasionally used a "C" to designate their captains, but the overwhelming majority of captains went "C"-free.
Beginning in '07, however, the league began its current captaincy program with a standardized patch design. The patches, which are voluntary (the Steelers never wear them; the Packers only wear them in the postseason; the Eagles never wore them until this season; etc.), have always had four stars, with each successive star from the left side colored in gold to indicate how many seasons the player has been a captain for his current team. After the fourth season, the patch itself turns gold. I had never seen a five-star patch until yesterday.
But wait, it gets better. The throwback jersey in the promo photo is No. 95, which is worn by defensive tackle Kyle Williams. So Twitter-er Nate R. went looking for game photos of Williams and found that, sure enough, Williams was wearing a five-star patch in the Bills' season opener against the Jets — something I completely missed (although I think I can be forgiven for not spotting such a small detail). Check it out: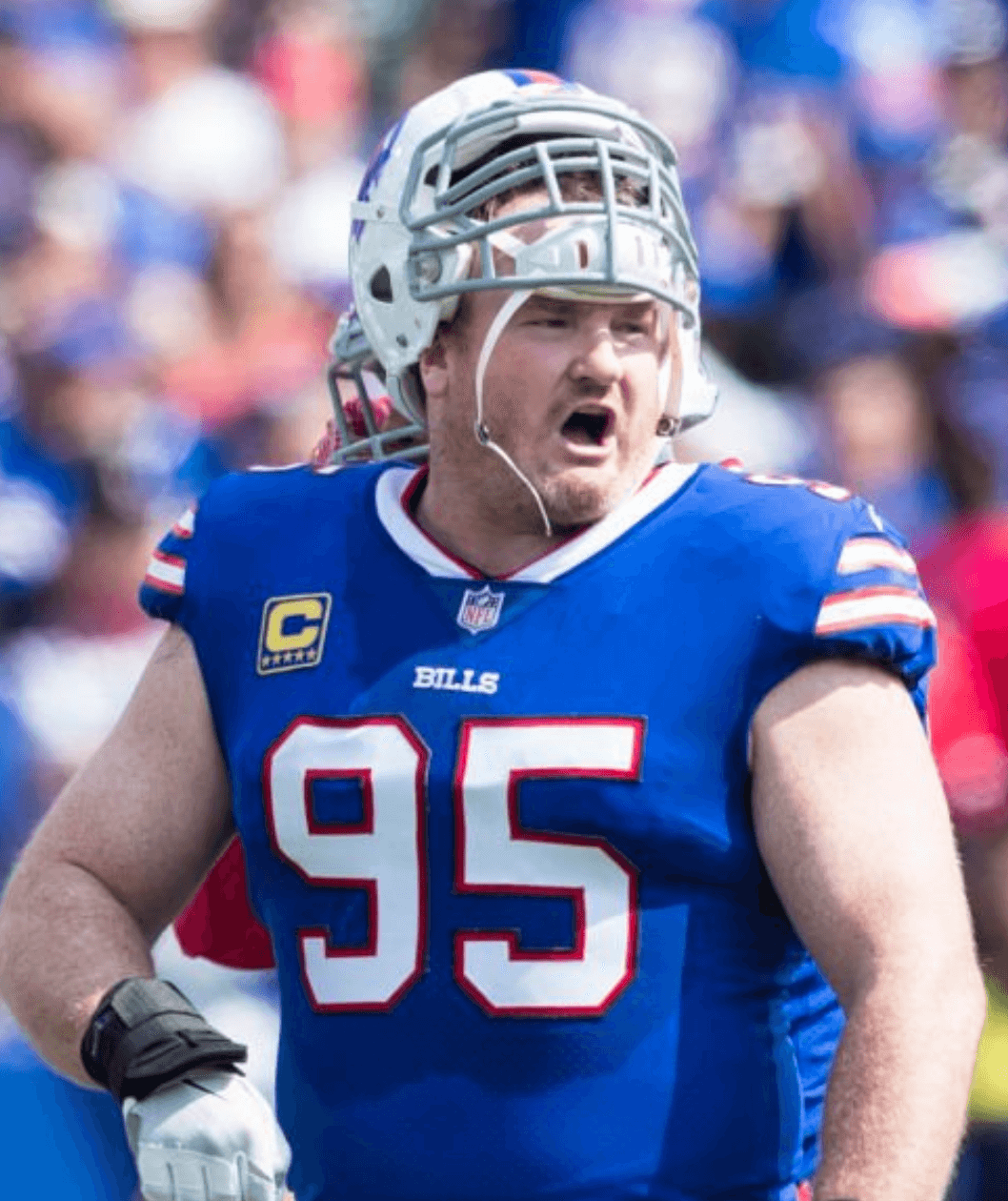 Williams also wore the five-star patch for Week Two against the Panthers (sorry about the image quality, but you can clearly see the five stars):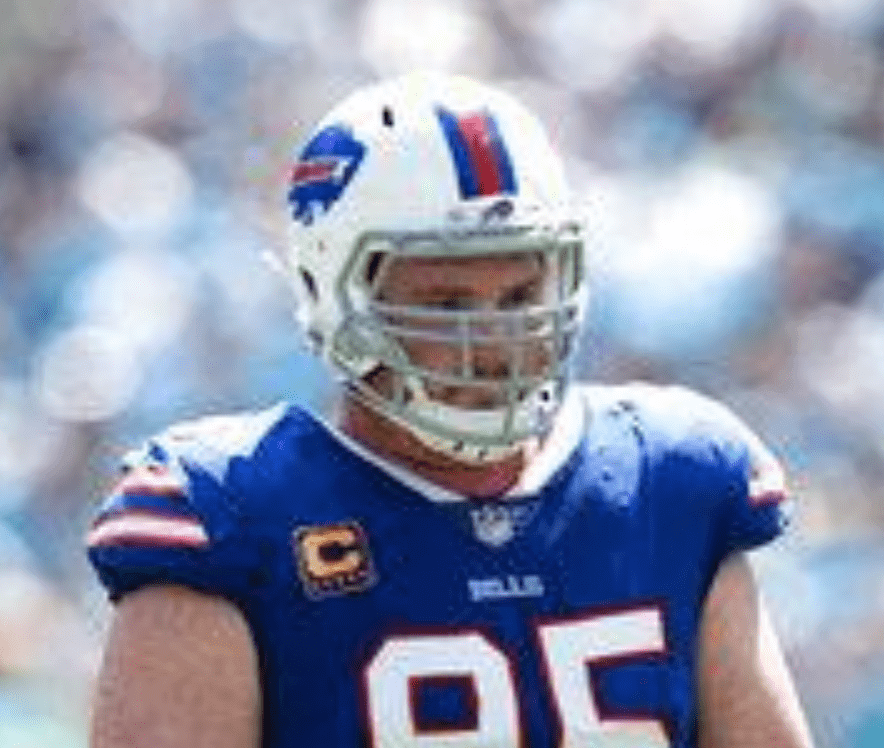 I've been unable to find any patch-inclusive photos of Williams from Weeks Three through Five, and then the Bills had a bye in Week Six. In Week Seven — last Sunday — the Bills wore the rainbow-striped "Crucial Catch" captaincy patches, and this time Williams was down to four stars: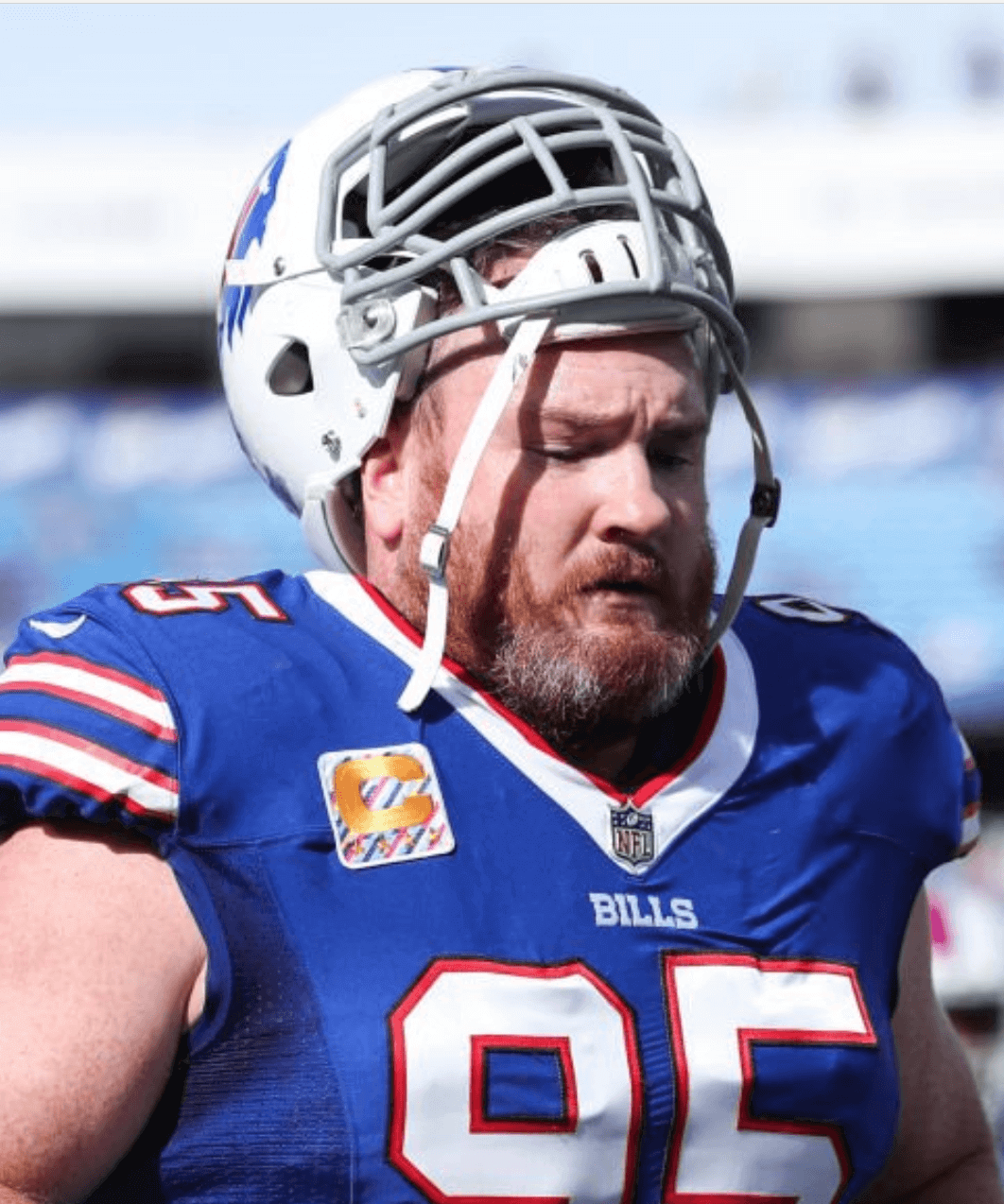 There's some additional backstory here: Williams was made a captain in 2011, so he wore one gold star that season. He then wore two gold stars in 2012, three gold stars in 2013, and four gold stars in 2014 — all very standard.


But then Rex Ryan became head coach of the Bills, and the team didn't wear captaincy patches during his two-year coaching tenure. So Williams never got to have his patch turn gold for the fifth season. Now that the Bills are once again wearing the patches, Williams has his gold patch — but with a fifth star, something I've never seen any other NFL player wear.
I was wondering if this might be some sort of special thing that the Bills did for Williams — making him the equivalent of a "five-star general" or something like that. So I called the Bills to find out more and learned … that it was all a glitch. According to the team's media relations director, somehow the team was sent a five-star patch, and it ended up on Williams's jersey. The equipment manager didn't even realize it until I pointed it out. Williams will have a standard four-star gold patch going forward.
Now, one might wonder just how a five-star patch got manufactured in the first place. One might also wonder if this might be the NFL's way of phasing in a new uniform element. Hmmmm.
As long as we're talking about the captain's patches, here's another detail that I've noticed for a while but don't think I've mentioned on the site: The regular patches have four stars (or five, in Williams's case) with the gold ones colored in to indicate the number of captaincy years and the other stars shown in white. But for the Thursday-night games this season, they're skipping the white stars and just showing the one, two, three, or four stars, centered under the "C," and in the team's colors instead of gold: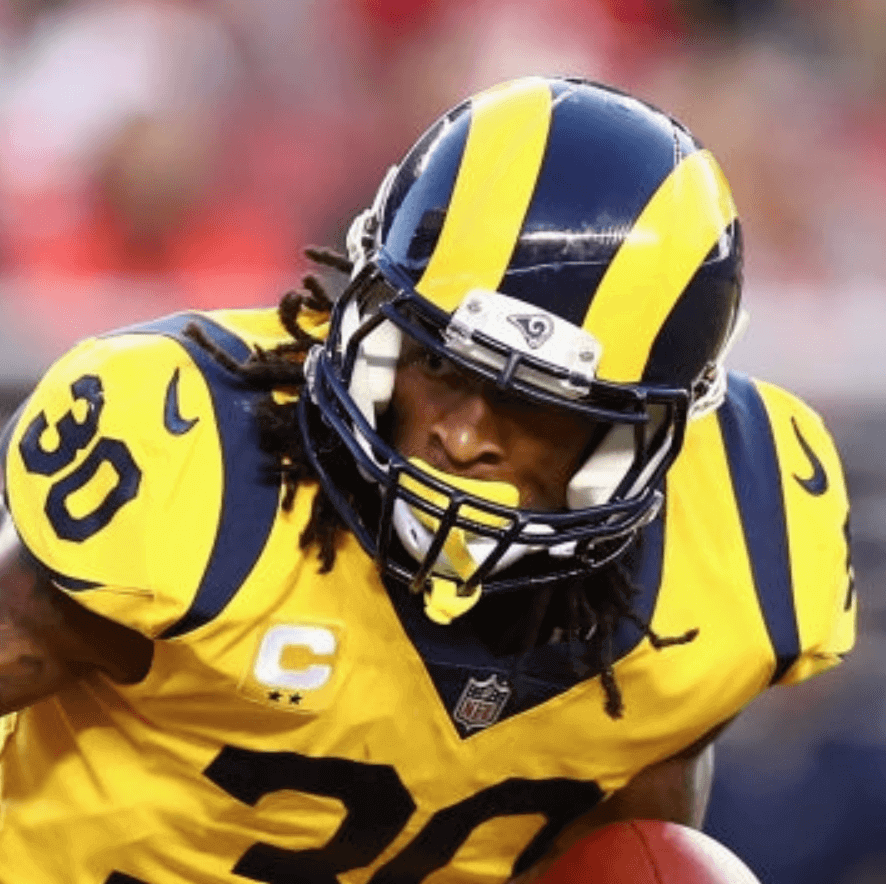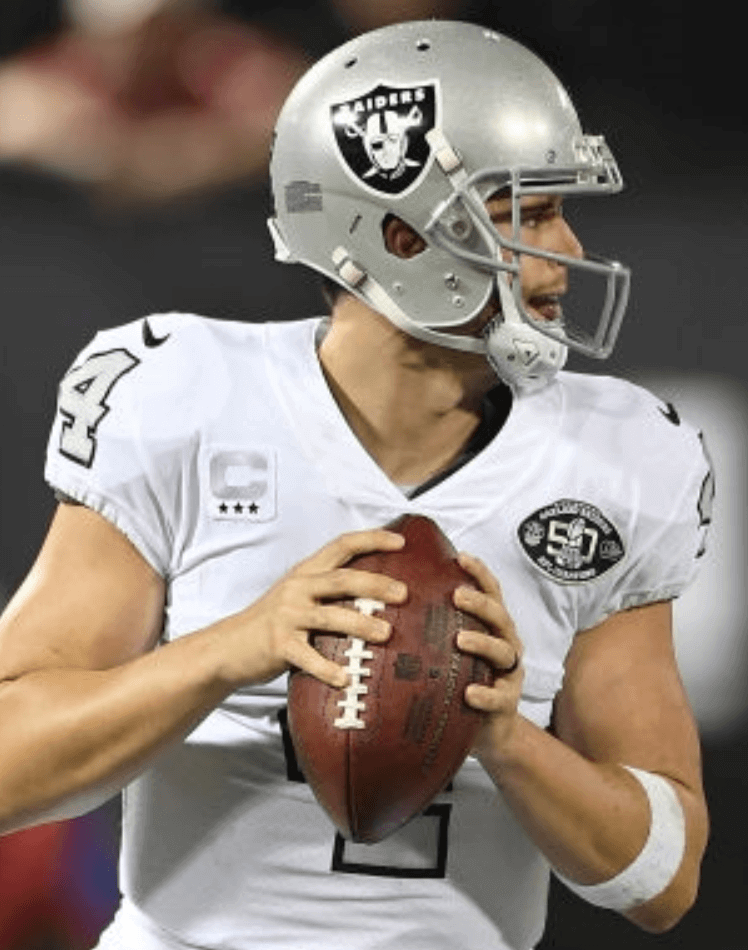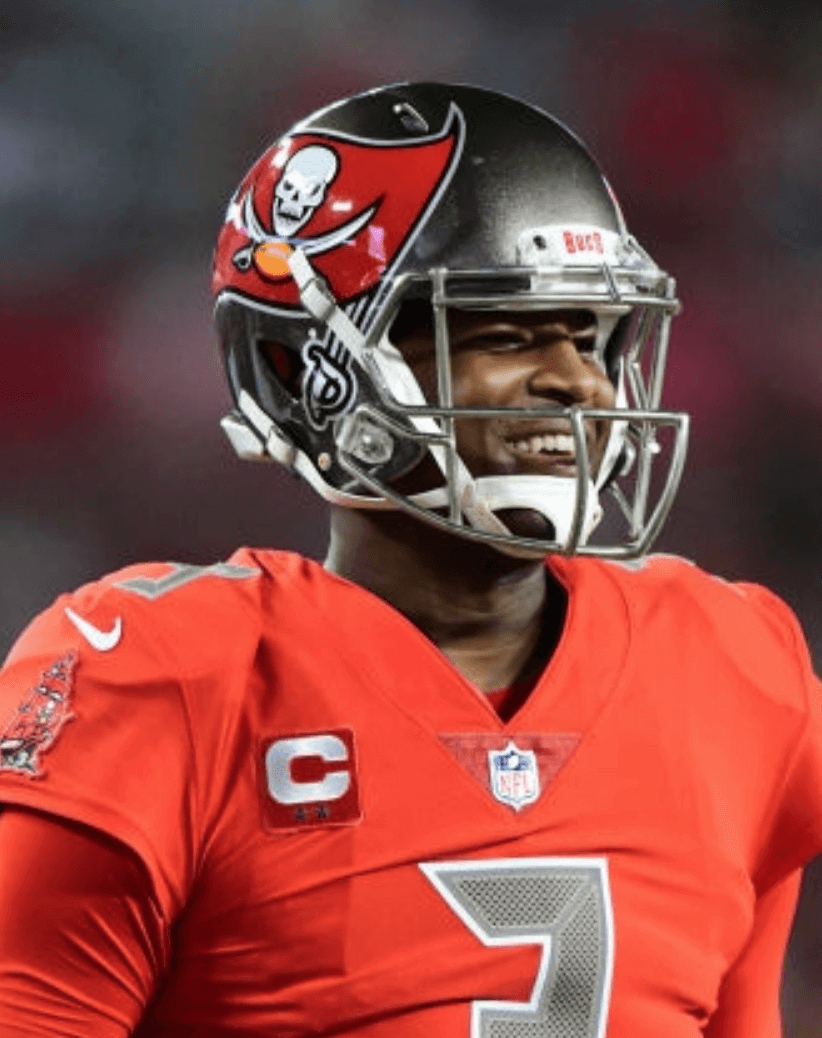 So that's presumably a Nike thing — they probably make those patches when they're making the Thursday-night uniforms.
(Big thanks to Matt Eichmann and Nate R., who deserve all the credit for this one.)
• • • • •
Brim job: Bizarre uni-related moment in last night's World Series game, as a base hit by Astros infielder Alex Bregman bounced off the cap brim of Dodgers center fielder Chris Taylor and caromed directly to left fielder Joc Pederson — literally a hat tip! Check it out (the first video is at normal speed and the second one is a slo-mo close-up):
The @astros strike first!

Alex Bregman with a RBI single off Chris Taylor's hat. https://t.co/jguQ5dy9Dd

— FOX Sports: MLB (@MLBONFOX) October 26, 2017
(h/t) chris taylor pic.twitter.com/LOg6XtZJyT

— Calhoun (@linkcalhoun) October 26, 2017
As long as we're talking about last night's game, here are a few other items:
• Astros pitcher Justin Verlander and Dodgers pitcher Josh Shields both wore caps that they had worn earlier in the postseason:
@UniWatch @PhilHecken you can see the residual glue from the old Postseason patch on Verlander's hat. pic.twitter.com/dOd8HXXjU2

— Eric Lovejoy (@eblovejoy) October 26, 2017
@UniWatch Fields apparently requested the WS patch be sewn on his good luck hat. pic.twitter.com/YyifrDWNNI

— Aaron Trump (@Aaron_Trump) October 26, 2017
• Someone in the Astros' dugout — not sure who — was still wearing the Postseason sleeve patch instead of the World Series patch.
• Dodgers outfielder Yasiel Puig came thisclose to making a great catch but came up short — and spiked his glove in frustration:
Puig on his horse, can't quite catch it, spikes glove pic.twitter.com/9Mpxj6TZ53

— That Dude (@cjzer0) October 26, 2017
• Have I mentioned lately that advertising is getting out of hand? Fox had a bit of a problem with an ad projected onto the outfield wall:
And to think, we've been worried about ads on uniforms we completely ignored them just branding the players. @PhilHecken @UniWatch pic.twitter.com/s6Tehqn4o8

— Garret Heinrich (@GarretHeinrich) October 26, 2017
• And as long as we're talking about ads in the Series: When someone begins by saying, "For the most part I think [advertising] is benign," and then writes a strong anti-advertising takedown about the Series, well, let's just say it's probably the best thing you'll read today — don't miss.
(My thanks to Ryan Bower and Jay Mazzone for their contributions to this section.)
• • • • •
For all pics, click to enlarge
Another one bites the dust: The Pelicans yesterday became the latest NBA team to sell space on their jersey to an advertiser, and the first to do so since the start of the season. In keeping with our new policy, I will neither show the ad patch nor name the advertiser, but I will definitely show how the patch makes the team's uniforms look like shit. Here:
There are now 18 ad-clad teams and 12 ad-free teams. #NoUniAds
(Special thanks to Nic Schultz for his Photoshoppery.)
• • • • •
Click to enlarge
Uni Watch Wedding Services update: As longtime readers may recall, we sometimes create uni-themed table number cards for weddings. Our latest request on that front recently came from reader Ryan Maquiñana. Ryan is a Cal alum, and his bride, Roxy, is enlisted in the Navy, so they wanted Cal/Navy table number cards (see above).
One side was based on the 1996-97 Cal men's basketball road uni ("My favorite uniform," says Ryan), and the other side was based on the 2014 Navy football home uni (the year Ryan and Roxy met). Our own Scott M.X. Turner executed the designs, and the wedding took place last Saturday.
Big congrats to Ryan and Roxy. If anyone else is interested in hiring the Uni Watch Wedding Services Division, feel free to be in touch.
• • • • •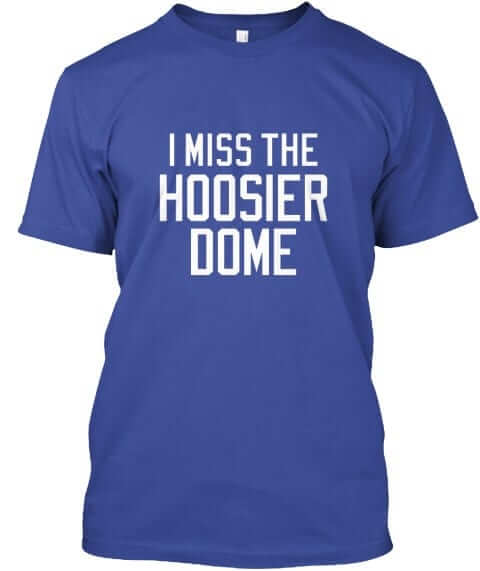 Naming Wrongs reminder: In case you missed it yesterday, we have new Naming Wrongs shirts for the Hoosier Dome (as shown at right), the L.A. Forum, the Salt Palace, and RFK Stadium (which we'd previously done in 'Skins colors but is now available in DC United colors). Additional info and images here.
We also recently launched four new shirts devoted to college basketball arenas. You can see those here. My thanks, as always, for your consideration.
• • • • •
XFL contest reminder: In case you missed it on Saturday, Phil announced our latest jersey design contest, this time to reimagine a team from the XFL if the league were still operational today.
The deadline is Oct. 31. Full details here.
• • • • •
The Ticker
By Paul

'Skins Watch: The Menominee tribe, which is based in the Oshkosh, Wis., region, has purchased the naming rights for the new arena being built for the Wisconsin Herd (the Bucks' D-League G-League affiliate). The building will be called the Menominee Nation Arena, which I guess is nice, although it would be even nicer if the team named the arena after the tribe without charging them for it. … This article is mostly about a non-Indigenous artist in British Columbia who creates Indigenous-style art, but it includes a section on the Vancouver Canucks' costumed mascot, Fin, and why First Nations people are okay with the designs on Fin's Indigenous-style drums (from Greg Franklin).

Baseball News: Here's an infographic of World Series facts and figures. … Employees at NASA's Johnson Space Center in Houston supported the Astros yesterday by having an orange-out (from James Gilbert). … Astros OF George Springer, who's a UConn grad, apparently keeps a UConn logo sticker, or tag, or something, in his shoe (from @Mike3783). … Former Cardinals third base coach Jose Oquendo, who had been away from the team since early 2016 due to knee replacement surgery, is returning to the team. His old No. 11 was worn this past season by rookie Paul DeJong, but DeJong says he'll surrender the number to Oquendo (from @mrmichael21). … A very interesting project is about to unfold over at SportsLogos.net: A design firm is going to create a new visual identity for Baseball New Zealand — and is going to show how the project is coming along with weekly progress reports. The idea is that people tend to react poorly to new designs when they just see the finished product and have no idea of how the design team got from A to B, or what sort of input the client gave. This project, which will unfold over the course of several months, will provide more transparency for the design process, with the goal of creating greater acceptance by the public. Imagine if all teams operated this way with their new designs. … New logo for the Edmonton Prospects, a collegiate summer league team (from Steven Schapansky).

NFL News: Check out these Bills cornhole boards. Here's another Bills design, along with a Buffalo Sabres version (from @SUEquipment and Brian Koperski). … The Browns, who are playing in England this Sunday, are using a faux soccer club social media avatar. If you scroll down to the first comment on that tweet, you can see what the various design elements are for (from Jerry Wolper). … Here are two charts that track the protests during the national anthem this season. Additional info and context here (thanks, Phil). … TV execs, citing an oversaturation of football broadcasts, want the NFL to cut back on the Thursday-night schedule. Since that would help contain the Rash, I'm all for it.

College Football News: New event staff jackets for Alabama. … Kansas will apparently be wearing limestone-numbered jerseys against Baylor on Nov. 4 (from @CStoppel). … Here's a first, at least for me: blackout nose bumpers, which will be worn this weekend by Texas A&M (from Matt McCoy).

Hockey News: Cross-listed from the NFL section: Check out this Sabres cornhole board (from Brian Koperski). … Halloween jerseys this Sunday for the Allen Americans. … Speaking of Halloween, remember when it seemed like fans of every team from every sport were carving team logos into pumpkins? Haven't seen any of that this year.

NBA News: San Antonio mayor Ron Nirenberg wore a Spurs yarmulke during visit to the Western Wall in Israel this week (from Sean Spitzer). … Speaking of the Spurs, Pau Gasol wore the wrong shorts, without the white piping, last night. Those are apparently the team's practice shorts. Someone must have noticed, because he later had the proper shorts on (from @HitTheGlass). … Here's a piece on how the Jordan Brand got its start with with top players (from Eric Hill). … The 76ers have worn blue wore their Minneapolis throwbacks last night. Here's some video footage. … Last night's episode of Law & Order: SVU included a shot of a four-digit Cavs jersey.

College Hoops News: New uniforms for Western Kentucky (from Josh Claywell). … New uniforms for Stony Brook (from Eric Wright). … Kansas will retire the jerseys of former players Sherron Collins and Cole Aldrich in February. … New uniforms for Arkansas State (from Mark Taylor). … Pretty cool new shooting shirts for Marshall (from Charlie Robinson). … New grey alternates for Penn (from David Elfin). … Nevada has eight different uniforms this season! (From @micahsoga.) … Texas and Texas A&M went red-vs.-burnt orange at a charity game last night. Yikes (from Chris Mycoskie).

Grab Bag: Quebec's new law requiring people to show their faces in order to gain access to public services — a move widely seen as targeting Muslims — has sparked protests that strike at the heart of the province's history and identity.
• • • • •
Ain't That a Shame: Word came down yesterday that Fats Domino had died at the age of 89. I deeply regret that I never saw him play. I always meant to, but I never got around to it and then he stopped touring and it was too late.
In the late 1950s, Domino was rock and roll's second-biggest hitmaker, trailing only Elvis Presley in record sales and hit singles. Despite his popularity, he was never as compelling a figure, at least in the public imagination, as some of his early rock and roll contemporaries. He didn't create a genre like Chuck Berry and Elvis did, didn't create a distinct style like Bo Diddley did, and didn't scare the shit out of people like Little Richard and Jerry Lee Lewis did. He just made a ton of extraordinarily likable music, music that always sounded like a good time. As is the case with a lot of New Orleans artists, it was music that rolled as much as it rocked — music with lots of warm hugs, not sharp edges.
By all accounts, Domino was a class act, as warm and likable as his music. Thanks for sharing your gift with us, buddy. RIP.