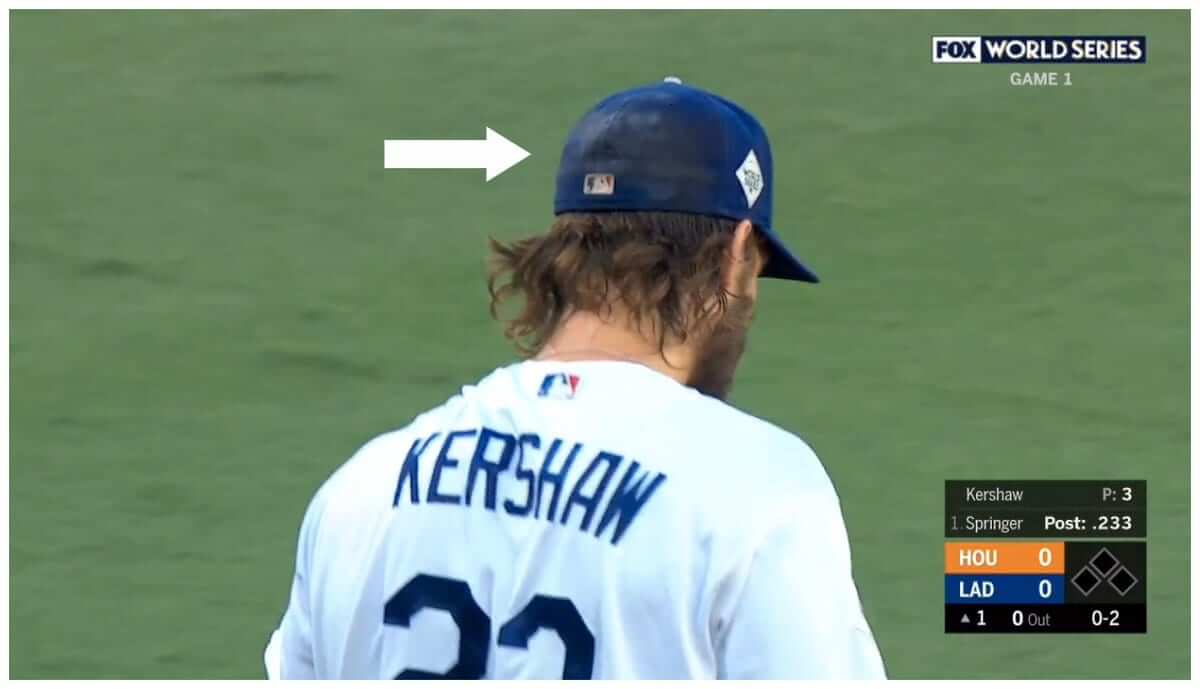 Screen shot by BSmile; click to enlarge
Dodgers pitcher Clayton Kershaw is apparently a superstitious fella. As you can see above, he was wearing an old, sweat- and rosin-stained cap for last night's World Series opener. They presumably just slapped the Series logo patch on his preferred piece of headwear.
The same thing happened in 1996, which was the first year that a Series logo was added to the players' caps. The Yankees' closer that year was John Wetteland (Mariano Rivera was the setup man and didn't ascend to the closer's role until the following season), who had superstitiously worn the same cap all season long. So while everyone else got a new cap, Wetteland just wore the same one he'd been wearing, complete with sweat stains: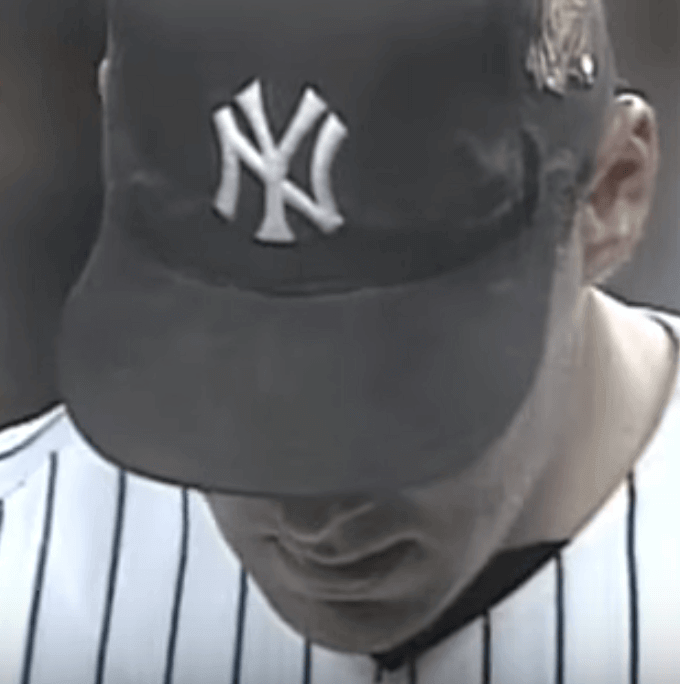 Incidentally, while I was looking for a good shot of Wetteland's cap, I came across this shot of the Yankees celebrating after winning Game Five of the '96 Series. Check out the pants and stirrups:
Man, that was a sad period, eh? The full-blown pajama era would soon follow.
Anyway, getting back to this year's Fall Classic, last night's opener was pretty uni-uneventful, but here are a few tidbits:
• The big, honking World Series sleeve patches looked brutal: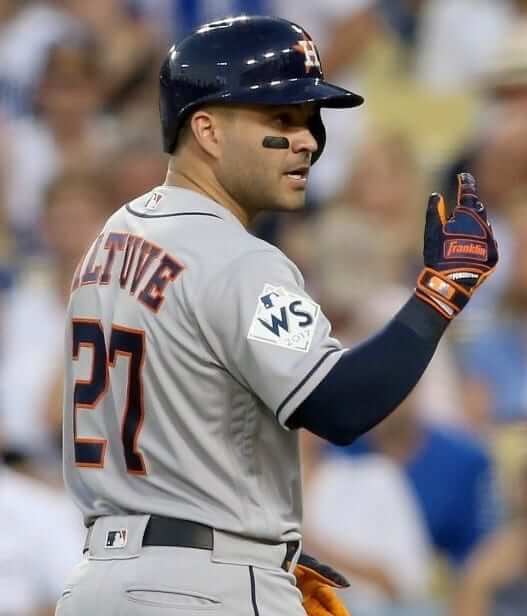 Also, as Alex noted in yesterday's Ticker, it's odd that the large sleeve patch has just "WS," while the smaller cap patch has "World Series." Seems like it should be the other way around. (By coincidence, the last time the Astros were in the World Series was in 2005, when the sleeve patches also featured the "WS" abbreviation.)
• As you can see in that last photo, a Getty photographer caught Dodgers third baseman Justin Turner with his tongue sticking out. Other Dodgers with their tongues on display last night included Kershaw and outfielder Yasiel Puig. Puig, of course, leads the league in tongue exposure. He even had an extended tongue shaved into his head and wore "Tongues Out" cleats.
• As you might have heard, it was a wee bit balmy at the ballpark — officially 103º at gametime. The Dodger Stadium scoreboard, which usually shows the temperature, wasn't equipped to show the third digit, so it just had "10" (click to enlarge):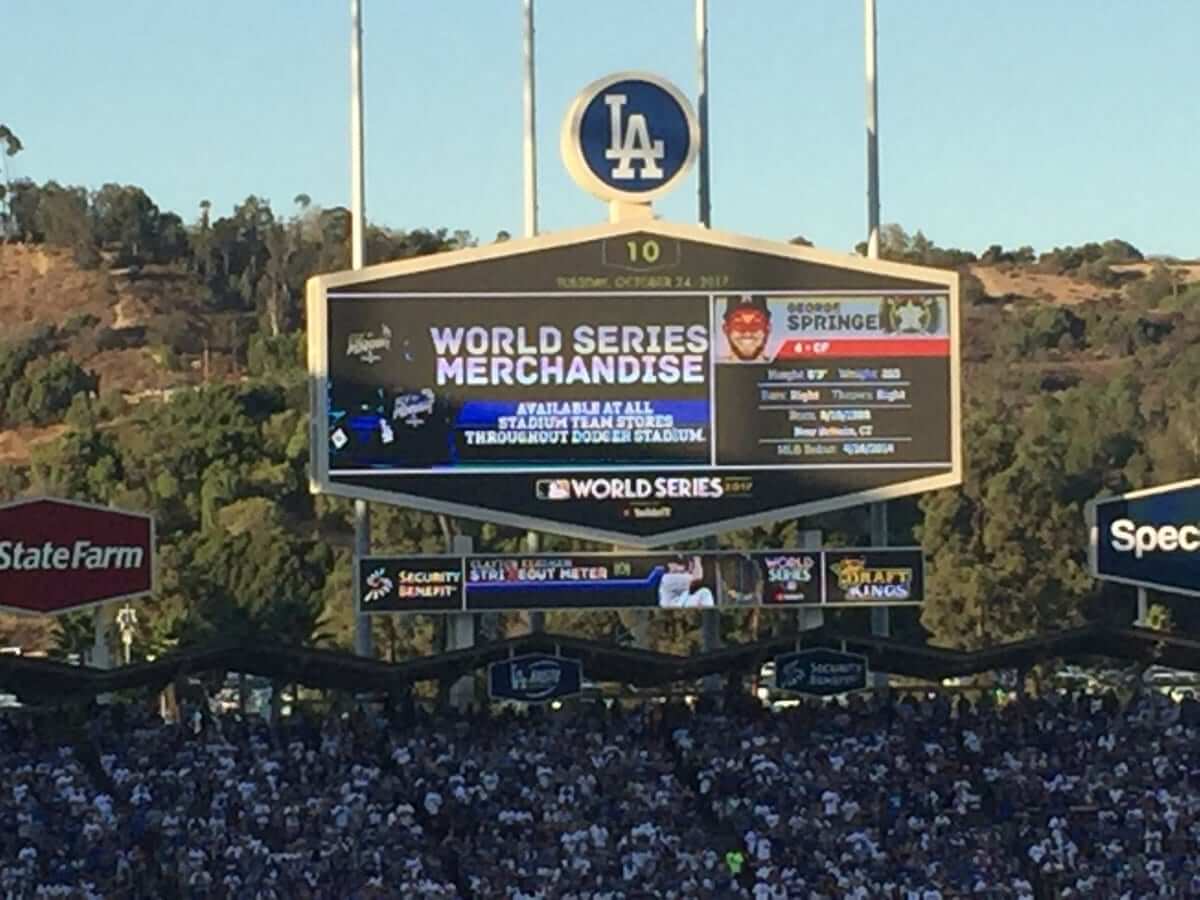 • The Dodger Stadium grounds crew was wearing advertising patches:
Dodgers grounds crew has ad patches on caps & shirts @UniWatch @PhilHecken pic.twitter.com/Z8lklGujqM

— Tom Denne (@tomteavee) October 25, 2017
• Somewhat incredibly, the game was played in only two hours and 28 minutes, making it the fastest Series game since Game Four in 1992. (Here's a log of all the Series games that took 2:30 or less, from the most recent to the most distant.)
Meanwhile, in case you missed it yesterday, here's my annual Uni Watch World Series Preview, with 10 uni-related storylines to watch for as the Series unfolds.
(Big thanks to the always-awesome BSmile for the Kershaw screen shot, and thanks also to Steve Richards, @ptakers, @theTeej_13, and @BillShaikin for their contributions.)
• • • • •
Naming Wrongs update: I'm happy to announce that we have a bunch of new Naming Wrongs designs, for the following buildings:
Hoosier Dome: Colts fans were asking for this one. It's available in blue and grey (for all photos, you can click to enlarge):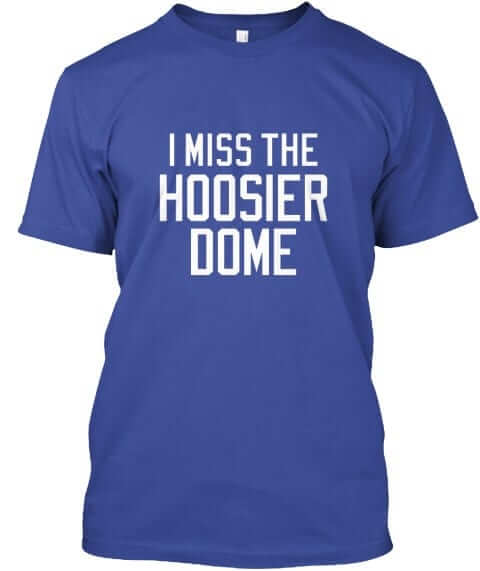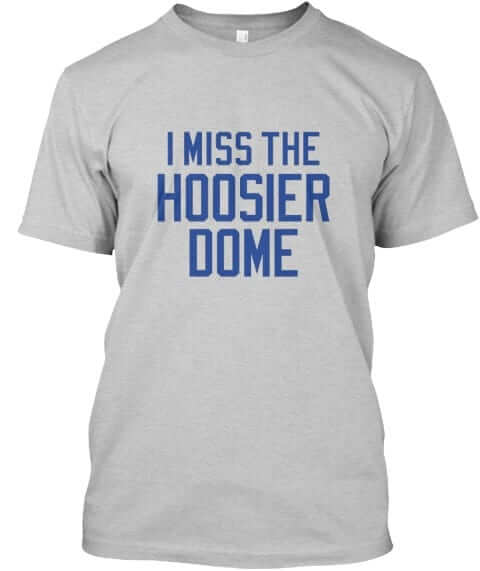 L.A. Forum: Now that the NBA season has started, we were getting lots of requests for this one. Works for the Kings as well as the Lakers. It's available in purple and gold: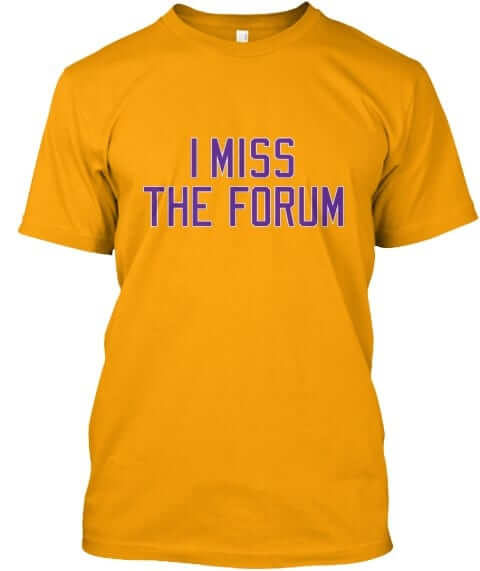 Salt Palace: Another one for NBA fans. This one's available in green and purple: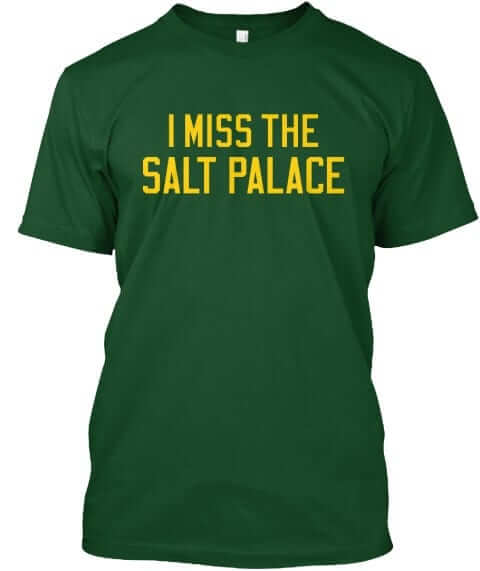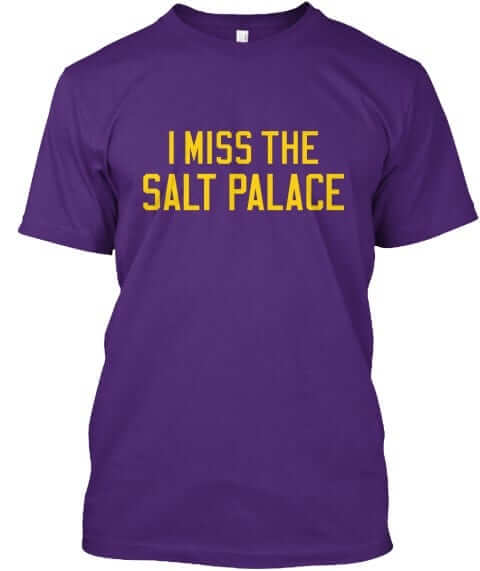 RFK redux: We had previously done RFK shirts in 'Skins colors. But now that the MLS season is over and DC United is moving from RFK to a new corporate-named stadium, lots of DCU fans were asking for their own RFK shirts. We're doing them in red, black with white lettering, and black with red lettering: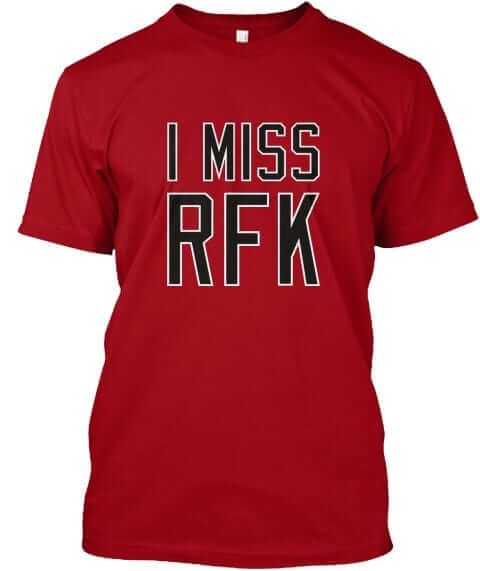 All of these designs are now available in the Naming Wrongs shop. They're also cross-listed in the Uni Watch shop, where card-carrying members can get 15% off. (If you're a member and need the discount code, send me a note and I'll hook you up.) My thanks, as always, for your consideration.
• • • • •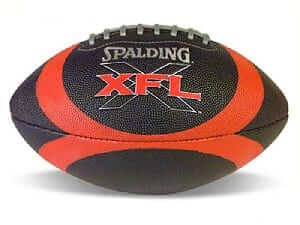 XFL contest reminder: In case you missed it on Saturday, Phil announced our latest jersey design contest, this time to reimagine a team from the XFL if the league were still operational today.
The deadline is Oct. 31. Full details here.
• • • • •
The Ticker
By Alex Hider

Baseball News: The Triple-A Charlotte Knights will honor the 20th anniversary of their affiliation with the White Sox next season by wearing unis inspired by the '80s-era Sox (from Ty Ferrin). … Braves utility man Micah Johnson made a really cool Jackie Robinson mural out of colored baseballs (from Michael Rich).

NFL News: The Ravens will be going mono-purple on Thursday night (from Andrew Cosentino). … The NFL's Instagram account apparently still thinks the Chargers play in San Diego (from Joey Rogers). … The Wall Street Journal has published a piece on the evolving off-field fashion of NFL players. … Saints OL Ryan Ramczyk is from Wisconsin and grew up a Packers fan. When the Saints played in Green Bay last weekend, Ramczyk's father wore a Saints/Packers frankenjersey to the game (from Daron Jones). … This ESPN piece speculating about where Kirk Cousins will play next year features Photoshopped pics of Cousins in other teams' uniforms (from Brian Spiess). … Here's a treasure trove of 1970s NFL apparel (from David Cline). … Found at a flea market: these Jaguars wristbands with the old "phantom logo" (from @MEbelMath).

College Football News: Southern Mississippi will be wearing "blackout" helmets with a black eagle's head decal this weekend. … Marshall will wear military appreciation helmets this Saturday (from Phil). … Boston College will once again wear bandana-pattern stripes in honor of Welles Crowther, a 9/11 victim who saved dozens of lives. More on that in this story from last season (from ACC Tracker). … Here are even more photos of the mono-gray uni Ohio State will wear on Saturday (from Phil). … Speaking of which, OSU players say they like the new grey design, although several of them say they prefer the 2015 BFBS set (from Jason Hillyer). … It's easy to forget how much advertising we're bombarded with at any given moment during a college football report (from Chris).

Hockey News: The Golden Knights will wear white at home on Friday (from @SJankowski11). … A Maple Leafs blog held a discussion about the best and worst unis in the NHL (from Phil). … A Predators fan painted his pumpkin like G Pekka Rinne — but painted him in the team's old road jersey. … The Vintage Sports Images feed on Twitter is celebrating Halloween by running a daily series of creepy goalie mask photos, beginning with this early-'60s shot of Terry Sawchuk. … Sean Huffman's niece had to decorate a pumpkin for school and put a Capitals goalie mask over the pumpkin.

Basketball News: The Magic will wear a memorial band this season for the team owner's wife, Helen DeVos, who died last week. … The Celtics have been wearing a patch on their warmup tops honoring the 10th anniversary of their last NBA title (from Mike Sullivan). … Bulls rookie Lauri Markkanen asked former Bulls player Brian Scalabrine if it would be okay to wear Scalabrine's No. 24 (from Mike Chamernik). … College of Charleston teased their new uniforms on Twitter yesterday (from Will Chitty). … New uniforms for Youngstown State (from Robert Hayes).

Soccer News: Lazio FC, a team in the top Italian soccer league, Serie A, will wear shirts bearing Anne Frank's face before their match tomorrow in an attempt to fight anti-Semitism among supporters. … Michael Rich checks in with the following story: "I recently attended a Colorado Rapids (MLS) game. I noticed when the road team, FC Dallas, got a yellow card, it was up on the video boards as a 'Toyota Yellow Card,' of course adorned with Toyota logos. When the home team got a yellow card, it was simply a 'Yellow Card.' I've never seen an advertiser for something specific to only one team, but I guess Toyota don't want their 'good name' associated with something going poorly for the home team."

Grab Bag: The National Lacrosse League's newest team will be the San Diego Seals … Speaking of lacrosse, new gloves for Penn State (from María Canales). … Police in Hamden, Connecticut are celebrating Pinkotber by painting their cruisers (from Josh Gleason). … The Sports Turf Managers Association is conducting a mowing patterns contest (from James Gilbert).