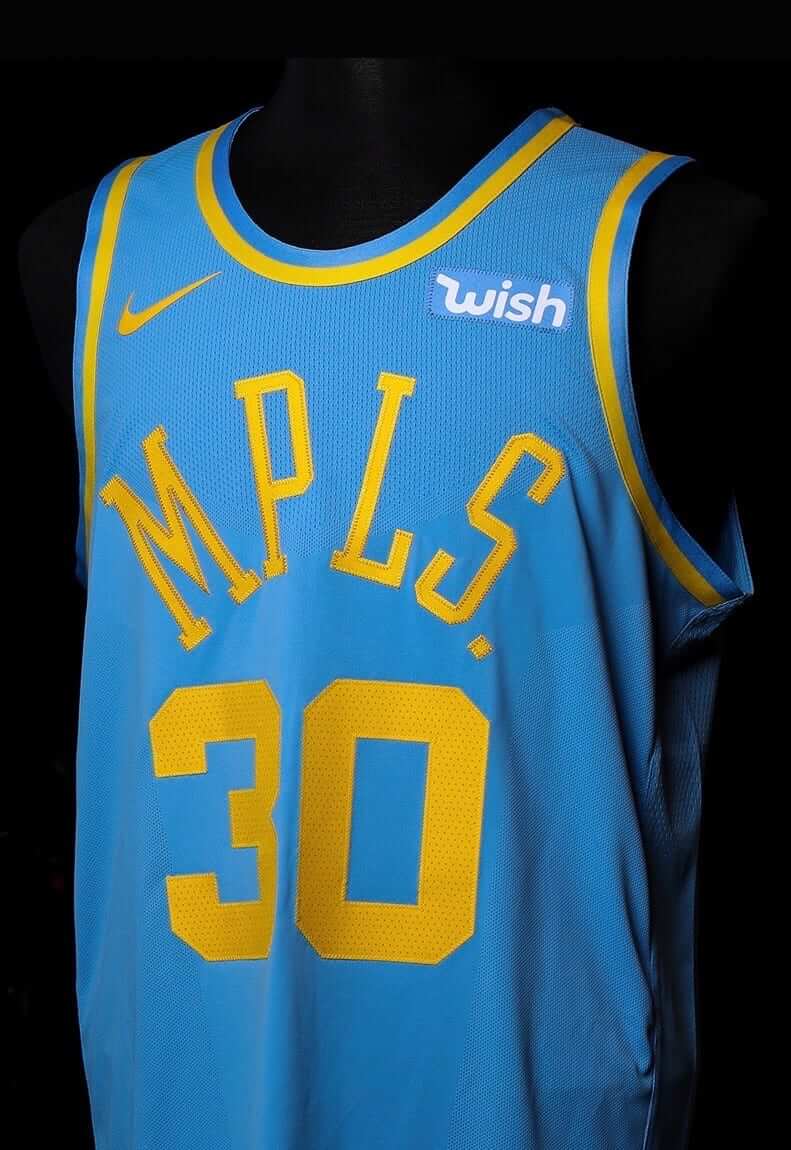 As had been widely expected based on video game leaks, the Lakers announced that they'll wear George Mikan-era Minneapolis Lakers throwbacks this season (which they also wore back in 2002). The design will make its 2017 on-court debut tomorrow and will be worn four more times this season. You can see the dates here.
This is the part where I say it's a classic design but it's ruined by the maker's mark and the corporate ad patch, both of which feel badly out of place on a retro-styled jersey, and wouldn't it be nice if they could omit those elements from the throwbacks, especially since Nike and Wish didn't even exist back when the Minneapolis Lakers played, but of course they won't do that because they're greedy motherfuckers. Never mind, you already knew all of that.
The Lakers are the fifth NBA team to reveal a throwback this season. The others are the Bucks, Hornets, Suns, and Warriors. Three additional teams — the Hawks, Heat, and Pacers — are slated to have throwbacks this season but have not yet revealed them.
• • • • •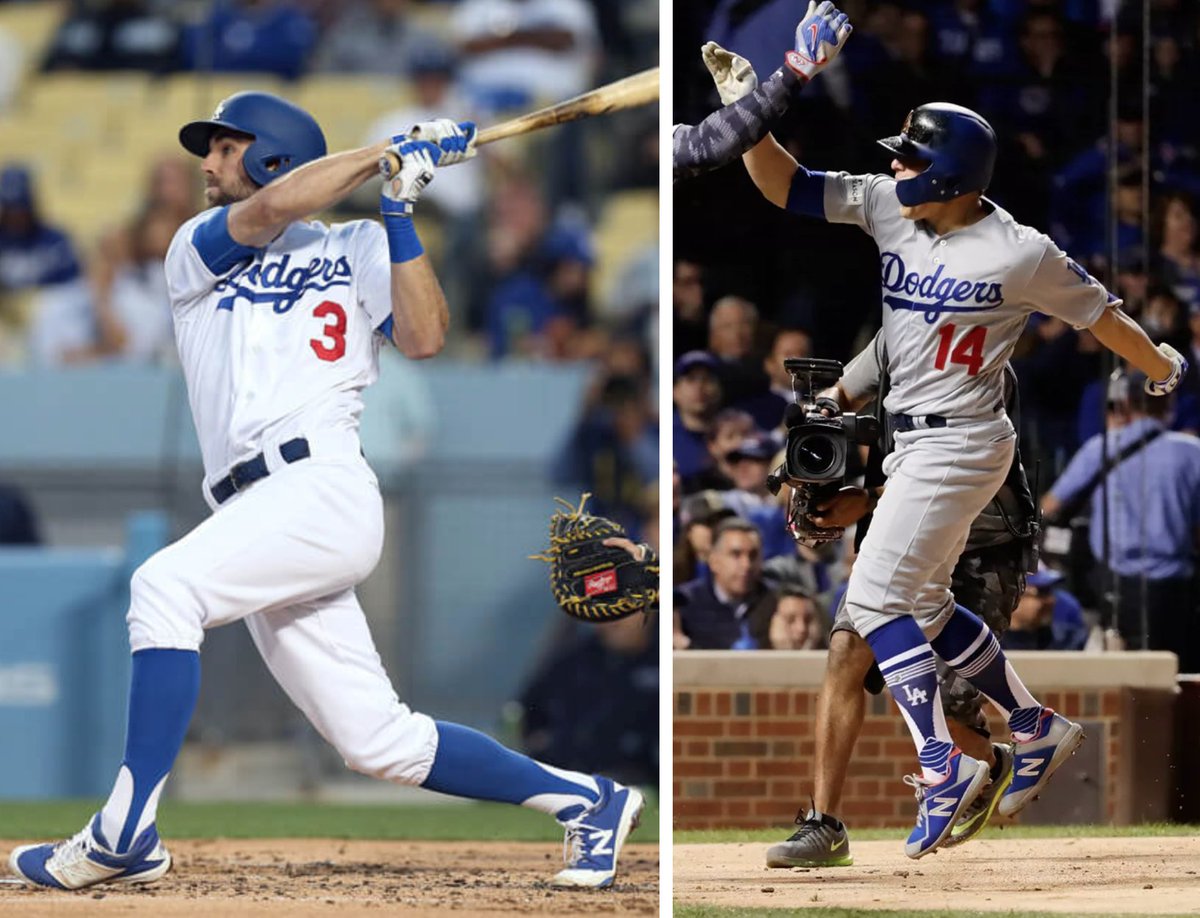 Click to enlarge
Time for the Fall Classic: The World Series begins tonight in Los Angeles. As usual I've prepared a preview column for ESPN, with 10 uni-related items to keep an eye on (including the difference beween Dodgers center fielder Chris Taylor's real stirrups and teammate Enrique Hernández's one-piece faux stirrups, shown above). Check it out here.
Incidentally, when I said that the Series will start "tonight," that was technically inaccurate for people on the west coast, since the game will begin at 5:09pm Pacific Time. Obviously, we all understand why the networks do this, but I figure it must be really annoying for fans who'll miss the first few innings while they're commuting home from work. For those of you who live out west, how do you feel about this, and how do you deal with it?
• • • • •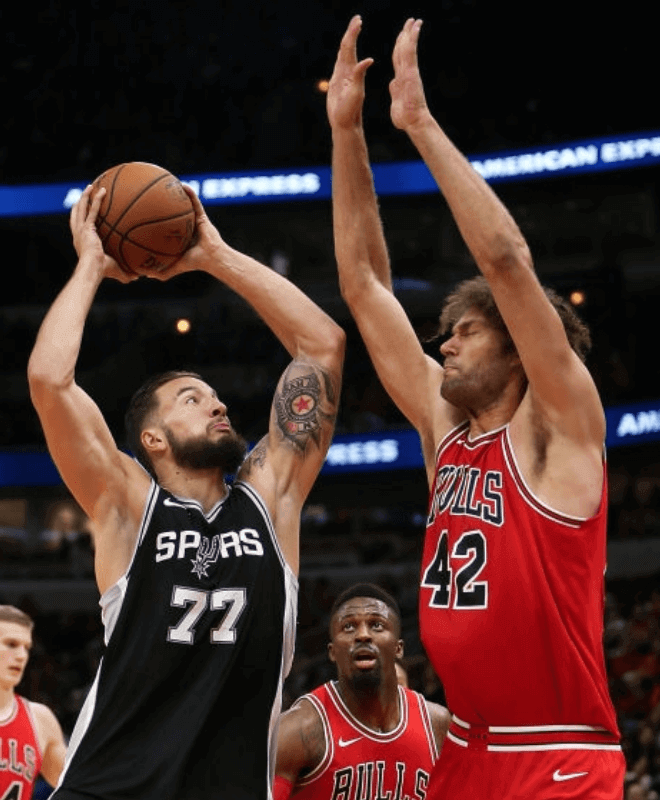 NBA Uni Tracking: Last week I noted that the first two days of NBA action had produced zero color-vs.-color games, despite the elimination of home and road uniform designations. I concluded by saying, "If anyone wants to track all of this during the course of the season, I'd love to see how it all plays out."
Reader Collin Wright immediately volunteered. He's going to update us once a week on how the NBA's uniform pairings are shaping up. Up through last night, there had been 48 NBA games so far this season. Those games break down as follows:
White vs. color, home team in white: 31 games (65%).
White vs. color, road team in white: 11 games (23%).
Color vs. color: 6 games (12%).
One note: If the Lakers wear yellow at home, we're treating that as white, not as color. (And if the Lakers wear white at home, of course we're treating that as white as well.)
So one week in, nearly two-thirds of the teams are still wearing white at home, and 85% of the games are still white vs. color. Not exactly a revolution, at least so far.
Collin also passed along the following observations:
• The Hornets, Clippers, Pelicans, 76ers, and Kings have only worn colored uniforms so far.

• The Knicks and Suns have only worn white uniforms so far.

• No team has worn its colored alternate uniform yet, although the Suns and Warriors have both worn their white throwbacks.
That's it for this week. Big thanks to Collin for compiling this data. We'll hear from him again next week, and every week throughout the season.
• • • • •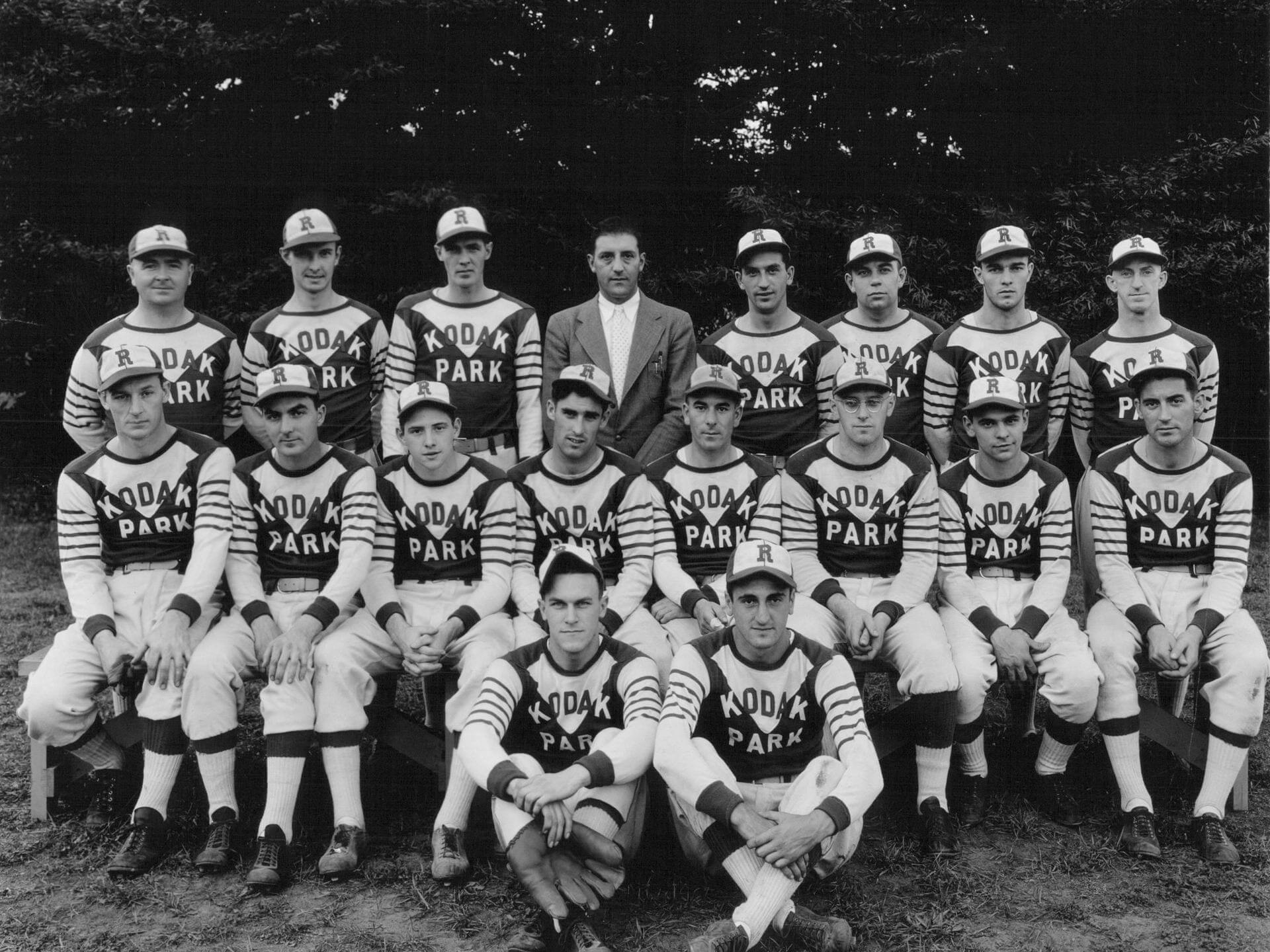 Click to enlarge (it's totally worth it!)
Too good for the Ticker: A link to the photo shown above was posted in yesterday's comments by reader/commenter Pedro. It It shows the Kodak Park team that won the world amateur softball championship in Chicago. That's some uniform! I tried to find some game photos but came up empty.
I'd love to see a colorized version of this. Anyone want to take a crack at it?
• • • • •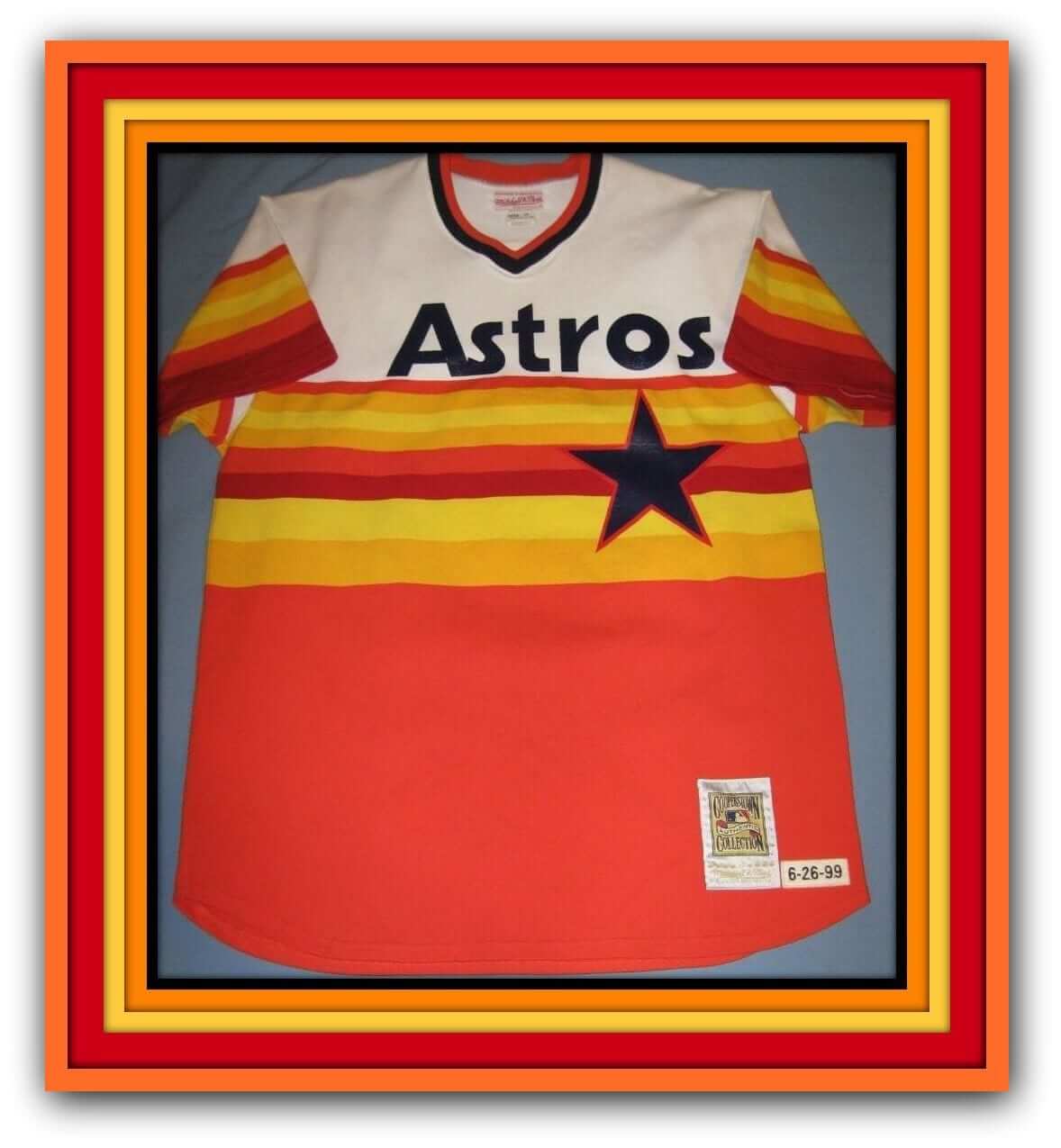 Click to enlarge
Collector's Corner
By Brinke Guthrie
Tonight is Game One of the World Series, so we're featuring the Houston Astros on today's edition of Collector's Corner. The seller indicates that Jeff Bagwell wore this tequila sunrise jersey on 6/26/99. Note that the jersey has Mitchell & Ness tagging — did they actually make on-field jerseys? Yes! Bill Henderson's authoritative guide indicates that M&N did indeed make the throwbacks that the Astros wore on that date. Of course, that doesn't guarantee that the jersey is truly game-worn, but it's still interesting to see that M&N supplied on-field product back in the late 1990s.
Now for the rest of this week's picks:
• Here's a lot of 1970s Vikings-wear; a cap, scarf, and facemask for those cold Minnesota days.
• Here's a nice-looking 1980s Steelers ceramic football bank.
• This 1970s New York Rangers hockey skate/bottle opener is still in the package.
• Here's a promo patch from Newport, Kentucky's Wiedemann brewing for the 1977-78 Cincinnati Stingers. Not even close with the logo. They took the player art from this schedule. They got just a bit closer with the logo the following season. Finally, check out the "Riverfront Coliseum" logo on these Stingers tickets. A classic, and one I have fond memories of.
• Back in the 1970s, Bonanza Steakhouses offered NFL gumball helmets for sale, like this Giants helmet, still sealed in the package.
• This 1970s Dallas Cowboys helmet buggy is in perfect condition!
• If you're a Chargers fan, take notice of this 1960s poster. It's never been removed from the plastic packing tube.
• This 1970s Cincinnati Reds luggage tag has "United Airlines, the Airline of Sports Champions" on one side.
• Cheer the Saints on to victory with this 1960s megaphone.
• Here we have a Philadelphia Flyers button still in the package. The seller says it's circa 1960s, but the NFL shield top left wasn't used until 1970, so we'll date it from that point on.
• • • • •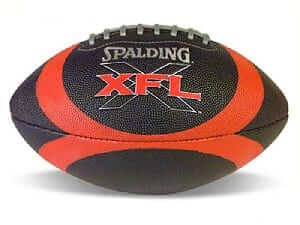 XFL contest reminder: In case you missed it on Saturday, Phil announced our latest jersey design contest, this time to reimagine a team from the XFL if the league were still operational today.
The deadline is Oct. 31. Full details here.
• • • • •
The Ticker
By Alex Hider

Baseball News: We have our first look at this year's World Series jersey and cap patches. Seems like they should be switched, no? (From Nick Maggos and Ignacio.) … Here's a ranking of the best beards of this year's World Series (from Andrew Cosentino). … Remember when the Fresno Grizzlies, the Astros' Triple-A affiliate, gave away Astros 2017 World Series champions rings — in 2015? (From David Sreeter.) … A petition has been started to get the Astros to wear tequila sunrise jerseys in the World Series. Hey, we can dream right? … In honor of the Dodgers' National League championship, Douglas Ford sent along his "Knot Hole GangDouble-A San Antonio Dodgers games for free that season.

Pro Football News: Vikings owner Zygi Wilf recently toured the team's still-under-construction headquarters in a team-branded hard hat (from Phil). … This photo of Broncos QB Steve Deberg from the 1983 season opener shows both the amplifying system he wore under his uniform (more info on that here) and the memorial patch for coach Rich McCabe that was only worn for that one game (from Bill Kellick). … Which team had the best 75th-anniversary throwbacks in 1994? Vote here (from Uni Watch Fan Page). … The Montreal Alouettes wore a helmet decal honoring the 40th anniversary of their 1977 Grey Cup championship this weekend (from Wade Heidt). … The Washington Post has a great profile on Tony Britt, who has made a career out of supplying spotting charts for football broadcasters (from Rob Evans).

College Football News: Arizona State has unveiled a new military appreciation uniform, which will be worn on Nov. 4 against Colorado. The back of the helmet includes the names of all ASU players and coaches who've ever served in the military. Additional info and photos here. … More teaser images have been released of the GFGS unis that Ohio State will be wearing this weekend. Penn State apparently tried to block the Bucks from wearing the jerseys citing number contrast rules, but to no avail (from Tad Haislop). … Speaking of Ohio State, they apparently have mono-white unis in the works for the Michigan game. … The concourse of Colorado State's stadium includes a labeled mural of the mountains surrounding the campus (from Kary Klismet). …  Also from Kary: there's some Iowa uniform talk in this podcast between 1:52 and 5:25. The hosts even cite Uni Watch and indirectly get into Paul's theory about the uniform-industrial complex. … Cross-listed from the pro football section: Here's a great profile on Tony Britt, who has made a career out of supplying spotting charts for football broadcasters (from Rob Evans).

Hockey News: Devils C Brian Boyle was recently diagnosed with leukemia. A mural bearing his image has sprung up at the corner of 7th Ave. and 28th St. in Manhattan (from James Beattie). … The Brandon Wheat Kings wore Don Cherry-inspired jerseys on Friday (from Megan Brown). … The Clarkson University women received their NCAA championship rings yesterday (from John Muir). … This list ranks the 15 worst goalie masks of all time (from David Firestone).

Basketball News: Warriors G Steph Curry has been fined $50,000 for throwing his mouthpiece at an official on Saturday. … Hornets F Frank Kaminsky is going with RNOB this season (from Jack Pesin). … This Robert Traylor basketball card features a player who appears to be the Magic's Isaac Austin in a NNOB jersey (from @otterBP). … The ABA has a new team: the Akron Aviators. Here's their logo. No sign of the uniforms yet (from Jim Vilk).

Soccer News: The South Korean women's national team and the USWNT played two friendlies and switched between mono-red and mono-white unis. All players on the South Korean women's national team went FNOB with each player's last name listed in all-caps first. The player's first name followed in mixed case (from our own Jamie Rathjen). … Kyle Burkholder's MLS tracker for the 2017 regular season is complete.

Grab Bag: Last week, we mentioned in the Ticker that a member of the US women's gymnastics team wears glasses during competition. Turns out that Penn State's Stephen Nedoroscik does the same thing (from Mike Wilson). … Someone ran the Toronto Marathon dressed as Gord Downie, the recently deceased frontman for the Tragically Hip and one of Canada's favorite sons (from Mike Styczen). … This long video details 10 pro wrestlers who were forced to wear masks because of injury (from David Firestone). … Also from David Firestone: Check out this guy who gave his car a paint job — with Sharpies!
• • • • •

What Paul did last night several nights ago: Every year around this time I attend the Food Film Festival, which is exactly what it sounds like — a bunch of short movies about food. The kicker is that they serve you the food you're seeing on the screen as the movies are playing (which sounds chaotic and disruptive but actually works out surprisingly well), and then there's an afterparty with more food. It's always a great time.
The FFF typically extends over four days, but I usually attend only one or two days. This year that day was last Friday, when some friends and I checked out this program. Most of the movies were about the actual preparation of food, but one of them was a really clever, super-entertaining flick about how the term "Grey Poupon" shows up a lot in rap lyrics. That film, which was originally done for Vox, is available on the web. Highly, highly recommended — the best 10 minutes you'll spend today, trust me.