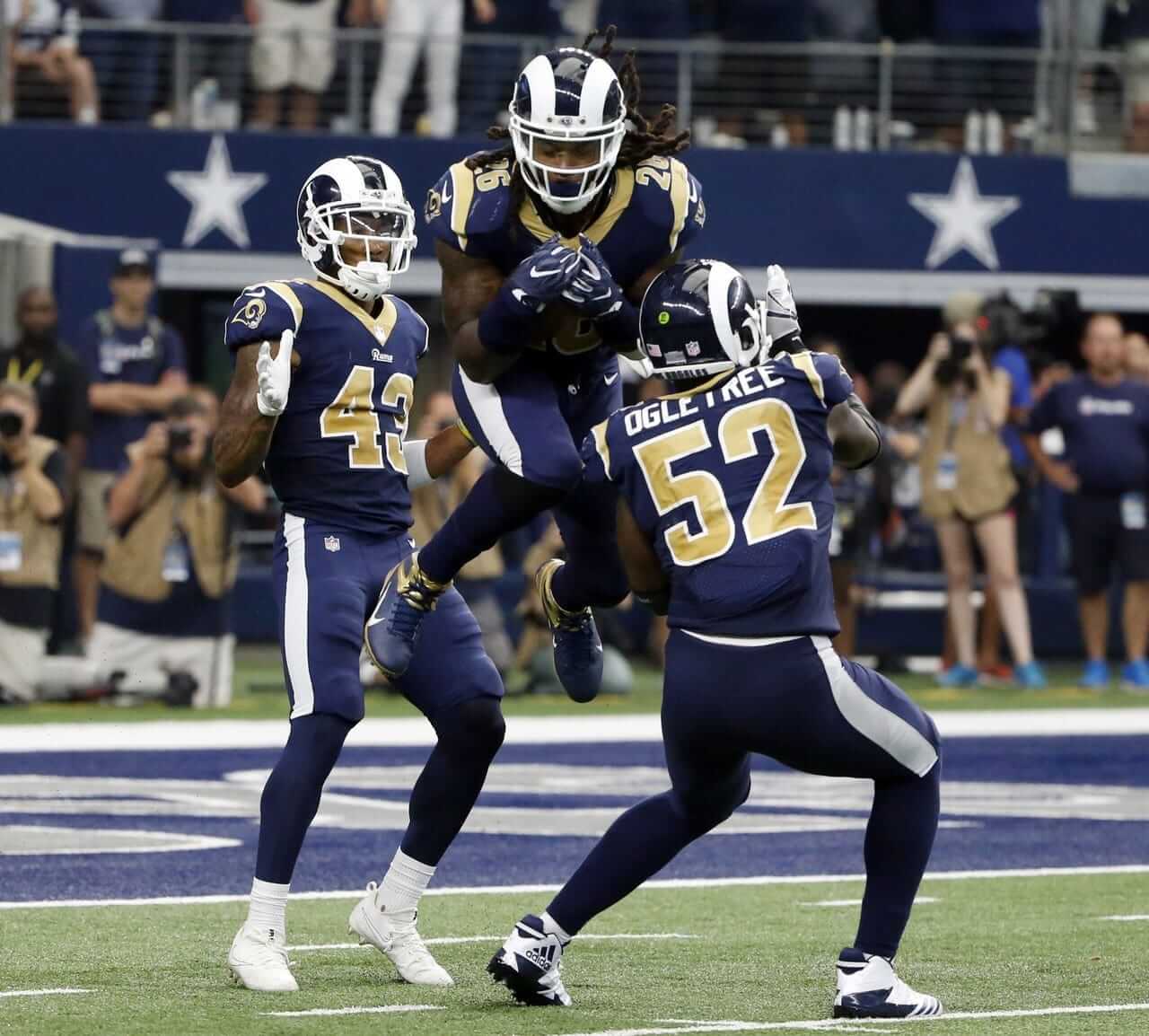 Click to enlarge
In August and September, as the Rams wore their white jerseys throughout the preseason and the first three weeks of the regular season, people said, "The little bits of gold trim on the jersey really clash with the white helmet horns and white facemask." They were right, of course, but it wasn't a huge clash. It seemed like something we could all live with until they get a full-scale makeover in 2019, when their new stadium opens.
Yesterday, though, they were playing in Dallas. The Cowboys, as usual, wore white at home, which left the Rams no choice but to wear their blue jerseys for the first time in 2017, and it was an utter fiasco. The gold numbers, gold collar, and gold shoulder stripes were a complete mismatch with the white-themed helmet. The white stripe on the pants didn't help, either.
As several fans noted, the jerseys include a sleeve logo showing a ram with gold horns, which (a) doesn't match the horns on the helmet, (b) doesn't match the logo on the nose bumper, and (c) doesn't match the team's current primary logo!. It neatly captures everything wrong with this uniform: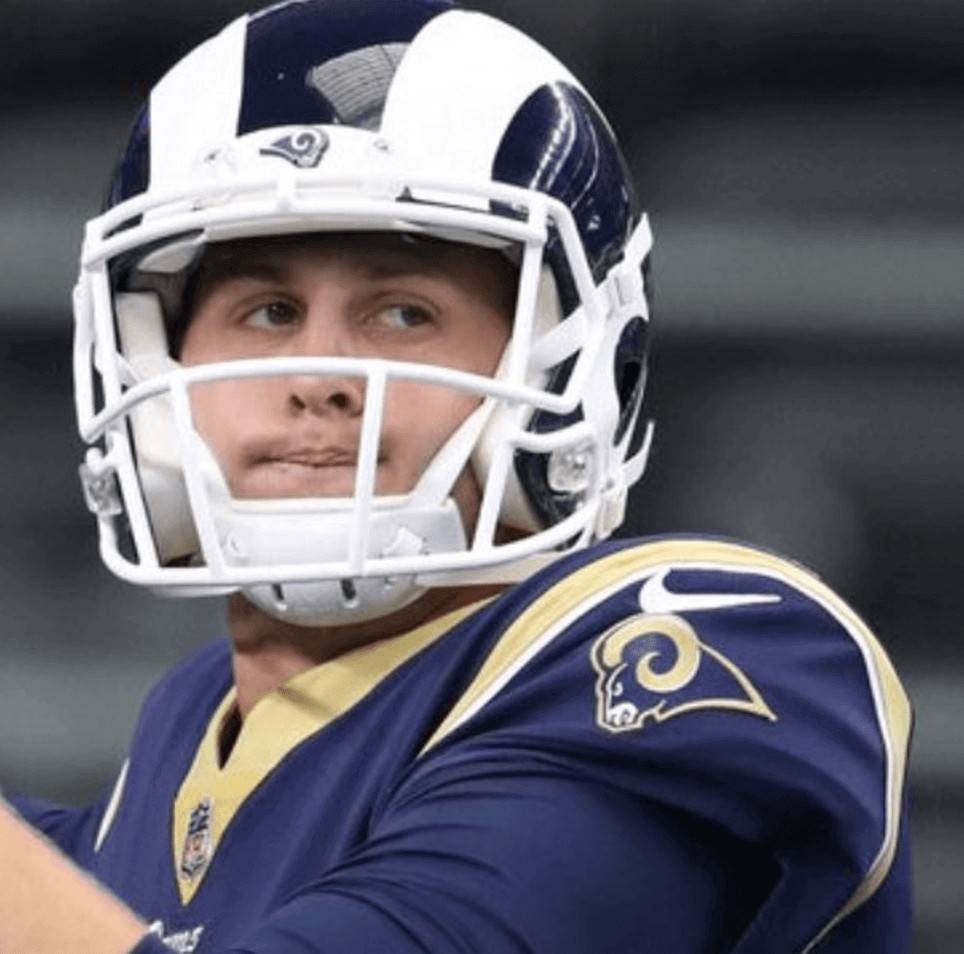 Ugh, what a mess. Additional photos here.
In other news from around the league yesterday:
• In a surprise move (at least to me), the Jets, who normally wear green facemasks, wore white masks (click to enlarge; additional photos here):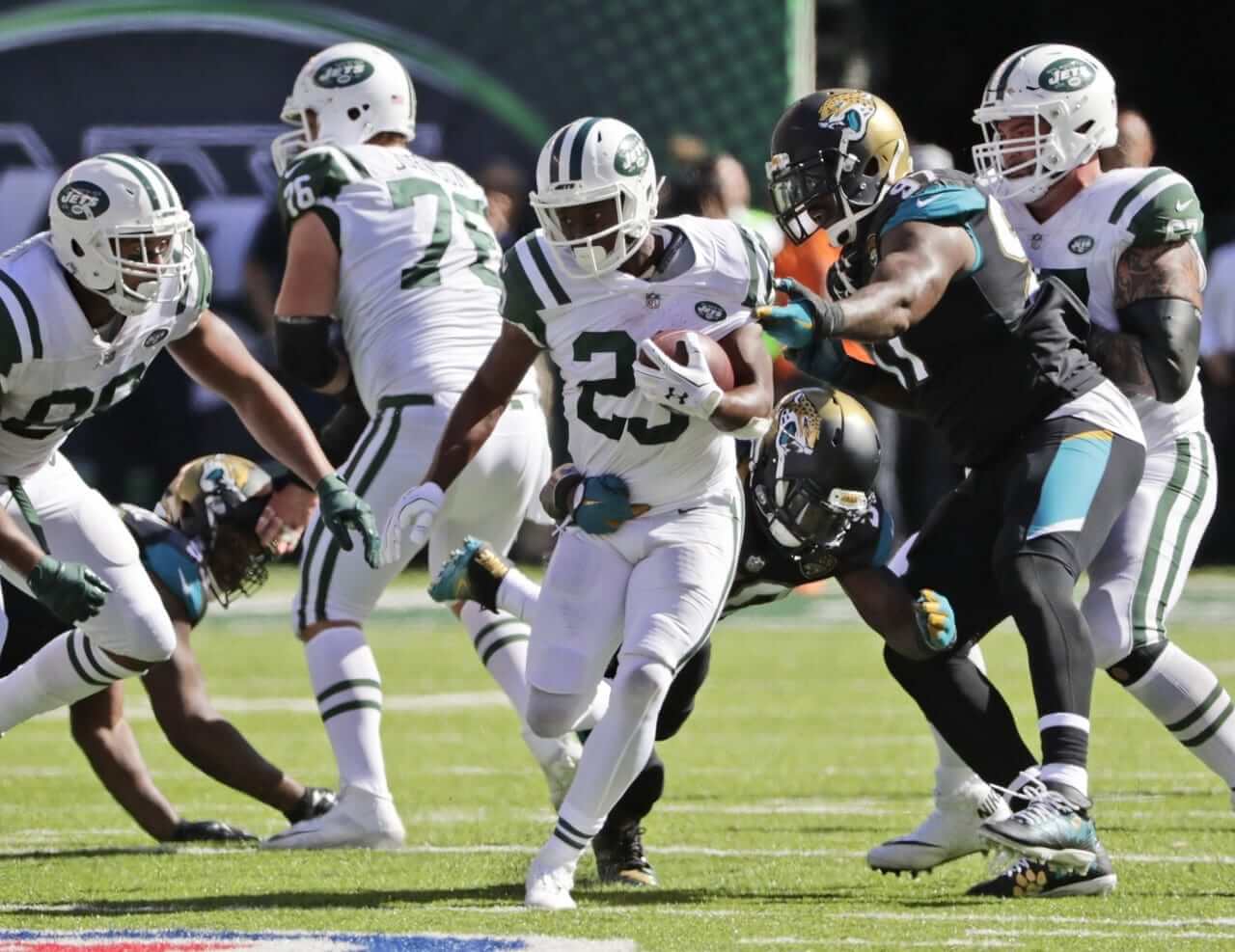 We all know that teams can swap out their masks for throwback games or Thursday-night games (indeed, the Jets wore the white masks for a Thursday-night game last season), but many fans were understandably confused about the Jets doing this for a normal Sunday game. Is that allowed? I'll try to find out. (At the very least, if the Jets can do this, then the Rams should shift to blue masks when they're wearing their blue jerseys.)
• The Falcons wore 1990s throwbacks (additional photos here):
The Falcons also ran an amusing "Uniform Selection" video on Twitter:
It's GAME TIME in @MBStadium!#InBrotherhood pic.twitter.com/GHQBNTlI0B

— Atlanta Falcons (@AtlantaFalcons) October 1, 2017
• The Dolphins and Saints crossed everyone up by wearing "NFL London Games" jersey patches for their game at Wembley Stadium (click to enlarge):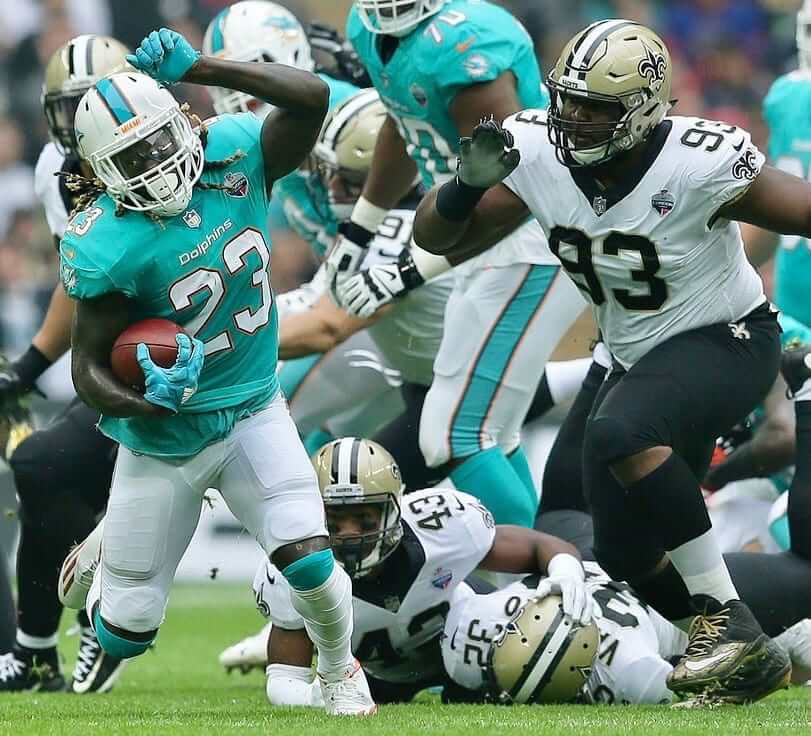 This was surprising on two levels: First, the Jaguars and Ravens didn't wear a jersey patch when they played in London a week earlier. Moreover, no NFL team playing in London has worn a commemorative patch since 2012. All London games have been patch-free for the past four seasons.
The patch worn yesterday was the third different design that the NFL has used for London games. Here are all three, along with the years they were used: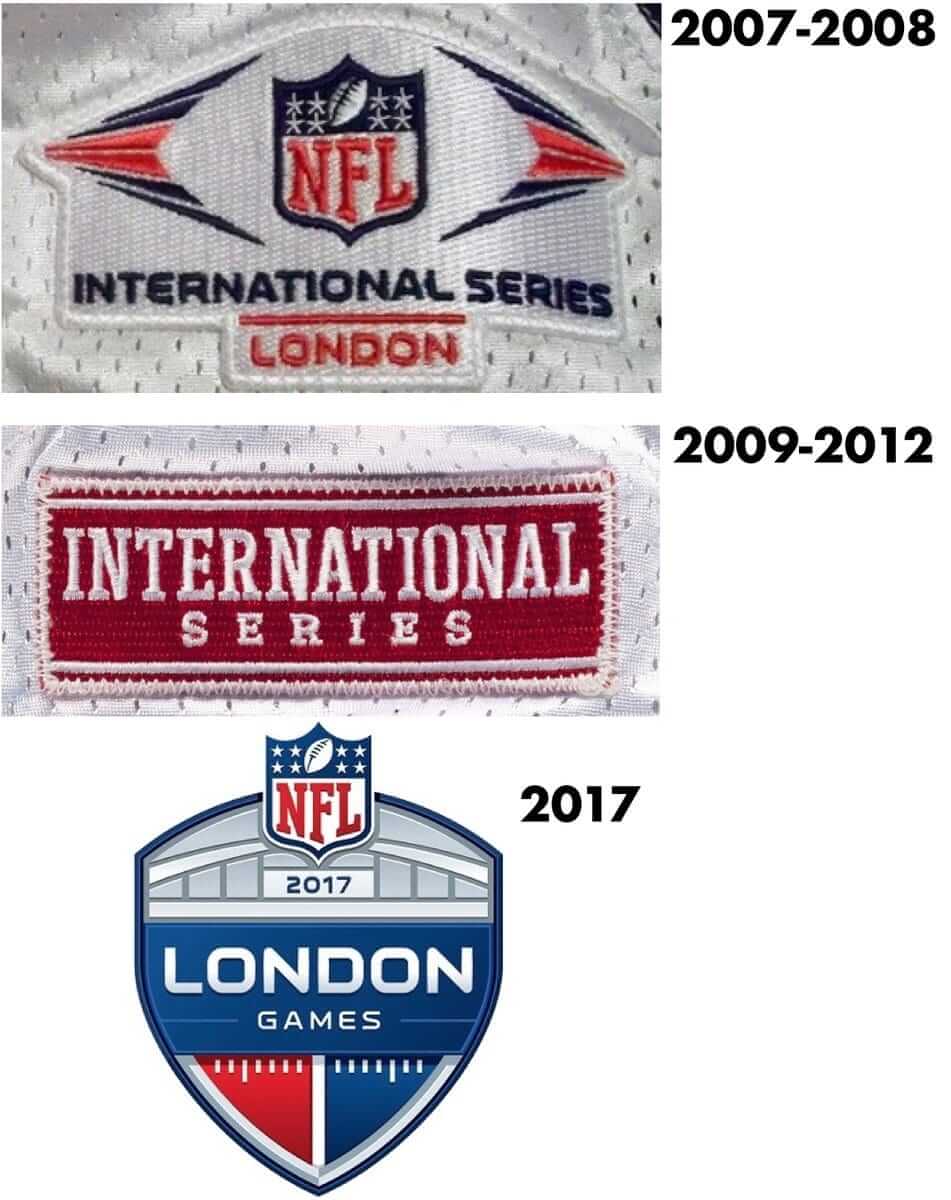 There are three more London games on this season's schedule. It remains to be seen if the patch will be worn for any or all of those games, although my hunch is that it will be.
• The Ravens, playing at home against the Steelers, wore mono-black. Of all the monochromatic looks in the league, this is the one I'm the most okay with, because a raven is black, after all.
• I've noted before how several Bills offensive linemen have been wearing the old Nike template with the full collar striping. Yesterday marked the time this season that they wore their white jerseys, and those linemen were still wearing the old template, as seen here on Richie Incognito, Eric Wood, and John Miller. We've now established that this was neither a one-game thing nor a blue-jersey-only thing, so I'll stop calling it out each week.
• Panthers wide receiver Kelvin Benjamin had some odd X-shaped stitching running through his sleeve logo. Never seen that before: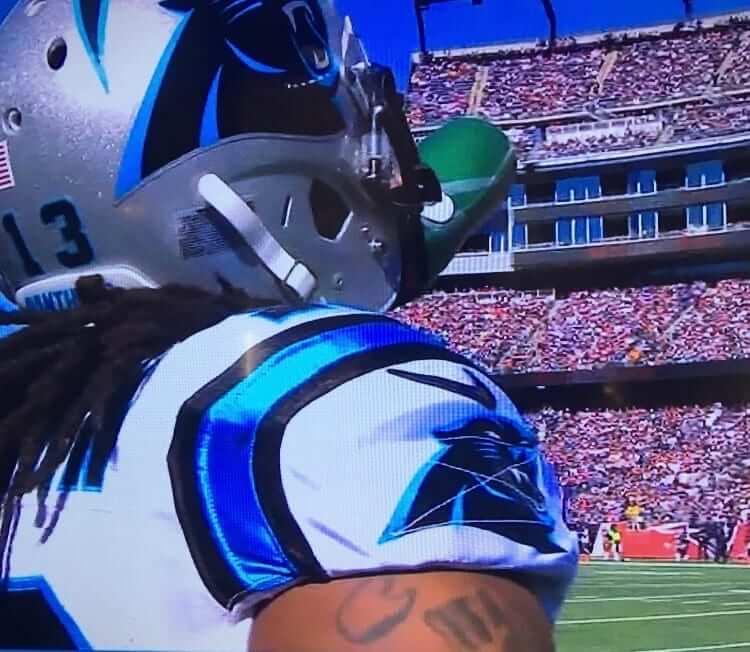 • Five teams wore white at home: the Bucs, Browns, Chargers, Jets, and, of course, the Cowboys.
• Here's a list of players who engaged in protests during the national anthem. In addition, Raiders running back Marshawn Lynch arrived for yesterday's game wearing an "Everybody vs. Trump" T-shirt: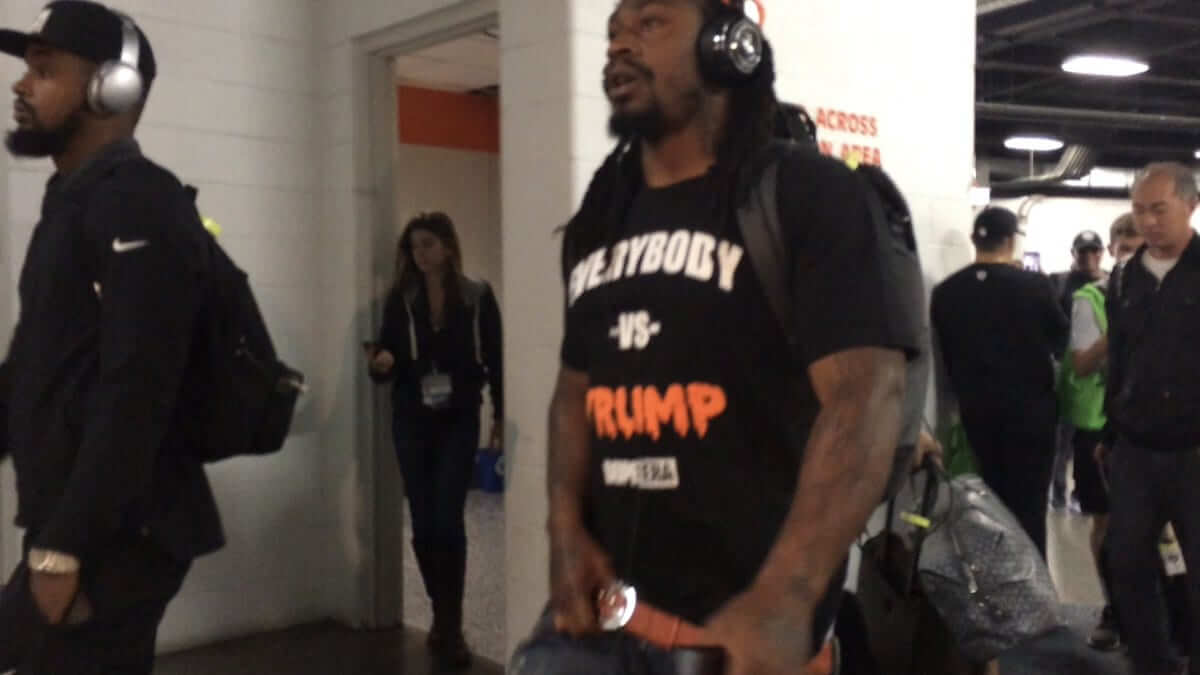 And Colts staff members wore social justice T-shirts prior to last night's game against the Seahawks: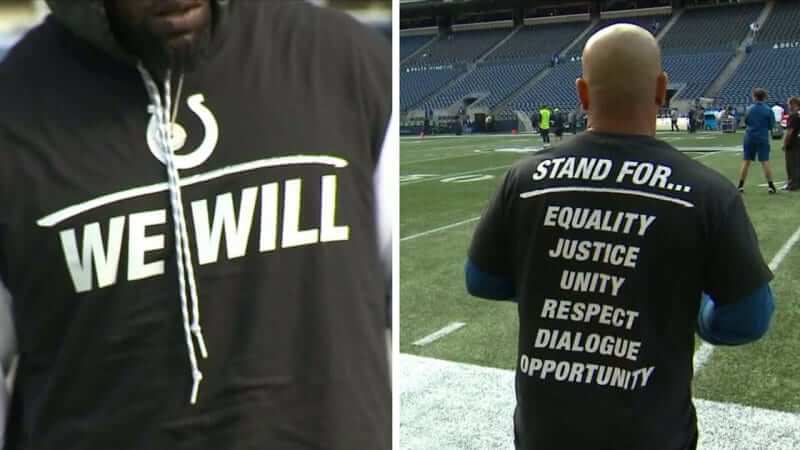 (My thanks to Adam Galucki, Robert Hayes, Stephen Hayes, and Derek Trout for their contributions.)
• • • • •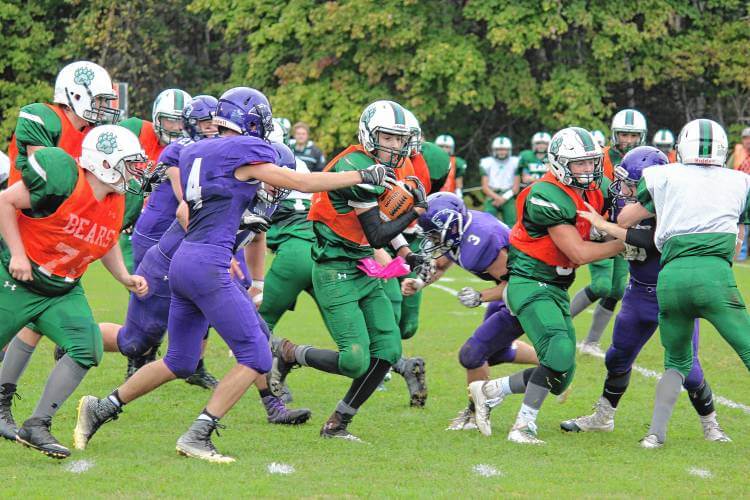 Photo by Greg Fennll, Valley News; click to enlarge
Granite State oddity: The photo shown above looks like it's from a mid-week practice, right? But it's actually from a high school game that took place on Saturday between two New Hampshire high schools — Mascoma (in purple) and Newfound Regional (in green).
What's with Newfound's pinnies? According to this article, Newfound "showed up in all-green uniforms that the officials said were too close to Mascoma's all-purple togs to easily differentiate. Newfound was ordered to play in practice pinnies over its shirts, making player identifications nearly impossible."
The bizarre thing, as you can see in the photo, is that some Newfound players wore white pinnies and other wore orange. And it wasn't just that one guy wearing white — here are some more: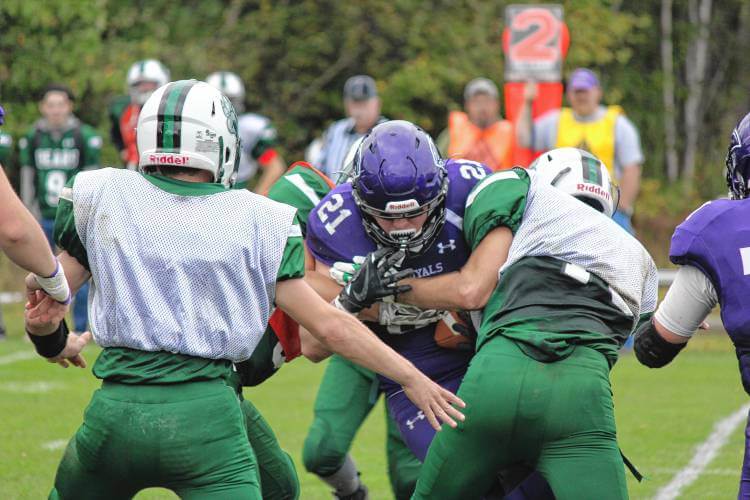 Moreover, as you can see, the pinnies obscured the players' numbers, so how were the officials supposed to differentiate between eligible and ineligible receivers? Bizarre.
Of course, the biggest mystery here is how the officials could think that the world's best and world's worst colors were "too close to differentiate."
(My thanks to New Hampshire sports maven Tris Wykes for letting me know about this one.)
• • • • •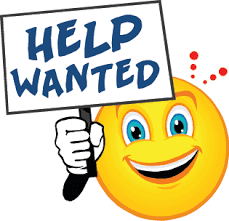 Help Wanted: I could use a bit of assistance with an admittedly boring clerical task involving college basketball. It should take a few hours, and there's a free Uni Watch membership card in it for ya (along with an inside look at the clerical drudgery that my job sometimes entails).
If that sounds like you, get in touch and I'll provide more details. Thanks. Thanks to those who've responded. I now have enough helpers, at least for the time being.
• • • • •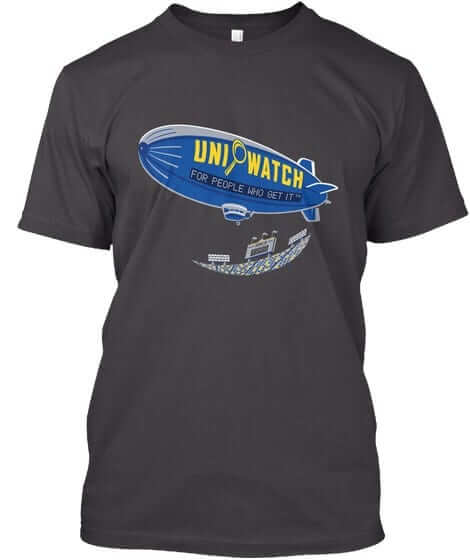 T-shirt reminders: In case you missed it on Friday, our latest limited-edition shirt from the Uni Watch Artist's Series is by the great Sean Kane (shown at right; click to enlarge). It's available here through next Monday, Oct. 9. Additional info here.
We also have a bunch of new Naming Wrongs designs. Check those out here.
• • • • •

Baseball News: The Twins wore batting practice caps for yesterday's game season finale against the Tigers (from Sam Johnson).


NFL News: A Colin Kaepernick jersey has made it into an exhibit at the Museum of Modern Art called "Is Fashion Modern?" In that picture, it's between a New Zealand women's national rugby team shirt and Pelé's Brazil national team shirt circa the 1960s (from Paul Friedmann).

College/High School Football News: The GlenOak (Canton, Ohio-area) High School Eagles wear both Oregon-like wings and Georgia's G on their helmets (from Tom Pachuta). … Reader Andrew Cosentino found a drawing of a Virginia Tech jersey with "Impeach 45" on the back at a restaurant in Roanoke, Va. … Christopher Hall found this combination Boise State/Florida shirt. … Virginia was off this week, but Uni Watch ACC tracker Rex Henry still sent in this picture of WR Andre Levrone that managed to capture the stripes on the helmet and both sides of the pants all at once in Boise last week.

Hockey News: Three junior hockey items out of the WHL from Wade Heidt: The Prince Albert Raiders wore Don Cherry-inspired jerseys on Saturday. Coach Marc Habscheid was also appropriately garbed in a tartan jacket. … The Tri-City Americans (based in Kennewick, Wash.) wore 30th-season throwbacks. … The Portland Winterhawks and Seattle Thunderbirds went color-vs.-color, which Wade notes is a growing tradition when the two teams meet. … The Panthers hosted an alumni game yesterday and used old Reebok and Bauer jerseys (from @VistFoundation).

NBA News: In Saturday's preseason game, the Timberwolves wore white and the Lakers wore yellow. That's a matchup that couldn't have happened before this season but is now possible due to the elimination of home and road uni designations (from Austin Zelasko). … For an early example of "uni-tracking," the Spurs' broadcast team showed the team's record sorted by Dennis Rodman's hair color in 1994 (from @FortWaynePistons).

Soccer News: In England, Brighton and Hove Albion looked a bit like the throwback Padres in their second-choice kit yesterday (from Jeff Lyons). … Lots going on in Spain, where FC Barcelona played their game against UD Las Palmas behind closed doors as La Liga refused to postpone it due to the Catalan independence referendum. Las Palmas added the Spanish flag to their shirts, while Barcelona responded with their "pre-match shirts," which just happen to be yellow with red stripes – i.e., the Catalan flag (from Ryan Maquiñana). … During the game itself, FCB striker Luis Suárez ripped his shirt in half after having missed a chance (from @True2Atlanta). … Additionally, the scoreboard displayed a ballot box and the word "Democràcia," a reference to the Catalonia independence vote. … Later, there were contrasting visuals at Real Madrid's game against RCD Espanyol: a giveaway of paper Spanish flags meant many could be seen in the stands in the 12th minute, while Espanyol, the "other team" from Barcelona, have a Catalan-flag captain's armband. … Two observations left over from Saturday: Chelsea and Manchester City didn't go blue-vs.-blue as they have done in the past, but Kilmarnock (at left) and Ross County did in Scotland. … Atlanta United goalie Brad Guzan was missing the team crest from his shirt (from @True2Atlanta).

Grab Bag: New shirts for Italian SuperLega (volleyball) team Modena Volley (from Jeremy Brahm). … Pinktober came to NASCAR this week in the form of Danica Patrick's car and a pink hat on Jimmie Johnson's crew chief, Chad Knaus.