•  •  •  •  •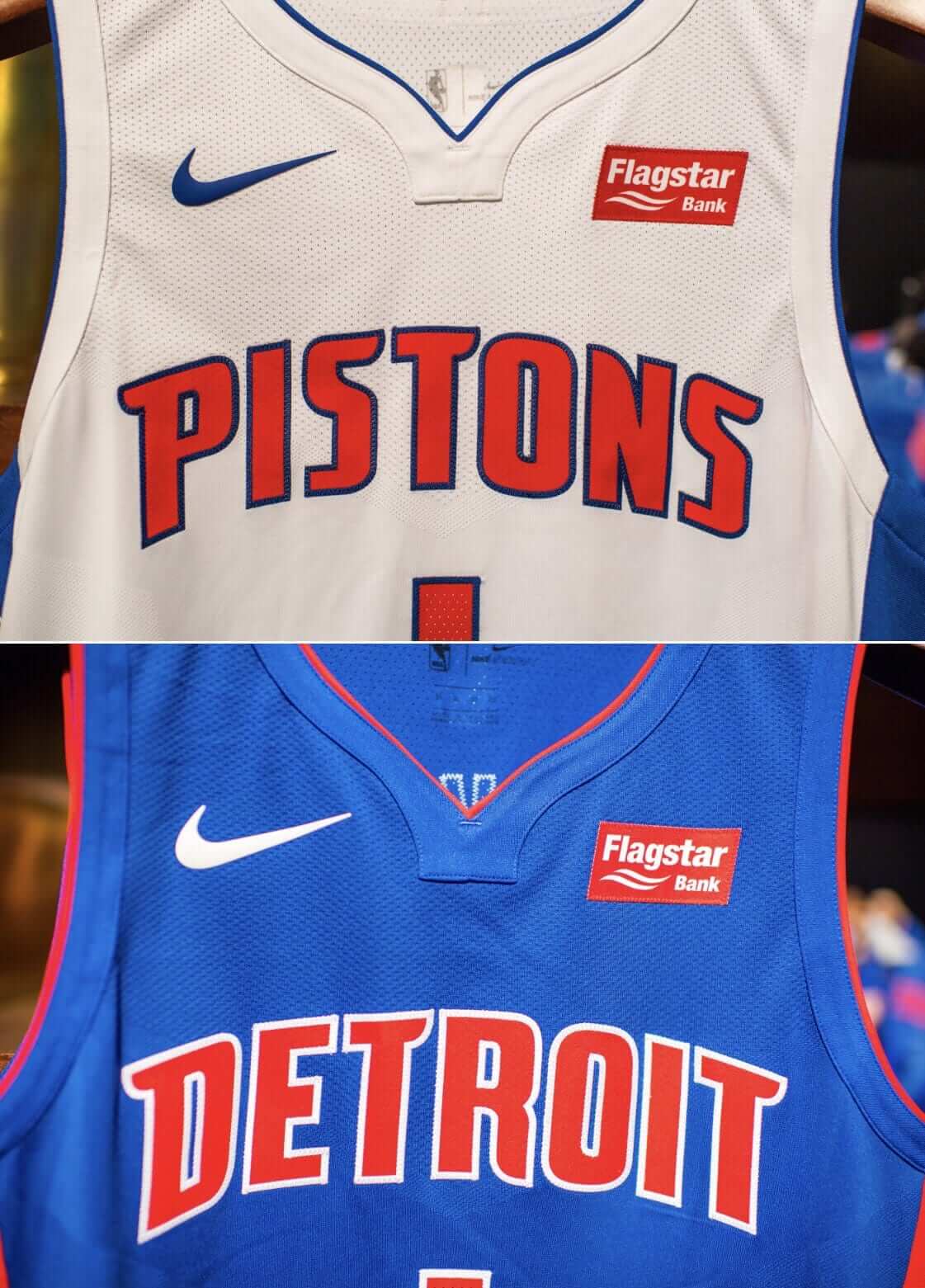 Click to enlarge
The Pistons yesterday became the 10th NBA team to have a uniform advertiser, as they announced a deal with Flagstar Bank. The bank is headquartered in the Detroit suburbs, so there's a local connection.
There's something sort of perfect about a bank getting in on the uni ad action. It really symbolizes what the whole program is about, no? And hey, the Pistons can take their check from Flagstar and deposit it at Flagstar. Perfect.
The Pistons also used the announcement as a way of unveiling their home and road white and blue jerseys. Here's a better view (click to enlarge):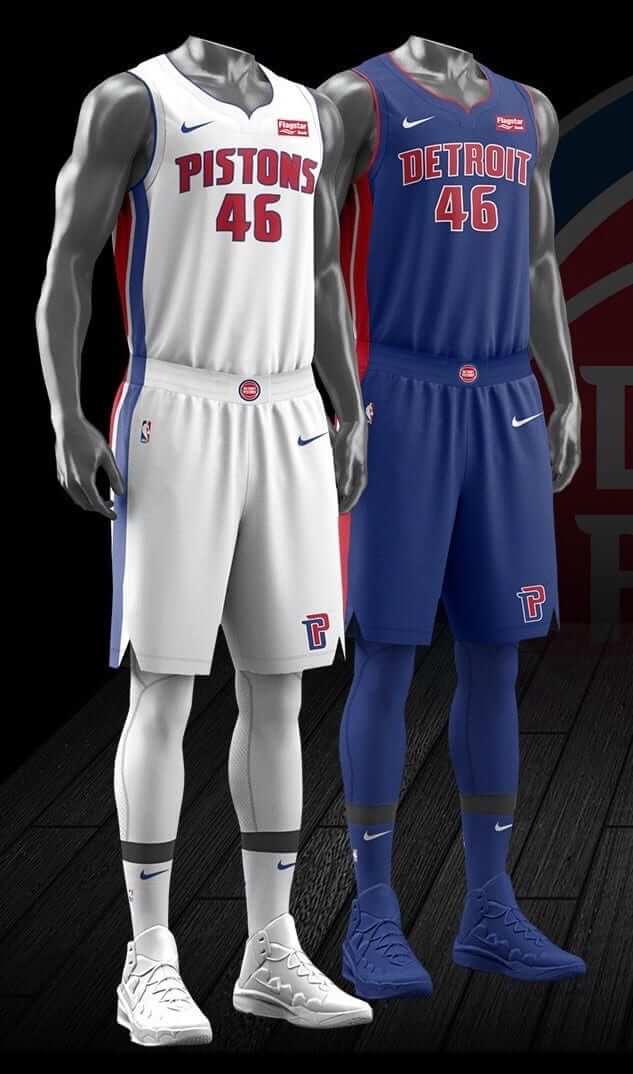 The main changes appear to be:
•  They've gotten the same modified collar treatment that most of the other teams seem to be getting. No more wishbone.
• The color sequence on the home uniform's side striping has been reversed. It used to have red facing forward and now has blue facing forward.
•  The new interlocking "DP" logo has been added to the shorts, replacing the old "DP" logo.
•  The triangular cutout on the side of the shorts is positioned a bit more toward the front. We saw this with the Kings as well. Probably a Nike-wide thing.
•  The trend of every team having a waistband logo, which I mentioned yesterday, is continuing.
Also, this image has given us our first look at how the NBA will look with Nike's coordinating tights and socks (in case you hadn't heard, Stance is out). Get ready for a lot of swooshes.
Later in the day, the Thunder unveiled their new uniforms. We had already seen what their white uni would look like, thanks to a video game promotional screen shot, and the official photos confirmed that they're mostly sticking with what they had (click to enlarge):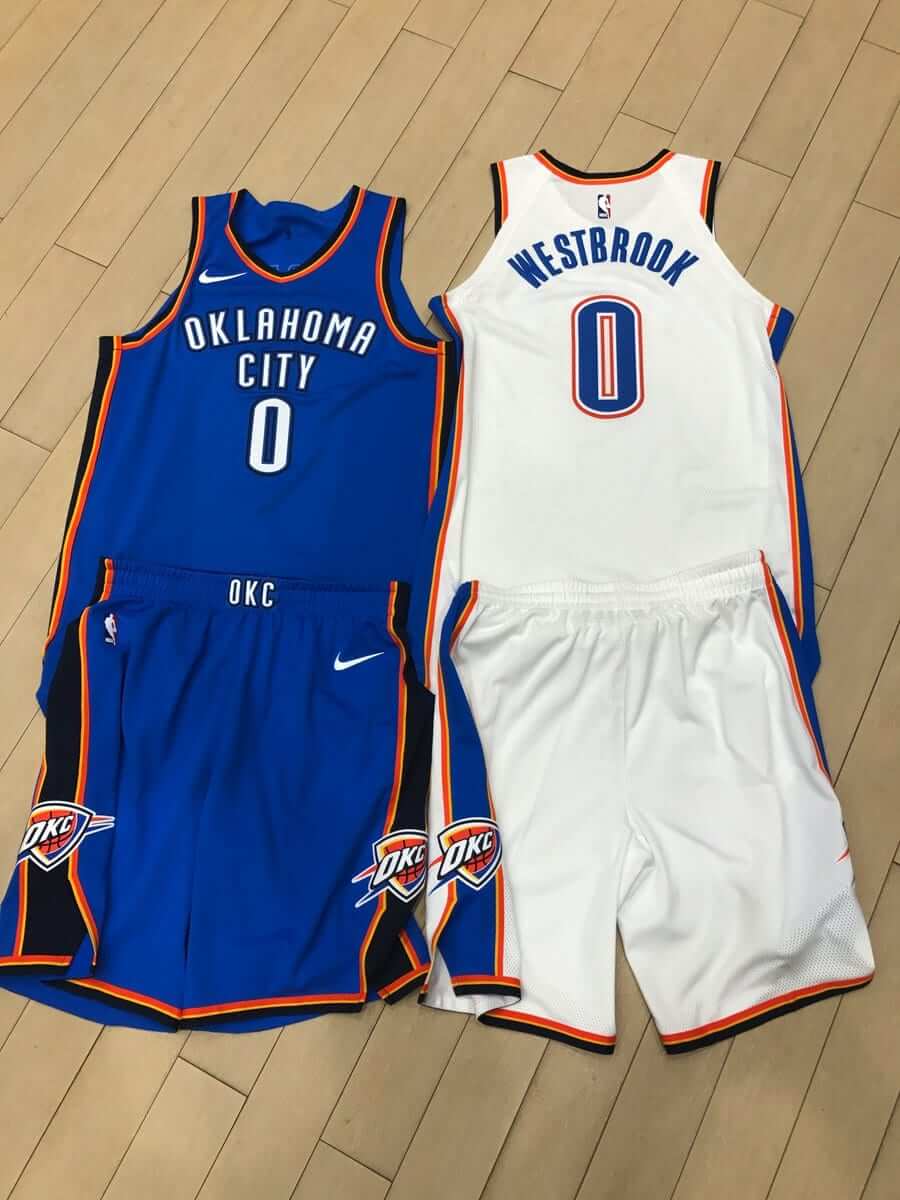 (Hmmm, the mannequin on the left didn't get swooshes on his socks. Someone's going to get fired over that, no?)
The changes here appear to be the addition of the waistband logo; an adjustment to how the piping wraps around the cutout at the base of the shorts (here's how it used to look); and the truncated armhole piping on the back of the jersey. In short: the same basic uniform with some extremely subtle tweaks that most people won't even notice.
Also, this unveiling would seem to confirm that the Thunder will not have a jersey advertiser this season. I suppose they could still ink a deal on the fly, but they probably wouldn't be unveiling anything now if they were currently negotiating with an ad partner.
Meanwhile: It appears that Portland will be unveiling their new uniforms on Saturday.
•  •  •  •  •
Best ejection ever: Rangers third baseman Adrian Beltre is a folk hero this morning. If you missed what happened last night, here's the scoop: Beltre, like many MLBers, tends to stray quite a bit from the on deck circle when he's awaiting his turn at bat. Last night umpire Gerry Davis told him that he needed to be closer to the circle, so Beltre "complied" by moving the circle to his preferred spot, whereupon Davis ejected him:
I had never seen someone ejected for dragging an on-deck circle so thank you Adrian Beltre pic.twitter.com/8Trb8dbjN7

— Dave Lozo (@davelozo) July 27, 2017
This view provides a clearer view of Davis issuing the heave-ho:
Adrian Beltre is the greatest and Gerry Davis is in need of a sense of humor. pic.twitter.com/y9Mi5EMoC0

— Jeff Passan (@JeffPassan) July 27, 2017
And here's a photo showing how far Beltre moved the circle: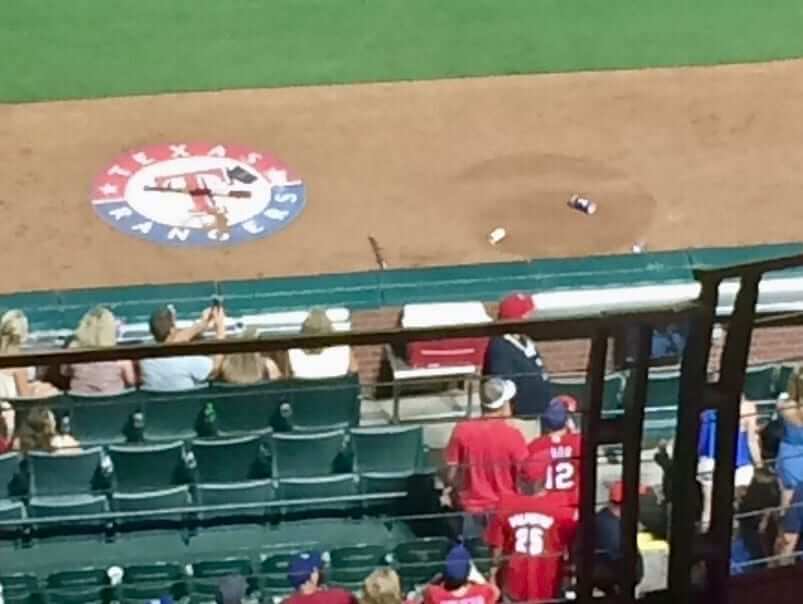 Additional info here. It's worth noting, incidentally, that on deck circles used to be just circles of dirt, not logo-emblazoned physical objects (which can occasionally cause problems). Do any MLB ballparks still do it the old way?
(My thanks to our own Mike Chamernik for bringing this one to my attention.)
•  •  •  •  •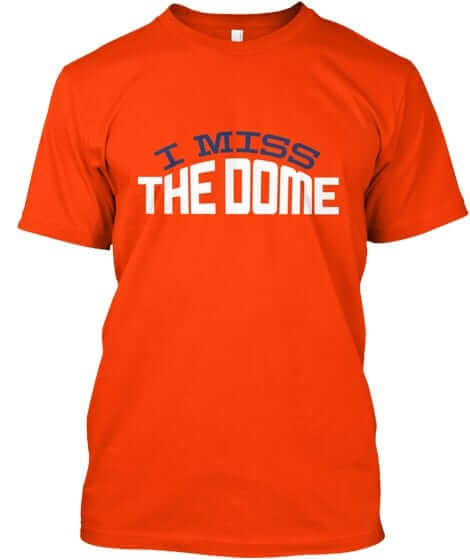 Naming Wrongs update: In case you missed it yesterday, we have a new batch of Naming Wrongs designs (including the Dome design shown at right). Full details here, or just go straight to the Naming Wrongs shop.
•  •  •  •  •
The Ticker
By Mike Chamernik

Baseball News: The logo for the 2018 All-Star Game, which will be held at Nationals Park, was unveiled yesterday. Here are the previous ASG logos that have included the Capitol Dome. … Justin Upton slammed his helmet after making the last out of the sixth during last night's game. It bounced back and whacked him in the face. … The Hartford Yard Goats will wear Praying Mantis jerseys and hats tonight for "What If?" Night. The name was one of the five finalists when Hartford had a naming contest in 2015 (from Matthew Edwards). … One of the alternate uniform sets for the Charlotte Knights involves pinstriped jerseys and solid dark pants, which is a throwback to the 1990 season (from @dkipke12). … The Cubs are playing the White Sox this week, and a Chicago baseball fan wants it both ways. … Reliever David Robertson used to have a little circle on his glove with the White Sox's "Sox" logo. Now that he's with the Yankees, he's apparently blacked out the logo (from @elgatogrande88). … White Sox skipper Rick Renteria's cap didn't have the New Era logo creep last night.

NFL News: The Falcons are having issues with operating the retractable roof on their new stadium, so the roof will remain closed for the early portion of the season, at the very least. … Two days after cutting WR Lucky Whitehead amid unusual and controversial circumstances, the Cowboys have already recycled his No. 13, which was given to rookie WR Marvin Bracy. Whitehead signed yesterday with the Jets, who have not yet assigned him a number (from Brinke).

College Football News: Clemson will use the new Schutt F7 helmet this year (from Chip Powell). … New jerseys for Tennessee, who have adopted Nike's Vapor Untouchable model (from Chad Fields). … It had already been announced that Miami would have green and black alternate jerseys this season. Here's a sneak peek at what they'll probably look like (from Adam Apatoff). … This is pretty cool: A few dozen Big Ten players attempted to draw their schools' primary logos. Though most of the logos are just stylized letters, Matt Vandeberg's Hawkeye drawing was the most impressive effort. … Ashley Cooper spotted a guy with the College Football Playoff logo tattooed on his elbow. … A writer for the Tallahassee Democrat has an issue with the McDonald's advertisement on the backside of the new scoreboard at Florida State's stadium.

Hockey News: Here's a look at the Stars' new Adidas practice jerseys. "Looks like they might have screen-printed logos," says Jarred Becker.

Basketball News: Evansville's practice center has a new court design (from Scott Hurt). … The latest episode of NPR's Planet Money podcast is about Starbury, the affordable shoe line headed by former NBA point guard Stephon Marbury. I tried to buy a few low-top pairs of Starburys last year, but the company doesn't make shoes in size 14. Consider this a mini-QOTW: Do any of you have troubles finding certain sizes for athletic shoes or sports apparel? Leave your answer in the comments section so we can commiserate together (link from Kary Klismet).

Soccer News: Prior to last night's International Champions Cup match against Manchester United at FedEx Field, FC Barcelona gave Washington D.C. mayor Muriel Bowser a personalized jersey (from John Muir). … A bunch of eye-popping jerseys will be on display at The Art of the Football Shirt, a new art exhibition in London (from Mark Coale). … Clemson's new uniforms use the same tequila sunrise design as the Oklahoma State women's team and the Houston Dash of the NWSL (from Scott Trembly, Matt McClain and Nick Linebrink). … A few notes from Anthony Zydzik, who is sorry for submitting articles in German. First, not everyone on RB Salzburg has the same uniforms. Nine of their outfield players will wear shirts with Red Bull ads on them, but their 10th player, who the Austrian club says will always be the youngest on the roster, will sport the logo of Rauch Fruchtsäfte, a fruit juice company. Second, Carl Zeiss Jena, a team in Germany's third division, has experienced an uptick in jerseys sales across Japan and Latin America thanks to a new advertiser deal with the metal band Heaven Can Wait. Lastly, here are all of the kits this year in Germany's second Bundesliga.

Grab Bag: New logo for sports teams at Marywood University (from Mary Lynn Delfino). … A hiking trail across the Pacific coast changed its logo because it too closely resembled the logo of the BoyLover. … New flag for the City of Orlando.