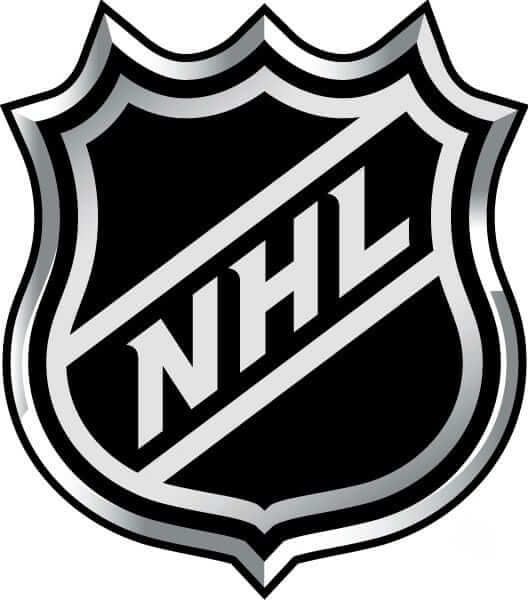 The NHL and Adidas continue to release teasers in advance of next Tuesday night's uniform unveiling. Lots of rear-view photos were released yesterday, and they appear to show lots of small changes taking place for various teams (and also reinforce what the Adidas logo creep will look like). One thing at a time:
1. The Blue Jackets appear to be getting a new NOB font:
😮😮😮

ok @adidashockey we're ready for Tuesday #CBJ pic.twitter.com/OiCdaS8C81

— ColumbusBlueJackets (@BlueJacketsNHL) June 15, 2017
It appears to be a version of the font used on their alternate logo. Can't say I love it, but I didn't love the outgoing NOB font either. Whaddaya gonna do.
2. New NOB treatment for the Bruins as well:
Old #Bruins sweater had black trimmed name on the back, new one just white @UniWatch pic.twitter.com/NmMgOacNxc

— Joe Giza (@JoeGiza) June 15, 2017
3. The Red Wings, who have always used direct-sewn lettering for their vertically arched NOBs, are apparently switching to nameplates:
.@adidashockey jersey drop | 6.20.17 | #FormTheFuture pic.twitter.com/dDR2fyExGW

— Detroit Red Wings (@DetroitRedWings) June 15, 2017
4. No more Ree-box — and, more importantly, no apron string piping — for the Predators:
To compare #Preds pic.twitter.com/JxzZsVh6gE

— Balsley (@HollarDollar) June 15, 2017
5. No more Ree-box for the Avs either, and the white outlining on the collar appears to have gone by the wayside as well:
FRESH.

👀🔥 #FormTheFuture pic.twitter.com/QKkpvR1m7a

— Colorado Avalanche (@Avalanche) June 15, 2017
6. Looks like the Flames' italic NOB lettering will no longer be italic:
🔥 6.20.17 🔥#FormTheFuture pic.twitter.com/FhRixQGO27

— Calgary Flames (@NHLFlames) June 15, 2017
Did I miss anything? Yeah, probably. If you've spotted other changes in the works, feel free to post them in today's comments. In any event, we'll see the new designs next Tuesday, and I'll get to see them in person at the unveiling in Las Vegas (where the weather forecast for next week continues to be ideal for a hockey event).
•  •  •  •  •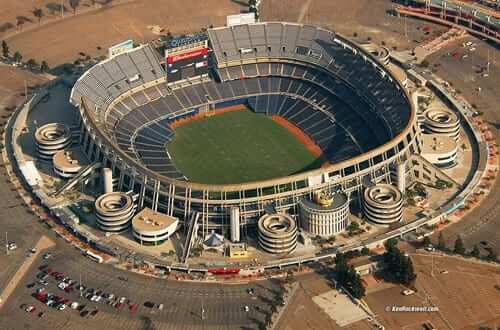 Just call it the Murph: In the month or so since I announced the return of the Naming Wrongs T-shirt project, I've gotten a fair number of requests from San Diego fans who want a shirt for Qualcomm (né Jack Murphy) Stadium. Scott Turner and I were already talking about the best design approach to take for that — we were just discussing it yesterday afternoon, in fact — when the word came down that Qualcomm's naming rights deal has just expired.
According to that article, the stadium is likely to remain in use for at least another 18 months, due to contractual agreements with San Diego State University (which plays football there) and the Holiday Bowl. After that, its future is uncertain, and there's a decent chance it will be demolished. Although Qualcomm no longer has legal rights to the name, there are no immediate plans to come up with a new moniker, because doing so "could create hassles with outdated stationery, brochures and confusion among residents and potential users of the stadium, such as monster truck shows and international soccer games."
Oh, please. Just call it the Murph. We'll have a shirt advocating for that (along with several other new designs) in a few days.
•  •  •  •  •
Membership update: Seven new designs have been added to the membership card gallery (including Evan Blanchard's card, shown at right, which is based on the uniform worn by the Michigan State marching band). I still have one open slot on the current sheet. Assuming that slot is filled by a new order at some point in the next couple of days — or even if no new orders come in, actually — the printed/laminated versions of these cards will mail out toward the end of next week, after I get back from the NHL unveiling in Las Vegas.
Remember, a Uni Watch membership card now entitles you to 15% off of any of the merchandise in our Teespring shop (if you're an existing member and would like to have the discount code, email me). As always, you can sign up for your own custom-designed card here, you can see all the cards we've designed so far here, and you can see how we produce the cards here.
•  •  •  •  •
LAST CALL for Father's Day pics: Phil here. Sunday is Father's Day, and I'll be continuing my annual tradition of posting photos of "Dads In Uniform." It's something I began doing in 2013, and continued in 2014, 2015, and again last year, and I'm looking forward to keeping it going strong.
If you'd like to have a photo of your dad (or granddad!) featured this Sunday, please send me an email along with a photo (just one, please) and description. I'll run all submissions this Sunday.
•  •  •  •  •
The Ticker
By Paul

Baseball News: A season and a half in, and the D-backs still haven't solved the problem of their road uniforms looking like the umps' uniforms. … LSU player Kramer Robertson has a serious cleat collection (from Wesley Eustis). … 20th-season skyline jerseys tonight for the Oklahoma City Dodgers (from Justin Mitchell). … Unbeleafable: The Cubs are selling leaves of 2016 ivy from their outfield wall for — get this — $200 per leaf. Plus shipping. Have I mentioned lately that late-phase capitalism is an example of something that has succeeded too well? (Thanks, Mike.) … The Dodgers have a traveling fan club named after the team's Pantone shade of blue (from Hugh McBride). … Previous Tickers have reported on the bill recently introduced in the New York City Council that would require the Mets and Yanks to extend protective netting down both foul lines at their ballparks. The bill hasn't yet been passed, but the Mets are going ahead with the increased netting on their own. According to the team, the netting "uses enhanced technology that increases transparency and is 97% invisible." Additional info here. … The Pirates will wear Negro Leagues uniforms tonight (from Jared Grubbs). … Cardinals P Brett Cecil has changed uni numbers (from Erik Spoonmore). … Whoa, check out these sensational 1940s softball uniforms (from Sports Paper). … New uniforms for the Salem-Keizer Volcanoes, a short-season Single-A team (from Ian Gerig). … Contrary to what had been reported, Democrats and Republicans did not wear LSU uniforms for last night's Congressional Baseball Game. Instead, they wore uniforms from their home districts and states, as per usual. Maybe the LSU gear, which was being put together quickly and rush-delivered, didn't arrive in time. Uni Watch reader Jason Mott attended the game and reports that some players did wear LSU caps, at least early in the game. Also, California Congresswoman Linda Sánchez wore No. IX, for Title IX.

NFL News: Looks like the Rams are going to have multiple shades of blue this season (from Dan Kennedy). … New facemask for Broncos LB Von Miller. … Don't think I've ever seen a bobblehead with such an extensive facemask before (from Jordan Fischer). … Earlier this week it was reported that the Cowboys would be wearing their blue jerseys more often this season. Now it turns out that "more often" just means once on the road during preseason (who cares), at home on Thanksgiving (which is now standard), and once on the road against the Giants (which apparently means the Giants plan to wear white at home).

College Football News: New jerseys for Minnesota State. … Penn State will wear throwbacks for the Sept. 30 game against Indiana. As you might expect, it's not exactly a radical departure from their regular uniform, although the numbers on the helmets are nice (from Mike Slavonic).

Hockey News: The good news is that The Nashville Tennessean ran a commemorative section saluting the Predators for their excellent 2016-17 season, which culminated in a trip to the Stanley Cup Final(s). The bad news is that the photo they put on the cover of the section is a file photo from the previous season. The uni-related giveaways are the All-Star patch and the blue helmets (thanks, Alex). … If the American team will wear a Bills-themed jersey for the World Juniors, then should the Canadian team wear a CFL-inspired jersey? And if so, which CFL team should it be based on? (From Ted Arnold.) … Great find by Chris Mayberry, who writes: "I've seen pics of goalies wearing different socks (Johnny Bower usually wore blue socks home and away, hidden by the pads) but here's a shot, probably from 1962 or so, of Blackhawks goalie Denis DeJordy wearing Rangers pants, which is particularly odd because he never played for the Rangers."

NBA News: Nothing particularly new or earthshaking, but I'm quoted a few times in this article about NBA uni ads. … Brian Begley has been working on a bunch of NBA uniform concepts for the upcoming Nike era. He put his own logo in the ad-patch spot. … New 50th-anniversary logo for the Nuggets. No word yet on whether it'll be worn as a patch, although commemorative patches may become problematic league-wide now that ad patches and maker's marks are being added, which won't leave much real estate for memorials and anniversaries (thanks, Mike). … The Bucks' new D-League G-League affilliate, the Wisconsin Herd, will unveil their new logo next Thursday (thanks, Mike). … Great find by Mike Monaghan, who spotted former Buffalo Braves player Ernie DiGregorio wearing an "Ernie D" nickNOB. … The WNBA's Seattle Storm have formed a partnership with the women's health organization Planned Parenthood. It's not clear if PP's logo will be making an appearance on the team's uniforms.

College and High School Hoops News: New court for Waukegan High School in Illinois, alma mater of our own Mike Chamernik. … New court design for George Fox University, a D3 school.

Soccer News: No photos, but NYCFC will have rainbow-patterned corner flags as part of an LGBTQ pride promotion tomorrow. … New away kit for Real Madrid (from Ron Mexico).

Grab Bag: One of the most effective marketing slogans of recent times is being retired. … In a related item, a Fox News anchor caused a stir by appearing on camera in a pantsuit, which had long been verboten on the network. … Really interesting piece about the bunkers at the U.S. Open. … New logo for Skype (thanks, Brinke). … The city of Columbia, S.C., is considering a new flag design (from Joel Mathwig). … You can also vote on a new flag design for Pocatello, Idaho, whose flag was recently judged to be the worst in America (from James Gilbert). … Nike is eliminating 1,400 jobs — that's about 2% of its workforce — and cutting a bunch of sneaker styles. It's not clear how many of the newly jobless will be Asian children (thanks, Brinke). … The Bat Signal was projected over L.A. last night in memory of actor Adam West (thanks, Mike). … Twitter rolled out a redesign yesterday, and a lot of people weren't too happy about it, although I'm sure everyone will adjust soon enough. … At one point yesterday the PGA Tour's website showed the U.S. Open leaderboard with the 2016 U.S. Open logo (good spot by Kurt Crowley). … At the World Cup of Pool — yes, that's a thing — Team Finland's jerseys have one long sleeve and one short sleeve. … Longtime reader/pal Martin Hick is part of a croquet league in St. Louis. His dad passed away earlier this year, and another player in the league lost his own dad a few weeks ago, so they recently memorialized their pops by adding a stripe of black tape to their mallets. RIP.
•  •  •  •  •
My mom has been having some health issues, so I'm going out to see her today. Play nice while I'm away and have a great weekend. I'll see you next week.