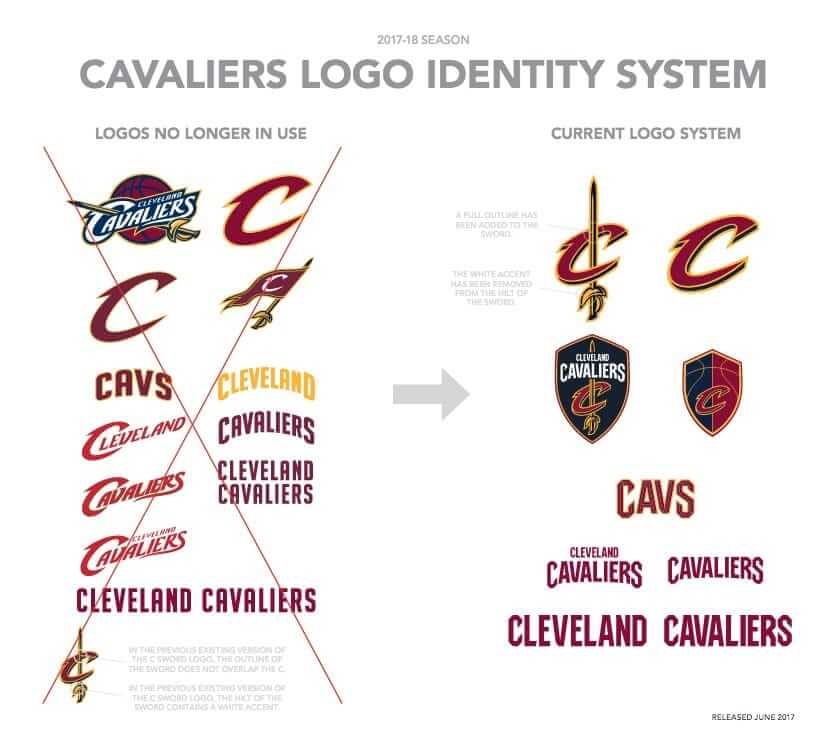 Click to enlarge
The NBA Finals tip off tonight, but the Cavaliers don't feel like waiting. Yesterday they released a new set of logos that will go into effect for next season. You can see the transition from the old logo set to the new one above (my thanks to Rob Lopez, who posted that graphic on Twitter), and there are further details on the new graphics program here.
I'm always a little uncomfortable assessing logos without seeing the uniform set in which they'll be used, but here are a few quick thoughts:
•  It's fine to use black or navy. But using black and navy seems like a bit much. Quoting from the press release:
Navy remains a complimentary [sic] color, while black is officially introduced as a new and permanent addition to the Cavaliers color palette. Black is a nod to the historic turning point in the 2016 NBA Finals when the Cavs wore their black-sleeved uniforms in games 5 and 7 of the NBA Finals when they beat the Warriors in Golden State.
•  Really, really dislike the typeface. Even worse, the "Cavs" wordmark has completely unnecessary beveling, as you can see in this close-up that was posted on Twitter yesterday afternoon by Conrad Burry (click to enlarge):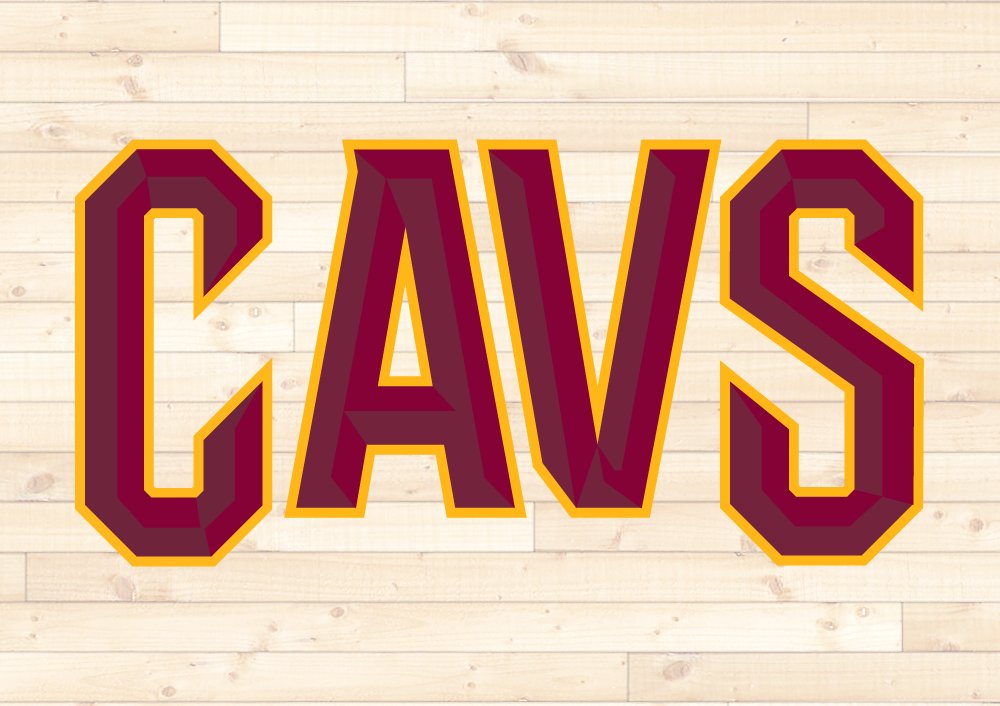 •  I like the two shield-shaped logos, especially since shields make sense for a team called the Cavaliers. But there's a subtle inconsistency to their shapes — not a big deal, but it seems like a sloppy oversight:
The two different shield shapes are killing me. pic.twitter.com/sCp4PH6iuN

— rcb05 (@rcb05) May 31, 2017
Overall, this feels like another slight step backwards for this franchise. I always thought the Cavs' uniforms from the first LeBron era were fantastic. When he left, they switched to their current set, which is snoozers. And now they appear poised to become the latest sports team to slap an "aggressive" typeface across their chest. We'll find out for sure when the new uniforms are unveiled, which the team says will happen "later this summer."
On the plus side, the press release did not include the term "blue collar."
Meanwhile: The Cavs will wear their blue road jerseys in Game 1 tonight in Oakland. They are saving the black sleeved jerseys for the "right moment."
•  •  •  •  •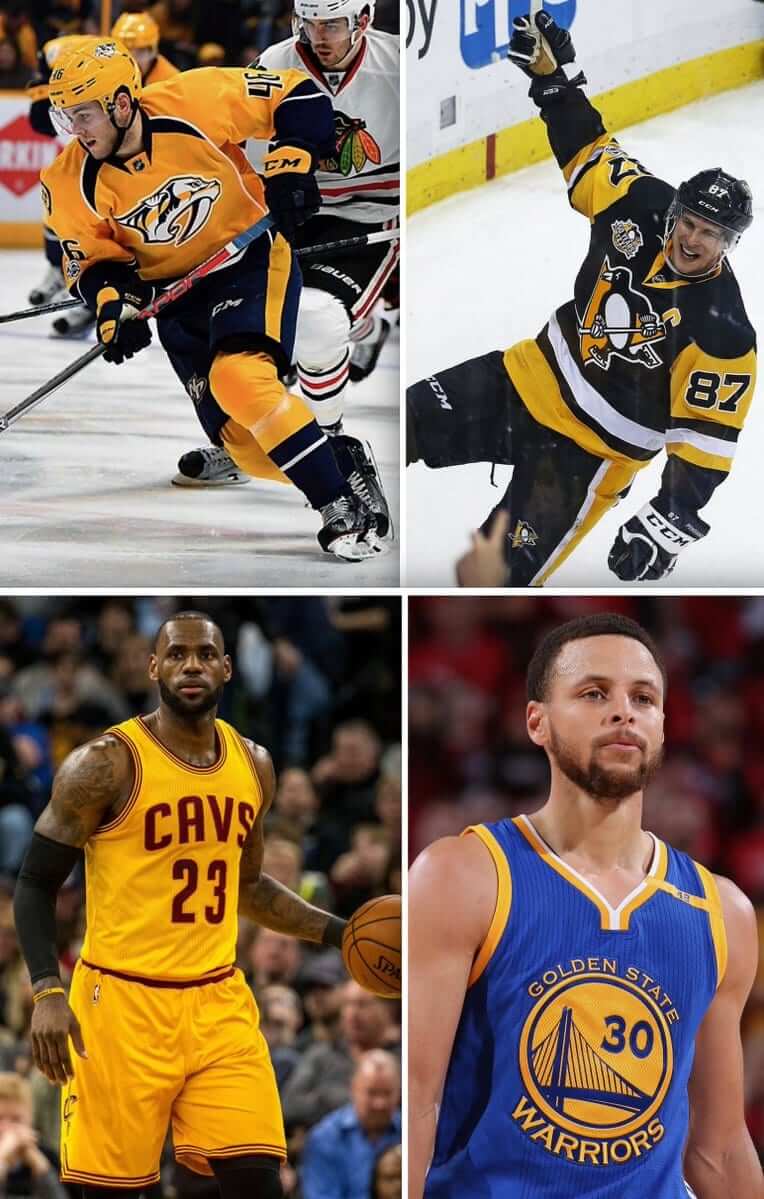 Click to enlarge
New ESPN column: All four teams in the NBA and NHL finals make significant use of yellow in their uniform programs (yes, I know most of them refer to it as gold, but come on, it's yellow), so today I have a new ESPN column that looks at the use of yellow in the uni-verse, including my picks for the teams that have done the best job of wearing yellow in each of the major pro leagues. Check it out here.
Whenever I get immersed in color minutiae, I think of the great Cary Grant film Mr. Blandings Builds His Dream House, which has a priceless scene featuring Myrna Loy discussing paint colors with a contractor. Sometimes I wonder if uniform design sessions play out in a similar fashion. Check it out (the audio levels seem to be a bit low, so you may have to increase the volume on your device):
•  •  •  •  •
Membership update: A bunch of new designs have been added to the membership card gallery, as we continue to work our way through all the Purp Walk orders. The new designs include Noah Wolf's Manchester City treatment (shown at right; click to enlarge). Here's the jersey that served as the basis for that card — great job by Scott Turner to capture that design treatment.
The printed/laminated versions of these latest cards should ship out by this weekend.
Remember, a Uni Watch membership card now entitles you to 15% off of any of the merchandise in our Teespring shop (if you're an existing member and would like to have the discount code, email me). As always, you can sign up for your own custom-designed card here, you can see all the cards we've designed so far here, and you can see how we produce the cards here.
•  •  •  •  •
Photo by Mary Bakija; click to enlarge
Feeling blue about green: As many of you know, my favorite color has always been green. When I was a kid, I made sure my parents knew that my first bike had to be green. I currently have a green sofa, a green living room chair, green sheets and pillowcases, green bathroom towels, and green kitchen walls. There's also all the green on this website.
For the past 10 years I've also had a green car, which has been extremely satisfying. Every time I saw that color, I got a little endorphin rush. Unfortunately, that car has been dying, and I was unable to find a suitable green replacement for it. So my new car, which I bought a few days ago, is silver "" like all the other cars on my block.
I do like silver. I've always said that I'd rather win a silver medal than a gold medal at the Olympics (and if I did somehow win a gold medal, I'd have it silver-plated). So silver isn't so bad. Still, I'll miss having green.
The photo above shows the old buggy in the foreground and the new one in the background. Man, just look at that beautiful deep green — I kinda miss it already. Sigh.
•  •  •  •  •
Signal flare: Can anyone recommend a good NYC-based entertainment lawyer? I need someone to look over some paperwork regarding a potential TV project. A lawyer, not an agent. If you know someone good (or if you fit the description yourself), please shoot me a note. Thanks.
•  •  •  •  •
The Ticker
By Mike Chamernik

Baseball News: Brewers P Junior Guerra had a poorly kerned NOB last night (from Steve Dodell). … After a fan vote, the Fresno Grizzlies will wear the Lehigh Valley IronPigs' "Fighting Bacon" cap during a game against the Sacramento River Cats on June 22. … The Twins are giving away hats in the colors of local schools, along with a Minnesota Wild-themed cap, throughout the season (from Erik Siemers). … The Toledo Mud Hens will celebrate 20 years of Harry Potter with themed uniforms on July 14. … Joe Kuras spotted a hilarious knockoff Blue "Jars" jacket at a Niagara Falls gift shop. … The Players' League, a competitor to the National League, launched in 1890. In addition to signing some of their rival's best players, PL clubs would steal the colors and look of NL teams that played in the same cities (from Craig Brown). … Mariners P Steve Cishek was wearing someone else's glove last night. The name is hard to make out, but the surname clearly starts with a D and ends with an s, which doesn't match anyone currently on the Seattle roster.

NFL News: The Steelers have put their wordmark on the fronts of their practice jerseys. … Miami coach Adam Gase wore Dolphins attire with throwback logos on them during a press conference yesterday (from @305miamiteams). … Speaking of the Fins, Gase is making the team's 21 rookies earn their helmet logos this spring. … @ProFootballJournal found the minutes from the NFL's annual meeting in 1952, which among other things spelled out the league's numbering-by-position guidelines.

College Football News: Here's a good look at the College Football Playoff patches for next season (from Robert Hayes). … Indiana State will soon unveil a new look (from James Schmeits).

NBA News: The artist Asur drew her illustration of the NBA Finals matchup. She incorporated visual elements of the teams that the Cavs and Warriors defeated during the playoffs. … Here's a good story on the NBL, the pre-NBA league that featured lots of corporate-owned and -managed teams, including the Akron Goodyear Wingfoots and the rival Akron Firestone Non-Skids (from Ryan Keberly). … The Minnesota Lynx of the WNBA will reveal a new logo this summer. Their NBA and D-League counterparts recently unveiled new logos of their own.

Soccer News: New home and away kits for Olympiacos (from Ed Å»elaski). … A 23-year-old student who runs an apparel start-up company is supplying soccer uniforms to African national teams that are overlooked by the more established brands (from Simon Harrow).

Grab Bag: A pair of Canadian fans are rooting for both teams in the Stanley Cup Final. … A recent episode of Mystery Science Theater 3000 had a bit where they sold the naming rights to the hours of the day. Included are "Three-bok o'clock," "Miller Time," and "Nine-ke o'clock" (from Jeff Wilk). … Congrats to Kentucky, which is celebrating its Quasiquicentennial today (from Josh Hinton). … Once a hit with kids of the 1990s, the apparel manufacturer Champion is once again culturally relevant (from Tommy Turner). … Ryan Jones of Uproxx wrote a good piece on uniform ads. One of his big points was that, though fans only care about the team and not about the corporate logos on the jerseys, after enough time passes, they will develop a subconscious attachment to the ads (from Phil). … New logo for Ubisoft, the video game publisher. … You've heard of 3D printers? Now there are 3D knitters, which can produce a custom-made blazer in 90 minutes (Tommy Turner again).