Beginning next season, the NBA Development League will be renamed the NBA Gatorade League.

Welcome to the NBA G-League! pic.twitter.com/l2jsMceBu1

— NBA D-League (@nbadleague) February 14, 2017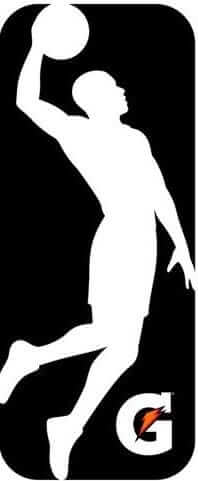 The NBA began the week on a good note, with the Jazz eschewing a standard corporate advertising patch in favor of a charitable fundraiser. But if you think that move was the start of a new, less ad-centric approach, think again. Yesterday it was back to corporatocracy as usual, as it was announced that the NBA's Development League, commonly known as the D-League, will be known as the Gatorade League, or the G-League, starting next season.
That sounds like something out of The Onion, and the video clip shown above could easily be mistaken for a Saturday Night Live sketch (the bit where one guy talks about "the essence of what the Gatorade League stands for" is begging for a laugh track), but the whole thing is all too real. And the logo shown at right, with the Gatorade mark in the corner, will be the league's new logo.
If you look at the press release in that last link, it's interesting to see that they're describing Gatorade as the league's "entitlement partner." That's one of the standard terms for this type of arrangement (it's frequently used in auto racing, as you can see here, here, and here), although the simpler "title sponsor" is also common. I've always found the "entitlement partner" version to be creepily appropriate, because the corporate hubris required to spread advertising into every nook and cranny of our world definitely reflects a sense of entitlement.
I know, I know — it's just the D-League G-League, so who cares, right? But we know from experience that the NBA uses the D-League and the WNBA as staging areas to test-drive new initiatives. At one point ad patches on NBA jerseys would have been unthinkable, and we all know how that one turned out. So don't be so sure that this type of "entitlement partnership" couldn't one day work its way up to the NBA or one of the other major pro leagues.
Of course, if you're a soccer fan, you're already used to this type of thing, as the Premier League had several corporate-sponsored advertised names from 1993 through 2016. Interestingly, when the Premier League announced last year that it would no longer have a title advertiser, the explanation given was this: "The move reflects the organization's desire to mirror major American sports leagues like the NBA and NFL in presenting a 'clean' brand."
An admirable approach. Too bad the NBA now seems to be heading in the opposite direction.
•  •  •  •  •
Meanwhile, over on the diamond…: There was a bit of a stir yesterday when MLB commish Rob Manfred talked about the possibility of uniform ads during a Bloomberg interview. The interview is shown above, and here's the key passage, after the interviewer raised the issue of jersey advertising:
Manfred: We're going to have front-of-the-jersey branding with Under Armour for the first time in the next couple of years [actually in 2020 "" PL]…

Interviewer: That's already a big move.

Manfred: A big change for us, and I think we'll have to digest that change before we think about going further.

Interviewer: But you're not ready to write it off or anything..?

Manfred: No, I mean, look, I think you have to remain open-minded. Our game evolves, like all games. You have to be careful with the changes you make, so you don't offend the traditionalists that are our core audience. But we remain open-minded on topics like that.
So basically the interviewer raised the issue and Manfred was non-committal. It's the kind of response that lets people project their own predisposed notions onto the situation. If you believe the worst, then your takeaway is, "Manfred is definitely laying the groundwork for jersey ads." If you're more of optimist, your takeaway is, "He said they won't even consider it until after they see how things look with the Under Armour logo creep, and that's still three years away, so there'll be no jersey ads for the foreseeable future."
I'll say this much: Manfred's been commissioner for barely a year and we already have New Era logo creep on the caps, Stance logo creep on the socks, Under Armour logo creep coming to the jerseys, and an "open-minded" position on uniform ads. He's not exactly building the proudest legacy, at least from a uniform standpoint.
(My thanks to Phil for bringing the Manfred interview to my attention.)
•  •  •  •  •
Party reminder: Uni Watch party this Sunday, Feb. 19, 3pm, in the back room of the Douglass (which is the same place we used to meet at, Sheep Station, but with a new name). Phil will be there, I'll be there, I may have theoretical T-shirts to sell, etc. Come join us!
•  •  •  •  •
The Ticker
By Mike Chamernik

Baseball News: The Rockies updated their Twitter avatar for Spring Training. … Here's a look at the Rockies in their new lighter shade of purple (from Phil). … The Mets sported the new BP pullovers yesterday (from Brian Erni). … New Orioles catcher Welington Castillo will wear No. 29 (from Andrew Cosentino). … A display outside of the Phillies' Spring Training clubhouse reads "Ya Gotta Believe," which was Tug McGraw's slogan for the 1973 Mets. McGraw later won the World Series with the 1980 Phillies. The Mets responded to the Phils' display by tweeting, "Ya gotta be kidding". … Speaking of Mets mantras, fans at a high school basketball game in Texas may have borrowed a line from the 1986 song "Let's Go Mets" (from Glenn Stern). … New road uniforms for Virginia Tech (from Andrew Cosentino). … Austin Peay will wear 1967 throwbacks as an alternate this year (from Josh Smith). … New 3D batting helmet logos for Mississippi State (from Phil). … Marlins manager Don Mattingly lifted the ban on players' facial hair after one season. … Here's a quiz that asks you to idenitfy the year that a given MLB uniform debuted (from Dan Cichalski). … New black alts and raised helmet logos for Northwestern.

NFL News: Someone got a tattoo of Donald Trump's face with the Eagles' logo as his hair (from Phil). … Vikings head coach Norm Van Brocklin had his jersey tucked into his slacks in this early-1960s photo (from Ray Hund). … Artist Jean-Michel Basquiat wore a football helmet as part of performance art piece in the late 1970s. … Harry Higgins found a Jimmy Graham jersey with an upside-down nameplate at a TJ Maxx near Seattle. … The Jets shared Shea Stadium with the Mets through 1983. During the baseball and football season overlap, the Jets placed their midfield logo on a portion of the infield dirt. Here's another angle (from Jeff Flynn).

Hockey News: The Charlotte Checkers teased St. Patrick's Day jerseys (from Thomas Harris). … Here's a story from 1968 on notable NHL players who wear No. 9, such as Gordie Howe and Maurice Richard (from Jerry Wolper). … A writer who covers minor league hockey scored all of the jerseys in the ECHL. Here's his ratings for the North, South, Central, and Mountain divisions (from Denny Majeske). … During the late 1960s, Penguins goalie Les Binkley wore eyeblack on his mask. He often went maskless, without eyeblack, as well (from Fred Teigen). … Yeshiva University has a very successful roller hockey team. Players wear helmets over their yarmulkes.

Basketball News: The Timberwolves wore black at home last night. … On Valentine's Day 1990, Michael Jordan's jersey was stolen from the locker room before a game in Orlando, so he wore a blank No. 12 jersey for the first half. Yesterday, Mitchell & Ness released the jersey as a new throwback. … The Nets honored Brazilian basketball legend Oscar Schmidt on Monday night. He wore No. 14 when he played pro ball in Brazil and Spain. Schmidt was drafted by the Nets in 1984 but never came over. He's often called the best player to have never played in the NBA. … One observer ranked seven notable All-Star Game unis (from Phil). … Girl Scouts will receive Grizzlies patches at a game later this month. … When the Wizards wear their home whites, the logo on Otto Porter's waistband has a red box around it, unlike his teammates (good spot by Robert Anderson). … Virginia Tech wore its black and pink Coaches vs. Cancer uniforms at Pitt last night (from Andrew Cosentino).

Soccer News: U.S. Soccer has unveiled a new red kit, which will be worn for the World Cup qualifier against Honduras on March 24. … In support of local voting rights, D.C. United replaced its jock tags with a patch of the District's "Taxation Without Representation" license plate. The club had the slogan on the inside of the jersey collars last season (from Phil).

Grab Bag: The new logo for the Swiss Rugby Union uses the Euclid Flex font (from Gary Chanko). … The playing of a national anthem prior to a game doesn't always go off perfectly.