Click to enlarge
Intriguing sight at Pirates camp the other day, as infielder Gift Ngoepe appeared to be wearing Stargell Stars. Could this be heralding a full-fledged return of the fabled cap ornaments? I'm hoping to find out more today — stay tuned.
•  •  •  •  •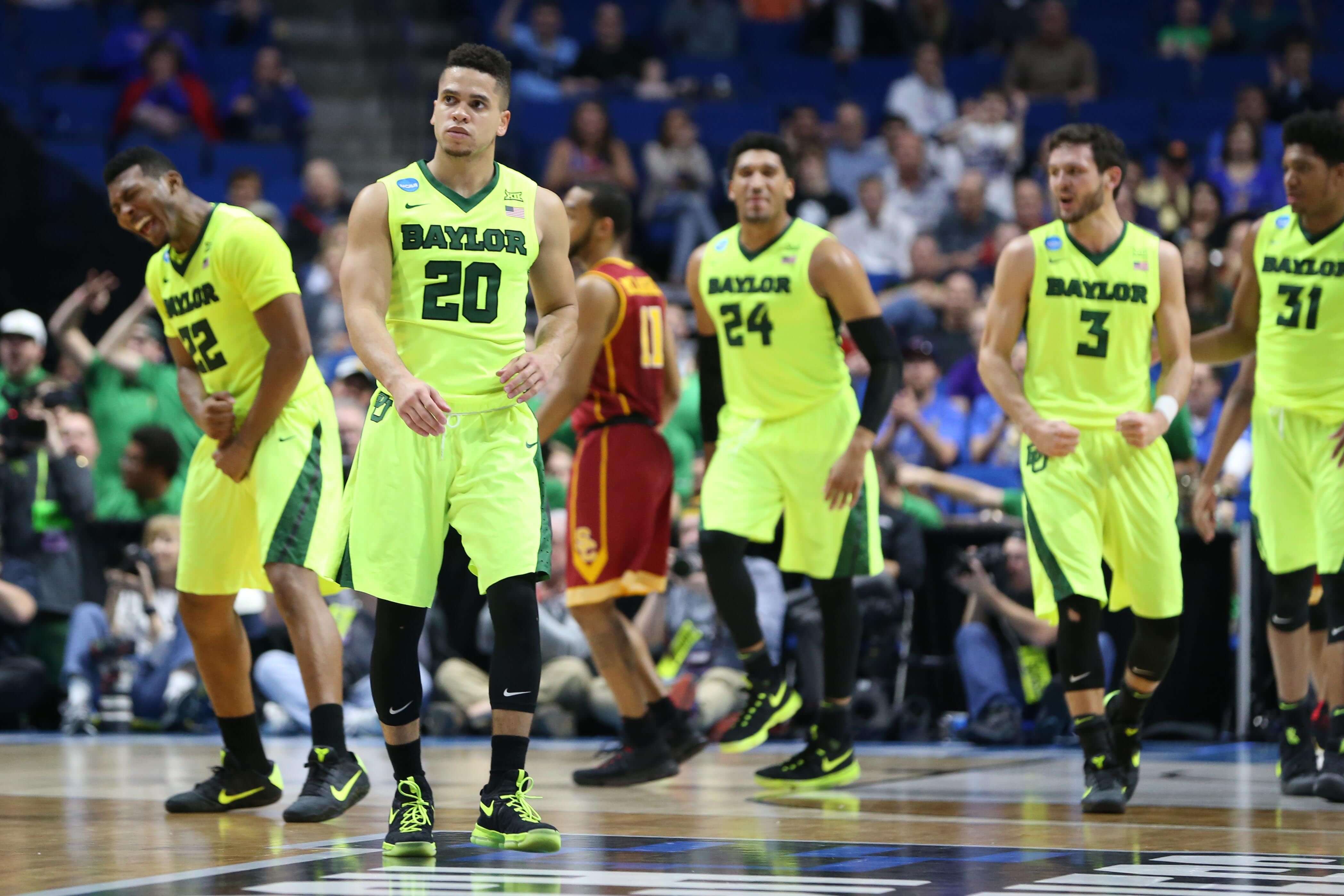 Sweet 16 rankings: With the Sweet 16 set to tip off tomorrow, I've prepared an ESPN ranking of the uniforms that we can expect to see on the court. Check it out here.
In addition, I have another ESPN piece today, about how Alex Ovechkin is poised to become the first NHL player to wear custom-painted skates. Check it out here.
•  •  •  •  •
T-Shirt update: Last month we debuted our Uni Watch Artist's Series of 2017 T-shirts with a sensational design by Todd Radom. Our next shirt will be by Larry Torrez — aka the great Eltee of DC — and it's a stunner. Take a look (click to enlarge):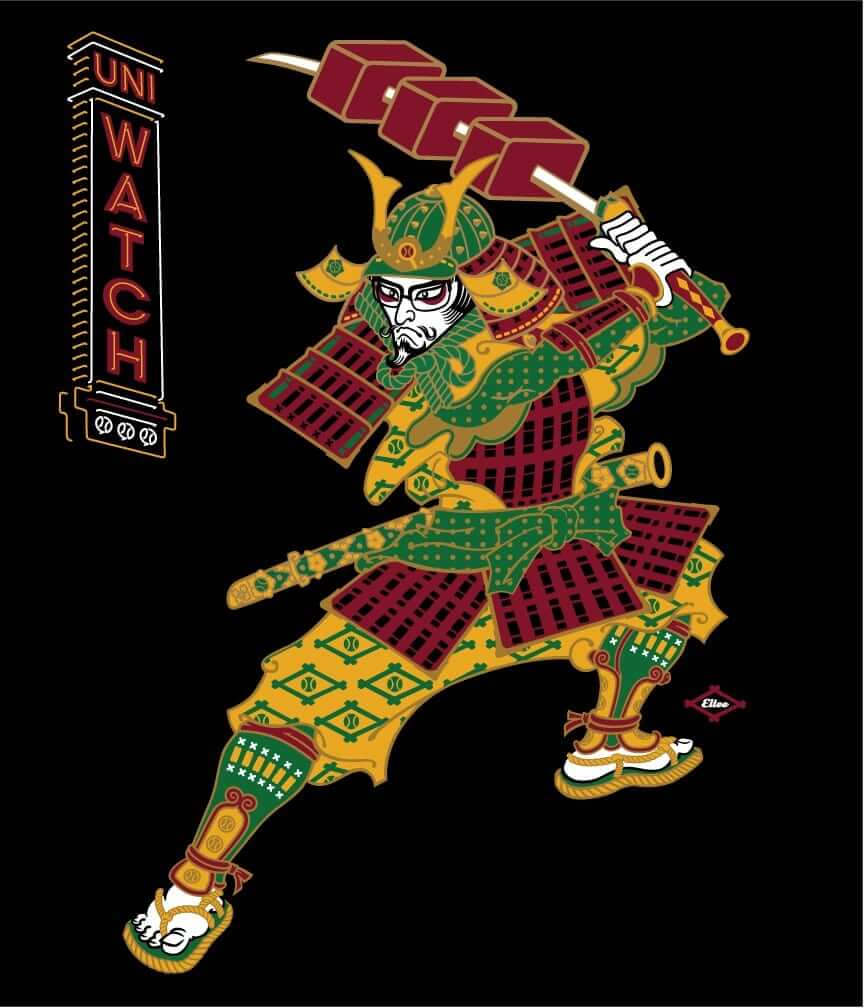 Amazing, right? Here's the quick story behind this one: As you may recall, about a year ago Larry created a series of meat-themed caricatures of me based on classic MLB mascots, which he dubbed "Meatscots" (you can see them by scrolling down to the middle of this entry). This T-shirt design is variation on that project. The batter is a Japanese samurai warrior playing for the mythical team Kyoto Yakitori. His bat/sword has been reimagined as a kebab, honoring Japanese yakitori restaurants, which serve skewered chicken (which makes perfect sense because "samurai" literally means "one who serves"). The neon sign is a shout-out to the signage that such restaurants often have in Japan.
This design will be available on a black T-shirt either later this week or early next week. If you have feedback, Larry and I would love to hear it. Thanks.
•  •  •  •  •
The Ticker
By Alex Hider

Baseball News:  Cubs OF Jon Jay, who has a history of sock shenanigans, is now the new brand ambassador for Stance socks. Also, why don't the stripes line up  on these socks?  (From Phil.) … Speaking of the Cubs, they're holding a series of "community nights" this season, and integrated their logo into the  symbols of the groups they are honoring (from  Jordan Cutler). …   The Marlins'  Dee Gordon swapped jerseys with his much larger teammate, Justin Bour, during a workout yesterday (thanks  Mike). … Patrick Johnston spotted this  Rockies/Avalanche frankenjersey at Rockies spring training the other day. … The Fresno Grizzlies and the Lehigh Valley IronPigs, aka the Fresno Tacos and the Lehigh Valley Bacon, are letting fans pick their favorite food. The loser has to wear the other team's "Fighting Food" cap for a game in June.  Phil doesn't know what to do. … The Biloxi Shuckers will be wearing jerseys designed by a local tattoo artist in late April (from  Mike). … The Corpus Christi Hooks will wear some sweet powder blue fauxbacks during Friday home games this year (from  Sam Levitt). … Rough dark gray/black matchup between Louisville  and Cincinnati  yesterday (from  Jason). … Color-on-color matchup yesterday between Charleston and West Virginia Tech (from  Dan Reilly). … Lots of stripe action for Louisiana Lafayette last night (from Travis Webb). …  Wyoming club baseball has tequila sunrise jerseys (from  Jon Spencer). … You don't often see a batting helmet with such a curved brim.

NFL News:  New Ravens S Tony Jefferson says he  used Madden to help him model the uniforms for his potential new teams  during free agency (from  Phil). … Speaking of the Ravens, here are their new number assignments (from Andrew Cosentino). …  The NFL made this graphic after QB Josh McCown signed with the Jets, though he won't likely be wearing No. 12 this season. The Jets have retired No. 12 for Joe Namath (from Josh Kail). …  Chiefs K Cairo Santos put on lineman  Mitchell Schwartz's size 18 shoes and tried to dunk on a hoop in the team's locker room. It didn't quite work (thanks again,  Mike). … We can add former Chiefs punter Jerrell Wilson to the list of players that have played with an unbuckled chin strap. Also, it's weird to see a punter wearing No. 44 (from  Bill Kellick). … The Lions responded to rumors about a new helmet design (from Phil). … Newly signed Steelers DE Tyson Alualu wore a German national soccer team jersey to his introductory press conference.

College Football News:  Russell Athletic is losing one of the few FBS teams it still outfits, as Ohio is switching to Adidas. As a former Bobcat myself, I really, really, REALLY hope Ohio's shoulder loops  won't go the way of UCLA (from  Jon Dies). … Coastal Carolina's new teal turf "" aka "Surf Turf" "" should be ready for their home opener (from Brandon Long). …  Ohio State's practice jerseys have sublimated buckeye leaves in the numbers (from  Karl).

Hockey News:  The Penguins will break out their Stadium Series unis on the next two Sundays (from Jerry). …  The Islanders are holding a design contest: They're looking for the best Islanders-themed beer glass (from Brian Widman). …Check out this old photo of Flyers player Jimmy Watson wearing what appears to be a classic two-bar football facemask attached to his helmet (from  Tom Asher). …  The US National U-18 Developmental Team is  auctioning off  some fine-looking military appreciation jerseys the team wore earlier this month. The best part? You can bid on the striped socks as well (from Matthew Talbot).

NBA News:  The Timberwolves will unveil their new logo on April 11. … The Bulls are expected to add a memorial patch for former GM Jerry Krause, who died yesterday (from C.D. Tatak). …  Steph and Seth Curry wore "Family Business" shoes when their teams played each other last night. … Color-on-color matchup in Toronto between the Raptors and Bulls, as the Raptors broke out their Huskies throwbacks and alternate floor design. … The Trail Blazers' Meyers Leonard wore socks with his dog on them during warm-ups last night (from Alvin Nguyen). …  Sneakerheads might want to check out the first edition of  Classic Kicks Magazine  (from  Nick Santora). … More color-on-color action last night in Brooklyn, as the Nets wore black "Los Nets" unis and the Pistons wore their road blues (thanks, Mike).

College Hoops News:  Wisconsin's Bronson Koenig just got quite the haircut (from Rob Montoya). … Spotted in Lexington, Kentucky: a March Madness soda display (from Nate Hargis). …  Here's what players will wear in this year's  McDonald's All-American game.

Soccer News:  Teams in the English Premier League will have a  new number and NOB style  next season. … New kits for the New York Cosmos of the North American Soccer League (from  Marc Viquez). … This was in the NFL section, but we'll put it here too: Newly signed Pittsburgh Steelers player Tyson Alualu wore a German national soccer team jersey to his introductory press conference.

Grab Bag:  Love a good sign dust-up: Wind recently knocked over a bunch of highway signs in upstate New York, but the Federal Highway Administration doesn't want the signs replaced. The feds claim the signs are illegal because the text isn't uniform with other highway signs (from  Bradley Loliger).
•  •  •  •  •
My thanks to all of you who sent along birthday greetings yesterday. It was a fun day, if a somewhat exhausting one. Good thing it only comes around once a year! "" Paul