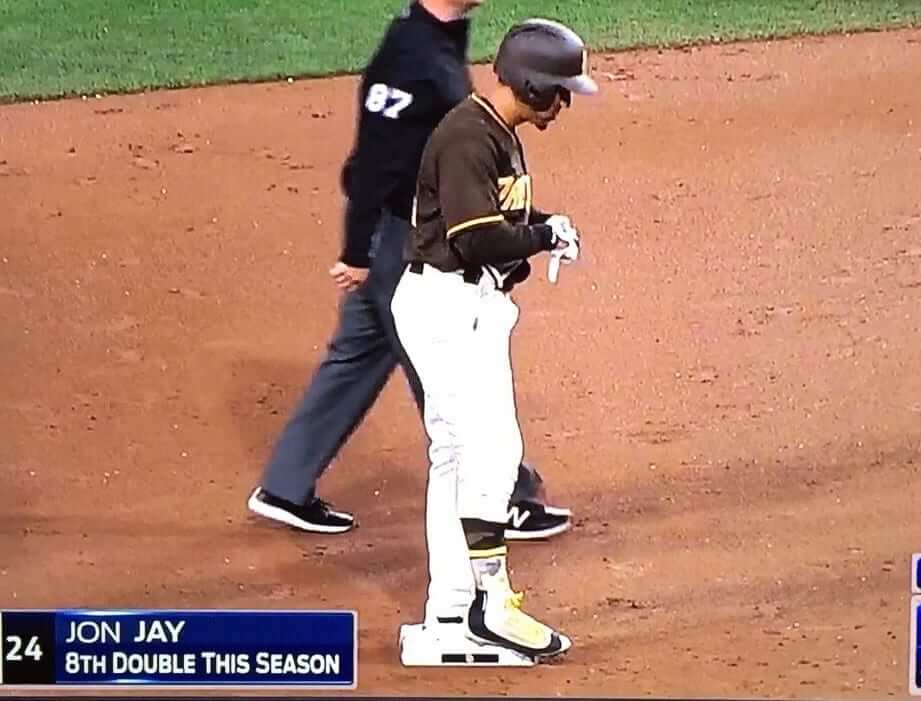 Click to enlarge
It's a little hard to see in the photo shown above, but Padres centerfielder Jon Jay has been wearing socks featuring the image of former San Diego great Tony Gwynn. He goes low-cuffed, so you can't see the socks under normal circumstances. But the socks occasionally get a cameo when Jay adjusts his pant legs after removing his shinguard following a base hit, as shown above.
Jay's sock-borne tribute to Gwynn is probably common knowledge among Padres fans, but I didn't learn about it until yesterday, when I read longtime Uni Watch reader/pal Tyler Kepner's weekly "Extra Bases" column in The New York Times, which included the following:
A regrettable fashion trend in baseball, going back more than 20 years, is the way most players wear their pants: pulled down to their shoe tops, with no stirrups or socks showing.

"It's been like that for a while," said Jon Jay, an outfielder for the San Diego Padres. "But guys wear different stuff underneath."

For Jay "" for every game "" that means socks depicting Tony Gwynn, the Hall of Famer who spent 20 seasons with the Padres through 2001. The socks are in the classic Padres colors "" yellow, brown and orange "" that Gwynn wore early in his career.

"Growing up, he was the best hitter around," said Jay, like Gwynn a left-handed hitter. "I've always had a swing that went to left field, and he always hit that 6-hole "" that was his patented move. I remember just always admiring his swing and the way he could hit the ball to all parts of the ballpark."
These are the socks he's wearing: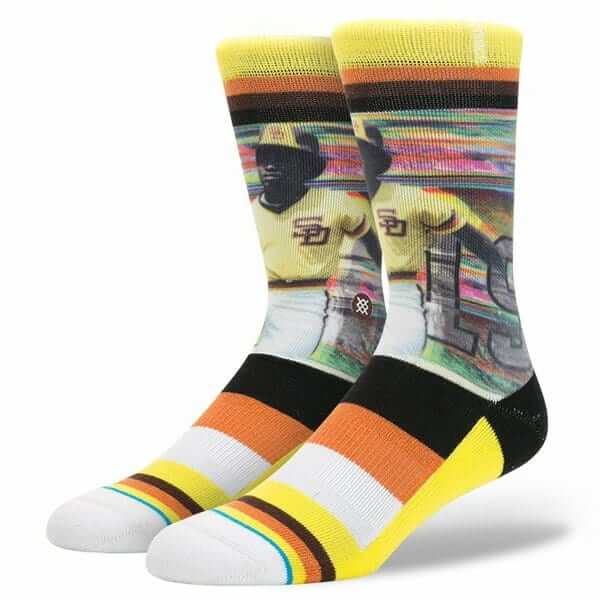 .@jonjayU wears his Tony Gwynn socks on and off the field. 🔥 #SDLive pic.twitter.com/2ByJrzgQpn

— FOX Sports San Diego (@FOXSportsSD) May 17, 2016
This isn't the first time Jay has worn socks that aren't exactly standard-issue MLB hose. Back in 2012, when he was with the Cardinals, he went through a period when he wore argyle socks (click to enlarge):
•  •  •  •  •
Almost set to drop the puck: With the Stanley Cup Final(s) set to begin tonight, there had been some question about where the Sharks would wear the Final(s) patch, because their jersey is already a bit crowded due to the 25th-anniversary patch they've been wearing this season.
And now we apparently have our answer — the Cup patch will replace the anniversary patch:
Good Morning Sharks Fans! We are open today 11-3pm! Come on by and check out our new Stanley Cup Final gear! pic.twitter.com/IkKRpwJa19

— Sharks Store (@SJSharksStore) May 29, 2016
And while we're at it, here's how the patch will look on the Penguins' jersey, along with a shot of the Cup decal on a Pens helmet (the second and third photos can be clicked to enlarge):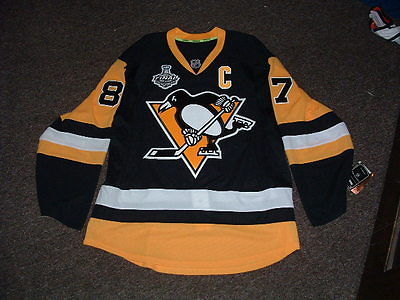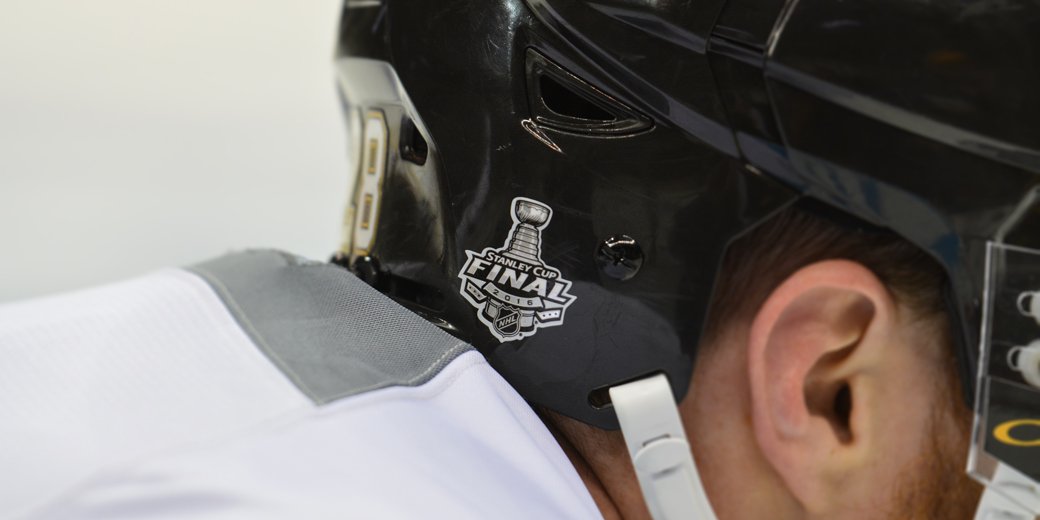 (My thanks to Alex Hider for his assistance with this section.)
•  •  •  •  •
For all fish photos, click to enlarge
Culinary Corner: The Tugboat Captain and I recently saw the new Tilda Swinton movie, A Bigger Splash (very good — recommended), which includes a scene where Ralph Fiennes stuffs a whole fish full of aromatics and then grills it. We decided we wanted to try that ourselves. So on Saturday, that's what we did.
We got a 4.1-pound red snapper. The Captain stuffed its cavity with lemon slices, thyme, oregano, scallions, garlic, capers, chili peppers, salt, pepper, and maybe a few other things I'm forgetting (see above), and then I used some kitchen twine to tie it up. We treated both sides with olive oil, salt, and pepper and then put it on the grill for about eight minutes per side. It didn't quite seem done, so we gave it a few more minutes after that.
It turned out great, and was even more delicious when accompanied by the clams, asparagus, potato salad, and strawberry shortcake contributed by our friends Carrie, Rob, and Stephanie:
The thing about stuffing the fish cavity with herbs and citrus and such is that you don't actually eat any of the stuffables — they're just supposed to infuse flavor into the fish (same as when you put aromatics inside the cavity of a chicken that you're roasting). Does that actually work? Tough to say — the fish was delicious, but I can't honestly say I was getting any sense of those other flavors we stuffed in there. Would be interesting to do a blind taste test with two fish — one stuffed and one not — to see if there's really a difference. Then again, maybe it's better not to know, because the whole stuffing-and-tying process was fun, even if it didn't contribute much of anything flavor-wise.
And yes, as you can see in some of the photos, there was Mets-themed beer. But that was just a happy coincidence, not intentional.
• • • • •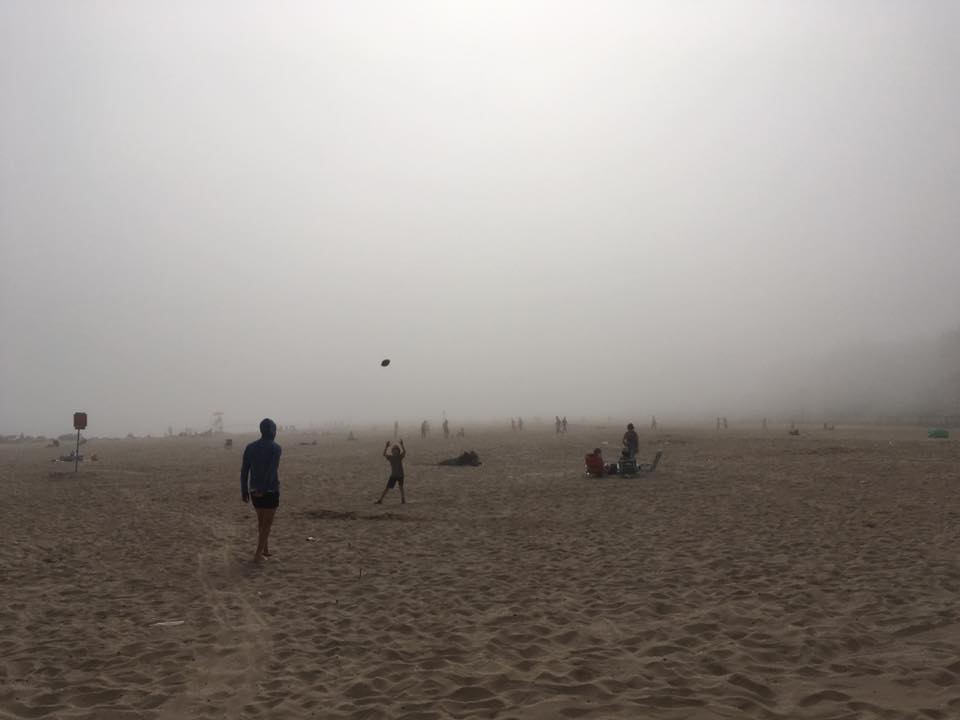 Photo by Liz Clayton, click to enlarge
Hazy shade of winter summer: Yesterday we joined our friends Liz and Ed for lunch at a Uyghur restaurant in Brighton Beach (delicious). Afterward, we walked over to the beach, which was a very odd scene: A cold front seemed to be coming in right at that moment, bringing lots of fog with it. People were still in their sunbathing poses and carrying on with whatever they'd been doing, but the beach was suddenly coated with a soupy haze — I'd never seen anything like it on a summer day.
The following photos were taken by me, the Tugboat Captain, and Liz Clayton, respectively. All look much, much better if you click to enlarge: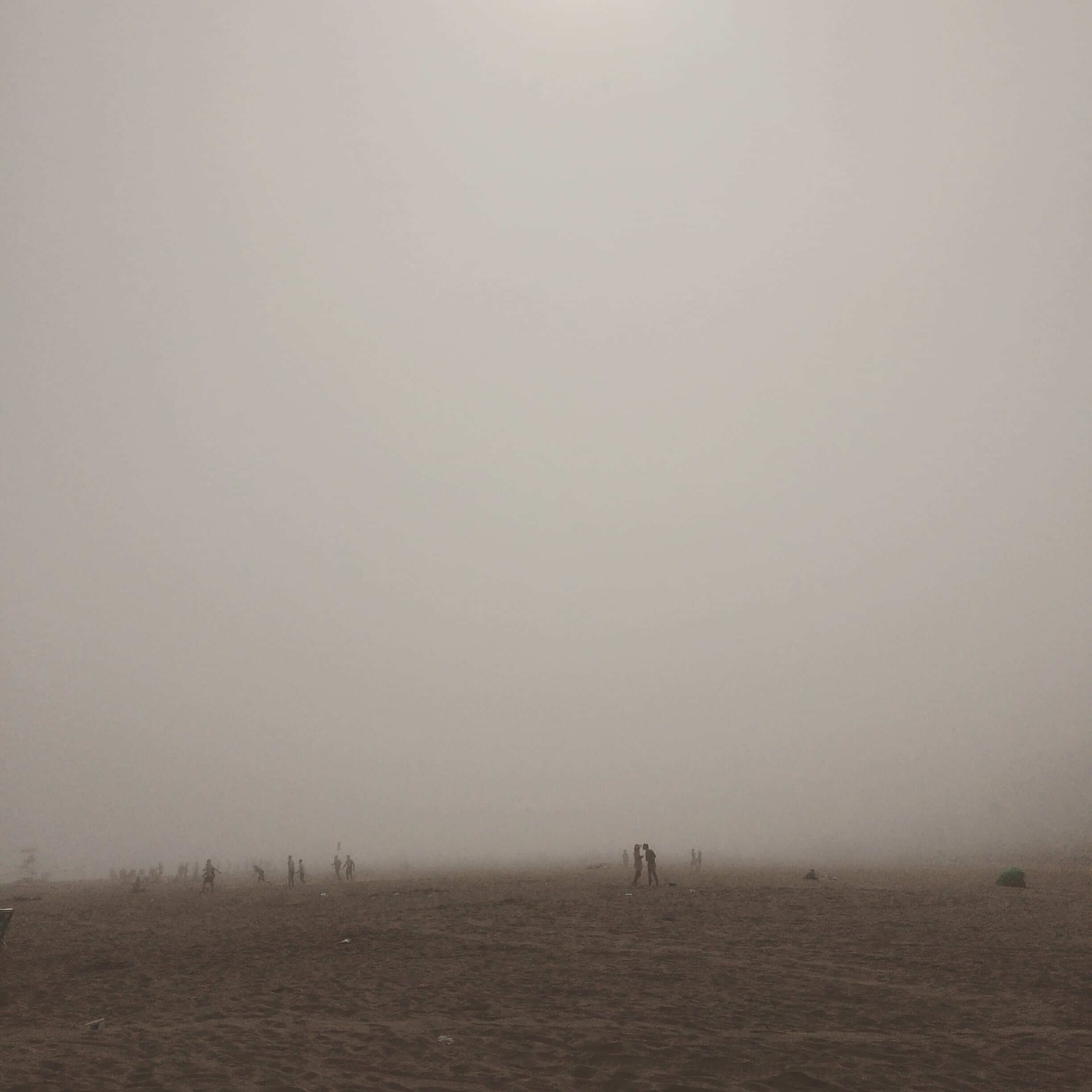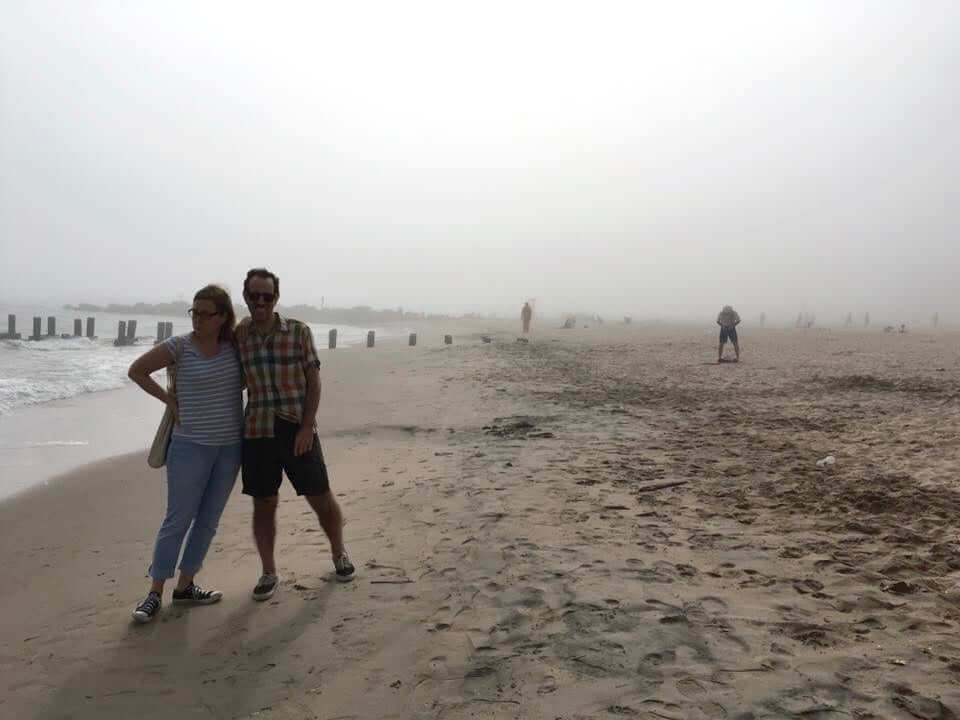 •  •  •  •  •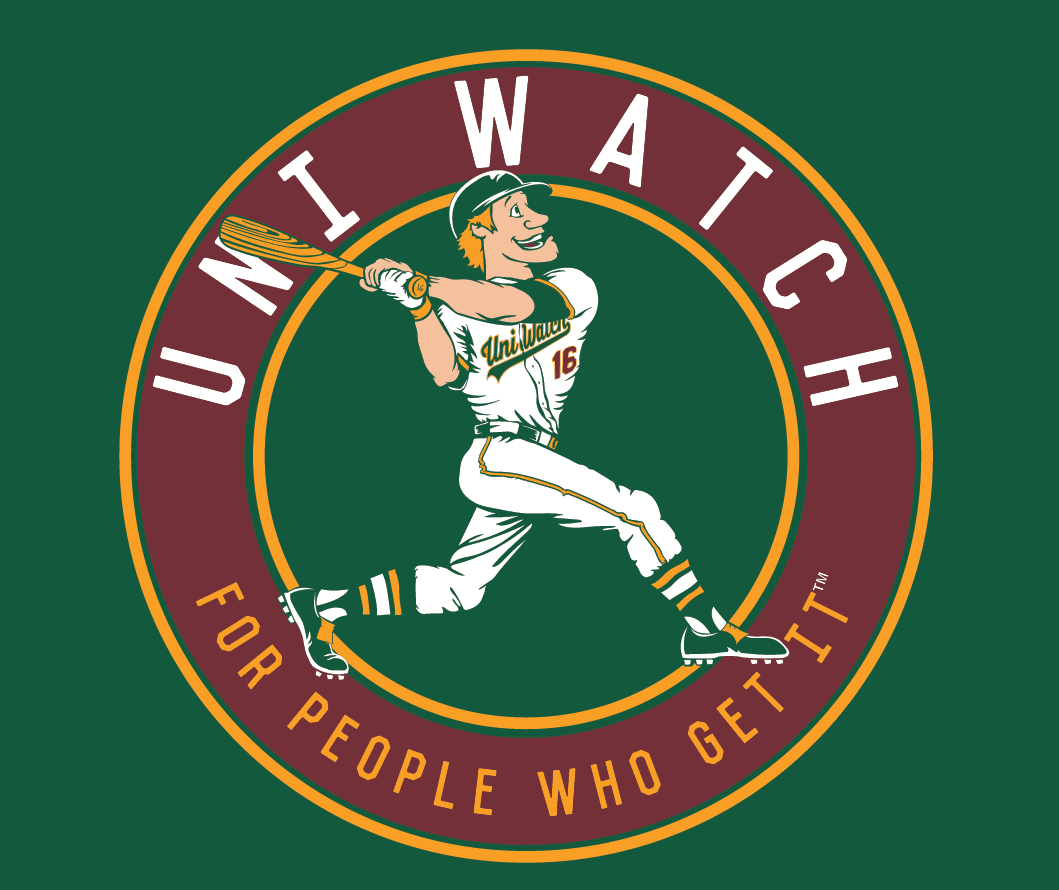 Baseball T-shirt 2nd chance reminder: We had some requests for the Uni Watch T-Shirt Club's baseball-themed design (shown at right; click to enlarge) after I wore the tee in last week's Friday Flashback video. So we've made it available again, but without the T-Shirt Club's jock tag graphic.
The good news is that the lack of the jock tag means the shirt is now a bit less expensive, plus we've been able to add a hoodie option; the bad news is that this version of the shirt will not count toward the T-Shirt Club's "Collect 'em all" status.
Again, the shirt is available here up through this Thursday.
•  •  •  •  •
The Ticker
By Alex Hider

Baseball News: The Blue Jays broke out classic white-paneled caps for their 40th season celebration yesterday. … It was Mother's Day in the Dominican Republic yesterday, so lots of Dominican players wore pink (thanks Phil). … Evil Neal points out that the Pirates' Jung-ho Kang wears his sunglasses over his ears. … A Tampa Bay Rays bat boy was wearing a facemask on his helmet (from David Feigenbaum). … Awesome birthday present for Joe Gura, who got these Mariners striped socks at Sunday's game. … Looks like former Met Kevin Mitchell (No. 7) had a different script during the 1986 reunion the other day. "His is more like what the 2016 Mets wear on their 1986 throwback," says Steve Dodell. … The Saint Paul Saints donned special Prince tribute jerseys on Sunday. They even gave each player a "Prince symbol" of his own. … Chris Sakacs sends along some nifty photos from the National Ballpark Museum in Denver, including a seat from the Polo Grounds, an old Tiger Stadium ushers' jacket, a Denver Bears uniform and a ticket stub from Ebbets Field. … Lots of awesome stuff at the Negro Leagues Museum in Kansas City, too (from Ryan Crawford). … Here are the team names and uniforms for the brand-new United Shore Professional Baseball League (from Jonathan Collura). … The South Bend Cubs 'Murica'd all over the place on Sunday (from Karl Greenfield). … All of the Bradenton Marauders went high-cuffed yesterday (from Derek Reese).. … Have you ever seen a softball player wear No. 00? Well, now you have (from James H. Jimenez).

Soccer News: Andrew Luck was sporting an old, numberless USMNT jersey at the Indy 500 yesterday. The blank number box looks a little goofy, no? (From Chris Viel.) … Lots and lots of diagonal stripes in Bradford City's new kits (from Patrick Thomas). … Germany and Slovakia pushed color-on-color to the limit yesterday (from Kohlen Schaufler). … The championship game of the Mexican league, La Liga MX, featured a player wearing No. 286 (from Bob Hedrick).

Grab Bag: Someone in the NBA's merch department got a little happy with the trigger finger (from Terry Harbaugh). … Spectators at the very first Indy 500 could have paid 10 cents for this sweet illustrated program (from BSmile). … These are awesome: umbrellas shaped like NFL helmets (from Jordan Mayblum).. … Boston College University? Whoops. (from James Gilbert). … Time to vote for NASCAR's paint schemes of the week. … Here's a story about how Brown University's men's lacrosse team, which just lost in the national semifinals, calls itself "Brown State" as a link to a blue-collar mindset (from Tris Wykes). … Somebody at a bank was wearing a full Orlando Magic uniform (from Chris Flinn).
•  •  •  •  •
Today is Memorial Day. If you're mourning the loss of a fallen service member, please accept my condolences. If you have to work today, thanks for keeping the world spinning while the rest of us get to enjoy a day off. Peace. "" Paul