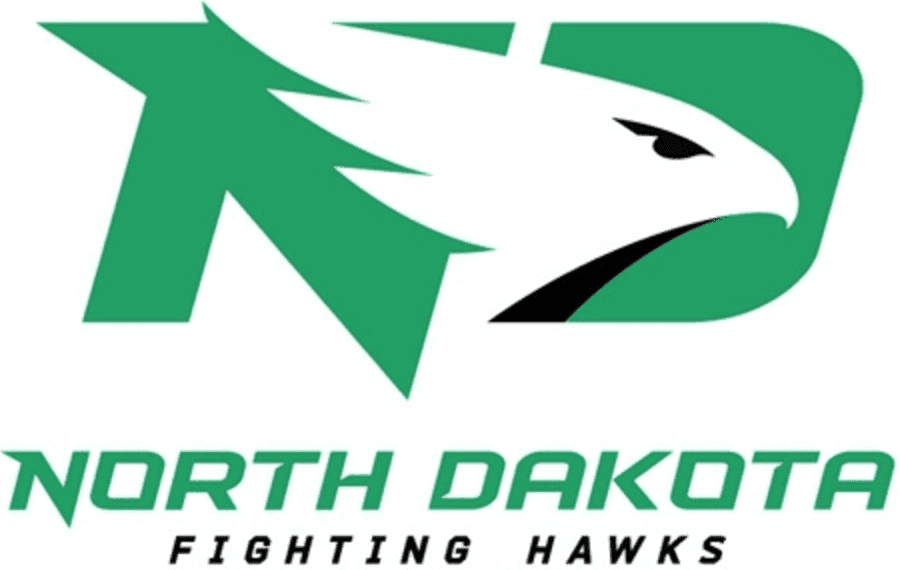 I received an interesting note on the other day from reader Erik Siemers, as follows:
I came across an interesting tidbit regarding the recent rebranding of my alma mater, the University of North Dakota.

The state's attorney general ruled on Monday that the preliminary Fighting Hawks designs created by SME Branding but not chosen by UND will not be considered public records, despite the fact that they were created under contract with a public institution. The AG ruled that the unused preliminary designs are trade secrets because SME may later want to pitch them to other clients, so releasing them publicly would diminish their value.

It reads like SME wants the chance to resell old designs but doesn't want future clients to know they're getting old designs.
In other words, the preliminary designs that were presented but not used by UND might later be sold to someone else. Of course, that raises the question of whether the designs presented to UND were new in the first place — maybe they'd been prepared for an earlier client and were recycled for UND.
It's no surprise, of course, that something on the cutting room floor might be repurposed for another project. I've done that plenty of times myself. But we don't usually think about that aspect of the creative process. When we see a design (or read an article, or hear a song, or watch a comedy sketch, or whatever), we tend to perceive it as having been cut from whole cloth, or immaculately conceived, or some other strained metaphor. And I'm sure clients like to think that the ideas presented to them by designers and other vendors were created just for them.
The reality, as I'm sure you know if you're creative professional — and if you're a savvy consumer, for that matter — is that lots of creative projects are hybrids of old and new material, resuscitations of old ideas that had been back-burnered, repurposings of ideas that had previously failed to pan out, or flat-out recycling. If you've ever heard a band's early demos or unissued takes, for example (or if you've ever been in a band yourself), you know that the "official" version of a song often contains lyrics, melodies, and ideas from an earlier version of another song. Every now and then a creative project may proceed in a linear fashion, but I think that's more the exception than the rule. More often, creativity is messy.
I don't think there's anything wrong with that, but it challenges our default notion of how things work. That notion — the intuitive sense that creative ideas are individually hatched — is a very romantic way of looking at the creative world, but it isn't accurate. It's the creative process's version of the Wizard of Oz; the UND/SME case exposes the man behind the curtain.
If you're a creative professional, I'd be interested in hearing what you think of all this. And if you're a client who purchases creative services from vendors, do you care if the work you're paying for isn't fresh or new, as long as it's good and hasn't been used by another client?
Discuss.
•  •  •  •  •
Contest reminder: In case you missed it over the weekend, Phil is running a contest to design new World Baseball Classic jerseys and caps for Team USA. All the details are in this post. Get your designs in to Phil.Hecken@gmail.com by tomorrow, midnight Eastern. Get crackin'!
•  •  •  •  •
The Ticker
By Mike Chamernik

Baseball News: White Sox season ticket holders are in for a treat this year. All 81 tickets will feature period-based artwork designed by Todd Radom. More info here. … The Cubs' season ticket package comes with a replica World Series lineup card (from Zach Pearson). … The Orioles will wear green caps tomorrow for St. Patrick's Day (from Andrew Cosentino). … This is pretty cool: Mark Willis designed new hats for all 16 teams in the WBC, and almost all of his designs are better than what the teams are currently wearing on the field. … New purple logo and color scheme for the Lake Erie Crushers. The club is named after the numerous vineyards in Northern Ohio (from Yancy Yeater). … The Lansing Lugnuts unveiled three new caps. They will reveal new uniforms in April. … Tony Dow, of Leave It to Beaver fame, played on a Little League team sponsored by John Wayne (from Ronnie Poore). … A Missouri player was wearing some sort of belt buckle cover yesterday. When Paul posted that photo on Twitter, the consensus was that it was a cheat sheet for coaches' signals, like a quarterback's wristband with play calls. Here's a photo of how it looks without the cover-up Nike logo (from Chris Edwards). … Oklahoma State has 3D helmet logos this season (from Matt McClain). … Southeastern Illinois College has new gold-over-gold uniforms. … Remember when the New Era logo was shaped like a cap? (From Luke McCarnan.) … Manny Ramirez just signed a contract with an independent team in Japan. Among the terms: His uniform will be No. 99 with a "Manny" NOB. And he gets unlimited sushi!

Hockey News: The Flyers wore their Stadium Series jerseys last night against the Penguins. Reader John M notes that the jerseys did not have the Stadium Series patch, the 50th anniversary patch, or the NHL Centennial patch. … Not official yet, but it looks like Citi Field will host the 2018 Winter Classic between the Rangers and Sabres. … Here's a cool pictorial about how the Maple Leafs produced their St. Patrick's Day uniforms (from Zach Spencer). … The Bruins' David Pastrňák uses minimum effort to tape his stick. … Most teams have their players all wear the same uniform when posing for a team portrait, but the Sharks used a mix of home and road unis (from Shayne Pasquino).

Basketball News: Call it holiday creep: St. Patrick's Day isn't until tomorrow, and the Bulls and Celtics are both playing that day, but they both wore their holiday uniforms last night. The Bulls wore their green uniforms at home against the Grizzlies, who wore light blue, and the Celtics wore their gold-trimmed green unis at home against the Timberwolves, who wore black (from @_cap22). … The Delaware 87ers of the D-League will wear Pink Ranger uniforms for tomorrow's Nickelodeon Night. … A fan sent Dirk Nowitzki a potato with his image on it. … New Cavaliers center Larry Sanders doesn't own a suit jacket, so he's already on the bench in his uniform even though he hasn't played since December 2014. Sanders checked in during garbage time against the Pistons on Tuesday. … Many Mormons grew up playing ball on carpeted courts. … As Dwyane Wade points out, former Celtics guard Gerald Henderson once played in a neck brace (from Graham McCullough). … Look at the beautiful uniforms worn by Fort Wayne Bible College in 1986 (from Burrill Strong). … A menswear shop in Melbourne, Australia, rips off the Spurs' 1990s logo (from Teddy Huff). … Some Providence players didn't have the NCAA logo patch last night (from Braden Pretzsch).

Soccer News: New uniforms for FC Edmonton of the NASL (from Ed Å»elaski). … Hernan Grana of FC Dallas got cleated in the back of the head and was forced to change into a blank blood jersey last night (from Jose Palacios).

Grab Bag: A Puma marketing exec explained how his company surpassed Under Armour and is now challenging Adidas (from Andrew Cosentino). … New logo and tagline for Columbia, S.C. (from Joel Mathwig). … The debate team at Harlem East High School in NYC has snazzy new jackets (from Paul Friedmann). … From the "How come nobody ever thought of this before?" department: A new flexible tape product has a Lego surface on it. … Tennis legend Rod Laver used to wear shoes with large spikes, which gave him better traction but really tore up the court. The cleats were later banned (from Mike Clary).