Hey there. Remember me?
First and foremost, please join me in thanking Alex, Mike, and Phil for keeping the Uni Watch world spinning while I was away on vacation. They did a great job, and I'm lucky — check that, we're all lucky — to have such a great team on board here. Thanks, guys.
My trip, a semi-frantic ramble through Georgia, Alabama, Mississippi, Louisiana, and Florida, was a good one. Many of you have asked if I'll be posting a travelogue about it, and the answer is yes, but not today. Maybe tomorrow, but more likely next week. (As an aside, I really appreciate that so many of you enjoy the travelogues — thank you! I enjoy doing them, so it's a win-win.)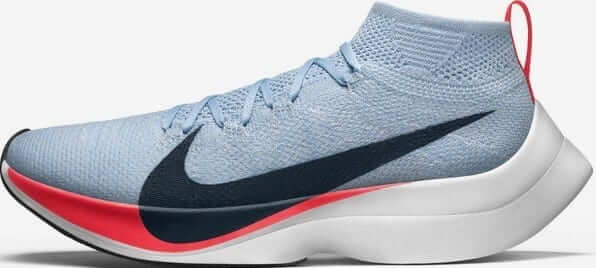 Meanwhile: Yesterday's New York Times had a faaaascinating article about an interesting topic: Does Nike's latest running shoe (shown at right), which includes a contoured inner-sole plate that supposedly acts almost like a spring, constitute an unfair advantage for the runners who wear it?
The article, which I strongly recommend reading in its entirety, functions on two levels. On the surface, it's about international track and field regulations, shoe design, and — insert eye-roll here — footwear marketing. (Did you know Nike and Adidas are both attempting to create a shoe that will result in the first sub-two-hour marathon time?)
But the bigger issue, which the article also addresses, is this: What constitutes an "unfair advantage" in sports, and how do advances in equipment — like modern running shoes — play into that? We always hear about how "performance-enhancing" factors are verboten, whether they're steroids or a high-tech swimsuit, but isn't the whole history of sports basically a never-ending quest to enhance performance?
On some level, of course, almost all top-level athletes have some sort of "¨"unfair" genetic advantage. That's how they got to be top-level athletes in the first place. They have a greater-than-average lung capacity, or better eyesight, or a better ability to convert oxygen into energy, or better fast-twitch muscles, or they're seven feet tall, or whatever. Almost by definition, none of them are normal humans. If they were normal, they wouldn't be top-level athletes.
And when it comes to performance enhancement, where do you draw the line? Steroids are off-limits, but modern nutrition and weight-training are okay; blood doping is off-limits, but high-altitude training is okay; and so on. It seems like the general intent is to get the athlete to compete in a "natural state," so to speak, but what constitutes natural? Ted Williams had 20/10 vision — is that better (or more natural, or more fair) than a player who achieves the same thing with LASIK surgery?
If we apply this same "natural state" thinking to the world of equipment, pretty much anything other than competing naked constitutes performance enhancement. As the Times article points out, "All [running] shoes are considered to enhance performance. Otherwise, everyone would run barefoot." (Of course, a few world-class runners, like Abe be Bikila and Zola Budd, did run barefoot, which means they probably had unusually thick-skinned and/or shock-resistant feet, which is just another genetic advantage. Fair or unfair?)
When it comes to performance-enhancing equipment, it seems like any notion of an "unfair" advantage becomes moot, at least in terms of gaining a competitive edge, once everyone has access to the latest advances. The first ballplayer who wore batting gloves may have had an unfair advantage, but that was neutralized once everyone else followed suit. Ditto for the first tennis player to use a metal racket, the first bowler to use a urethane ball, the first golfer to use carbon fiber shafts, and so on.
So you could theoretically argue that even if Nike's shoe violates track and field regulations, well, so what? If all the runners can wear the shoe, then they all have the same advantage, which is no advantage at all. (Yes, I realize some runners have shoe deals with other companies and wouldn't be able to wear the Nike shoe. But if the shoe is that revolutionary, all the top runners will presumably sign with Nike soon enough.)
But then you get to the larger question of whether a certain level of enhanced performance essentially makes a mockery of the sport. That's more or less what the FINA, the organization that governs international swimming, decided when it banned Speedo's LZR swimsuit. World records were being broken at such an unheard-of rate that FINA felt the integrity and heritage of the sport were at stake. Or to put it another way, they felt that swimming in a LZR suit isn't really swimming, at least not as it's been historically defined.
It's interesting to project that line of thought onto other sports. Simple example: As I've written many times, I believe the advent of sticky gloves is the most underrated NFL development of the past generation. Without those gloves, we wouldn't see all those one-handed catches, fingertip catches, and so on. (Yes, I realize today's receivers are also more athletic, but the gloves make a huge difference.) Anyone can wear the gloves, so they don't provide an unfair competitive advantage, but they've completely changed the game, rewritten the record books, and so on. I think you could make a case that playing football with sticky gloves isn't really football, at least not as football had been historically defined in the pre-glove era, but the NFL didn't care about that, so the gloves stayed and Odell Beckham Jr. became Superman.
It remains to be seen whether Nike's new shoe will have a LZR-like effect on track and field, or the shoe will be banned. In the meantime, this is all good food for thought, no? Discuss.
•  •  •  •  •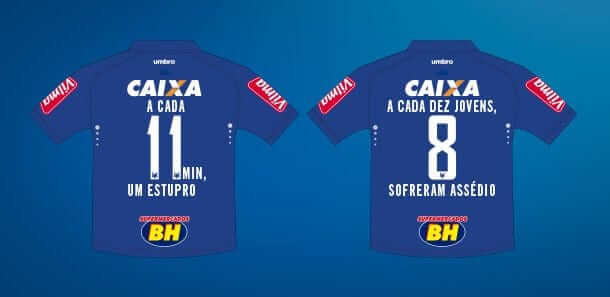 Pussy hat not included: As you're probably aware, yesterday was International Women's Day, and the Brazilian soccer team Cruzeiro, which plays in Campeonato Brasileiro Série A, marked the occasion in a unique uni-related way: For last night's game against Murici, small bits of text were added next to the players' rear jersey numbers, creating messages designed to raise awareness about the violence and other hardships that women face. The messages on the two jerseys shown above, for example — No. 11 and No. 8 — translate to "Every 11 minutes, there is a rape" and "Eight out of 10 young women are harassed."
It's a powerful approach (although it'd be a lot more powerful without all those jersey advertisements, sigh), so good for Cruzeiro for doing it. There's further info, along with the translation for all of the team's jersey messages, here.
The Swedish women's national soccer team did something similar, replacing their NOBs with inspirational phrases from Swedish women. That story surfaced while I was away on vacation, so please forgive the redundancy if it was already covered during my absence.
(Big ups to Phil for letting me know about the Brazilian team.)
•  •  •  •  •
"¨"¨Membership update: A few new designs have been added to the membership card gallery, including Cooper Goetz's design (shown at right). What uniform is that? It's based on the silks worn by thoroughbred jockey Edgar Prado when he rode Barbaro to the 2006 Kentucky Derby winner's circle. A very cool request, and one of the few horse racing-based designs we've done.
I have three slots open in the current batch, which I'll be sending to the printer tomorrow. So if you sign up today, you'll get your card very quickly.
As always, you can sign up for your own custom-designed membership card here, you can see all the cards we've designed so far here, and you can see how we produce the cards here. My thanks for your consideration, and doubleplusthanks to card designer Scott M.X. Turner, who's been partnering with me on this project for nearly 10 years now!
•  •  •  •  •
Signal flare: To the reader who goes by the handle Louise Brooks Fan Club, please get in touch, or at least check your Twitter messages. Thanks.
•  •  •  •  •
The Ticker
By Mike Chamernik

Baseball News: Pirates OF Austin Meadows has been wearing a faceguard on his helmet since breaking his orbital bone while playing catch last year, and he's likely to keep wearing it (from Jerry Wolper). … The Braves' new ballpark has mesh seats (from Matt Snyder). … CC Sabathia's stubble beard is testing the Yankees' strict facial hair policy. The quotes from Sabathia and Yankees manager Joe Girardi really reveal the disdain they have for the guy writing the story. … Last night, players borrowed from the Rays and Twins wore their normal uniforms in exhibition games between MLB and WBC teams (from Nick Hanson and Jason Ricles). … A pitcher on Mexico's team didn't have a NOB or number yesterday (from Nate Woelfel). … Liberté Chan, a Meteorologist for KTLA in Los Angeles, wore an outfit that resembles a tequila sunrise Astros jersey (from Barry Brite). … Marty Hick is a schoolteacher in St. Louis. Every year he shows off one of his collections to his class, and this year he chose hosiery. … Cubs OF Matt Szczur paints sports portraits in his spare time. He even painted Kris Bryant and Anthony Rizzo making the last out of the World Series. … Texas wore throwbacks last night. Here's another look (from Casey Wieder and @atxprogress). … The Orix Buffaloes revealed two Kansai throwbacks (from @graveyardball). … The Down East Wood Ducks unveiled their uniforms (from Phil). … @GordonBombayH2A found a San Diego Chargers golf accessory with a MLB logo on it. … The LG Twins, a Korean team, uneiled their new logo and uniforms. … The Phillies are facing some interesting choices about issuing uniform numbers that had previously been worn by notable players (from Jeff Stumm).

Hockey News: Declines in sales have pushed Adidas to put the CCM Hockey brand up for sale (from John Muir). … The Minnesota State High School Hockey Tournament has begun. Barry Brite found a few of his favorite program covers from over the years. You can click through this site to see every cover since 1945. Here's more information on Terry Fogarty, the artist who has painted the covers since 1998. … Speaking of that tournament, a player on St. Cloud Cathedral wore goggles yesterday (from Tony Tengwall). … Dartmouth had horizontal stick racks behind the bench during the 1979-80 season (from Tris Wykes).

NBA News: Miami wore El Heat jerseys in a red-vs.-teal matchup against the Hornets last night (from @notthefakeian). … Another new BIG3 team has been announced: Allen Iverson will play for 3's Company.

College Hoops News: Reader Paul R found a light blue Bluefield State jersey at a local thrift store. He found it odd because the school wears navy and gold. … A ref working a 1979-80 Dartmouth/BU women's game wore a skirt, and both teams were wearing untucked jerseys. Here's a full photo gallery from the game (from Tris Wykes). … Also from Tris: Here's an old shot of Yale wearing Cooperalls. Also, check out the official's jersey — no zebra stripes.

Soccer News: Readers of Denis Hurley's blog voted on the greatest color clashes in soccer. … The Premier League will switch back to white soccer balls for the remainder of the season. … Plymouth Argyle's manager says his team wore its green away kit at home on Tuesday to please the fans, not because it clashes with the green seats or grass. "Argyle has been wearing green at home since forever, so to have it be an issue now is a little odd," says reader Bob.

Grab Bag: Aussie football news: During last weekend's game against Port Adelaide, all Geelong players wore a T-shirt-type top with sleeves, instead of the usual sleeveless jersey (from Graham Clayton). … President Trump is selling a St. Patrick's Day-themed MAGA hat. But instead of a three-leaf shamrock, the hat features a four-leaf clover, which isn't an Irish symbol (from Alex).