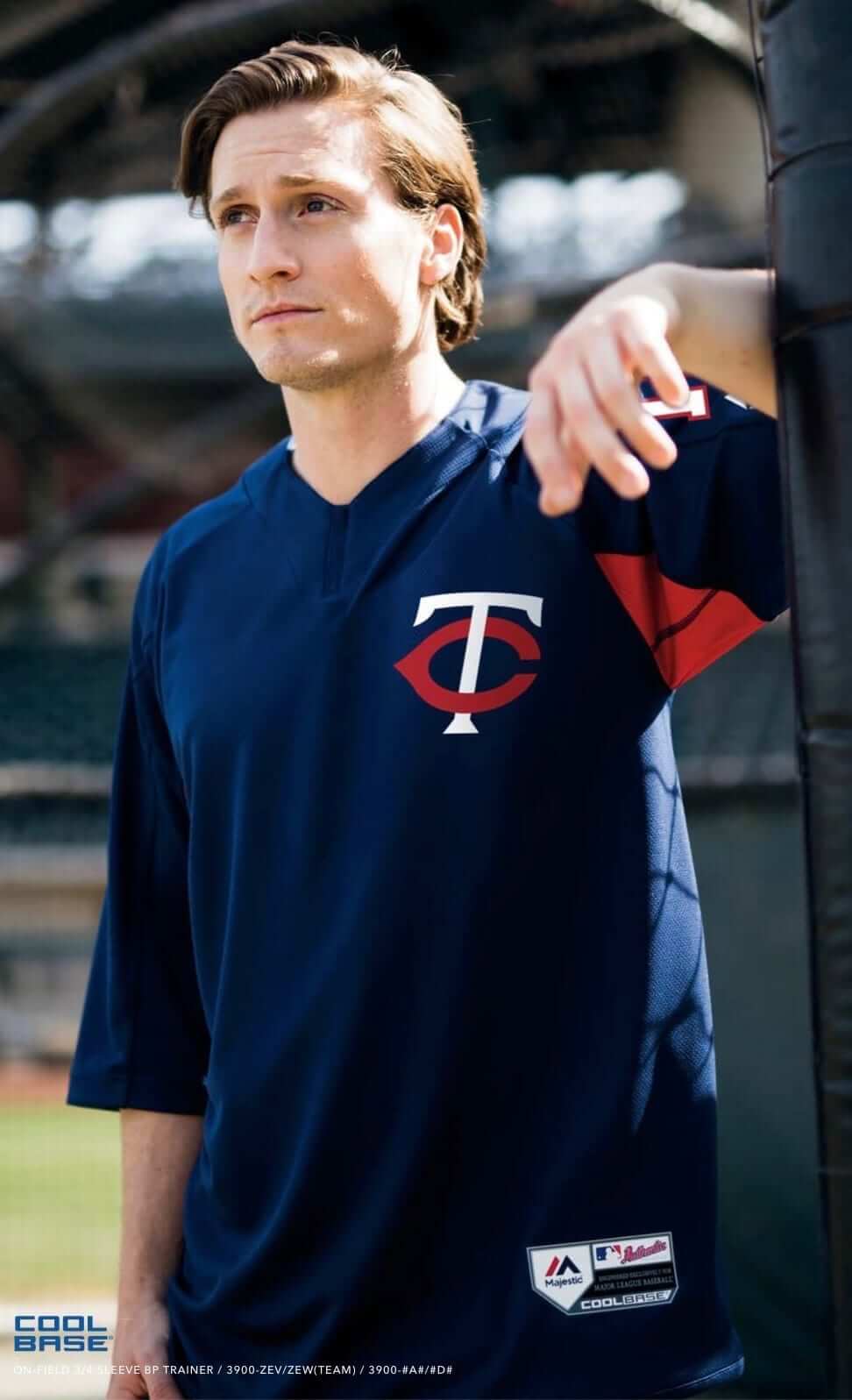 Major League Baseball will have new batting practice tops this season. I say "tops" instead of "jerseys," because these really aren't jerseys in any standard sense of the term. They're pullovers with three-quarter-length sleeves. And as you can see at right (and can click to enlarge), they're designed to be worn untucked.
Some additional notes:
•  All of these designs have a uniform number on the left sleeve, and most are blank on the back. The exceptions are the Mets, who are using back numbers, and the Red Sox and Braves, who are using a standard number/NOB combo.
• You see that little vertical strip in the center of the collar that kinda looks like a zipper? I'm not sure if it's stretchy or ornamental or what, but it's not a zipper. Check that — it is a zipper. But the pull tab is cleverly hidden:
@UniWatch pic.twitter.com/cyXTs2WdZt

— Seth Bernstein (@SethBernstein67) February 2, 2017
•  Most teams have just one design, but the Red Sox, White Sox, Tigers, and Yankees have two, and the Brewers inexplicably have three.
•  According to SportsLogos.net, these will only be worn for regular season BP, not for spring training games. Grapefruit and Cactus League games will apparently continue to feature the spring jerseys that were rolled out last year.
At present, only about half of the designs are available for sale, but you can see all of the designs, including the ones that aren't yet available at retail, in the following two pages from a Majestic catalog. Note that although the catalog shows the Red Sox designs with blank backs, that is incorrect — the two Boston designs will have back numbers and NOBs. Also, the Padres design shown below is incorrect — the actual version will not include any yellow (click to enlarge).
.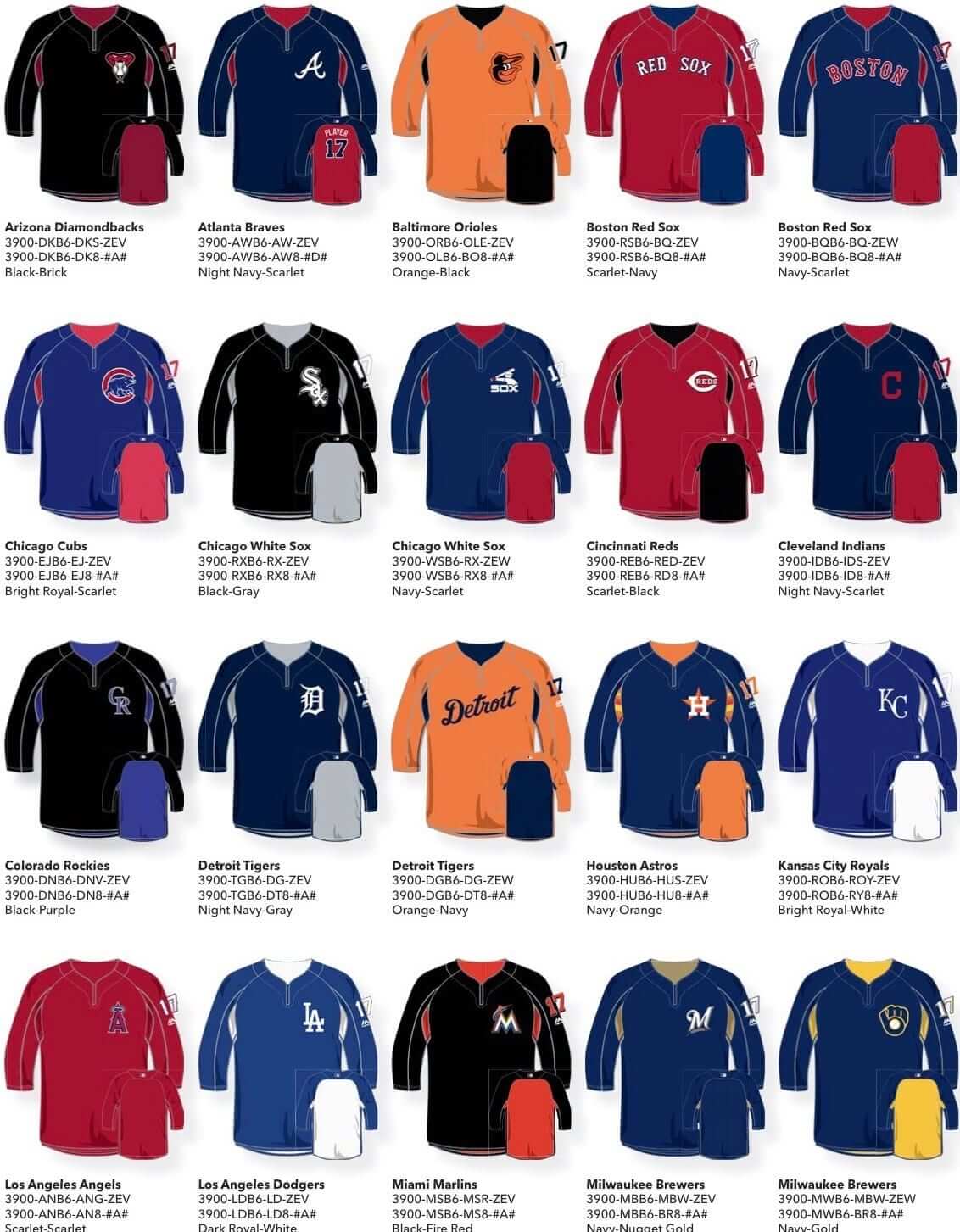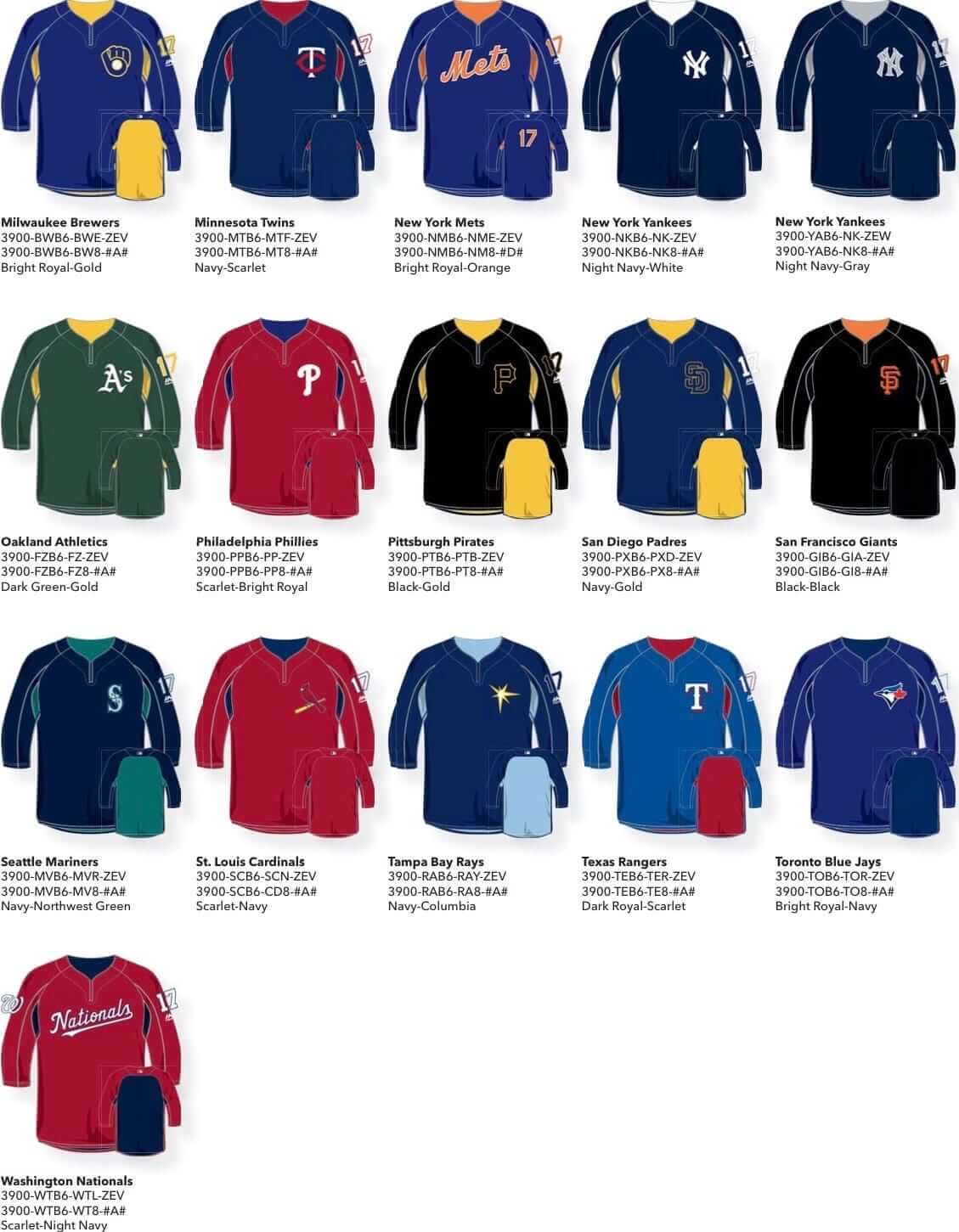 Too bad about the pit stains, but otherwise I have no problem with these. BP is a loose, casual time, so the untucked approach seems fine. Overall, though, it's hard to get too worked up about these one way or the other. I mean, jeez, they're just for BP.
•  •  •  •  •
Lions update: Yesterday morning I reported that it looked like the Lions were getting ready to ditch their BFBS elements, plus they appeared to have a new wordmark with a new font.
In case you missed it, the team confirmed all of that in the afternoon, issuing the following statement (click to enlarge):

Now that we know for sure that this is happening, a few thoughts:
•  Ditching the black should be a textbook case of addition by subtraction. A big win.
•  That new wordmark font is brutal. Yeah, it's nice how certain letters nest into each other (did the Vikings have a font sale or something?), but the letterforms themselves are terrible, especailly the "O" and the "S," and the feel of the typography doesn't mesh well at all with the feel of the leapin' lion. Not good.
•  The team's statement notwithstanding, Uni Watch bylaws obligate me to mention that what the Lions are doing here is actually a redesign, not a rebranding.
•  Although not mentioned in the team's statement, I can confirm that the Lions' new look will include an adjustment to their official shade of blue. They're changing from Pantone 7462 to Pantone 2196. Here's a side-by-side comparison — old version on the left, new on the right: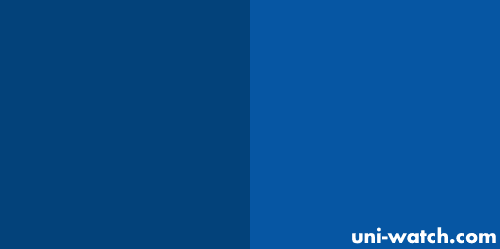 The Lions aren't the only NFL team with an upcoming color tweak, incidentally. More on that soon, maybe tomorrow.
•  •  •  •  •
ESPN reminder: In case you missed it yesterday, my annual Super Bowl column is up now on ESPN. Check it out here.
•  •  •  •  •
ITEM! New NBA column: Over the last couple of weeks, you may have noticed that the NBA section of the Ticker has often concluded with a series of contributions from a reader named Zach Loesl (that's him at right), who's been keeping track of what's going on in the NBA each night — who's wearing white on the road, which games on color vs. color, that sort of thing. He tends to send me his Ticker-submission emails late at night, when I'm asleep, and then I've been adding them to the Ticker each morning when I wake up.
Since the NBA is becoming such a uniform free-for-all ("home" and "road" uniforms are beginning to lose any meaning), and since Zach appears to have his finger on the pulse of what's going on, I recently asked him if he'd like to write a daily roundup instead of being buried in the Ticker, and he agreed to give it a shot. Before we get to his first report, Here's a quick introduction to him:
I am currently a graduate student at the University of Wisconsin-Whitewater, where I work as a tutor. I became an NBA fan in 2001, when the Bucks were on the verge of making the NBA Finals. My interest in NBA uniforms began when all 30 teams switched to Adidas's Revolution 30 uniforms. Since then, I have enjoyed reading about the various changes to NBA uniform designs here at Uni Watch.

My column will give NBA fans a more in-depth look at the uniforms worn each day, and I'll also focus on equipment, accessories, and arena advertisements. I believe the visual aspect of NBA games is important, and an underrated element of the fan experience. My goal is for readers to get an up-close look at various NBA games, while providing context into what I feel are notable developments.
With all of that in mind, here's Zach's first column.
Zach's NBA Report
By Zach Loesl
We'll begin today's report with an observation: Yesterday's Ticker mentioned that Juancho Hernangómez of the Nuggets has an accent on his NOB. But his brother, Knicks center Willy Hernangómez, does not have an accent on his NOB. Interesting.
Some additional notes:
•  Two more teams have advertisements placed on their scorer's table: the Nets and the  Celtics. This is a less objectionable way for teams to increase their ad revenue, since the ads themselves are not distracting to viewers.
•  Speaking of ads, the Magic have an advertisement on the top of their backboard for the Marriott Vacation Club. The website address includes the word "Magic" in it, making it seem more team-related.
•  Since yesterday was the beginning of February, players throughout the league wore Black History Month warm-up shirts. I think the stars and stripes pattern is an excellent way to fill the letters, and fits into the design of the shirt quite nicely. The trophy LeBron James is holding in that photo is the NAACP Jackie Robinson Sports Award.
•  The Timberwolves wore  white on the road against the Cavaliers last night.
———
Thanks, Zach. We'll continue to run Zach's report on most weekdays, so please join me in welcoming him to the Uni Watch team. Meanwhile, we'll still have an NBA section of the Ticker, for things that don't make it into Zach's report.
•  •  •  •  •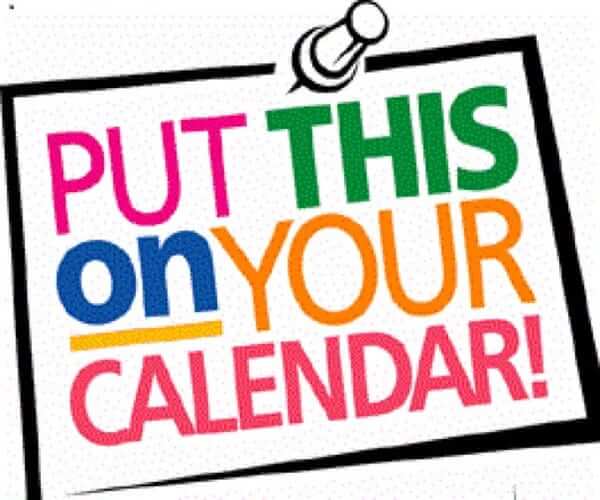 ITEM! Uni Watch party announcement: It's been way too long since our last Uni Watch gathering here in Brooklyn, so I'm convening a get-together on Sunday, Feb. 19, 3pm, in the back room of the Douglass. This is the same space we've been using for years — it used to be known as Sheep Station but was recently rebranded sold to a new owner, who gave the place a new moniker and a slight renovation. Hope to see you there.
•  •  •  •  •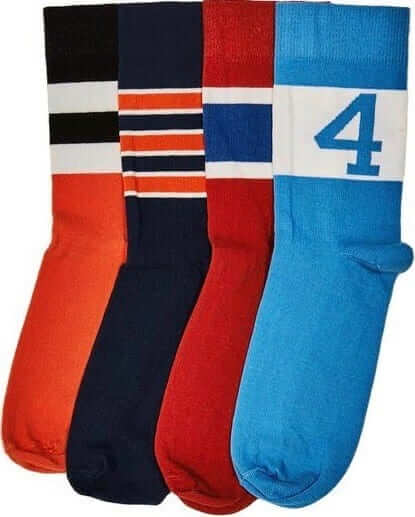 ITEM! StripeRite update: We had been out of stock on some of the second batch of StripeRite designs, but everything has now been restocked, so we're once again offering four-pack bundles. These socks are available here, and the first batch of StripeRites are also available. Enjoy.
•  •  •  •  •
The Ticker
By Mike Chamernik

Baseball News: New logo set for the Lowell Spinners. Additional info here. … A paint contractor in Virginia based its name and logo on Major League Baseball (from Brandon Clark). … Restroom signs at Minute Maid Park have silhouettes of Orbit, the Astros' mascot. Unclear if that bathroom is for men, women, or furries (from Joe Giza). … @HighSockSundays used some colored tape to give his pens a high sock stripe pattern. Very fitting. … One of the Brewers promotions in 2017 is a Jonathan Villar bobblehead with a protective face guard. Villar started wearing that style of helmet in August. … New pinstriped uniforms for SF State.

NFL News: Bill Belichick is shifting away from his trademark hoodie. He wore a blue sweatshirt a few times this year but hasn't worn a short sleeve gray one since January 2013. … Kurt Warner wore an unusual facemask with a lower extension during the 2001-02 playoffs and Super Bowl XXXVI. I'm assuming it was to protect a jaw injury, but does anyone know why? (From Brad Ballard.) … A promotional table in Houston for the Super Bowl has an old Falcons helmet and a replica trophy for Super Bowl XL on display (from Paul Pass). … Peter Fredrickson has some neat old Super Bowl buttons and a pin for Super Bowl XV. … Here's one observer's picks for the 10 NFL teams most in need of a uniform overhaul (from Phil).

College Football News: South Carolina tweeted a photo of a new commit wearing No. 2, which is retired for Sterling Sharpe (from @willchitty4). … Fax machines are largely obsolete, but not on National Signing Day. … A highly ranked recruit faked out Florida and Florida State before picking USC. … Rugby's Anglo-Welsh Cup resembles the CFP championship trophy (from Lucas Stoller). … The latest signing day trend is the college bow tie (from Eric Kolenich).

Hockey News: The Ontario Reign are hosting a Pink in the Rink night tomorrow, complete with pink-accented jerseys and pink ice (from Ben Whitehead). … A signed Gordie Howe jersey was stolen from an ice rink in Saskatoon. It was going to be raffled off in a fundraiser for a local youth hockey league (from Brinke). … The Blackhawks' goalies aren't happy about the new NHL rule requiring slimmer goalie pants (from Anthony Giaccone).

Pro Basketball News: The 3-Headed Monsters, a team in the new pro 3-on-3 league, revealed its logo. I wonder if all the teams will have three-themed names (from Peter Axtman). … Good shot here of Marques Johnson's double-decker FNOB (from Nate Fell). … Check out the story behind this 1997 NBA All-Star Game prototype jersey.

College Hoops News: Xavier wore throwbacks against Seton Hall last night (from Andy Kroeger). … Seward County CC in Kansas wore "Los Santos" jerseys for Hispanic Heritage Night. The team is known as the Saints (from Matt Newbery).

Soccer News: New uniforms for both FC Tokyo and its lower-tiered reserve team. "No idea if this is the first time ever that pros and their reserve team get entirely different designs, but at least I have not seen anything like this in soccer before," says Stefan Papp. … New team scarf for the North Carolina Courage of the NWSL (from James Gilbert). … Tiburones Rojos, a team in Mexico, have a new jersey patch that protests President Trump. More info here, in Spanish (from @asgrrr). … Denis Hurley asked readers of his blog to determine whether certain match-ups constitute a color-clash that would require one team to change its kit.

Grab Bag: New rugby jerseys for Georgia, the country (from Eric Bangeman). … New logo for Moeller High School in Cincinnati, where our own Alex Hider (and Ken Griffey Jr.) attended. … More bad news for Under Armour, whose credit rating was downgraded to junk status. Three more years before this company takes over MLB's uniform contract (from Aloysius Koufax).