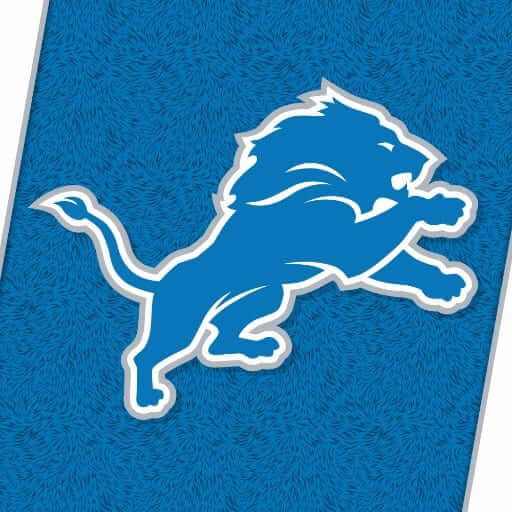 Since 2003, the Detroit Lions' official team logo has had a black outline, but that appears to be changing. As readers Yasser Khan and PJ Kuzdal noticed last night, the black outline has been removed from the logo on the Lions' home page. The avatars for the team's Facebook, Twitter, and Instagram pages are also black-free. (The new avatar is shown at right.) These pages show a new wordmark font as well. All of this seems in keeping with the team's stated plans to update their look for the 2017 season.
If those changes include ditching the black, it would be a major improvement. Black was needlessly added to the team's visual program in 2003 by then-GM Matt Millen, who was looking to evoke the feel of his old days playing for the Raiders — a classic BFBS move that has never felt like a good fit.
I have a hectic day on tap, but I'll try to get in touch with the Lions this morning to see if I can learn more. Stay tuned.
Update: The Lions are already selling merch with the new wordmark and the black-free logo, so this appears to be a go:
@UniWatch Lions official store shows team might have a new name font pic.twitter.com/mO8KMD6ntx

— Ricky (ر) 💡 (@RickyH174) February 1, 2017
Additional update: The Lions have confirmed that they're ditching the black. Here's the statement they issued this afternoon (click to enlarge):

•  •  •  •  •
Click to enlarge
Prepping for the Supe: With Super Bowl LI now just five days away, my annual Uni Watch Super Bowl column will be running on ESPN, with lots of uni-centric facts and figures about the Pats, the Falcons, and the Supe itself (including the time five years ago when Pats offensive lineman Logan Mankins had a mustache drawn on his Flying Elvis helmet logo, as shown above; you can refresh your memory on that episode here). Check it out here.
•  •  •  •  •
The Ticker
By Alex Hider

Baseball News:  New number assignments for the Mariners (from Tim Dunn). …  The Brewers have announced their 2017 promotions schedule. Among the  highlights is a zubaz-print hoodie (from  Adam Vitcavage). …  This business in San Jose poached the Cubs' logo (from  Ethan Kassel). …  The Hanshin Tigers of the Central League in Japan have new alternate uniforms (from  @BigDaddy45). …  Chance  works for a Native American tribe in Oklahoma, and spotted this Cardinals beaded bracelet at an art show.

NFL News: According to this photo, the negative space in Super Bowl patches this year isn't really dead space. It's still covered in clear material (from  Matt Fedorka). … Interesting take on the Falcons' and Pats' helmets in this online ad (from Johnny). … Weird that these racing helmets have backwards Pats and Falcons logos (from Dell Michaels). …  The Ravens are making some upgrades to their stadium (from  Mark Johnson). …  With youth football participation declining due to parental concerns about concussions and other injuries, USA Football is making some changes to make youth tackle football more like flag football. The changes include having fewer players on the field, a smaller field size, and the elimination of kickoffs and punts. … Lots of awesome old Falcons photos in this gallery (from Ronnie Poore). …  Here's something you don't often see: a kicker wearing No. 25 kicking off to a return man wearing No. 8. That's Jim Bakken of the Cardinals kicking to Vince Evans of the Bears in a 1977 game. "Evans was then a rookie third-string QB behind Bob Avellini and Mike Phipps," says Scott Mason. "His had a contract stated that he would play no other position than quarterback unless asked. When the Bears made him their third-stringer, they asked if he'd return kicks, and he said yes."

Hockey News:  The Laval Rocket will begin playing in the AHL next season as a Canadiens affiliate. Their new uniforms are heavy on the Habs connections. … The Albany Devils  are moving to Binghamton, so Dick Holbrook  took a shot at designing them a new logo. …  New uniforms for the Coast Guard Academy (from Sean). … Rutgers wore military appreciation jerseys the other night (from Steven Woj). …  All players wore No. 14 during warmups in the AHL All Star game in honor of Craig Cunningham, who collapsed on the bench during a game earlier this year (from  Stephen Whyno). … Nico Hischier's NOB was misspelled on his CHL All-Star Game jersey (from James Lambert). …  A documentary about the California Seals is set to be released on Feb. 6 (from  Ted Arnold). … Penguins equipment manager Dana Heinze has a cool goalie mask collection that's currently on display at the team's arena (from Jerry Wolper).

NBA News:  Stance has new socks for the NBA All-Star game. …  The rest of these are from Zach Loesl: The Pelicans and Raptors went color-vs.-color last night, with the Raptors wearing their Chinese New Year uniforms. … The Rockets also wore Chinese New Year unis last night. … Juancho Hernangomez of the Nuggets has an accent on his NOB.

College Hoops News: Color-on-color alert: Maryland (yellow) at Ohio State (grey) last night (from  Steven Gong). … Meanwhile, Mississippi and Mississippi State went black vs. grey (from Matt Barnthouse).

Grab Bag:  Holy Cross teams will honor players with outstanding academic achievement with a patch (from  Michael W. Philbrick). ….  Under Armour's stock price took a beating yesterday due to lower-than-expected earnings reports. Key quote from company founder Kevin Plank: "We need to become more fashion." Remember, three years until UA takes over MLB's uniform contract (from Brinke). … This overhead footage of a bowling pinsetting machine is mesmerizing (from  Brian Schmidtke). …  Andrew Evans  took a stab at redesigning  Oregon State  football's  look. … The Tampa Bay Rowdies got literal with their expansion pitch to the MLS (from  Jeremy Brahm).