Click to enlarge
Behold — the new Schutt F7 helmet, the latest round in the anti-concussion wars. As you can see, it has an exterior plate situated across the top of the shell (and there's another one in the back). It has a very clever way of removing and reinstalling the facemask, too. Nothing quite like it has ever been seen on a football field before, but that will likely change this spring, when college and pro teams are scheduled to start test-driving it. It could be used in games this fall.
The F7 is a variation on a helmet concept I wrote about for ESPN six years ago, almost to the day: the Bulwark, which was designed by longtime Uni Watch friend Michael Princip. That article from six years back led Michael to a partnership with Schutt, where he ended up being the lead designer on the F7.
The F7 is a really interesting piece of engineering, and I was given exclusive access to tell its story, which I've done in a new ESPN piece that will be running today. Check it out here.
•  •  •  •  •
More Manning masks: Following up on yesterday's entry about former Saints quarterback Archie Manning's unusually high number of facemasks, @ProFootballJournal came up with two Manning masks that I missed.
The first is a simple two-bar model: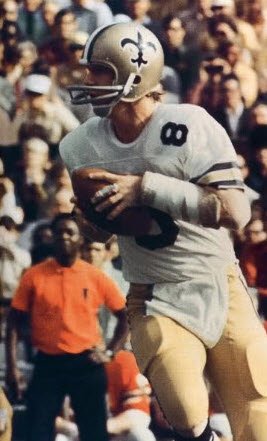 The second is a model that's similar to several of the other ones on yesterday's list, but it does appear to be distinct from any of those: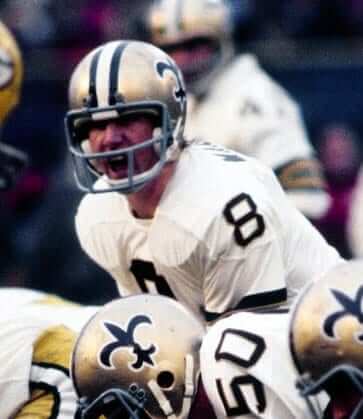 So that means Manning wore at least 13 different facemask designs during his time with the Saints — and counting.
Meanwhile, as long as we're talking about Manning, longtime reader Ben Traxel found a shot of him with his jersey number mirrored on his waistband towel: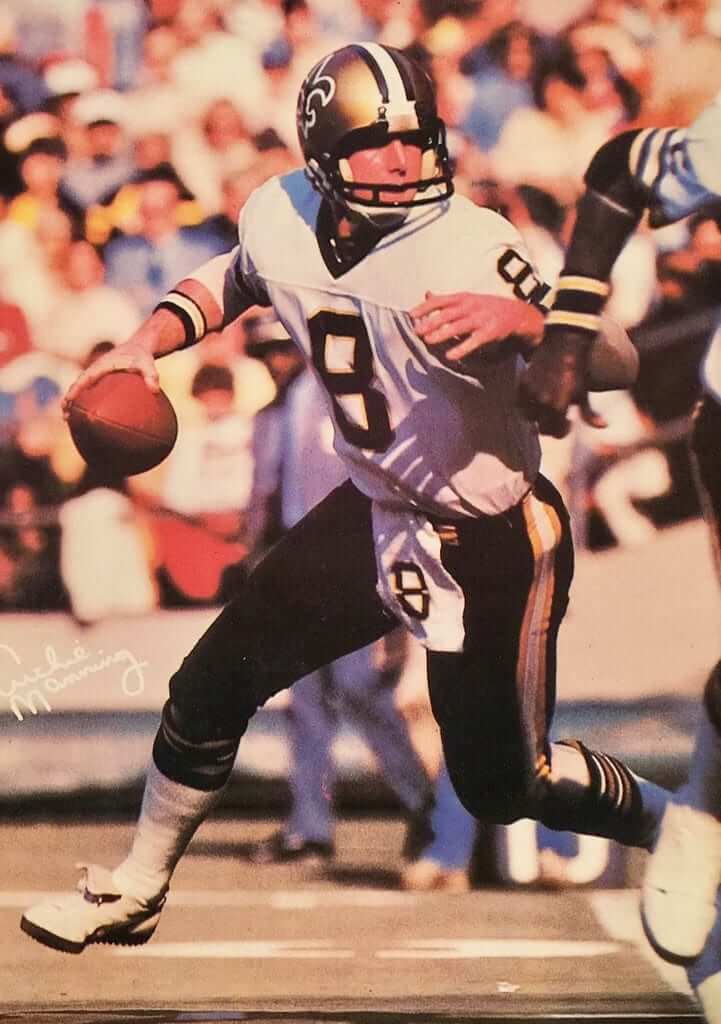 •  •  •  •  •
LAST CALL ""  design contest reminder: Today is the last day to enter my "Redesign the Chargers" contest. Full details here.
LAST CALL "" pets in uniform: In case you missed it last weekend, Phil had a post on pets wearing sports uniforms. He's planning a follow-up post and wants to feature photos of your uni-clad pets. If you have a photo for him, use this link to send it his way. Thanks.
Raffle results: The winner of the IceJerseys $100 discount code is Jon Chichwak. Congrats to him, and thanks to all who entered.
•  •  •  •  •
The Ticker
By Mike Chamernik

Baseball News: The Memphis Redbirds unveiled a new logo and uniforms. Meant to capture the spirit of Memphis, the redesign incorporates a neon light motif and features an "M" in the shape of a music note (from Phil). … The Giants updated their black alternate jersey, changing to solid orange numerals and SF logo (from Phil). … The Blue Jays will unveil an red alternate cap and jersey on Friday. The uniform will be worn on Sundays this year (as reported by Chris Creamer). … Here's a look at how the Orioles' Camden Yards 25th-anniversary patch will look on their sleeves this season (from Robert Hayes). … North Georgia's softball team showed off its stirrups. … Back a few decades ago, Tim Raines wore a shirt with an Andre Dawson caricature on it (from Patrick Sesty). … Bob Frigiano spotted a briefcase made of Rawlings-branded leather, and @DTABR notes that there's a company in England that makes watch bands out of old baseball gloves (from Phil). … The Akron softball team has added a memorial helmet decal for a player's mother.

NFL News: The Chargers will keep their current uniforms for next season, though they may consider a redesign a few years from now. … The Packers showed how their seamstress sewed on their captaincy patches for the playoffs (from several readers). … The Packers' G logo was created in 1961. When the U. of Georgia introduced a very similar logo a few years later, the school had to get permission (from Phil). … The Steelers and Patriots will play for the AFC title this Sunday. The QBs share respect for each other: Ben Roethlisberger asked Tom Brady for his jersey earlier this season, and it now hangs in his office (from Phil). … Much like Archie Manning, as profiled here yesterday, Bears QB Mike Phipps wore a bulky facemask in 1979. He wore it to protect a broken nose (from Bill Schaefer). … Inspired by the Chargers' promotional logo flop, here are a dozen of the worst logo changes in sports. Unclear if the writer understands that the Bolts aren't changing their primary logo, though (from Trevor Williams). … More hints towards a new color scheme for the Rams: They still sell stuff with gold, but the logo on their NFL Shop page is just blue-and-white (from Yancy Yeater). … Southern New Jersey native Mike Trout made his buddy wear a full Eagles uniform to the gym after winning a bet on the Packers-Cowboys game. Trout is a birds fan, and presumably a Cowboys hater (from Phil). … The starting lineup for this year's Puppy Bowl has been announced (from Phil).

College Football News: Cal-Berkeley has an extensive uniform history. That article tracks the Golden Bears' record in each different uniform set over the last decade (from Sam Felder).

Hockey News: Lots of readers sent this in, but Chris Mizzoni wrote the blog: Here's how NHL players spent their offseason in 1961. It looks like the Canadiens had a baseball team at the time. … USA Hockey's Under-17 Team will wear Star Wars jerseys next Saturday.

NBA News: Buried within the middle of this piece about the Warriors' new San Francisco arena is a tidbit that they might get Oakland jerseys before the move. … The NBA is switching uniform suppliers next year, so graphic designer Jesse Nunez created a Nike uni concept for each team. Props to Jesse for subtle tweaks, not full-on redesigns. … The Kings wore black at home last night, creating a color-on-color game with the Pacers (from Zachary Loesl). … Also from Zachary: The Hornets' arena has an American Airlines ad on one backboard post and a Tissot ad on the other post. "This is the first time i've seen a team advertise different companies at different ends of the court," he says.

College Hoops News: Providence will wear throwbacks next Wednesday (from @joeymisdemeanor). … Iowa players have a bump under their nameplates. Josh Sandin says that it's because the Hawkeyes wear GPS and heart rate trackers.

Soccer News: The name and logo for a new NPSL team, Napa Valley 1839 FC, was revealed last night. … Swansea City midfielder Ki Sung-Yueng has KI. S. Y. as his NOB. Unclear why there's a period after KI (from Robert Baker). … Fans will design a new badge for Ayr United, a low-level club in Scotland. The old one was considered a Coat of Arms, which broke an ancient heraldic law (from Kevin McNeil). … According to this news clipping, the Kansas City Comets of the MISL had to wear makeshift uniforms for their first ever game at Kemper Arena in 1979 (from Marc Viquez).

Grab Bag: Masonite Doors unveiled a new logo, which replaces this. … At Madeira High School in Cincinnati, boys teams are known as the Mustangs and girls teams are called the Amazons. In addition to separate logos, the school uses a combined logo, too (from K.C. Kless). … The UNC gymnastics team will wear rainbow-patterned leotards tomorrow (from James Gilbert). … NASCAR has a new sponsor/advertiser, Monster, for its premier series. It looks like drivers names will be moved from the top of the windshield to the back window, with a Monster logo taking its place in the front (from David Firestone). … Also from David: New racing suit for NHRA top fuel driver Leah Pritchett.