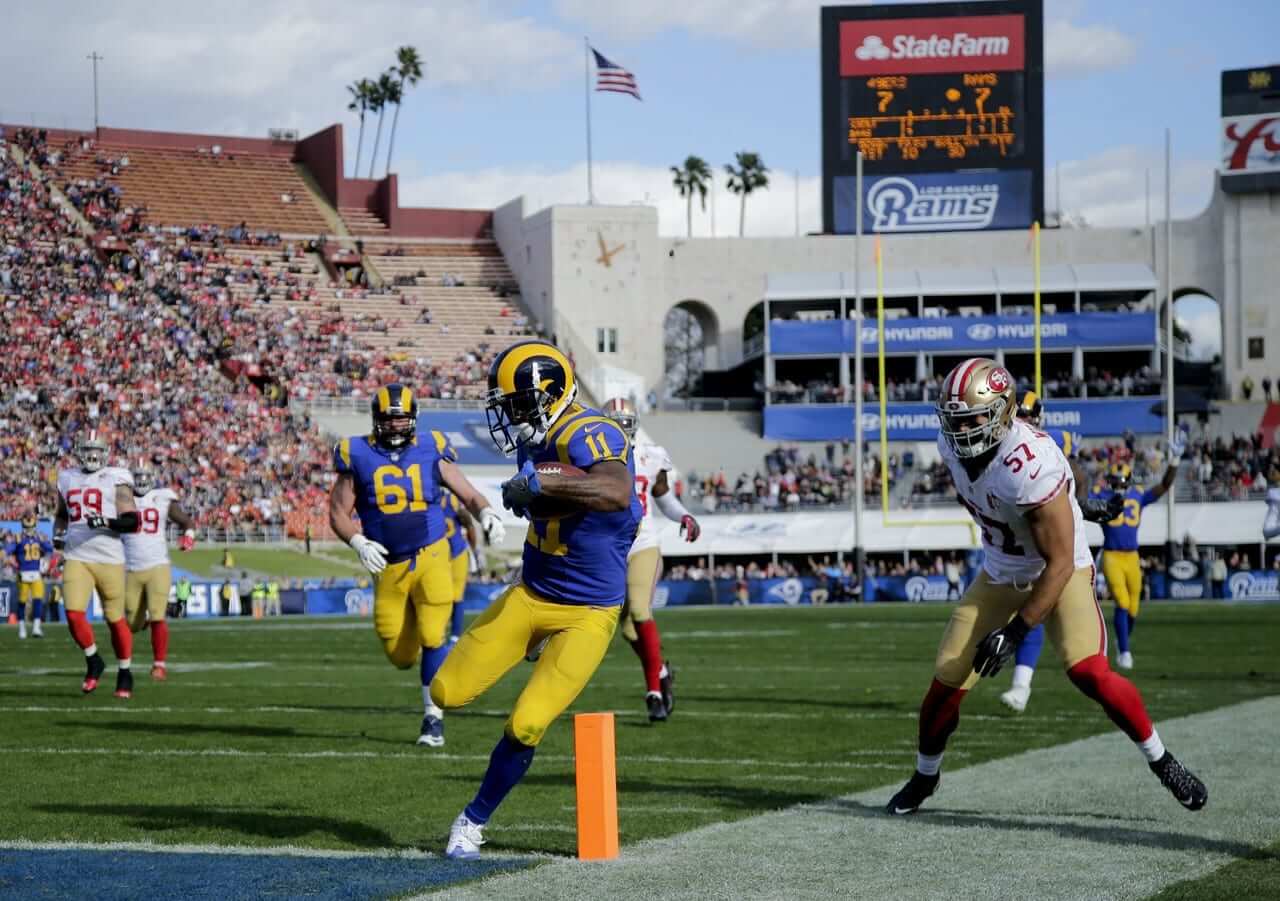 Click to enlarge
Paul here, pinch-hitting for Phil, who has the weekend off. The Rams wore their throwbacks yesterday against the 49ers. It marked the third different horn color they've worn in three weeks — gold against the Falcons on Dec. 11, white against the Seahawks on Dec. 15, and now yellow against the Niners.
I'm sure there was lots of other uni-notable action yesterday, but I was out and about doing holiday stuff and didn't have time to pay attention to football — sorry. The comments are open, so feel free to discuss stuff among yourselves.
Meanwhile: Santa's leaving something extra under the tree for three dozen lucky Uni Watch readers this year — the winners of our annual year-end raffle. Here are those three dozen winners, and the prizes they've won:
1. Uni Watch membership — David Forbes*
2. An MLB Ballpark Pass-Port — Daniel Swartos
3. Wallet with uniform lining — Eric Sawyer**
4. Packers blanket — Henry Miller
5. Ohio State calendar — Tyler Dresbach
6. Texas calendar — Ian Townsend
7. Alabama calendar — Paul W. Peters
8. Electric Football calendar — John Weiss
9. Orioles "vintage girl" bobble — Scott Fite
10. St. Louis Officials Association patch — Dylan Nir
11. San Francisco City FC jersey — David Upton
12. Orioles T-shirt — Kevin Lynch
13. Phillies Liberty Bell stirrups — Matthew Garry Moon
14. Phillies socks — James Couto
15. 1994 World Series baseball — Rex Doane
16. Professional Bull Riding jersey — Dan Secord
17. A's ringer tee — Stephen Breslin=
18. A's hooded sweatshirt — Dave Amerikaner
19. Curtis Granderson socks — Keith Wells
20. Globetrotters pom-pom hat — David Caruso
21. Pacers socks — Jimmy Lonetti
22. NBA striped crew socks — Brent Light
23. Indians crooked-C cap — Jason Hillyer
24. "Mets Rushmore" T-shirt — Mark Zrebiec
25. Roberto Clemente T-shirt — Bryan Hoekzema
26. Jackie Robinson T-shirt — Jamie Morrison
27. Cardinals uniform book — Marc-Louis Paprzyca
28. Another Cardinals uniform book — Jon Morse
29. Orioles jersey — Josh Lassiter
30. Two Five Apparel T-shirt — Austin Elmore
31. Another Two Five T-shirt — Scott Kaplan
32. Two Five thermal pullover — Lisa Hill
33. Another Two Five pullover — Dan Sym
34. Lehigh Valley IronPigs cap — Alex Putelo
35. Uni Watch magnifying glass — Josh Wilson
36. Oklahoma City Hornets sneakers — Aaron Johnson

*David Forbes, get in touch to let me know the particulars of what you want for your membership card.

**Eric Sawyer, get in touch to let me know which team's uniform you'd like for your wallet lining.
Congrats to the winners, and thanks to all who entered. It may take me a week or so to get all of these items, packed, addressed, and shipped. Thanks for your patience.
I'll be busy with Christmas stuff today. Whatever your plans are, please accept my best wishes for a great holiday. Peace. — Paul
(My thanks to Carrie Klein for her creative assistance with today's post.)