The situation regarding White Sox pitcher Chris Sale reportedly cutting up his team's throwback jerseys is certainly unusual. But it's not the first time a uniform or uni element has been been cut, sliced, or scissored. Here are some examples, although I'm sure there are others:
1. When Pedro Martinez pitched for the Red Sox in the late 1990s, he routinely cut slits into the bottom of his sleeves:

MLB eventually banned that practice, so Martinez had his subsequent jerseys tailored with extra-billowy sleeves (and sometimes with mesh panels added to the sleeves, in order to make them even roomier).
2. Back in 2006, when the Swooshkateers tried to foist their Nike pox undershirts upon MLB diamonds, umpires ruled that pitchers couldn't wear the spotted sleeves because the pox pattern could be a distraction to the hitters. That led to Cubs pitcher Scott Williamson having his undersleeves cut off right there on the mound:
It's a little hard to see in these screen shots, but Reds pitcher Brandon Claussen went through the same routine when an ump told him he couldn't wear spotted sleeves on the mound: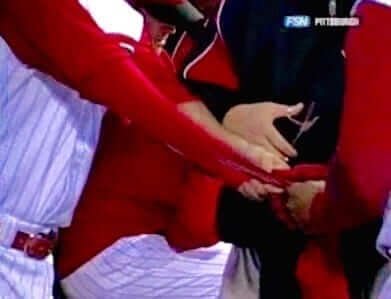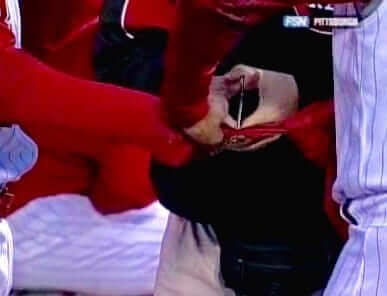 3. Also from 2006, we ran a Ticker item submitted by reader Alisa Carrigan, who had this to say about the French Open tennis tournament: "Right before the Martina Hingis/Lisa Raymond match, the chair umpire sent Hingis off the court for a moment. Hingis came back, grabbed a pair of scissors, and left again. The commentators were guessing that she had been told to cut off one of her sponsor patches."
4. From reader Brad Pramberg: "Back in 1986, Doug Risebrough of the Calgary Flames fought Marty McSorley of the Edmonton Oilers. Risebrough lost the fight but ended up with McSorley's jersey in the penalty box, which he shredded to pieces with his skates." No photos of that, alas, but the incident is referred to here and here (in both instances, just search on "McSorley"), and you can hear a broadcaster mentioning that Risebrough is taking McSorley's jersey with him into the penalty box at the 1:50 mark of this video:
5. Earlier this year, Ghana's under-17 female national soccer team played a U-17 World Cup qualifying match in badly oversized jerseys. According to that report, "The embarrassment reached a crescendo when officials of the team had to quickly look for a pair of scissors to cut the sleeves of the jerseys in a bid to reduce the size and weight of the kits." They won the match, 6-0.
6. We've talked many times about how Frank Robinson and other MLB players lengthened their stirrups in the late 1960s. In order to do that, they had to slice open their standard-issue stirrups — presumably with scissors — and then have additional strips of fabric sewn in.
I'm sure there are lots of other examples that are slipping my mind. Feel free to post them in today's comments.
It is appropriate — even necessary — to conclude this discussion with the following song. Enjoy.
• • • • •
• • • • •
LAST CALL for the Timberwolves-redesign contest: In case you missed it last week, I'm running an ESPN contest to redesign the Timberwolves. The deadline is tonight. Details here.
• • • • •
Raffle results, and today's new raffle: The winner of the White Sox cap is Todd Kortemeier. Congrats to him, and thanks to all who entered.
Our next '47 cap up for raffle is this A's cap, which has a cloth adjusta-strap in the back:
Here's a closer look at the logo on the side (against a different background). There's a '47 maker's mark on the other side.
To enter, send an email with your name and shipping address to this address (not to the usual Uni Watch email address, please) by 8pm Eastern TODAY. One entry per person. I'll announce the winner tomorrow, and I'll also announce tomorrow's raffle cap, and then we'll keep repeating that process for each remaining weekday this month. If you win one of the raffles, please be nice enough to step aside and stop entering the remaining ones. Thanks.
• • • • •
Membership update: I'm going to be sending a new batch of memership cards to the printer on Friday and should have them in the mail by Saturday. That means anyone who signs up this week will get his or her card by early next week (and so will Doug Bass, whose Rangers-themed card is shown at right).
As always, you can sign up for your own custom-designed membership card here, you can see all the cards we've designed so far here, and you can see how we product the cards here.
• • • • •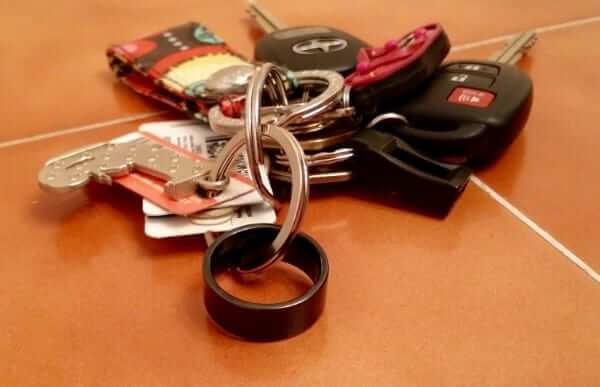 KRC update: The latest installment of Key Ring Chronicles is about a black ceramic wedding band. It's a very short, very good story. Check it out here.
• • • • •
The Ticker
By Paul

Baseball News: It's not unusual for MLB teams to conclude a weekday series with a Thursday-afternoon getaway game. But the Mets and Rockies will play an afternoon game tomorrow as the first game of a series. That's pretty rare. … The Phillies and Giants are planning Grateful Dead promotions (from Ed Hahn). … Mismatched Tigers caps — and some spectacular striped stirrups — in this 1970s photo (from Tyler Kepner). … The Indianapolis Indians will wear Negro Leagues throwbacks as part of a Civil Rights Night promotion on Friday. Further info here (thanks, Phil). … The mighty Fleer Sticker Project has put together a good entry, with lots of photos, on the Orioles' rarely seen late-'60s vests. … The Fresno Grizzlies will become the Fresno Tacos on Aug. 18. Additional views here, and here's some additional info (from George Takata, John English, and Mike Lineback). … As had been rumored, the Mets will indeed wear a Mike Piazza sleeve patch on Saturday. Note that the number and NOB have period-appropriate (if loathsome) black drop-shadowing. The patch will also appear on the team's caps. … There are little bobbleheads and then there are really big bobbleheads (from BSmile). … Oh man, if the Chisox are looking for a new throwback to make Chris Sale happy, they could do a lot worse than this. … After a fan vote, the Lynchburg Hillcats are keeping their current name. … Dodgers OF Yasiel Puig wore Vin Scully tribute cleats the other day and has been told he'll be fined if he wears them again (thanks, Mike). … Base jewels at last night's Indians/Nationals game mistakenly identified the Nats as the Senators. … I'm not sure which Iowa high school this is, but purple is the least of their problems (from Jay Wright). … Rangers P Cole Hamels doesn't like throwbacks any more than Chris Sale does (thanks, Phil). … Boy, there's a lot going on with this American Legion pitcher, what with the striped stirrups, the tequila sunrise jersey unbuttoned to reveal a distractingly lettered undershirt, and the eye black. For good measure, the opposing team is desecrating the flag (from Tris Wykes). … Here's a shot I hadn't seen before of Dick Allen's "Wampum" NOB (from Jerry Wolper). … Orioles P Darren O'Day recently did a rehab stint with the Bowie Baysox, where he had to wear the team's David Bowie uniform. "Probably the worst jersey I've ever worn," he said (from Kyle Geralds). … With the Democratic National Convention currently taking place in Philadelphia, the anchors of MSNBC's Morning Joe wore Phillies apparel this morning. Anyone know if they did something similar last week for the GOP convention in Cleveland? (From Willard Kovacs.) … Really hate MLB's new Stance socks with the double-logo creep. That's Mets OF Yoenis Céspedes from the first game of yesterday's doubleheader against the Cardinals (from Sander Bryan).

NFL News: Here's someone's picks for the five most memorable unis in Dolphins history (thanks, Phil). … The Vikings' new stadium sure has a lot of purple (from KK). … In a related item, Max Levy was taking a tour of the Vikes' new building and spotted some art on the wall that shows former Vikes DL Alan Page wearing No. 89, instead of his usual 88. … Madden 16 shows the wrong design for the Titans' sleeves (from Eric Wright). … Sure, each NFL team's ugliest uniform, why not (from Clay Marbry). … In the late 1960s, Lions owner William Clay Ford bought a used Continental Mark II and had it redone — inside and out — in Lions colors (from Mike McLaughlin).

College Football News: New military-appreciation helmet for Bowling Green (from Derek Zyski). … The U. of Texas has told a Mississippi high school to stop using the Longhorns logo (from Jeff Stark). … LSU had an interesting end zone design back in 1986. … New uniforms for Rutgers (from Jason Yellin). … New uniforms for Delaware State (from Larz Roberts). … Florida's new media guide shows a Gators player wearing a white helmet (from @DaveDoop). … New logo for the Las Vegas Bowl (from Rob Montoya). … Not sure if we'd seen a rear view of Wisconsin's new jerseys until now. Also, as you can see, RNOB alert (from Jared Haack). … Here's what Tulane will wear for the season opener. … Houston Astros INF Alex Bergman, who went to college at LSU, has an LSU football helmet in his locker. … New helmet for Southeastern Louisiana (from Chris Mycoskie).
Olympics News: The Olympic torch relay has had its share of problems on the way to Rio. … Drug dealers in Rio are using the Olympics logo to sell cocaine (thanks, Brinke). … Diet Coke's Olympics-themed can design looks a bit like a Frank Stella artwork. … Olympic swimmers, sailors, and windsurfers are being warned to keep their mouths closed while competing, because Rio's water is basically a petri dish of fecal sewage. Hey, at least it's better than Zika, right? … Here's how America's top Olympic athletes suit up for competition (from Drew Stiling).

Hockey News: New 25th-season logo for the Mississippi RiverKings. … Here's a new one: a NASCAR/Blackhawks crossover (from Alex Sinclair). … There had been some rumors that the Canucks might be scrapping their Orca logo when Adidas takes over as the NHL's outfitter in 2017, but apparently that's not going to happen (from John Muir). … A KHL team that had copied its logo from a video game has changed to a new logo.

NBA News: The WNBA has rescinded the fines for the teams and players who were sanctioned for wearing pregame T-shirts protesting recent shootings by and of police officers.

College Hoops News: Back in 1997, when Scott Novosel was in grad school, he wrote a piece for a friend's newsletter about the best- and worst-looking college basketball teams. If you're curious, look here, here, and here. … The four Division I schools in Western New York — SUNY-Buffalo, Canisius, Niagara, and St. Bonaventure — have agreed to wear throwback uniforms on Dec. 17 as part of the Big 4 Basketball Classic. The uniforms will be based on an online fan vote. Here are the design options for Buffalo, Canisius, Niagara, and St. Bonaventure.

Soccer News: New uniforms for Chelsea FC (thanks, Phil). … New uniforms for Hull City (from Ben Karnish). … New jerseys for Górnik Zabrze (from Ed Å»elaski). … What's with the No. 2021 jersey? "Kid signed a contract through 2021," explains Ian Gerig. … The guy who dresses up as the Richmond Kickers' mascot — a kangaroo named Kickeroo — sweated off nine pounds while wearing his mascot suit the other day (from Tommy Turner).

Grab Bag: The New Museum here in NYC has a new exhibit about collecting, which I hope to see this Saturday. In connection with that, The New York Times invited readers to submit stories about their own collections, and some of them are really good. … Under Armour is moving into the old FAO Schwartz building here in NYC, and is also expanding its distribution deal with Kohl's (from Tommy Turner). … Good article on Star Trek uniforms (thanks, Phil). … Even with all the purple, anything from Northern Iowa makes me happy. … Good little video clip about the guy who designed the movie titles for Star Wars, The Exorcist, and Raging Bull, among other movies (from Scott Lederer). … Naturally, the Chris Sale incident is leading to lots of lists of history's worst uniforms. Lazy and predictable, but somewhat entertaining (from Brinke).