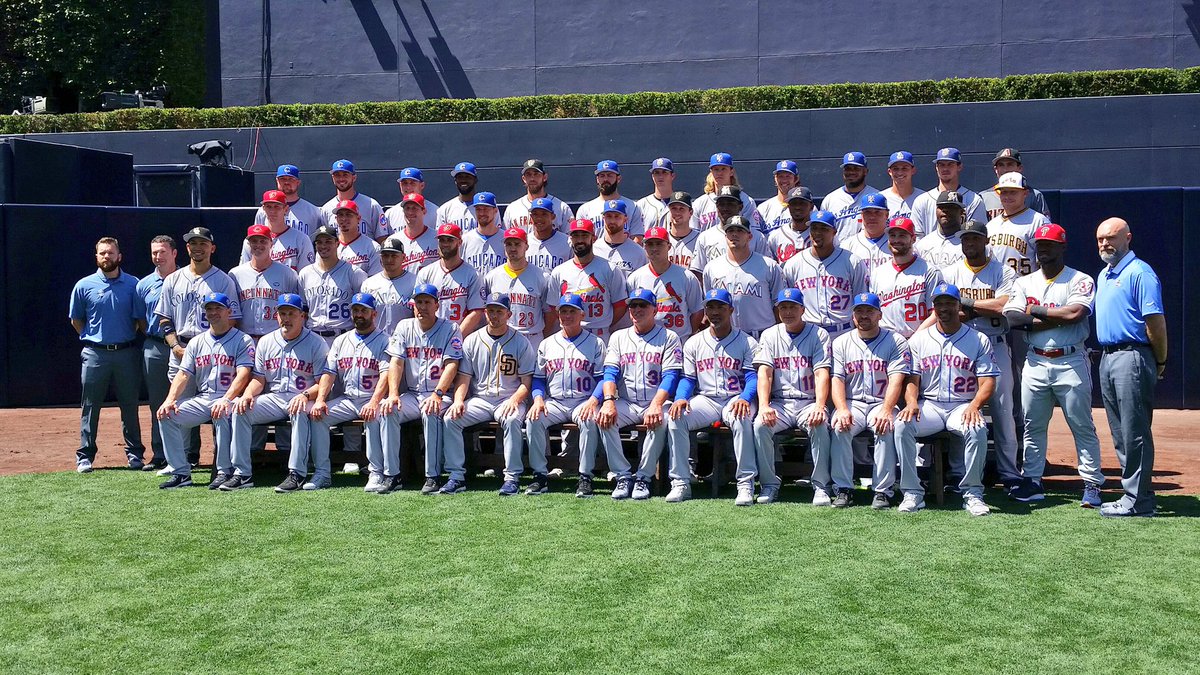 Click to enlarge
The uni-related high jinks for last night's MLB All-Star Game began well before the first pitch, as Pirates pitcher Mark Melancon lined up for the National League team portrait while wearing a Mets BP cap (that's him in the third row, far right — you'll be able to see it much better if you click to see the larger photo, and you can also see it here). Not sure why — did anyone hear an explanation?
Other notes from the game:
•  As has been the case in recent years, this game was completely white vs. grey (or, in one instance, white vs. charcoal) — no softball tops or other alternates. Hell, the Dodgers even wore their "Los Angeles" greys. Shocking!
•  I got about a bizillion emails and tweets from people who hadn't gotten the memo about the American League being the home team in San Diego (and who were too lazy to google it themselves). Obviously, I didn't expect every single baseball fan to know about that, but it's interesting that there were so many people who knew enough to contact the Uni Watch guy but didn't know about the American League wearing home uniforms. This may mean MLB didn't do a good job of getting that news out there, or maybe it means I didn't do a good enough job of spreading that news.
•  In a related item, the Padres' representatives were wearing a grey version of their home whites, and it looked fantastic. This, or something like it, should have been their road uniform all along. Never made sense for them to add yellow to their home color palette but not to their road set. Here's hoping they go with this new look next season.
•  Unlike at the Home Run Derby, where players were apparently required to go high-cuffed (the better to expose the new socks from MLB's latest corporate partner), players in the All-Star Game were permitted to wear their pants however they chose — and almost all of them chose pajama pants. But a few players did go high-cuffed and showed the new All-Star socks, including Jose Altuve, Manny Machado, Marcell Ozuna, Mookie Betts, and a couple of others. Several other players just wore their regular team-issued solid socks, including Xander Bogarts, Brandon Belt, Ian Desmond, and Miguel Cabrera. And Francisco Lindor wore his usual striped stirrups.
•  All players wore an All-Star Game sleeve patch (which was Chromaflex, by the way, not embroidered). For the Diamondbacks' and Reds' players, that meant their memorial patches were
bumped from the sleeve to the chest. But the Giants' memorial patches for Monte Irvin and Jim Davenport just moved higher up on the sleeve.
•  The caps looked okay. Not great, and certainly not an improvement over the teams' regular caps, but not an embarrassment either. Definitely the best of the three special All-Star editions so far (although that isn't saying much). Best thing about them: the grey underbrims. Sooooo much better than the current black ones. Change it back to grey, New Era!
•  Players once again wore little gold stars flanking the MLB logo on the back of the jersey and the back of the cap. Somewhat amazingly, however, there were no stars added to the MLB logo on the back of the pants. Someone's probably gonna lose their job for not having thought of that, am I right?
•  In a related item, the MLB logo on Altuve's pants was rendered in Padres colors. Must've been from the previous day's workout or the Home Run Derby. (Yes, I realize Altuve didn't participate in the Derby, but lots of non-participant players showed up to watch.)
•  Not sure if this was new or a holdover from previous years: The umpires wore gold stars on the front of their caps. Also, as you can see there, the color sequence on their MLB logo was inverted from its usual blue-white-red. Odd.
•  The Royals' players wore their Friday-night gold-logo batting helmets. (As you may recall, the Royals originally wore gold-trimmed championship uniforms for their season-opening series against the Mets and then received permission to keep wearing them for Friday-night home games all season long.)
•  Catching gear: Salvadore Perez wore gold-trimmed equipment, but that was nothing compared to Matt Wieters's cyborg look. Here's a close-up of his shinguard.
•  Why did they give the Brewers a royal cap to go with a navy-trimmed uniform? Makes no sense.
•  Let's just say there was a lot of footwear silliness and leave it at that.
• Several players wore red belts — maybe left over from the Home Run Derby? — during pregame warm-ups, including White Sox pitcher Jose Quintana and several Red Sox and Orioles players. All of them wore their proper belts in the game, however.
•  The baseball had blue and yellow stitching — Padres colors.
•  Mets pitcher Noah Syndergaard's name was misspelled at a display inside the ballpark.
•  Former Padres pitcher Randy Jones threw out the first pitch and wore a nice Padres throwback jersey. Former Padres closer Trevor Hoffman was also part of the pregame festivities and also wore a period-appropriate jersey, but — and I know many of you will never forgive him for this — he tucked it in.
•  In a related item Robinson Canó did the untucked thing during postgame high-fives. He was also one of several American League players who went untucked before the game started. Don't think I've ever seen that before.
• Someone in the crowd was wearing an American League Home Run Derby jersey with "Trump 16" as the NOB and number.
•  Finally, during the top of the 8th, Fox broadcaster Joe Buck said that National League manager Terry Collins had told him "that he feels it's important to get every team's uniform in the ballgame." Nicely stated, Terry (although it's worth noting that the only Mets uniform in the ballgame was that of Collins himself).
(My thanks to all contributors, including Matt Bond, Andy Brandl, Mike Chamernik, Andrew Cosentino, Dan Erbach, Brandon Fischer, Ben Forman, @KeyvonPahz, @phixated, Tyler Stern, Mike Vamosi, @ZJL00, and of course Phil. Apologies to anyone I missed — it was a hectic night!)
•  •  •  •  •
Blame Canada: Remember how we recently discussed the Padres' frequent use of lip-synchers to do the national anthem? Well, we certainly know there was at least one national anthem that was not lip-synched prior to last night's All-Star Game: "O Canada," which was sung by a Canadian group called the Tenors, whose lead singer took it upon himself to change some of the anthem's lyrics to "All lives matter" and also held up a sign with that same slogan. The other Tenors later said they had no idea he was going to do that and have suspended him from the group.
Here's some video of the key moment in the anthem:
You can actually see the other #tenors slowly like at him like "what the fuck" when he starts his solo.@bruce_arthur pic.twitter.com/awZGTHjyk0

— Andy Cole (@AndyCole84) July 13, 2016
I'm not interested in debating the merits of the specific message (at least not here), but I do want to address how this incident will affect the lip-synching debate, because I'm sure there are some people out there — especially in the MLB offices — who are thinking this is precisely why it's better to have the anthem lip-synched. But it's actually the opposite: As I've been saying all along regarding this issue, the essence of live performance's appeal is that anything can happen — including something really stupid, like a singer deciding to insert a political statement into the lyrics of "O Canada." That's a big part of why live performance of all types (music, theater, sports, etc.) is so compelling — it leaves room for surprises. The trade-off for that element of surprise is a slight loss of control over the finished product. In the long run, that trade-off is always worth it, despite the occasional hiccup like what happened last night. But corporate decision-makers tend to place an insanely high value on control and try to eliminate surprises as much as possible, so I suspect what happened last night will hasten the move toward lip-synching in the sports world.
Many of you have no doubt grasped the delicious coincidence at work here, namely that last night's anthem stunt took place in Petco Park — the same stadium where the Padres frequently use lip-synchers. They'll no doubt view last night's episode as a validation of that approach, which is too bad. It's really the other way around.
•  •  •  • •
Raffle results, and today's new raffle: The winner of the Phillies cap is longtime reader Jimmy Lonetti. Congrats to him, and thanks to all who entered.
Our next '47 cap up for raffle is this Pirates pillbox snapback:
To enter, send an email with your name and shipping address to this address (not to the usual Uni Watch email address, please) by 8pm Eastern TODAY. One entry per person. I'll announce the winner tomorrow, and I'll also announce tomorrow's raffle cap, and then we'll keep repeating that process for each remaining weekday this month. If you win one of the raffles, please be nice enough to step aside and stop entering the remaining ones. Thanks.
• • • • •
StripeRite update: In case you missed it earlier this week, I've partnered with Scott Turner and American Trench to produce a new line of crew socks with great stripe patterns down toward the ankle, where everyone will be able to see them.
When I announced the launch of these socks two days ago, I said we were doing small quantities — only 60 pairs for each of the four colors. That was the minimum order from the mill, and we had no idea how you folks would respond to this product line, so we played it conservative and went with the minimum. I figured there was a decent chance that it would take months to sell through all of the inventory, and a slight chance that we'd end up being stuck with some unsold socks.
Shows what I know. After two days, we've already sold out of all four colors. We're already ordering more, so don't worry — all orders we've received (and continue to receive) will be filled, although there might be a slight delay before we can ship the socks from the second batch. I'll have updated info on that in a day or two.
THANK YOU for supporting this project. We put a lot of work into it, and it's really gratifying to see that we came up with a winner.
If you haven't seen the socks yet, here they are: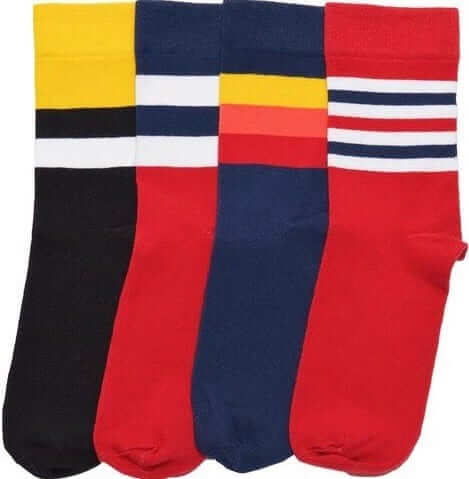 The socks are available here, and there's lots of additional info here.
• • • • •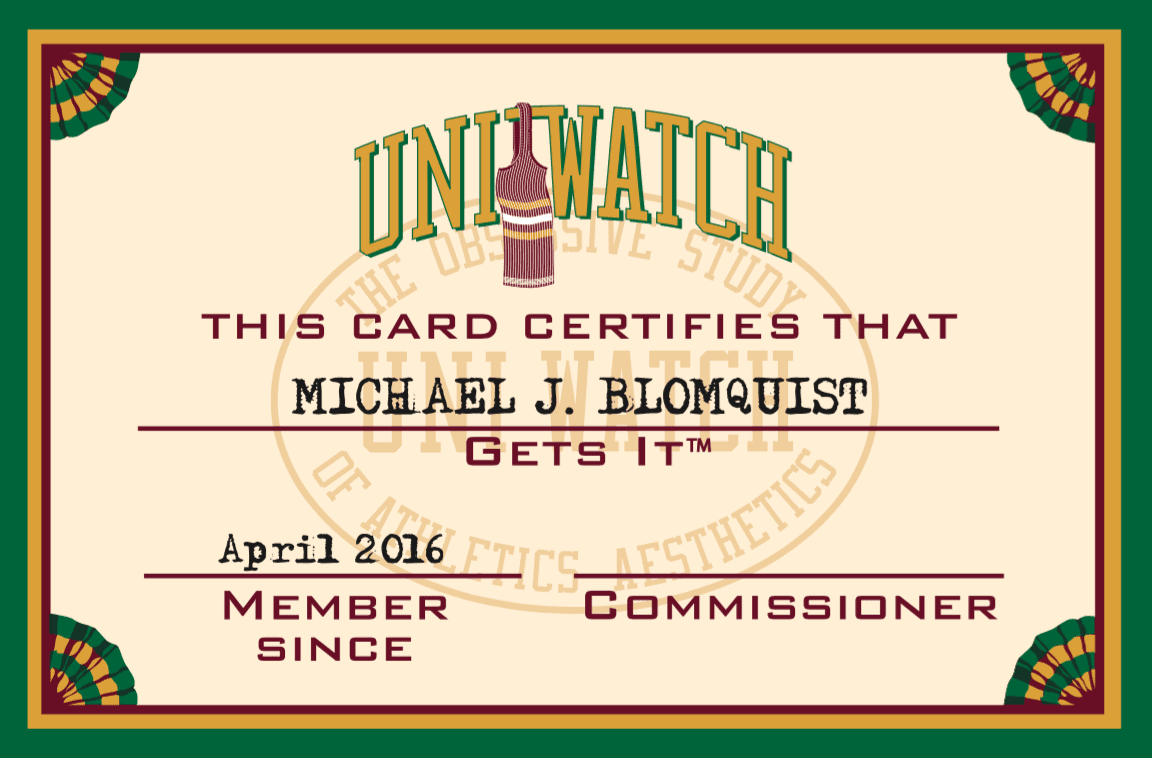 Middle me this: I don't have a middle name or middle initial (for more on that, look here), so I'm admittedly no expert on middle name-related matters. But I've noticed something interesting about people who enroll in the Uni Watch Membership Program.
A small-ish subset of the enrollees — if I had to guess, I'd say maybe 10% — request to have their middle initial included on the front of their card. Of those, the vast majority — maybe 75% — do not include a period when making that request. In other words, they say something like, "For the front of the card, please put John P Doe" (or whatever).
Whenever this happens, I always double-check with the enrollee and ask, "Did you mean to omit the period after your middle initial, or should a period be included? I'm happy to do it either way — just let me know." Almost invariably, the answer that comes back is, "Oops, forgot to include the period. Yes, please include it. Thanks for asking!" This has now happened dozens of times (most recently yesterday, when Kevin P. Jarvis signed up and initially asked for "Kevin P Jarvis" on the front of his card).
Again, I'm no expert on this stuff, but is it common for all you middle-named and -initialed folks to skip the period, sort of as a casual shorthand kind of thing? Seems odd that you'd forget to include the period when you actually want it there.
There's a school of thought among some copyeditors and grammarians that a middle initial shouldn't include the period when it isn't short for anything. Harry S. Truman, for example, didn't have a middle name — his parents simply gave him a middle initial — so some copyeditors prefer to style his name as "Harry S Truman" (although Truman himself didn't sign his name that way; further info here). Whenever I get one of these membership card requests, I always think, "Maybe this person is like Truman, with the initial not standing for anything." But whenever I double-check, they always say, "Oops, forgot — yeah, please include the period."
Well, almost always. My records show that we have at least three members who specifically requested middle initials but no periods. They didn't say why (or if they did say, I don't remember). Maybe their initials don't stand for anything, like Truman's "S," or maybe they just think the period looks clunky.
As it happens, back in 2005 I dated a woman named Ruth B Janson. The "B" didn't stand for anything, and she felt strongly about not including the period. Unfortunately, the Uni Watch Membership Program didn't yet exist (and neither did this website, actually), so I wasn't able to present her with a card showing her preferred styling.
•  •  •  •  •
The Ticker
By Paul

Baseball News: Here are some rare shots from the 1962 All-Star Game, including Willie Mays batting without a helmet. … Darth Vader jerseys this Friday for the Spokane Indians (from James Gilbert). … Lots of great uni-watching to be had in this 1947 spring training video (big thanks to Patrick O'Neill). … Look closely and you'll see that New Era ran an ad that lists Andrew McCutchen as a member of the Giants (from Andrew, who didn't give his last name, although I'm pretty sure it's not McCutchen). … The Round Rock Express will become the Round Rock Fire Ants on July 21. … The Birmingham Barons wore UAB-inspired jerseys last night. "Garish as hell, but I love seeing my hometown team supporting my alma mater," says Nick Salyers. … The great BSmile posted lots of photos of All-Star Game hardware, including a pendant, a belt buckle, another pendant, a ring, and another ring. … HSt. Paddy's Day (in July?) jerseys last night for the Duluth Huskies. … We've talked before about the logo decal that the 1975 Cardinals wore on the side of their batting helmets. Here's another shot of it, one that I hadn't see before (from @CHShelmet). … Nice item on the guy who authenticates the Astros' game-used stuff (from Chris Flinn). … Nutria-themed jerseys upcoming — yes, really — for the New Orleans Zephyrs (thanks, Phil).

Pro Football News: How do you start an argument? You pick the three best NFL helmets (from @LukeTesselink). … Not sure which season or game this is from, but someone has spotted an old Bills pants inconsistency. … TSN's penalty flag graphic CFL games now matches the flag color.

College Football News: Looks like UNC is switching to Xenith helmets. … Here's a Virginia Tech concept that's better than most (from Andrew Cosentino). … Ranking the SEC's uniforms? Sure, why not (thanks, Phil). … Looks like Temple is going BFBS (from Tommy Mancuso).

NBA News: Whoa, check out this beautiful Washington Capitols jersey (yes, that was also the name of a basketball team, in the old BAA, forerunner of today's NBA) that's up for auction (from Tommy Turner). … After four Minnesota police officers walked off the job at a Minnesota Lynx game due to the players wearing pregame "Black Lives Matter" T-shirts, the Lynx have decided to stop wearing the shirts (thanks, Phil). … Speaking of T-shirts, Spurs coach Gregg Popovich wore a Tim Duncan tee to Duncan's retirement press conference yesterday (thanks, Mike). … New college hoops uniforms for the Milwaukee women's team.

Grab Bag: Here's an article about what Atlanta FC's soccer uniforms might look like (thanks, Phil). … This is pretty awesome: Pro golfer Phil Mickelson is using a binder clip to keep his too-large cap in place at the Scottish Open (from Ty Maple). … Rolls-Royce created a bowling-themed logo for the first RR Trent 1000-TEN engines on a Boeing 787 (from Jeremy Brahm). … More Zika-proof Olympics uniforms for South Korea (Phil again).