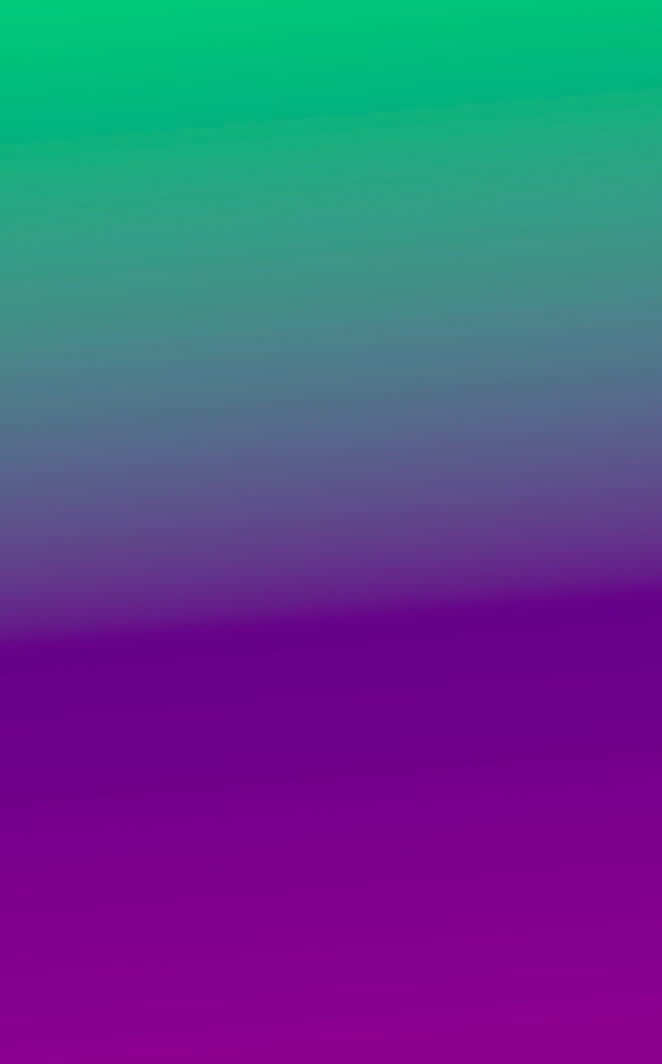 Hello there. Welcome to the 2016 edition of Uni Watch's Purple Amnesty Day — or as I now like to call it, the Purp Walk. Today is the site's anniversary, which by longstanding tradition is the one day of the year when I grudgingly acknowledge the world's most accursed color.
Some quick background: People sometimes say I have "purplephobia." But as I always explain to such people, that's not the case, because "phobia" means fear. I don't fear purple; I loathe purple. If anything, purple should fear me.
What makes me hate purple so much? Short answer: a near-bottomless reservoir of good taste. Longer answer (which I also gave in last week's installment of Question Time): I actually think purple in nature is quite nice "" violets, plums, eggplants. But purple as a human-imposed design element has always struck me as tasteless and tacky. It's the diva of colors, the Celine Dion of colors "" loud, abrasive, never content to do just enough when it can do way too much.
And I'm not alone. As a culture, or even as a species, we seem to understand purple's tackiness. Not a single U.S. state uses purple as one of its official colors, and neither does any sovereign country (at least according to this listing). It's no accident that we rarely see a purple house or a purple car. Now if we could just eradicate purple clothing, accessories, and yoga mats too.
But do I think teams like the Vikings, Rockies, and LSU should stop wearing purple? Honestly, no "" they chose their colors and now they're stuck with them that's part of who they are. And so today Uni Watch grits its collective teeth and salutes this most loathsome of hues.
Purple Amnesty Day has three components:
1. As always, this is the one day of the year when I'll accept Uni Watch membership card orders with purple-inclusive designs. So if you've been waiting for the opportunity to order a card with a Ravens, Kings, or Lakers motif, now's your chance. As of 3am Eastern tonight (to allow a full day's worth of ordering opportunity for folks on the west coast), the door will slam shut and you'll have to wait until next year's Purp Walk.
2. For the second consecutive year, we're marking the Purp Walk with a one-day T-shirt offering. This one, like last year's, was designed by my Teespring partner, Bryan Molloy. Check it out (click to enlarge):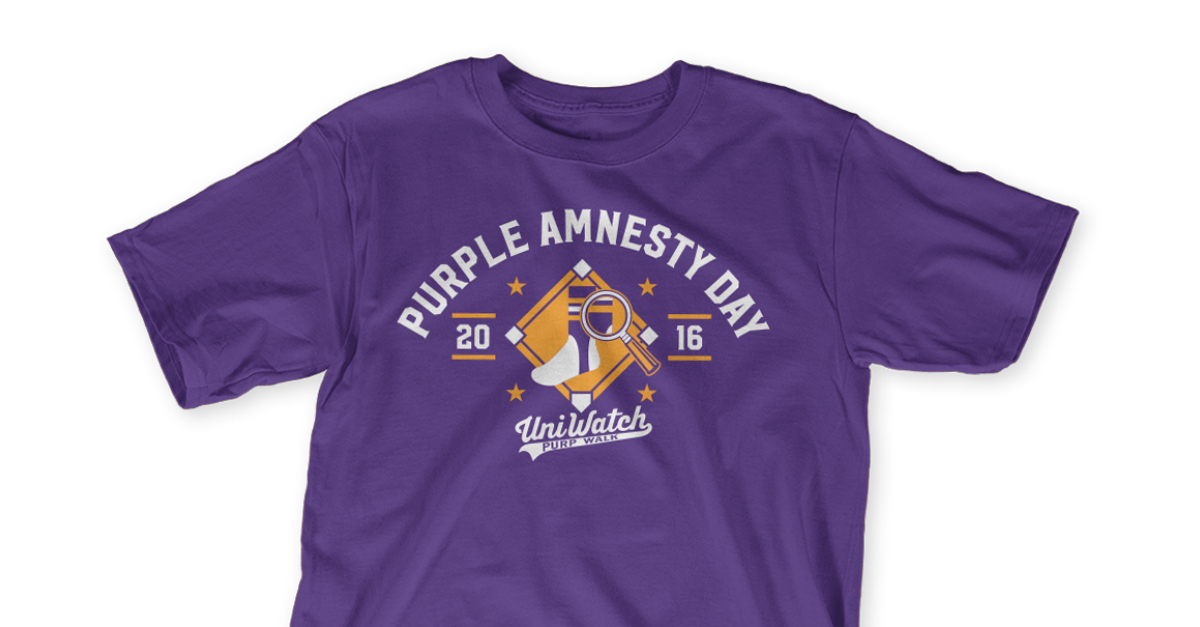 This shirt is not part of the T-Shirt Club program and does not have to be purchased in order to qualify for "collect 'em all" status. It's available in a variety of formats (short-sleeved, long-sleeved, hoodie, etc.). You can get it here until 3am Eastern, and then, thankfully, it will disappear forever.
3. Obviously, the site looks slightly different today, and so does my Twitter page. I find this more than a little distressing (imagine your eyeballs being gouged with salt-encrusted razor blades), but I'm trying to tell myself that it's therapeutic or something like that. Assuming I don't slit my wrists in desperation at some point today, everything will revert back to normal tomorrow. And not a moment too soon.
(My continued thanks to membership card designer Scott M.X. Turner, who came up with the term "Purp Walk" last year.)
•  •  •  •  •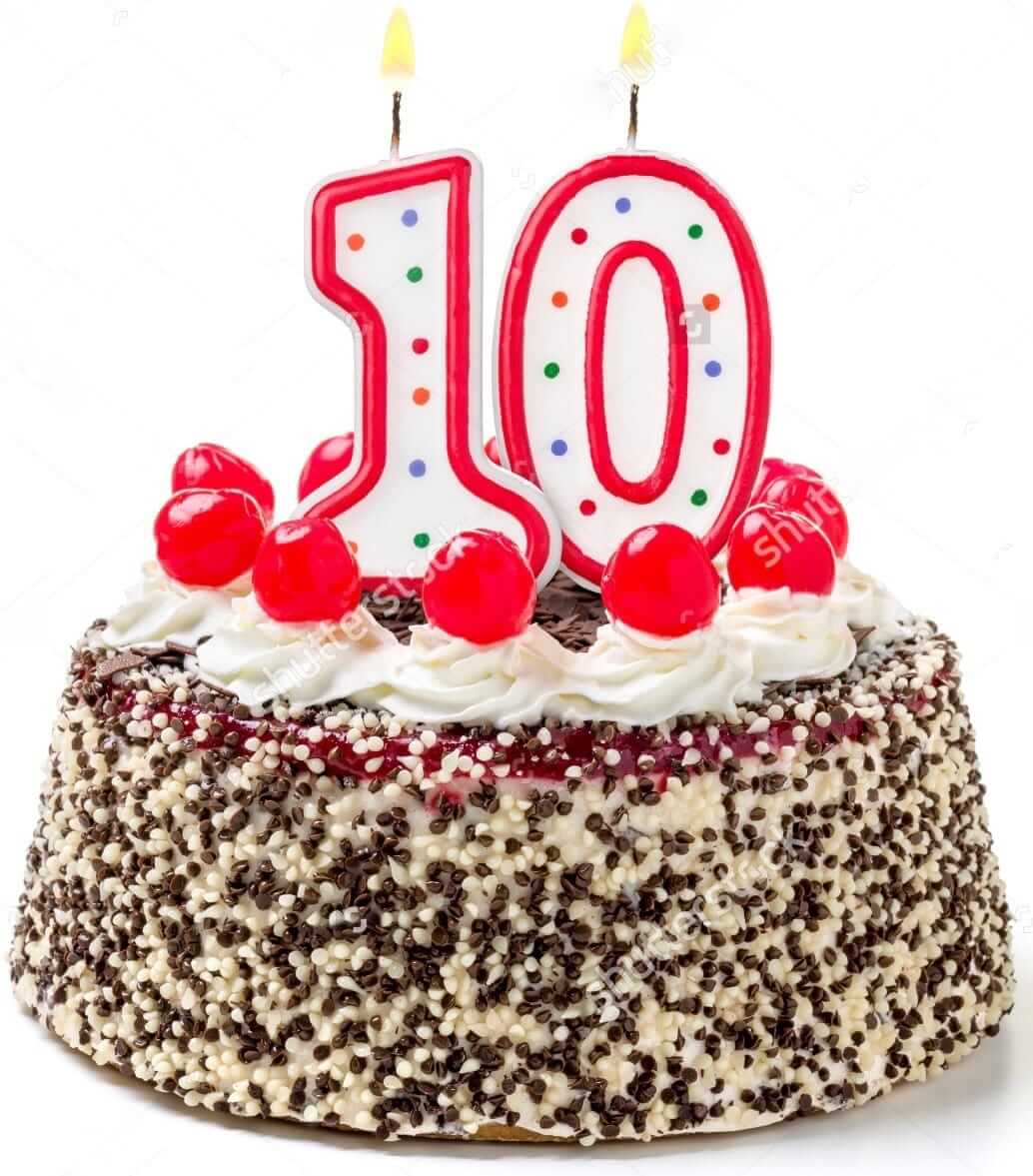 And while we're at it…: Purple Amnesty Day always takes place on the site's anniversary, but this year feels a little special because it's the 10th anniversary — not too shabby.
Let's shift into FAQ mode here:
I'm confused. How can this be the 10th anniversary? Didn't we just celebrate Uni Watch's 15th anniversary a few years ago?
That was the anniversary of the very first Uni Watch column appearing in The Village Voice — the true birth of Uni Watch. The anniversary we're celebrating today is the anniversary of this here website, whose first entry was posted on May 17, 2006 — 10 years ago today.
Wait, you mean Uni Watch existed in other forms before this website?
Yes. It began as a column for The Village Voice on May 26, 1999. In the fall of 2003 the column moved to Slate.com, and in the summer of 2004 it moved to ESPN.com. The daily blog — i.e., this website — was designed to supplement the ESPN column.
I thought thought the blog came first and then ESPN picked you up because you'd developed a following.
Yeah, a lot of people think that. It's an understandable mistake to make, but that's not how things took place.
So wait, you said the first Uni Watch column in the Voice was on May 26, 1999 — so that anniversary is coming right up, too.
Yes, next Thursday will be the 17th anniversary of the first column.
It's weird to have these two anniversaries so close to each other. Why didn't you just wait nine more days and launch the blog on May 26, 2006, so they'd be synched up?
In retrospect, yes, that would have been a much smarter move. But ten years ago I was just eager to get the blog started and wasn't really thinking about the confusing anniversary situation. (I also never thought either the blog or the column would last this long.)
Why not split the difference between the two dates and just call May 22 "Uni Watch Day," sort of like the way Lincoln's and Washington's birthdays got combined into Presidents Day?
A fun idea, but I'm way too much of a literalist to do that. I've attached all sorts of emotional importance to the actual anniversary dates, so I can't move away from them now.
Are you going to make T-shirts, stickers, and patches for the site's 10th anniversary, like you did for the column's 15th?
No. I consider the 1999 launch of the column to be Uni Watch's "real" anniversary, and I don't want to overdo it on the merch.
That said, however, I'm extremely pleased that the site has managed to have a 10-year run (and counting) of near-daily content, which feels like no small accomplishment. And it's definitely not something I've accomplished on my own — I've had a lot of help. I'd like to thank some of the people who've made a decade of uniform blogging possible:
•  John Ekdahl was the one who first approached me early in 2006 and suggested doing a daily blog. He ended up building the site and remains its webmaster. It's no exaggeration to say that none of this would have been possible without him.
•  Phil Hecken was a steady Uni Watch reader, Ticker contributor, and commenter who I hired in November of 2008 as the latest in a series of weekend editors. He quickly introduced a bunch of new features, built his own audience, and basically transformed the weekends into their own little scene on the site. Over the years, his role on the site has grown, and I now consider him to be my deputy editor. He's also become an incredibly loyal and trusted friend, and a tremendous ally in the War Against Bullshitâ"¢. Getting to know him has been one of the best things about doing this website.
•  Brinke Guthrie was another steady reader and Ticker contributor, with a penchant for sending in links to cool uni-related listings on eBay. Around 2010 I asked if he'd be interested in gathering those eBay links into a column, and that's how his weekly "Collector's Corner" feature was born. Brinke also runs the Uni Watch Facebook page and would probably do lots of other stuff if I could stop being so uptight and just turn him loose (he's always suggesting stuff). He's a great guy, incredibly upbeat and good-natured, and super-loyal and dependable.
•  I think I met Scott M.X. Turner when I was planning the first Uni Watch party back in March of 2006 (two months before the blog launched). He generously offered to create a T-shirt design for the event, which I then got him to repurpose as the first logo for the blog. In the decade since then, he's created all of our magnifying glass-themed logos (along with several other graphics), designed over 1,700 membership cards, and become a close friend.
• Back in the fall of 2013, I decided to outsource the Ticker for two days a week (a tough decision, because I'm generally not a good delegator). One of the two assistants I hired at that time, Mike Chamernik, is still part of the Uni Watch team today, and it's no stretch to say that bringing him on board was one of the best decisions I've ever made. Mike is incredibly hard-working, diligent, and a great guy. He has good journalism chops and will likely outgrow Uni Watch and move on at some point, but I selfishly hope that day is still far in the future, because I've really come to depend on him.
•  I'm fortunate enough to have had assistance from several other people over the years, including Vince Grzegorek, Bryan Redemske, Garrett McGrath, and the newest member of our team, Alex Hider. I'm grateful to all of them.
•  Two Novembers ago I got an email from some guy at some T-shirt company I'd never heard of, offering to design a Uni Watch shirt for me. A flurry of emails and phone calls later, Bryan Molloy and I had created the framework for the Uni Watch T-Shirt Club, which has been a really fun and successful project. Can't believe how lucky I am that Bryan and all his creative skills just dropped into my lap like that.
•  Several readers have become friends over the years, but a few have gone above and beyond with side projects that have enhanced the site and made my job more fun. Robert Marshall's Stirrups Club, Elena Elms's annual uni-themed holiday cookies, and the pseudonymous Wafflebored's amazing DIY projects all fall into this category (as do several other examples that I don't have room for here). My thanks to one and all.
•  Last but certainly not least, the larger Uni Watch community has been an amazing resource — alerting me to breaking uni news, helping to solve uni mysteries, responding when I've asked for opinions on this or that, filling in the many gaps in my mental database of uni knowledge, even sending me gifts, and more. I'm incredibly privileged to have such an engaged readership. Thanks for making these 10 years such a fun ride, people.
•  •  •  •  •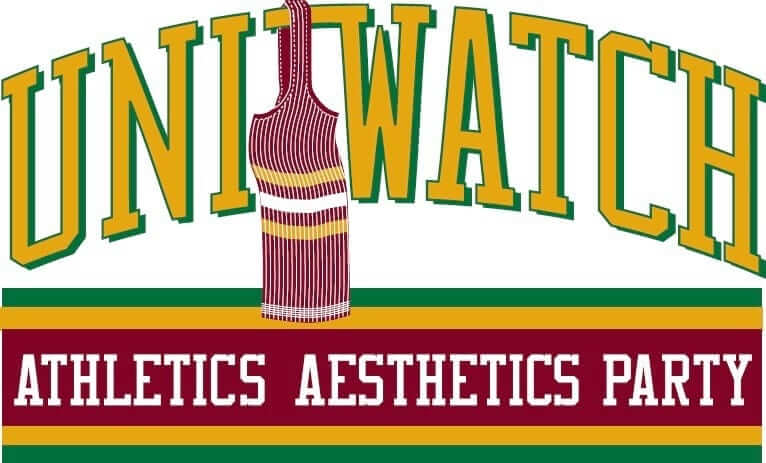 And as long as we're celebrating…: We're going to have a Uni Watch party next Wednesday, May 25, 7pm, at the Fourth Avenue Pub in Brooklyn (note that this is a new venue). They have a spacious backyard, so that's where we'll gather. They don't have food — unless you count popcorn, which is free — but there's very good pizza directly across the street and plenty of other food nearby.
This isn't an anniversary party per se. But if anyone wants to say, "Happy 10th anniversary for the blog" or "Happy 17th anniversary for the column," I'll happily accept those well-wishes.
The real reason for the gathering is that SportsLogos.net founder Chris Creamer is going to be in town and will be on hand as a special guest. Think of it as a uniform website poobahs' summit meeting. I've also encouraged Chris to invite his own readership to join us, so the crowd may expand beyond the usual suspects.
See you there, yes? Yes!
And as long as you're marking your calendar, on the evening of May 26 — that's the night after the party (and the column's 17th anniversary) — I'll be a featured guest at Talk Show, a live event featuring interviews with people who have unusual jobs (like, say, uniform reporter). It's fun and free. You should come!
•  •  •  •  •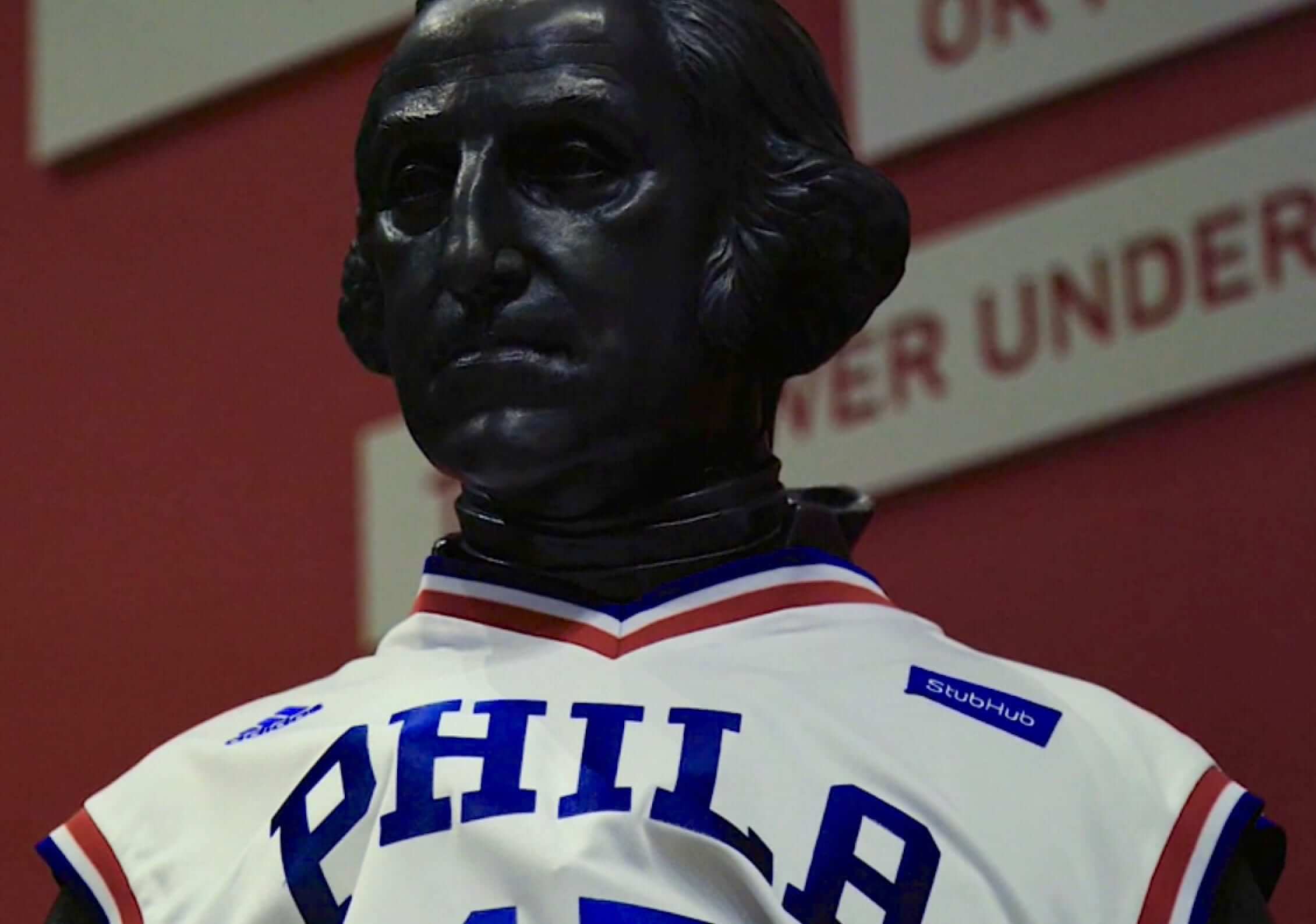 Click to enlarge
We the people consumers: What with the anniversary and the party and all, I had hoped to stick to positive messages today. But the 76ers have made that impossible.
In case you somehow missed the news yesterday, the Sixers had already announced that they'll be wearing a StubHub advertisement on their jerseys when the 2017-18 season begins about a year and a half from now. As that news spread yesterday, the team issued two nauseating videos that have to be seen to be disbelieved.
Unfortunately, neither video can be embedded (or at least I couldn't find the embed codes), so you'll have to click over to the Sixers' site to see them. The first one shows Betsy Ross taking a break from her flag-sewing duties to sew the StubHub patch on a Sixers jersey and then happily frolicking with Ben Franklin, because hey, there's nothing that gets two historical figures all giddy and gleeful like corporate advertising. You can see that video here.
That's pretty bad, but it's nothing compared to the second video, which is a masterpiece of bad taste, bad judgment, and bad civics rolled into one. Here's the deal: The National Constitution Center in Philadelphia — a good museum that I've visited, although probably not since about 2005 — has a room called Signers' Hall, which features 42 life-sized bronze statues of the Founding Fathers as they gathered to sign and ratify the Constitution in 1787. The 76ers — get this — put StubHub-patched jerseys on those statues (including the one on George Washington in the screen shot shown above, which you probably thought was a Photoshop job, but it's not) and then shot a video in which the Founding Fathers, according to the team's description, "sign off on the new StubHub jersey patch." You can watch this utter disgrace here.
Obviously, the Sixers' behavior here is indefensible. It's such a giant leap toward a full realization of Idiocracy that it seems like a self-parody. But I'm also very disappointed in the National Constitution Center, whose administrators should know better than to turn American history into a plaything to advance corporate marketing interests. The NCC is a private nonprofit museum, not a government facility (no connection to the National Archives or the Smithsonian), so there are no issues here regarding the use of taxpayer funds or anything like that, but the whole thing still reflects a huge lapse in judgment for a facility that considers itself to have a historical and educational mission. I sent them a strongly worded letter; if you'd like to do the same, you can reach them here.
You know, we all realized the spread of advertising to NBA uniforms would be pretty awful — no surprise there. But I confess it hadn't occurred to me until now that we'd also have to deal with advertising for the advertisements. If the other 29 teams pursue this angle as annoyingly as the Sixers already have, it's going to be a very, very long year and a half.
Update, 11:30am Eastern: As you may have discovered already, the second video appears to have been disabled. Don't know if what I wrote here had anything to do with it, but it's interesting that they took the coward's way out — simply deleting the video — instead of issuing some sort of statement. I'll try to find out more.
(My thanks to Dan Wohl and Michael Paolucci for letting me know about the videos.)
•  •  •  •  •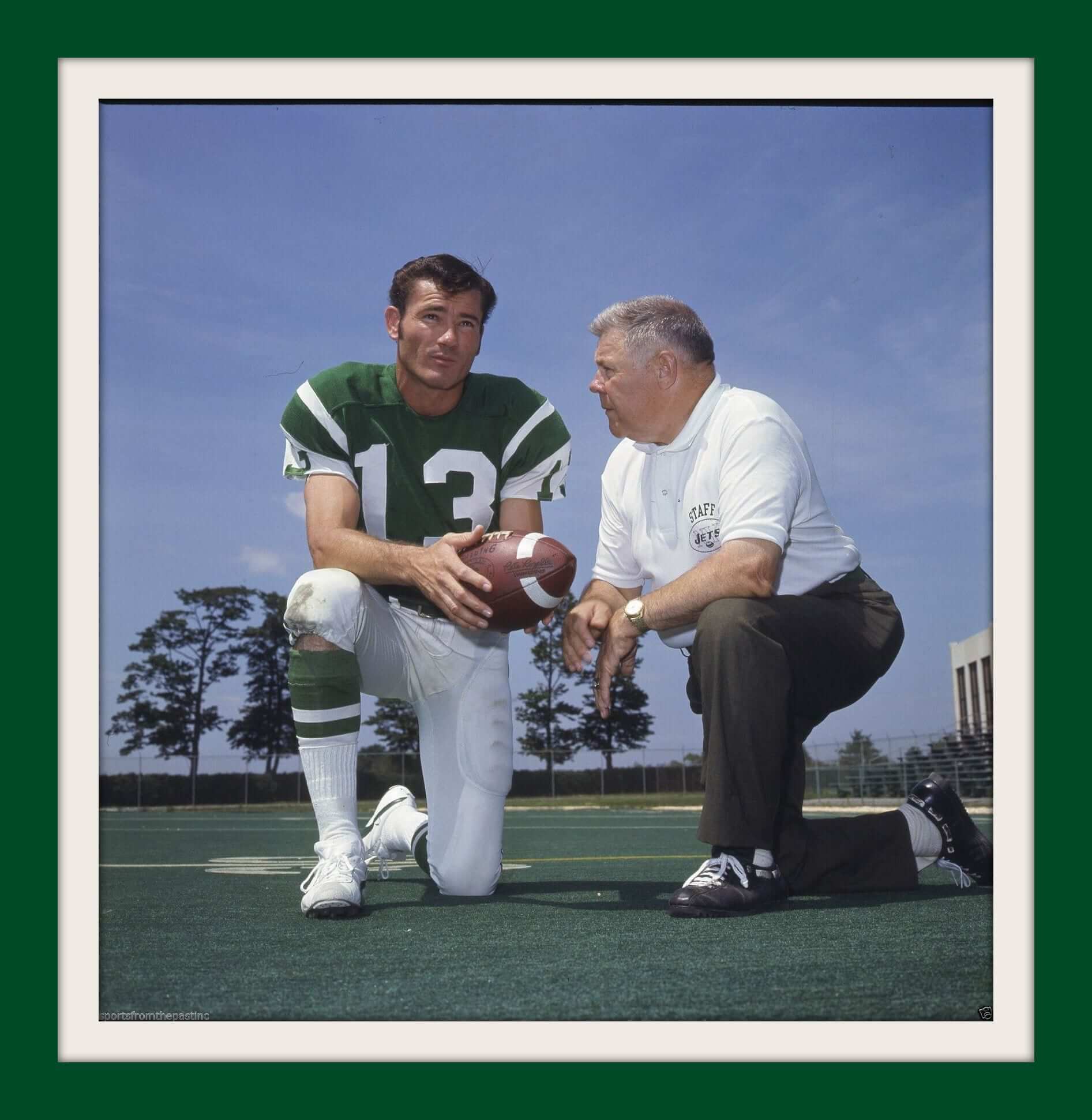 Click to enlarge
Collector's Corner
By Brinke Guthrie
Starting off this week with a 1969 Jets PR shot of wideout Don Maynard and Coach Weeb Ewbank. Always loved these posed photos. They seem so serious. What do you suppose they're talking about? "That crazy Namath, I heard him say we're going to win the Super Bowl this year." Here's another one, showing Bob Lilly zooming through the air. They just don't do these anymore.
Okay, here's the rest of this week's picks:
•  This early pin ("American Football League") for the Miami Dolphins has more navy blue than aqua. And this pin for the Eagles is definitely late 1960s not 1970s, as you can tell from the striping on the NFL shield.
•  Clearly, if you're a Boston Bruins Booster, you eat at the the Ground Round — and you get a free Frisbee!
•  Love the helmet profile used on this late-1970s NFL folder.
•  Speaking of helmets, this 1970s 49ers helmet plaque (like the helmet worn by Paul's favorite player, Ken Willard) is in terrific shape.
•  Check out the artwork on this 1960s Yankees pennant! Pretty involved, considering these things usually have just the logo and name.
•  This 1970s Bills belt buckle looks like it weighs a pretty good amount, no?
•  Here's a children's-sized 1960s Packers varsity jacket from McDelmas.
•  California Angels fans were in a "Heavenly Daze" in the 1960s with this window decal.
• Staying with Southern California baseball, this 6″ blow-up Dodgers "crazyball" is still in its 1960s package.
•  And now we move up the coast to Northern California with this 1970s Giants Bullpen Buggy, still mint on the card. Got one just like it right here!
• • • • •
The Ticker
By Mike Chamernik

Baseball News: Last night, Tigers manager Brad Ausmus argued balls and strikes and got ejected. He removed his hoodie and left it on home plate for his final salvo (from Rick Buckman). … You know those "Play Ball" patches players wore over the weekend? Marlins OF Marcel Ozuna still had his on his jersey last night (from Tyler Kepner). … The Aberdeen IronBirds will wear a patch to honor two local police deputies killed in the line of duty (from Phil). … The Nats are preparing for their first trip to New York since smokeless tobacco was banned from sports facilities (from Tommy Turner). … A high school baseball team, Columbus North in Indiana, has seven uniforms, including retro White Sox and tequila sunrise options (from Dan Netser). … Two notable uni matchups in Arizona high school baseball title games: Apache Junction and Joy Christian went black-vs.-black and San Luis and Alhambra each wore dark green vests (from Raymie Humbert). … Pat Costello has some great MLB pillowcases from 1997. Here's the reverse side. I actually have the same pillowcases, and a matching blanket, too! … Here's how the Red Sox and Cubs uniforms have evolved over the last century. … The Syracuse Chiefs will put photos of 100 of their fans' dogs on their jerseys for a Bark in the Park game in August (from Phil). … The Mexican League All-Star Game caps look like last year's MLB ASG caps (from @cesarcu52). … MLB rescinded its ban on personalized bat knob decals, so Bryce Harper's "Make Baseball Fun Again" decal is kosher. But trademarked characters are still off-limits, so Yasmani Grandal is asking for trouble with his Yazmanian Devil.

Football News: Only one player, former QB Scott Mitchell, has worn No. 19 with the Ravens, who have unofficially retired the number for the Baltimore Colts' Johnny Unitas. Given the shortage of available WR numbers, Naval Academy graduate and current rookie Keenan Reynolds could be considered worthy of the number (from Andrew Cosentino). … The new CFL unis were 18 months in the making. The process included multiple rounds of designs, prototypes, and feedback (from Phil). … A Yahoo writer argues that ads will be coming to NFL jerseys "" eventually (from Phil). … We've seen similar collections before, but here's another good round-up of old NFL letterheads. … A big-time Ryan Leaf fan was spotted. That's a customized Chargers jersey and a cap of Leaf's alma mater, Washington State. … A new form of advertising: The Arena League put percentage signs on every 15 yard-line to advertise Geico's "Save 15% or more on car insurance" slogan. My guess is that they purposely made it an non-matching green to make it more noticeable (from Dustin Semore). … Jonathan Sluss found a knock-off Seahawks jersey in Spain. "The jerseys behind didn't look particularly like any actual team, but the Seahawks look is pretty unmistakable," he says. … Minnesota plans to have helmet stickers, featuring tiny gold bricks, this year (from Phil).

Hockey News: Many people sent this in: The Lightning are once again instituting a dress code for fans that prohibits opposing team gear in certain portions of the Amalie Arena in the conference finals. A Pittsburgh writer makes the point that the NHL is being hypocritical: "In short, the NHL makes money off you purchasing their officially licensed merchandise. Know where you can't wear that officially licensed merchandise later on this week? Inside certain places at an actual NHL game." … A Yahoo writer says that the NHL might adopt uniform ad strategies from the NBA (from Phil).

NBA News: Warriors fans wore flickering light-up wristbands at Game 1 of the conference finals last night. … Speaking of the Warriors, Andre Iguodala's jersey was missing the gold championship tab last night. … Though Stephen Curry's signature Under Armour shoe, the Curry Two, is selling extremely well, it isn't a popular fashion shoe. People mainly use it to play hoops in, not with street clothes (from Jason Hillyer).

Soccer News: Sevilla revealed its 2016-17 home kit. The club will also wear it for the Europa League final tomorrow (from Derek Noll). … Several soccer teams take team photos with the players wearing suits instead of their uniforms.

Grab Bag: Sports industry analyst Matt Powell provided some insight into the sneaker world. He says that retro shoes are popular, that Nike's Flyknits are the next big thing, and that the athletic shoe business will remain strong for the forseeable future (from Tommy Turner). … The British airline easyJet is developing shoes (cleverly called Sneakairs) that give directions via embedded GPS sensors (from Phil). … Five finalists have been chosen for the new Milwaukee flag design (from Justin D. O'Brien). … Kyle Busch is switching from No. 18 to No. 75 for the All-Star Race this weekend to commemorate the 75th Anniversary of his sponsor, M&Ms. "All-Star Race number changing is not unheard of, as Jimmie Johnson switched from No. 48 to No. 5 as part of a promotion, and Mark Martin switched from No. 5 to No. 25 as a really great throwback," writes David Firestone. "Also, in 1998, Ricky Craven switched from No. 25 to No. 50 to commemorate NASCAR's 50th Anniversary." … New NCAA golf polos for a bunch of men's and women's teams (from Patrick Donohue). … A new form of logo creep: Cocktail bars are adding their logos to ice cubes, lemon rinds, and more (from Tommy Turner).