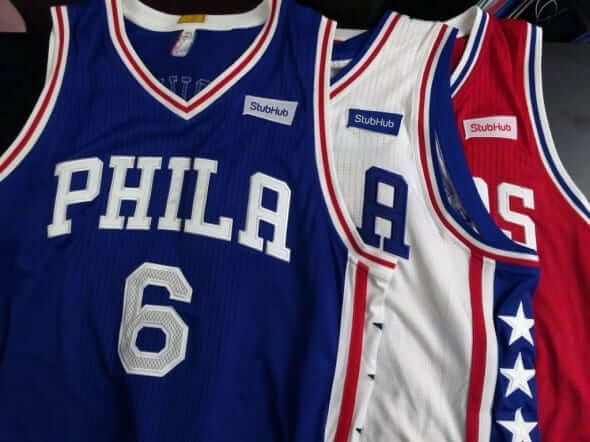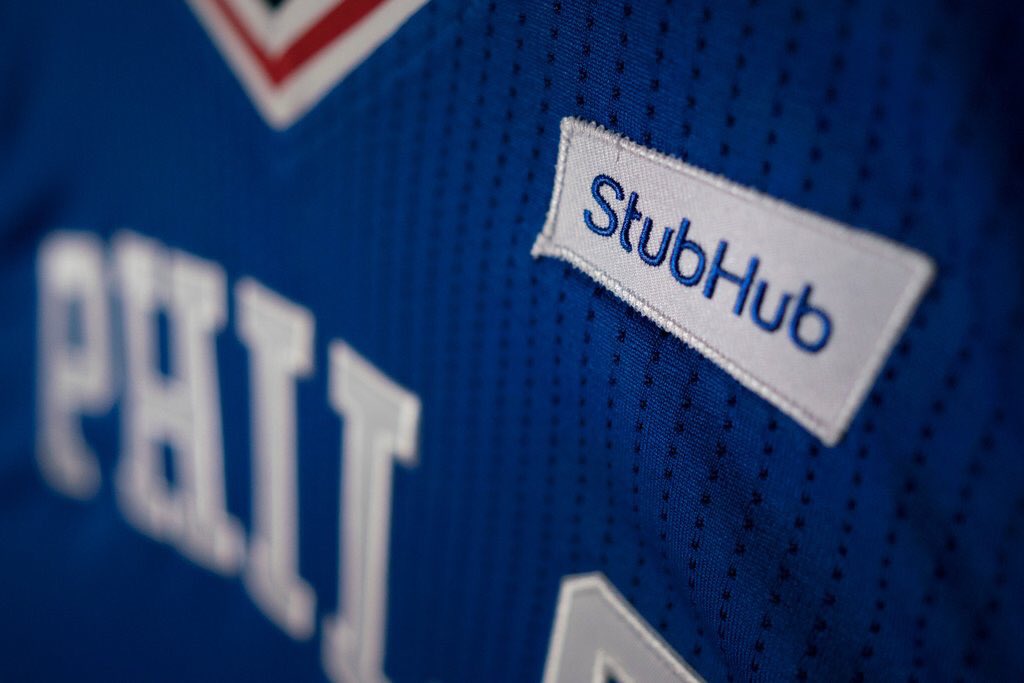 Big development this morning, as my ESPN colleague Darren Rovell has broken the news that the 76ers are the first NBA team to have inked a deal with a jersey advertiser. Starting in the 2017-18 season — that's nearly a year and a half from now — they will wear StubHub patches like the ones shown above. (By that time, Nike will have taken over the league's apparel contract and the jerseys will also carry the Nike logo.)
Rovell's piece has a lot of good info — you should read it. Meanwhile, here are a few quick thoughts:
•  It's interesting that the Sixers announced this so far in advance. Will there now be a race for all the other teams to announce their own advertisers, or will they wait? I suspect the latter — there's a premium on being first but not necessarily on being second, or third, or ninth. Why rush?
•  At least the patches match the Sixers' color scheme.
•  The patches are allowed to be 2.5 inches square, but these patches are rectangular, which means they're actually smaller than they could be.
•  Rovell's piece includes the usual embarrassing examples of corporatespeak, like this one from StubHub's CEO: "This is strategic beachhead property for us. We, as a company, have been very transaction oriented. We want to be more a part of the emotional experience fans have with their teams, and we think a deal like this gets us closer." But the real doozy comes from Sixers CEO Scott O'Neil, who explained that the team would include the patch on some of its retail jerseys because "We have a very strong opinion that little Scottie, who is nine years old, will want to wear what the players are wearing on the court." How wonderful that they're targeting nine-year-old children with this twaddle. The whole thing is quease-inducing.
I'm some folks will say, "It's small, it's in a team color, it's not so bad." I respectfully disagree. And we both know that many of the others won't be as small, and won't conveniently match the team colors. #NoUniAds
•  •  •  •  •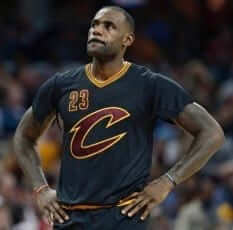 Any sleeves fans out there? It's pretty obvious that most Uni Watch readers do not like the NBA's sleeved jerseys. But I'm sure there must be some readers out there who dig the sleeved look.
If that's you, I'd like to hear from you. Please send me a note explaining why you like the sleeves. If you're willing, also discuss how it feels to like something that so many other people dislike. I may quote from your email in an ESPN piece I'm working on. Thanks.
• • • • •
Meanwhile, over on the diamond…:The Royals and Braves wore Negro Leagues throwbacks yesterday in KC, with the Royals dressing up as the Kansas City Monarchs and the Braves as the Atlanta Black Crackers. As you can see above, all of the Royals went high-cuffed for the occasion.
You might get the impression from that photo that the Royals all wore solid stockings, but at least two of them — pitcher Brian Flynn and first baseman Eric Hosmer — wore stirrups: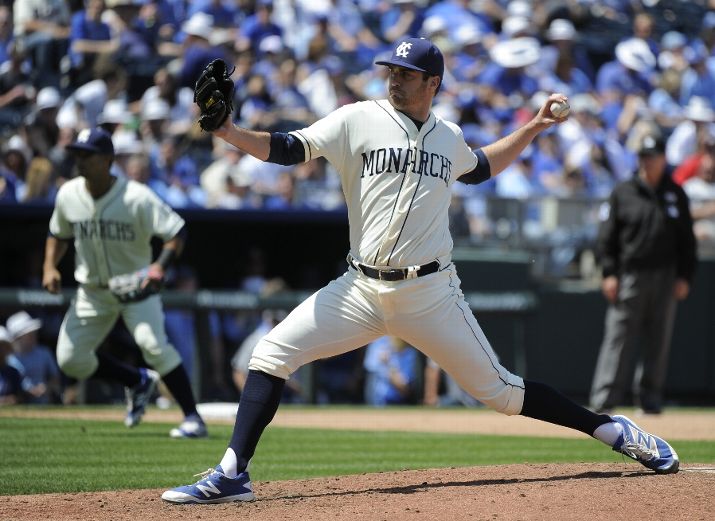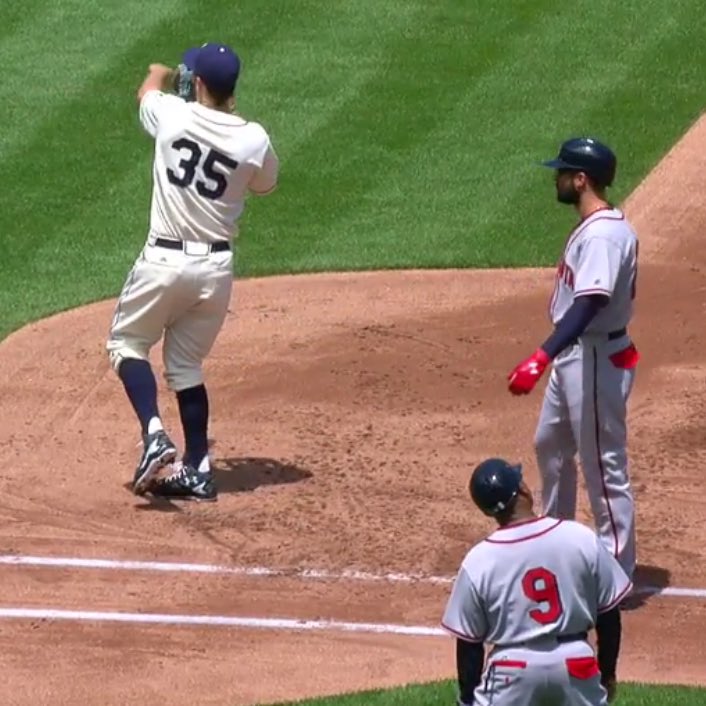 One nice touch: The Royals not only had throwback batting helmets but used a matte finish for them. Even if you don't like the matte trend (I'm generally okay with it myself), this is a good use of the non-glossy finish, since Negro Leaguers just used caps, not helmets, back in the day:
The Braves, unfortunately but understandably, wore their regular batting helmets. Just as unfortunately but less excusably, most of them also went low-cuffed:
One happy exception was outfielder Mallex Smith, who went high-cuffed with some nice blousing:
If you look again at that photo of Smith, you can see one of my favorite throwback uniform elements: the contrast-colored back pocket flap. Here are some additional views:
The Royals grounds crew also got in on the throwback theme (click to enlarge):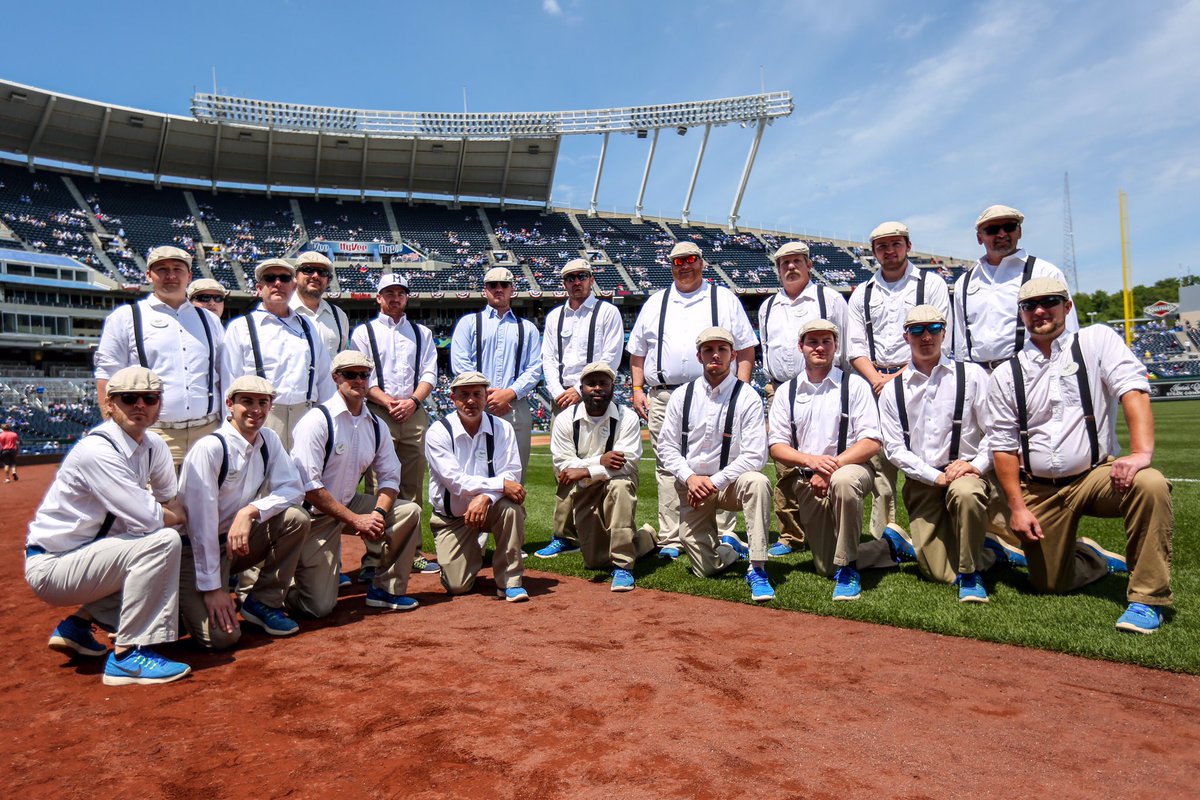 Fans were encouraged to dress up retro as well. Here are a bunch of tweets showing some of the results (scroll through the tweets shown below to see):
#DressedToTheNines Tweets
Looks like it was a very enjoyable day at the ballpark. Were any Uni Watch readers in attendance?
•  •  •  •  •

Accursed color reminder: Tomorrow is Purple Amnesty Day, the one day of the year when I'll accept orders for purple-inclusive membership cards. Get ready, all you Rockies, Ravens, and Northwestern fans! I'll begin accepting orders at midnight Eastern tonight, so you can begin sending in your purple orders then.
And for the second consecutive year we'll have a Purple Amnesty T-shirt. This one, like last year's, was designed by my Teesping partner Bryan Molloy. It will become available at midnight Eastern tonight (I'll tweet the link for it then, so watch my Twitter feed if you like, although of course I'll also post the link here on the site tomorrow) and will remain available for 27 hours (so our west coast readers will have until midnight local time).
Tomorrow is also the site's 10th anniversary — not a bad run.
• • • • •
The Ticker
By Alex Hider


Baseball News: The Angels' Hector Santiago had his "Play Ball" patch on the wrong side of his jersey (from Alex Carson). … A Brewers beat writer says that the team's jersey choice is left up to that game's starting pitcher (from Zach). … Bench-clearing brawls look even better when they're color-on-color, eh? … We may have covered this before, but a number of readers made note of the fanged mouthguard that the White Sox's Brett Lawrie has taken to wearing. … Looks like belt tunnel logos have made it to the minors (from Kub). … A sharp-looking Little League team is sporting 1976 Phillies road unis (from Matt Hayes). … Nebraska did the whole G.I. Joe thing on Sunday. They also wore camo on Friday (from Chris R). … Lots and lots of stirrups in this high school baseball game (from Ryan Patrick). … Eric points out that Wayne State changed its nickname from the Tartars to the Warriors in 1999, but they've failed to update their scoreboard. … It was a battle of condiments when Arizona and Arizona State played on Sunday (from Steve Curry). … Here's something you don't see too often: green vs. green. That's the Great Lakes Loons versus the Dayton Dragons (from Eric Hoffman).


Soccer News: Lots of readers shared this interesting memorial patch design that Sporting Kansas City wore yesterday. The patch honors a fallen police detective. … FC Dallas forward Tesho Akindele has been wearing FiNOB without the approval of MLS (from Jose Palacios). … Mike D. points out that Real Madrid once went with a white-on-white NOB. … New kit for German club teams 1899 Hoffenheim and Dynamo Dresden (from Robert Marshall).


Grab Bag: Reader Chase Stejskal got a new Nashville Predators sweatshirt that came with NFL tags. … Interesting profile of a man from North Carolina who designed a transgender-safe bathroom logo. … Golfer Ken Duke shot an impressive 65 on Saturday at The Players Championship "" all while wearing a Houston Astros visor (from Douglas Ford). … Texas Track and Field went BFBS during the Big XII Championship this weekend. … Here's your latest chance to vote on the NASCAR paint scheme of the week. … Interesting article about how universities sometimes use their sports logos for academic endeavors (from Mike McLaughlin). … Here's an article on F1's worst and best liveries. "The article is in Spanish, but the first 10 are the worst and the next 15 are the best," says Omar Jalife, who was one of the voters on the panel that chose the designs.