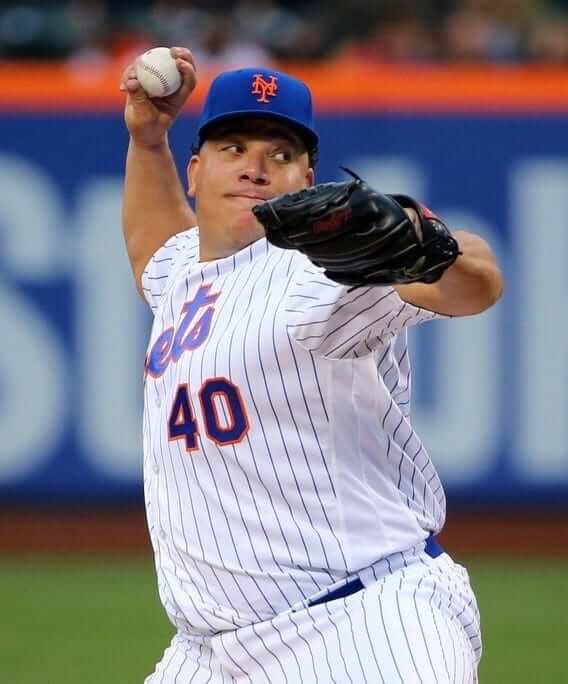 Ageless Mets pitcher Bartolo Colón tossed eight scoreless frames last night. Toward the end of the game, Phil emailed me the photo shown above, with the subject line, "Now THAT is a side panel." And yeah, a plus-sized jersey definitely makes for a plus-sized mesh insert.
But that led me to mention something to Phil that's been on my mind — something that has, frankly, been a very pleasant surprise. And here it is:
The mesh side panels — they're not so bad. Not even on pinstriped jerseys.
They looked awful in the still photos we saw before the start of the season, and they still look pretty awful in still photos now, like the one of Colón. But I have to admit that they haven't bothered me at all during game action. And keep in mind, I follow a team that usually wears pinstripes at home, so I've had plenty of opportunity to see how the panels look during a game.
Part of it, I think, is that the players' arms are often obscuring their sides. And another part is that the players are usually in motion, so even if the panels are revealed, it's usually only for a moment. It's pretty much been a non-issue for me, and that's about the last thing I expected to be saying after a month's worth of games.
I ran all of this by Phil, just to see if he agreed, and said he pretty much did (although he pointed out, accurately, that the side panels are still brutal on patterned jerseys).
So let's give Majestic and MLB some credit. I'm sure they did some video testing of the Flex Base template to see how it looked on TV, so maybe they had already figured out what I've now concluded: The mesh panels just aren't that big a deal, at least on pinstripes. Imagine that.
Could it be that the people in this industry — the ones who, you know, actually work with the players, with the fabrics, with the designs, etc. — knew better than the rest of us?
Stranger things have happened.
•  •  •  •  •
Click to enlarge
A coincidence, or something more?: The screen shot you see above shows Mariners closer Steve Cishek during last night's game against the A's. As you can see, he committed the old Little League faux pas of having one of his stirrups untucked.
The thing is, this is the second consecutive game in which this has happened to him, as you can see in this shot from his previous appearance, which was last Friday against the Royals (click to enlarge):
Hmmm — mere coincidence, or was there something more significant at work here? Although I don't like the untucked-stirrup look (who would?), I loved the idea that maybe Cishek had come up with a new superstition. The cult of the untucked left stirrup!
But then I checked the game video and discovered that Cishek's stirrups had been perfectly shipshape when he entered last night's game. Then I check Friday's game — same thing. In each case, his left stirrup came loose in the middle of the inning, apparently because he was landing fairly violently on his left foot and the stirrup became dislodged by the impacts, little by little.
Not as much fun as the superstition idea, alas.
(Big thanks to @RNs_Funhouse for the screen shot from last night's game.)
•  •  •  •  •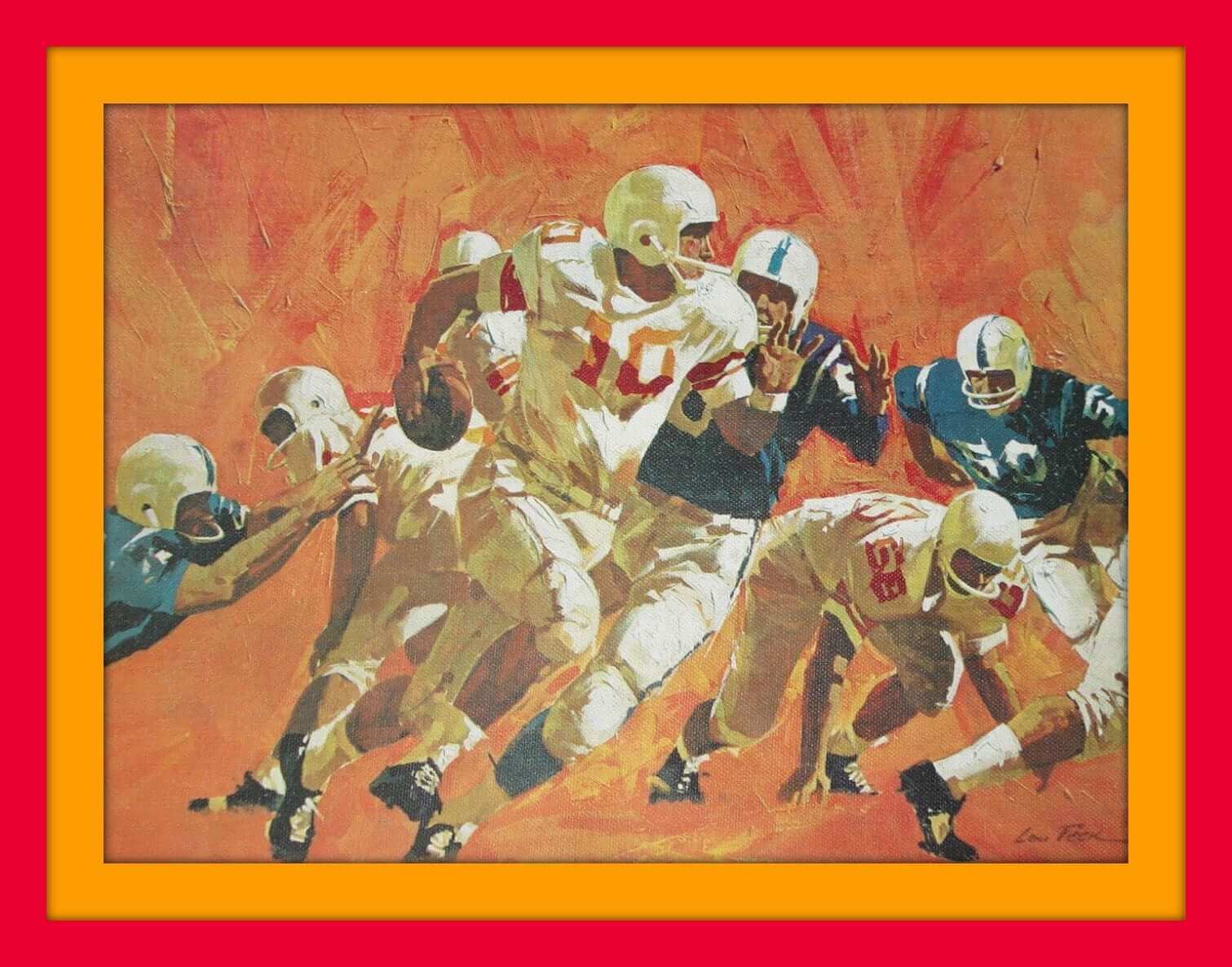 Click to enlarge
Collector's Corner
By Brinke Guthrie
Look at the great artwork on these 1960s pro football prints by the amazing artist Lou Feck. Definitely check out that last link — this guy's work is sensational!
Now on to the rest of the week:
•  Take a look at these two ads, submitted by reader and Collector's Corner fan Chris Markham. Glad you like, CC, Chris. These two Sand Knit print ads are from 1976. Looks like they kinda mucked up that Vikings jersey, though — it has No. 10 on the sleeve, but No. 14 on the chest!
• One more Vikings item: a vintage tote bag showing the Vikes helmet with a yellow facemask (which would have looked nice, I think).
•  Here's a pair of 1980s Converse sneakers with the Chicago Bulls logo on the side, rather than the usual star/chevron branding.
•  Ah, I remember these 1970s-era NFL guides! I did have the NFL Report '75 and '76. I had forgotten about those until now. [But ugh, those apostrophe catastrophes. "" PL]
•  I'll say early 1970s for this Coca-Cola NFL helmet display sign. This looks like something you'd put stickers on, doesn't it?
•  Need to polish up your hockey skates? Look no further than this unopened 1970s can of official Phil Esposito Hockey Boot Wax! (Espo's got your laces, too.)
•  Ever seen one of these? A 1969 Hasbro/NBC Game of the Week MLB board game.
•  Here's an NBA Starter jacket. This one has no team on it, though — just a large NBA logo on the front. Listing says it belonged to an NBA ref. Don't care for silver? Try red instead.
•  One more NBA jacket to take a look at: this white 1980s Celtics half-zip made by DeLong.
•  Great logos on this 1970s ABA Carolina Cougars ashtray.
•  •  •  •  •

Advertiser shout-out: As you may have noticed in the right-hand sidebar, our friends at SportsTemplates.com are now featuring a new baseball template. Granted, I don't create mock-ups, so I'm not the best person to assess how good or easy this template is to use. I do, however, look at lots and lots of mock-ups when judging design contests, and the templates at SportsTemplates.net are a lot better-looking than most of the stuff I receive.
Ultimately, of course, the design is more important than the template on which it's executed. But a good presentation doesn't hurt, and I definitely like the presentation style of these models. Please consider them for your designing needs. Thanks.
• • • • •
The Ticker
By Mike Chamernik

Baseball News: The Phillies will wear 1976 throwbacks in early June. The Bicentennial patches are nice, but the pillbox cap design is slightly inaccurate (from Daniel Ulrich). … The Pirates' John Jaso wore American flag socks last night (from Zach Pearson). … A group of Cubs fans watched Sunday's game dressed in early-1900s garb (from Phillip Santos). … Here's a close-up shot of the Brewers grounds crew applying the ball-in-glove logo to the mound. … Red-vs.-red game between Trinity High and Bedford High in New Hampshire. "Only saving grace for the fans was white pants vs. grey pants," says Geoff Hudson. … We've seen lots of soda displays based on team logos, but here's a good one of the MLB logo in Florence, Ky. The ball is definitely not to scale (from Jeremy Brahm). … One more from Jeremy: This year's Frontier League All-Star Game will be known as the Y'All-Star Game. The name and logo are based on this water tower in Florence, Ky., the host city. "¦ Here's what the SEC teams have been wearing this year (from Jeff Boogaart).

NFL News: Marshawn Lynch retired in February. The Seahawks say that no player will wear his No. 24 this year. … A few people sent this: Nebraska made a poor Photoshop of the Cornhuskers draftees in their new NFL uniforms. The Cowboys helmet in the image looks white, and the Patriots wore the MHK memorial patch in 2011. … The Buccaneers announced their rookies' uni numbers (from Phil). … Someone chose the best helmet in every team's history (from Joshua Tretakoff). … Very neat collection of early-1960s AFL and NFL letterheads (from Brendan McGann). … Lawmakers in Colorado trying to pass a law requiring the Broncos' stadium to have "Mile High" in its name. "Obviously they cannot prevent a corporate company from buying naming rights but it would have to be 'X company at Mile High,'" explains Charles Atwell. The stadium is currently called Sports Authority Field at Mile High, but a name change may be forthcoming because Sports Authority has filed for bankruptcy and may soon close most or all of its stores. … Here's a very cool 1960 Lions-Rams program cover (from @leapinlions).

College and High School Football News: West Virginia unveiled a logo for 125 years of football (from David Cline). … An Arizona high school football player is in trouble for ever so slightly exposing himself in the team photo, while in full uniform. The prank brought him 69 counts of indecent exposure.

Hockey News: A hockey fan broke his leg so he painted his cast to look like a skate (from @GKG_77). … Penguins LW Carl Hagelin wears all-black gloves when the Pens are in their alternates or regular black unis. The rest of the team has white accents on their gloves when they wear alts, and gold accents in the standards. Hagelin does have gold accents on his gloves when the Pens wear white, though (from Mike Engle). … The Lightning's sales office displays mini sticks that recognize team members' achievements (from James Gilbert).

NBA News: The Thunder have worn their sleeved alternates for every home game since mid-March. The team has worn them at Russell Westbrook's preference, but he isn't going to explain why he likes them (from Phil). … Someone picked the best uniform in every team's history. Click if you want, but beware the awful slideshow format and the, uh, unconventional picks. For instance, the author named this late-1990s home set the best uniform in Cavs history (from Michael Candelmo). … Candace Parker was left off Team USA and there's some (mostly baseless) speculation that she didn't make the cut because she wears Adidas. Nike supplies the team's apparel (from Griffin Smith).

College Hoops News: It took 33 years, but next Monday the remaining members of the NC State team that won the 1983 title will meet the President at the White House. The Wolfpack will present Obama with this jersey (from Ben Davis).

Soccer News: Manchester United manager Louis Van Gaal said that hair pulling in his club's match against Leicester was reminiscent of "sex masochism."

Grab Bag: Churchill Downs is asking spectators to wear pink for the Kentucky Oaks race on Friday (from Patrick O'Neill). … The University of Illinois is looking for a mascot. The school retired Chief Illiniwek in 2007 (from @mingiweirddays). … Multiple readers sent this: A copyright battle between two cheerleading uniform manufacturers has reached the Supreme Court. … Penn State track and field wore 1985 throwbacks. They honor the the 4×8 team that has the Penn Relays record (from j_canales87). "¦ A swimmer in the Paralyimpics was disqualified because organizers decided that his tattoo of the Oympic rings constituted an advertisement, which is not allowed (from @GKG_77). "¦ New Balance, whose shoes are made in the USA, has been lobbying Congress to require that new military recruits spend their sneaker allowance only on domestically made footwear (@GKG_77 again).