Click to enlarge
Meet Jeremy Scheuch, a lifelong Royals fan who lives in Chicago but still gets back to KC to see important games — like Sunday's Opening Night game against the Mets. He's holding the cap that Royals starter Edinson Volquez mistaken wore during the first inning of that game. The story of how he ended up with the cap is a good one, and I had the pleasure of telling it in this ESPN piece, which went up yesterday afternoon.
Lots of people wrote about Volquez wearing the wrong cap, but I'm pretty sure I was the only one to get an interview with Jeremy. How did that happen? Simple: He tweeted during the game that he'd bought the cap. Several readers saw that tweet and retweeted it at me (thank you!). I saw that Jeremy's Twitter profile included a link to his website, so I went there and used the "Contact" link to send him an email asking if I could interview him (plus I also sent him a tweet asking the same thing). He emailed me back but explained that he was at Kaufman Stadium and didn't want to do an interview until the game was over, so we agreed to have him call me after the final out, which took place shortly before midnight my time. We had a nice chat, maybe 10 minutes long, and I had my story. (He also provided enough details and specifics to overcome my initial skepticism about whether he might be a bullshitter who was just claiming to have acquired the game-used cap.)
I figured some other writers might see Jeremy's tweet and contact him just as I had done, so I asked him if he'd be willing to give me a 24-hour exclusive on the story, and he graciously agreed. Then I went to bed and wrote the story when I woke up the next day.
As you can see in the photo above, Jeremy is a bit of a character. He's also a serious Royals diehard with the team's logo tattooed on his thumb! "I know that picture of me and the hat is terrible," he wrote when emailing me the photo, "but it's midnight and I've been tailgating and baseball-gaming since noon." Fair enough.
And it turns out Jeremy isn't the only Royals-crazy fan in his family. He also sent along this shot of himself with his dad — wow (click to enlarge):
As for the Volquez cap, I was initially a bit surprised that the Royals chose to sell it. Granted, we've seen lots of players accidentally wearing the wrong cap, so it's not such a crazy story, but this situation was unusual because the Royals were wearing their gold-logo championship caps, which is no doubt how Volquez got mixed up in the first place — that adds a new dimension to the story. Plus it was Opening Night. Given all of that, I kinda thought maybe the cap would've been sent to the Hall of Fame, or at least be kept at the team's Hall of Fame.
But I guess the authenticators and such didn't see it that way. Still, I'm glad a serious Royals fan like Jeremy ended up with it. Nice guy, nice story, nice resolution.
Finally, there was another cap snafu last night, although this one was a lot lower-profile, as Cubs coach Mike Borzello had the wrong headwear: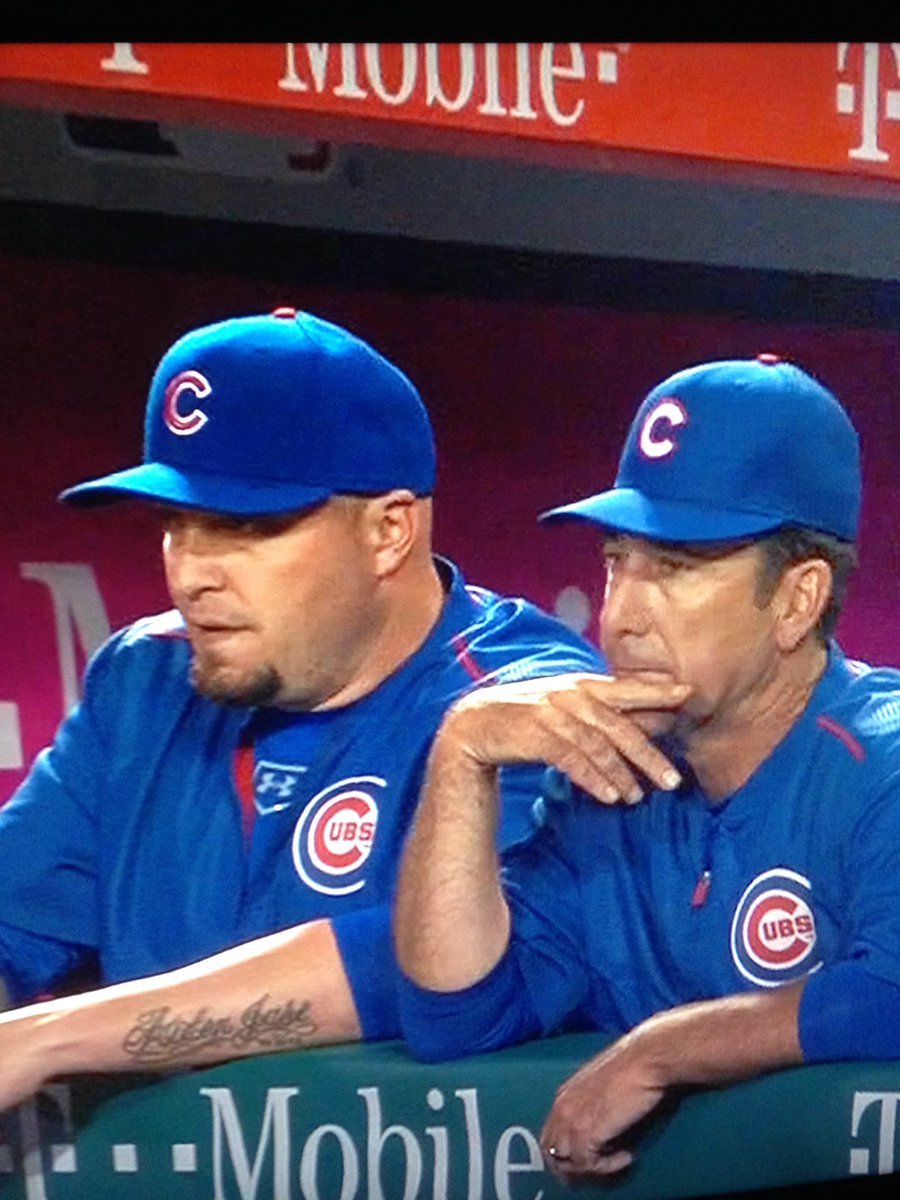 Not sure who, if anyone, ended up with that cap.
•  •  •  •  •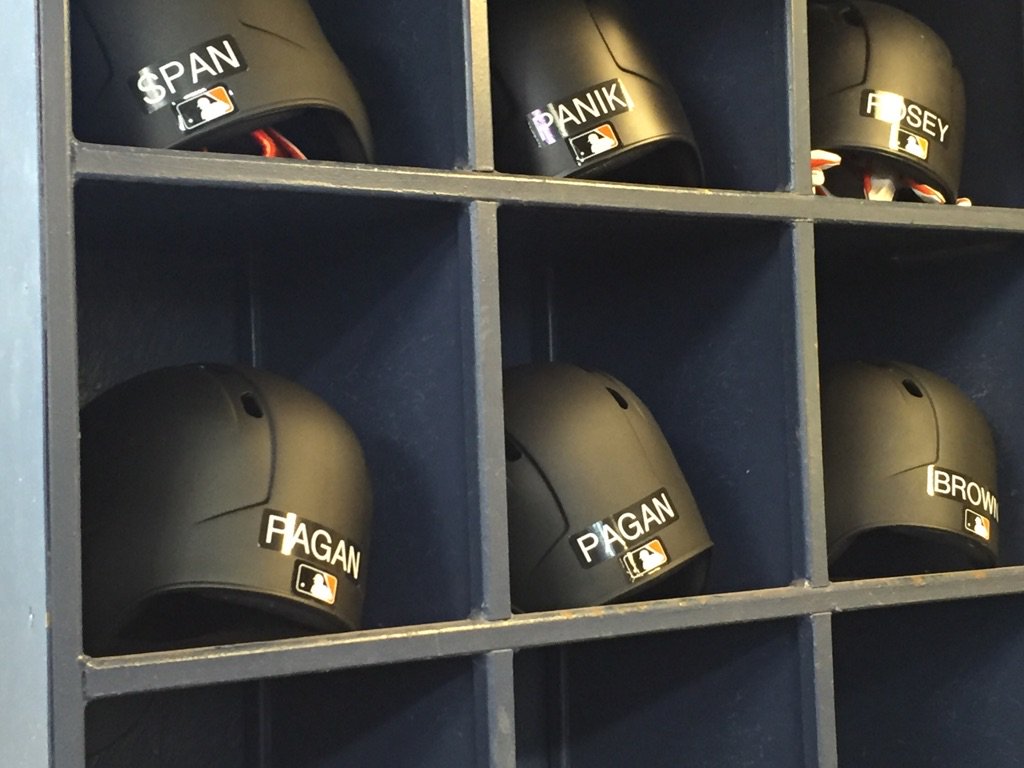 For all photos in this section, click to enlarge
Opening Day suprises: A bunch of teams waited until just a few hours before their first games to reveal a uniform change. The one that seemed to cause the most buzz came from the Giants, who have become the latest team to switch to matte-finish batting helmets (see above). Here's how it looked on the field:
I think black looks really good as a matte color, so I'm fine with this. And speaking of matte black helmets, the Rockies waited until shortly before gametime yesterday to tell us that they too are going that route: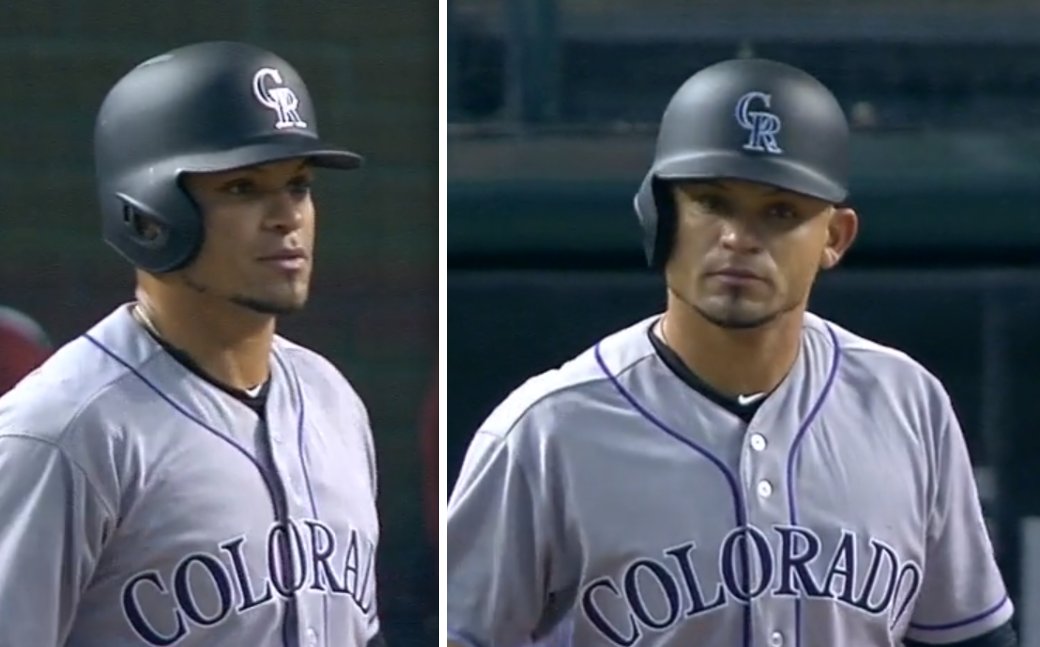 You're not gonna believe this, but I actually preferred the metallic purple version. That just felt more Rockies to me. The matte version doesn't look bad, but it doesn't feel ilke the Rockies.
A bunch of people are referring to the matte helmet phenomenon with words like "epidemic" and "rampant," but let's not get carried away. There are now exactly five teams that have gone matte: the Pirates, Diamondbacks, Padres, Giants, and Rockies. Is it a budding trend? For sure. An epidemic? Please. And as trends go, it's not a bad one — I think most of the matte helmets look pretty good.
Other changes that we didn't know about until yesterday:
• The Diamondbacks have added a memorial patch for Joe Garagiola: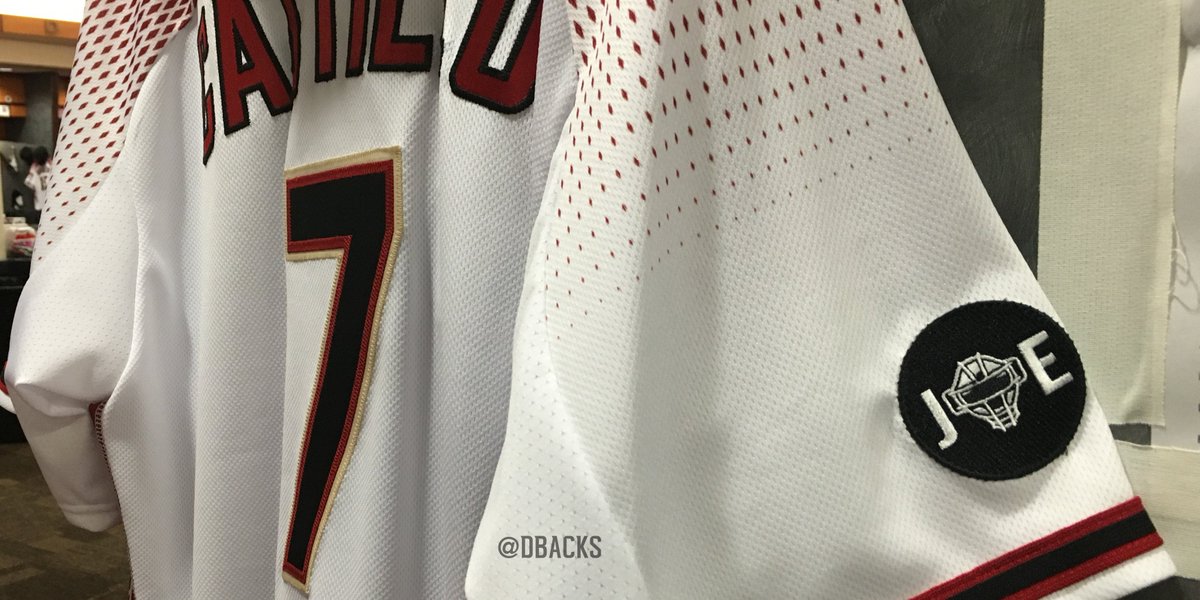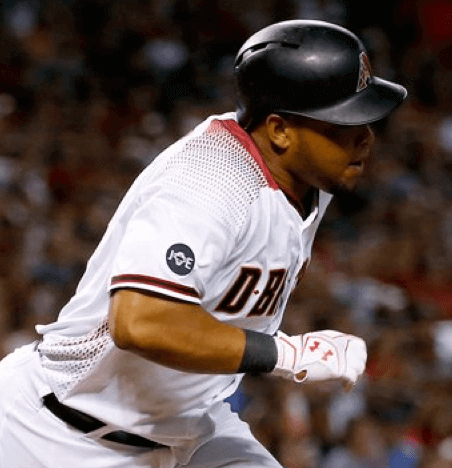 It's a nice patch design, although it's interesting that they went with a catcher's mask. True, Garagiola was a catcher, but he never played for the D-backs (duh) and he was much better known as a broadcaster. Still, Garagiola's son was a longtime D-backs exec, so I guess he wanted us to remember that his father was a ballplayer, not just a broadcaster. Fair enough.
•  The White Sox have added a memorial patch for Eddie Einhorn: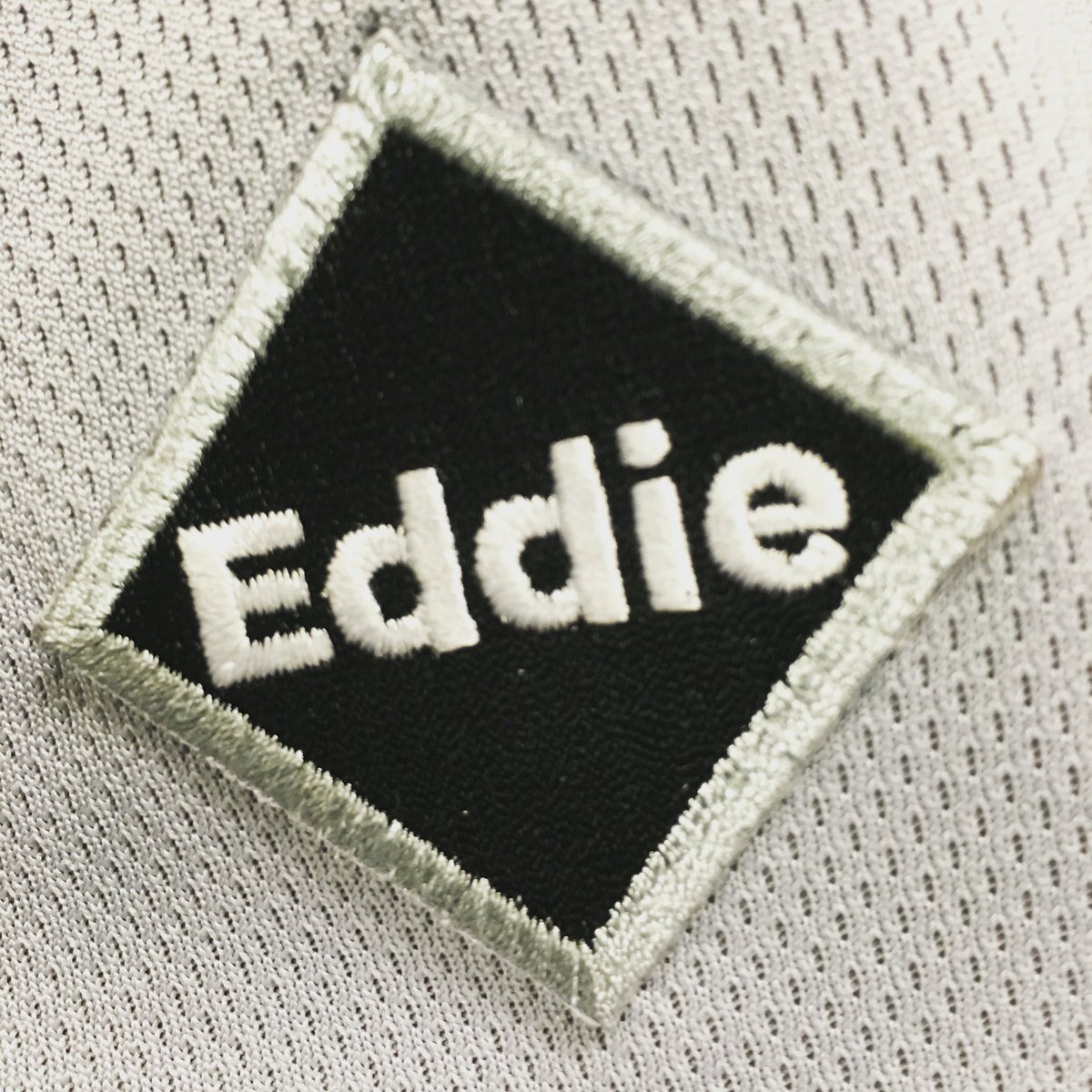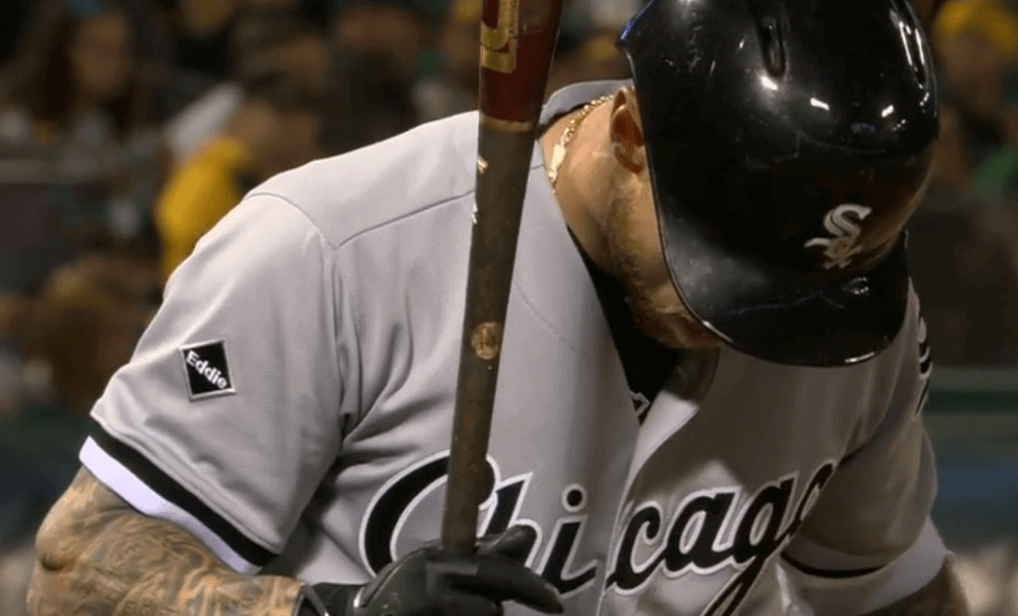 The interesting thing about this one is that it continues what we can now call an established design protocol for White Sox memorial patches. They used this diamond-shaped format in 2012 when memorializing Moose Skowron and Kevin Hickey, and again in 2014 for David Reinsdorf. There's no other team I can think of that consistently using the same memorial patch design (unless you count the simple black numerals that the Yankees use for Hall of Famers, like their current "8" patch for Yogi Berra).
• The A's added memorial patches for former players Dave Henderson and Tony Phillips: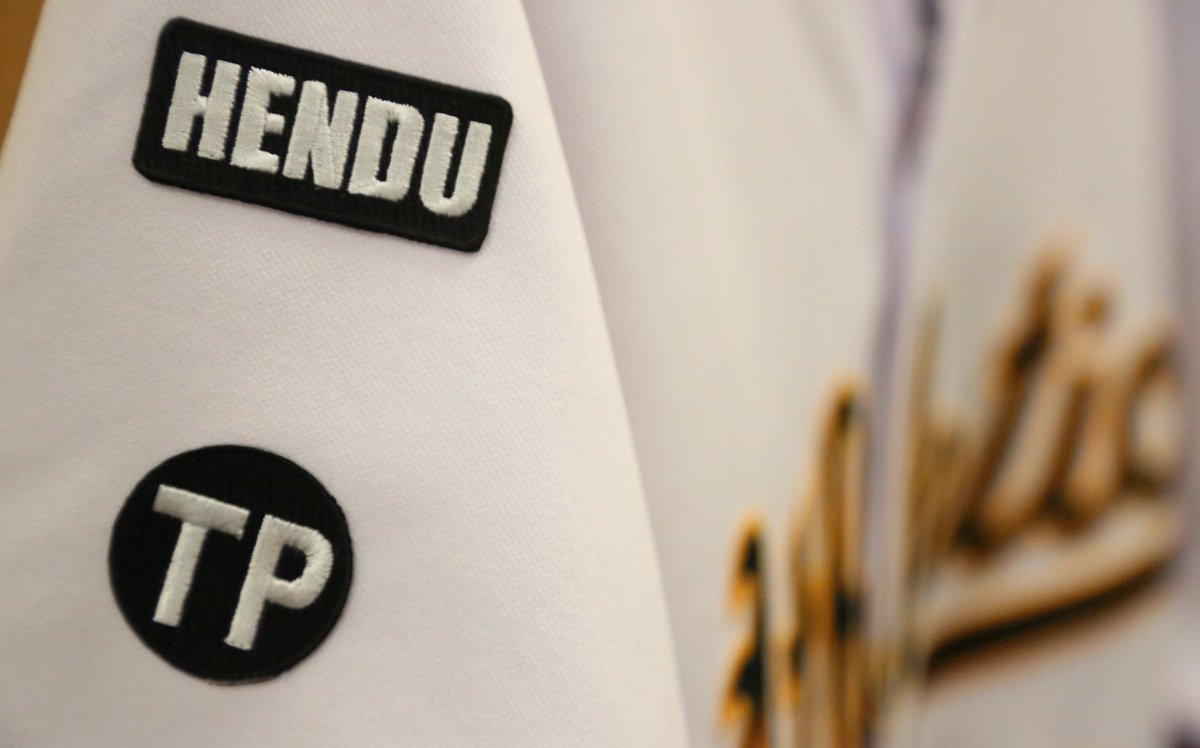 That photo, from the team's Twitter feed, showed the patches on the right sleeve. But in last night's season opener, the patches were on the chest:
These patches were only for last night's game and will not be worn for the rest of the season. In addition, the A's put Henderson's and Phillips's numbers on the back of mound last night: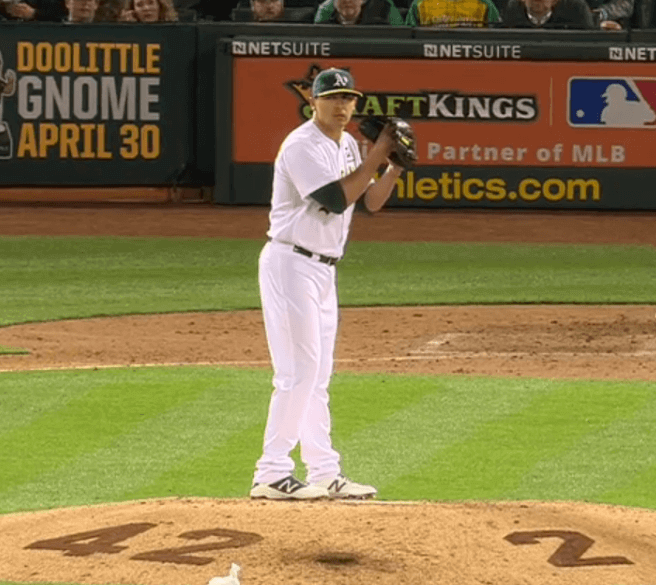 • And the Twins have added red outlining to the NOB lettering on their road greys, which had previously been plain navy: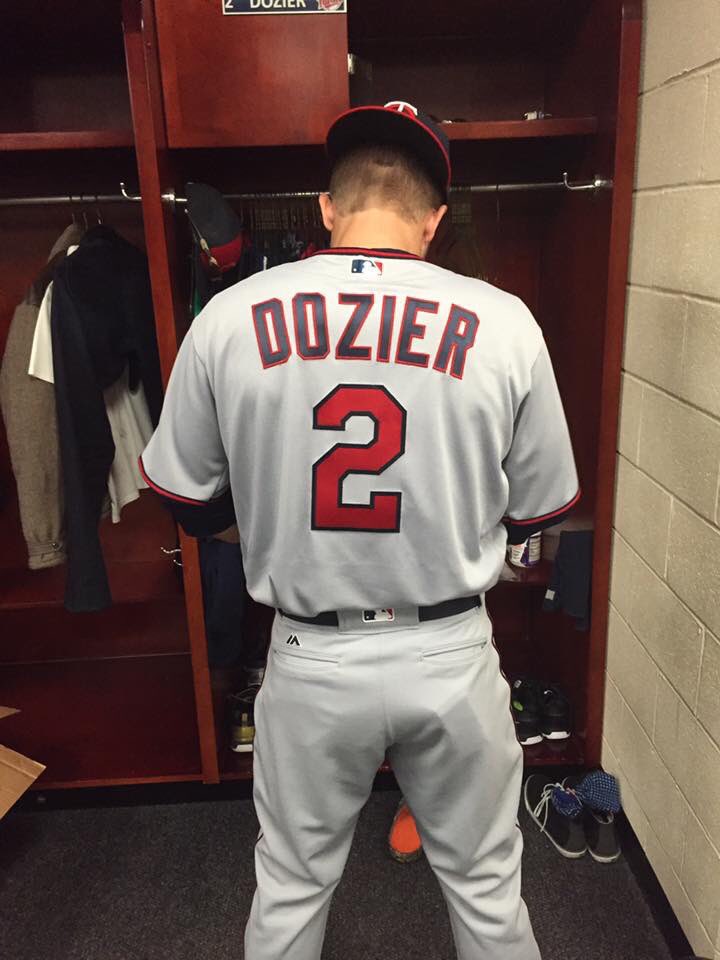 Turns out this one is actually shown in the MLB Style Guide, but it wasn't included in the Guide's list of changes for this season and the team never mentioned it in any of their press releases, so I didn't notice it. (I double-checked yesterday to see if the Guide showed the Twins making any other changes that hadn't been announced, but there don't appear to be any.) From my perspective, it's a downgrade. The plain navy lettering looked clean; the new version looks too busy.
On some level it's sort of annoying that all these stuff was held back until the last minute, because it means my MLB preview column is now badly inaccurate, or at least incomplete. But I respect the fact that these teams had the discipline to wait until Opening Day, instead of splashing their changes all over Twitter weeks ago. They wanted to provide their fans with an Opening Day surprise, and that's what they did. Good for them.
I can tell you that there's at least one more team that has a surprise in store, and they're planning something that, to my knowledge, has never been done before on an MLB uniform. Unfortunately, I'm sworn to secrecy. But you'll see soon enough.
Meanwhile, here's an oddity: The Braves had announced that they'd be wearing a left-sleeve memorial patch for coach Bobby Dews, but the patch was MIA for yesterday's season opener: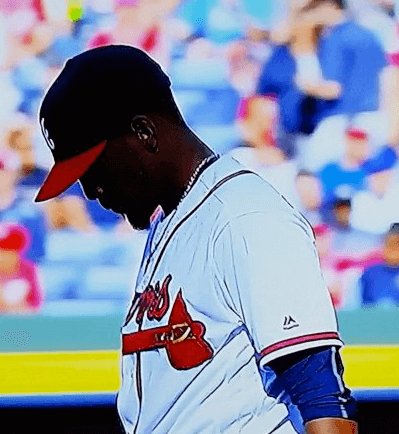 In a related item: In my MLB season preview I said that the Cubs would be wearing a sleeve patch for their centennial at Wrigley Field, but I neglected to say that they'd only be wearing it at home (which makes sense). That explains why they weren't wearing it for last night's season opener in Anaheim.
(My thanks to all contributors, and my apologies for not keeping track of who submitted what — busy day yesterday.)
•  •  •  •  •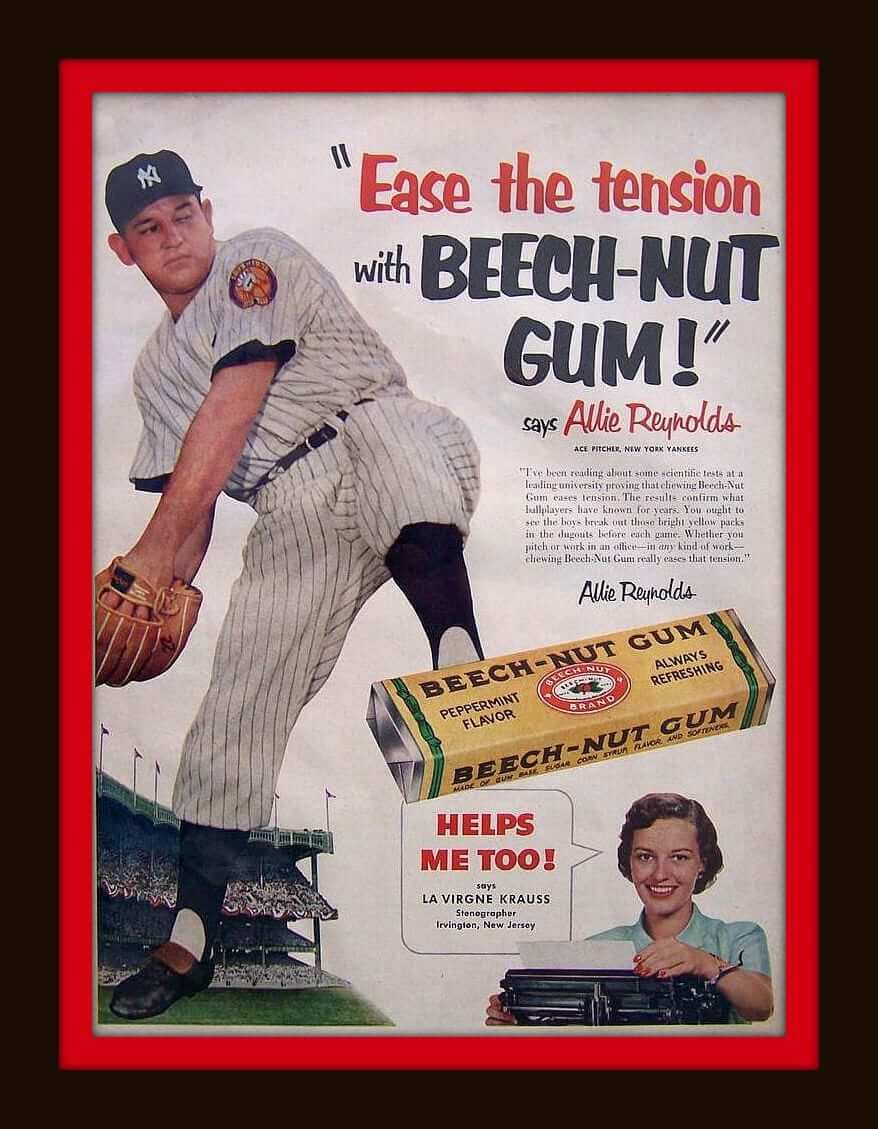 Click to enlarge
Collector's Corner
By Brinke Guthrie
It's Opening Week in the big leagues, so we're all baseball today, beginning with this ad that says, "Ease the tension with Beech-Nut Gum." And in a nice uni-related bonus, note the Yankees 50th-anniversary patch on Allie Reynolds's left sleeve!
As long as we're talking about the Yankees, how about this Yankees felt logo from the 1950s. They didn't market jerseys and such back then, and this was the closest you could get to being in the pinstripes along with Mantle, Ford, and the others. Just press down with a hot iron for 30 seconds, and you are all set. From the ACME Emblem Corp of New York City (click to enlarge):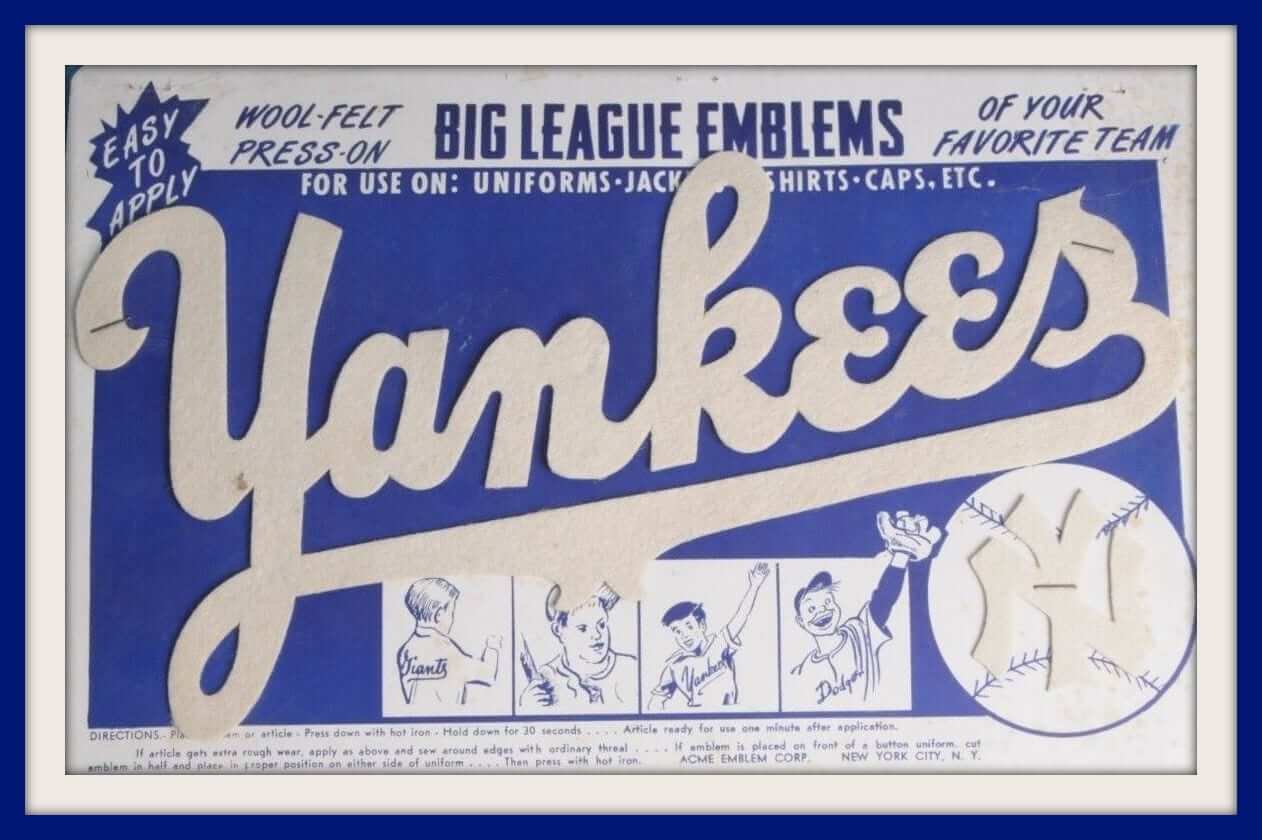 But hey, we can't have all Yankees, all the time. So here are the rest of this week's picks:
• How about this 1970s Houston Astros Soapy Slider. Can't tell if it has a rope on it, or the Astros logo. Obviously, this hasn't been used!
• Stayin' with the 'Stros, this 1960s Astros/Astrodome pennant is in good shape!
• Did you know the there was a 1950s minor league team back called the Miami Marlins? Here's the button to prove it.
• What do you do during a 1960s Mets rain delay? You got out your coloring book, of course.
• Show the world you're a Phillies fan with this 1970s Phanatic window sticker for your car.
• Here's a 1970s San Diego Padres/Union 76 bumper sticker: "Catch Us If You Can!"
• Remember this Braves "a" cap design? Here's a Little League rayon-wool-felt version of it. (The listing says 1960s, but what do they know.)
• Check out this 1950s Yankees coffee mug. The logo hasn't really changed, has it.
• And from their first year in the league, here's the 1969 Montreal Expos pocket schedule. From O'Keefe: The right ale for right now!
• • • • •
Product endorsement: Aside from my annual holiday gift guide, I don't often promote straight-up merch, and the term "lifestyle brand" gives me a rash. But Roots of Fight has just come out with a line of baseball-themed merch that's too good to ignore. Dig (click to enlarge):
Nice, right? This stuff is expensive, and the product line also includes some additional items I don't like as much, but those Jackie and Clemente items are gold. If you want to know more, look here.
•  •  •  •  •
Caricature T-shirt reminder: Larry Torrez's caricature of me is now available as a T-shirt. We're offering it in a variety of colors and styles — grey, black, white, and a white baseball shirt with green sleeves. We've also added women's sizes. Further details here, or just order it here. Thanks.
• • • • •
The Ticker
By Mike Chamernik

Baseball News: Nats OF Bryce Harper, apparently channeling his inner Donald Trump, wore a "Make Baseball Fun Again" hat during his postgame media scrum yesterday. … The WWE wrestler the Big Show threw out the first pitch at the Rangers' opener yesterday and had a nickNOB jersey (from Cory Hoad). … A pair of Orioles fans wore EAOB jerseys yesterday "" that's Engagement Announcement on Back (from John Falardeau). … The Padres wore home whites last night and will wear brown today and camo Wednesday. … Not a particularly insightful list, but here's someone's compilation of the most stylish baseball unis from over the years (from Phil). … Some good photos of old White Sox unis can be seen in this retrospective of ChiSox Opening Day moments (from Phil). … A little cross-sport action here as Slam Magazine found a photo of Kobe Bryant in a baseball batting stance. He's a lefty batter and, though he can shoot with either hand, he's a natural right-hander. … Check it out: MLB jersey throw blankets. Most teams have their alternate jerseys represented (from Eric Juergens). … The Diamond Uniform Database will once again track all of this year's uni combos (from David Taub). … Sign of the times: A suburban Chicago collegiate wood bat league team will be nicknamed the Drones (from Jeff Demerly). … @AZJoshM asks if Cards P Seung-hwan Oh is the first MLB player to wear a Descente glove and spikes. Descente did makes the Pirates' uniforms back in the '70s, of course. … Christopher LaHaye covered a high school baseball game yesterday and noticed the ump wore football forearm pads and that a base coach wore his hat backwards underneath his helmet. … Dodgers OF Carl Crawford appeared to be wearing earplugs yesterday. "¦ As you can see in that last shot, the Dodgers opened the season wearing their "Dodgers" alternate grey jerseys, not their "Los Angeles" primaries. "¦ In 1968, the Royals — then a fledgling expansion franchise — needed a logo, so they asked the KC-based Hallmark company to come up with one. Here are some of the results (from Jon Saddler, via Phil). "¦ Arizona Cardinals WR Larry Fitzgerald wore a D-backs jersey while throwing out the first pitch last night in Arizona. … Speaking of the D-backs, their newfangled uniforms made their regular season debut. Lots of photos here. … Not uniform-related, but because I have nowhere else to put this I'll say it here: I'm going to say that my favorite team, the Brewers, will lose 105 games.

NBA News: Allen Iverson certainly has a style all his own. AI was elected to the Hall of Fame yesterday and he wore Jordans during his SportsCenter announcement interview. … Speaking of AI, here's a good article on his right-arm sleeve. "¦ Yao Ming was also elected into the Hall of Fame. At his introductory press conference in 2002, the Rockets presented him with a FNOB jersey (from Mike Engle). … The Jazz announced their new D-League team, the Salt Lake City Stars. Here are the team's logo and uniforms. … Justin Hodnett asked Sacramento Bee reporter Jason Jones if the Kings are getting a new logo and uniforms next year (ctrl+f "logo"). Jones said he's heard rumors but hasn't seen any concepts.

Soccer News: West Bromwich Albion and Sunderland squared off on Saturday, and both teams wore their traditional vertical-striped jerseys. "They are both outfitted by Adidas, yet the Adidas logo is in the center below the neck line for West Brom but worn at the side of the chest for Sunderland," says John Foran. … New uniforms for both the men's and women's teams at Bryant & Stratton College. "¦ Retro rainbow-patterned jerseys for Sporting KC (from Phil).

Grab Bag: Chuck D is an artist in more ways than one! The Public Enemy frontman was an aspiring sports cartoonist as a kid (from Brian Mazmanian). … Here's what Rory McIlroy will wear during the Masters this weekend (from Aaron Rector). … Might the Miami football team be adding merit decals? That's a photo from Stacy Searels, the Hurricanes' O-line coach (from Adam Apatoff). … Lots of people sent this in: Wal-Mart is selling a shirt that has University of Maryland graphics inside the outline of Massachusetts. Definitely a horrible blunder, but as that link shows, the two states are kinda-sorta close in shape if you squint. … Cornell's lacrosse helmets have a graphic of the stadium wrapped across the back (from Kevin Mueller). … The women's bowling team at Union College in Kentucky wears diamond-patterned uniforms (from David Petroff). … Not uni-related, but chefs around the country named the most overrated and underrated cuts of beef. Hanger steak is a hidden gem and filet mignon, evidently, is for suckers (from David Firestone). … Here's a good examination of museum logos (from Brinke). … Here's a map of every bar in Chicago with an Old Style sign hanging out front (from Gil Neumann). "¦ Air France requires its female flight attendants to wear headscarves when they disembark a plane in Tehran, which has caused a dust-up with the flight attendants' union (from Jason Hillyer). "¦ Paging Janice Rand: With more U.S. military combat roles now available to women, the Navy is trying to get away from gender-biased terms like "rifleman" and "mineman." But one term has proven to be tricky: "yeoman."