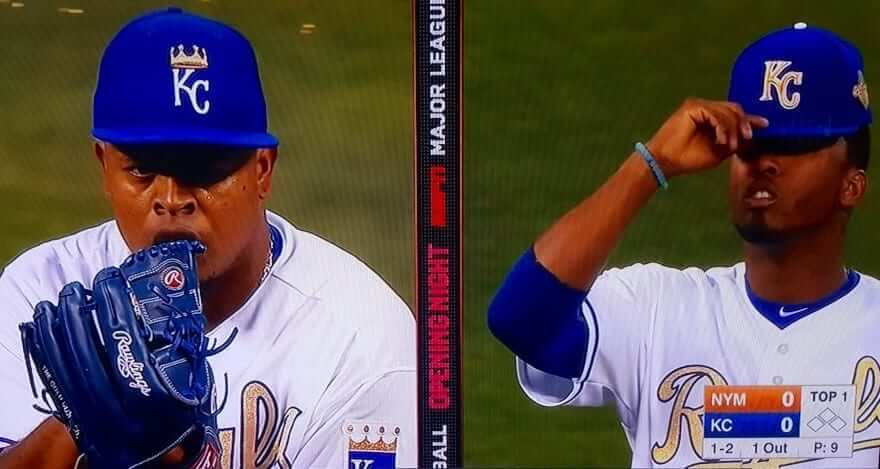 Click to enlarge
Funny development in last night's Mets/Royals season opener, as Royals starter Edinson Volquez began the game wearing the wrong cap! As you can see above, everyone else was wearing the gold "KC" caps, but Volquez wore the team's spring training cap — the one with the crown. He had already worn it while warming up and while coming in from the bullpen, leading to a flurry of emails and tweets sent my way. Everyone was waiting to see if he'd still have it on when the game started, and he did.
After ESPN mentioned the cap snafu on the air during the top of the 1st, someone told Volquez about it between innings. He came out for the 2nd inning wearing the proper game cap, so it was just a one-inning glitch.
In the postgame presser, Volquez said he just grabbed the wrong cap and that he had no idea until someone told him in between innings:
In a surreal development, a big Royals fan named Jeremy Scheuch tweeted during the 6th inning that he had purchased the game-used 1st inning cap, which he said had been put up for sale by the Royals in their stadium shop soon after being taken out of the game. I actually snagged an exclusive interview with Jeremy after the game and will have a story on that soon — either today on ESPN or tomorrow here. Stay tuned.
Personally, I love the crown design (it's easily the best of the spring caps) and wish the Royals had gone with that instead of the gold "KC" for the first two games — it has much more of a championship feel, and it's just a great-looking cap.
As for the rest of the Royals' look: I'm generally not a fan of the gold-trimmed unis worn by World Series champs (or, more specifically, I'm not a fan of how they've now become a rote, annual thing, which ruins any sense of suspense of "special"-ness), but this is one of the best-looking versions we've seen. Gold is already a Royals team color, so it totally works. I especially liked the gold numbers on the back (click to enlarge):
But Twitter-er @MetsFanVI brought up a good point about the gold "KC" cap: Shouldn't the squatchee be gold, instead of white?
Royals catcher Salvador Perez got into the act by having gold kneecaps on his blue shinguards.
And then there were the Mets. Matt Fratboy was pitching, and they almost always wear the blue alts when he's on the mound, so that's what they did. Miserable to see my team opening the season wearing softball tops, but whaddaya gonna do.
Interestingly, I got close to 100 emails and tweets from people who mistakenly thought the Mets were wearing "special jerseys with silver lettering" to go with the Royals' gold lettering — the silver medal to go with the gold medal, so to speak. A few people liked this idea, but a lot more people took the Mets to task for "celebrating second place," or words to that effect. (Rumors that Donald Trump tweeted, "Terrible — losers shouldn't celebrate. I like teams that win it all, OK?" are almost completely untrue.) Had to explain to everyone that it was just the standard grey lettering they've been using for years. Let's hope MLB doesn't get any ideas from that.
Meanwhile: Mets outfielder Yoenis Cespedes wore the same neon compression sleeve he frequently wore last year. Turns out it looks even worse when he's dropping an easy fly ball: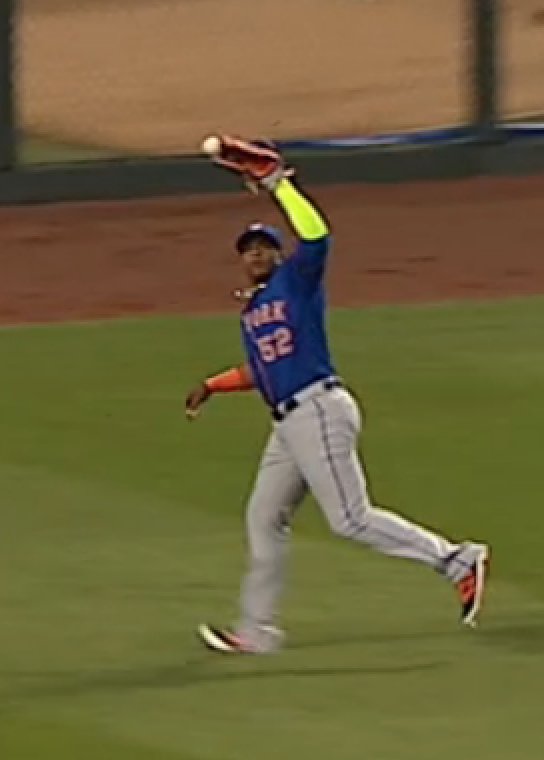 One additional note from this game: When the Mets' starting lineup was being introduced, the Kaufman Stadium ribbon boards misidentified the Mets as the Tigers.
There were two other games yesterday. Let's start with the Blue Jays and Rays at the Trop:
• Remember last year when we noticed that Rockies SS Troy Tulowitski still had the MLB hologram decal on his belt, and then he kept on doing it after being traded to the Blue Jays? I'd forgotten all about that, but I saw part of yesterday's Jays/Rays opener at a bar in Queens yesterday, and I immediately noticed that he still has the decal! Felt good to know my uni-watching radar was in good working order for Opening Day.
• Speaking of the Rays, disappointing to see that they opened the season in softball tops. Chris Archer sure looked good in those stirrups, though.
• Speaking of Archer, ESPN analyst Curt Schilling had some choice words for his hair.
And now let's look at the Cardinals and Pirates, who squared off in Pittsburgh:
• The Pirates have those new 1979 throwbacks for Sunday home games, but they wore their standard home whites for yesterday's season opener. Good for them.
• Speaking of the Pirates, it looks like Starling Marte may have been wearing teammate Francisco Cervelli's batting gloves.
• More from the Pirates: It looks like this will be a long season of intra-tream sock striping inconsistencies. Stripes are nice, but sticking to one design for the whole team would be nicer.
• About a jillion readers noticed that Cardinals catcher Yadier Molina was wearing a pom-pom hat under his catcher's mask. Here it is from another angle.
• If you look at that last photo of Molina, you'll see that he now has his personal logo on the collar of his chest protector. He used to have "Yadi 4."
• And speaking of the Cards, their front uni numbers look like they're sitting too high.
Finally, it's worth noting that Uni Watch pastry chef Elena Elms celebrated Opening Day in her usual manner, but baking a bunch of baseball-themed cookies. "For anyone superstitious, the Mets and Marlins cookies both had the sleeve break off," she says.
Not bad for the first day. Let's see what MLB does for an encore.
(My thanks to everyone who sent emails and tweets regarding yesterday's games.)
•  •  •  •  •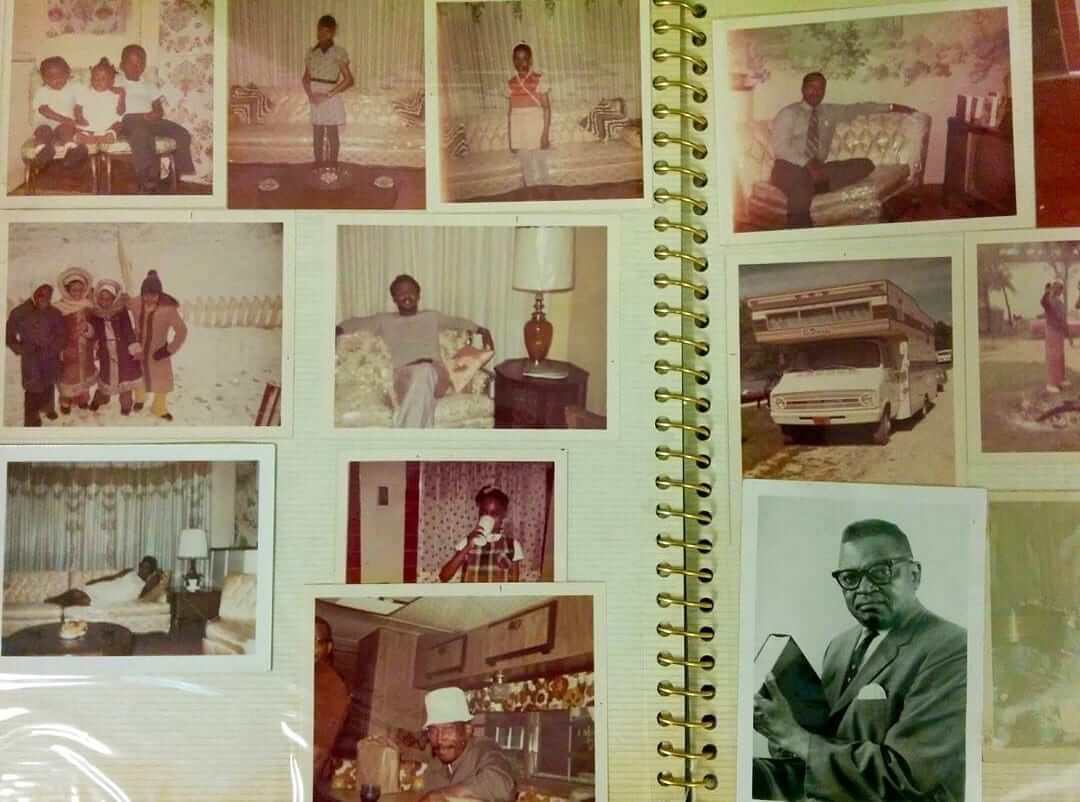 Click to enlarge
PermaRec update: A pair of photo albums (including the one shown above) salvaged from a derelict storage unit have been reunited with their rightful owner. Get the full story over on Permanent Record.
• • • • •
Hey, Brian Ross: Brian, if you see this note, please email me. Thanks.
• • • • •
Caricature T-shirt reminder: Larry Torrez's caricature of me is now available as a T-shirt. We're offering it in a variety of colors and styles — grey, black, white, and a white baseball shirt with green sleeves. We've also added women's sizes. Further details here, or just order it here. Thanks.
• • • • •
The Ticker
By Paul

Baseball News: In case you missed it in yesterday's Ticker, here's our first good view of this year's pandering caps for Independence Day. What a joke. … The Empire State Building observed Opening Day by lighting up each MLB team's color scheme last night (thanks, Mike). … Nasty weather predicted for Opening Day in Cleveland today, so the Plain Dealer ran this uni-centric cartoon (from David Feigenbaum). … Nasty weather or not, the annual Opening Day protests against Chief Wahoo and the team's name are schedule to proceed as usual. … More Cleveland news: We saw during spring training that the team's navy socks and stirrups now come with stripes. Turns out that the stripes are also being featured on the red socks (from @Believeland1994). … Check out this pendant based on the '69 Orioles A.L. championship ring design. Mark Notterman says he bought it off a trucker years ago, when he was working at a gas station, for about five bucks back in the '90s. I showed the photo to Bruce Menard, our resident expert on sports jewelry, and asked if he thought the pendant was based on the ring or might actually have been part of a ring. "Tough to say," he responded. "Teams do generally make pendants as well as rings (for wives, etc.), but I've seen rings cut apart to make other jewelry. Here's a 1969 Orioles ring that was cut apart and put back together as a bracelet!" … Speaking of the Orioles, they had a last-minute uni number change yesterday (from Andrew Cosentino). … In a related item, Mets 3B coach Tim Teufel has changed his uni number from 18 to 11, which is the number he wore as a player. That number had been worn in recent seasons by SS Reuben Tejada, who was recently released. … Astros players Jose Altuve (who is rather short) and Carlos Gomez (who is not) traded pants (from Joanna Zweip). … Maryland went G.I. Joke yesterday. … The head of Papa John's "Pizza" has his own baseball jersey (from Nick Hanson). … Here's a pretty cool GIF showing Opening Day team logos through the years (from John Di Bari). … Here's something I'd never noticed before: The Blue Jays' roster on the team's website lists the players' birthdays in a day/month/year format (good spot by Brian Cheung). … Here's an article on the new protective netting being added to MLB ballparks. … Here's a good view of just how bad the Cubs' pinstriped home jerseys look in the Flex Base format (from Jordan Cutler). … Some Royals fans explained why they wear a particular player's jersey. … Here's a pretty cool video of the D-backs' grounds crew applying the Opening Day logo to the field. Interestingly, it's not done with paint (from Matthew Crooks):
Applying the finishing touches at Chase Field for #DbacksOpeningDay.https://t.co/ZlriKN9oWl

— Arizona Diamondbacks (@Dbacks) April 4, 2016

Football News: Here's a great find: The entire Rams/Vikings "Mud Bowl" playoff game from 1977 is available on YouTube — with Vin Scully doing the play-by-play! (Big thanks to Alan Tompas.) … Here's a great story of a commemorative football that was signed by members of 1967 high school championship team in Pennsylvania and was later found at a yard sale and then returned to the school. Some of the players on that team still live in the area and were thrilled to see their signatures on the ball. By coincidence, longtime Ticker contributor Art Savokinas happens to be the school's principal.

Hockey News: Oilers fans are preparing to say goodbye to Rexall Place. … The Penguins wore white at home yesterday. … In a related item, a local TV newscast mistook the Penguins for the Pitt Panthers. … The national anthem singer at that game wore a Pens jersey with a clef note instead of a uni number. … The latest ECHL team will be called the Worcester Railers (from Patrick Thomas).

NBA News: The Nets wore their grey sleeved alts yesterday. … Ditto for the Rockets. … Black sleeved alts yesterday for the Cavs. … Here are some early Magic logo concepts.

College Hoops News: No photo, but I'm told that the right side of the trophy is missing on the Final Four logo at center court. … Here's a closer look at the Final Four patch. … A brewery in Houston has the 1971 Final Four court, from the Astrodome, in their tap room (from James Gilbert).

Soccer News: The Chicago Red Stars of the NWSL debuted their away uniform in a preseason game against Northwestern (from Saurel Jean Jr.). … 20th-anniversary warm-up shirts for the San Jose Earthquakes. … Barcelona and Atlético Madrid will wear their away kits against each other (from @YellowAwayKit).

Grab Bag: Several different U. of Kentucky caps worn in this very informative video about how to cure a country ham (from Chap Godbey). … Election poll workers in Malaysia may get new uniforms. … A website for corrections officers ran an April Fool's story about how prisons, facing mounting budgetary squeezes, were planning to sell ads on prisoners' uniforms. They somehow neglected to include a quote from Adam Silver (from Michael Scuillo). … Several NHRA items from David Firestone: New helmet for Courtney Force; new firesuit for Tim Wilkerson; and several drivers honored NHRA Chief Starter Mark Lyle, who died earlier this week, with memorial decals on their cars. … New logos possibly in the works for the University of Georgia. … Here's your chance to vote for the NASCAR paint schemes of the week.