Click to enlarge
Bizarre scene yesterday in Tampa, as Giants defensive lineman Jason Pierre-Paul made his first game appearance since losing one of his fingers and part of another during a July 4th fireworks accident. He had been expected to wear a custom glove — and hey, maybe he did, but it was hard to tell under the padded wrap he wore on his hand, which looked like a cross between an oven mitt and a boxing glove. Here are a few more shots (click to enlarge):
If they had to wrap his hand like that, I guess it must still be healing, which I hadn't realized. I'd be curious to know more about this, since the wrap obviously compromised his ability to grab or grip anything with that hand.
Aside from that, it was a very quiet day around the league, at least from a uni-centric perspective. A few notes:
• After kicking a field goal, Giants kicker Josh Brown changed his footwear, switching from a field goal shoe to a kickoff shoe. He probably does this routinely, but I'd never been aware of it before.
• I caught a few Bills highlights and thought, "Damn, they look so good." Too bad they'll be wearing mono-red bodysuits later this week for the Color Rash game.
• It's been a while since we've mentioned Nike's sweatbox problem (maybe because we've been focusing on Nike color-matching problem, Nike's custom-font problem, and all the rest of Nike's problems), but it bears repeating: The sweatbox looks like shit. I hate to trot out so shopworn a cliché as "If we can put a man on the moon"¦," but it does seem made for situations like this one.
• More G.I. Joke nonsense, including spatting tape, waistband towels, captaincy patches, coaches' caps and headsets, and so on. Many teams also wore military logo helmet decals. You can see the Jets and Jags wearing them here.
• The Panthers took things a step further by wearing the initials of fallen soldiers. Nice gesture, bad civics: Memorial Day is May; the holiday coming up this Wednesday is Veterans Day.
•  At one point NBC ran a graphic showing showing two Eagles players — one in the Nikelace-ized jersey and one in the older style.
• This is funny: At the Barclays Center, where the Islanders had a home game yesterday, the scoreboard helpfully showed the day's NFL scores. The thing is, when showing the Jags/Jets score, they used the logo for the Winnipeg Jets. And when they showed the Packers/Panthers score, they used the logo for the Florida Panthers. Not sure if this was intentional ("Hey, we're an NHL arena now, we'll push the NHL agenda whenever possible!") or a mistake, but it's amusing either way. Now we just have to wait until baseball season and see if they use the New York Rangers logo when showing the score of a Texas Rangers game.
(My thanks to James Paterson, Brooks Simpson, Alex Sinclair, Ben Whitehead, and Phil for their contributions.)
•  •  •  •  •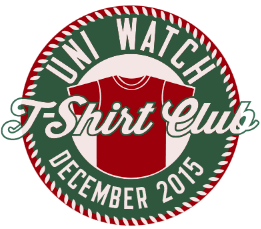 T-Shirt Club update: As you may recall, on Friday I showed you a preview of how the Uni Watch T-Shirt Club's December design was shaping up. In case you missed it on Saturday, we posted an updated version showing how the design had evolved a bit further. Here's another look at that graphic (click to enlarge):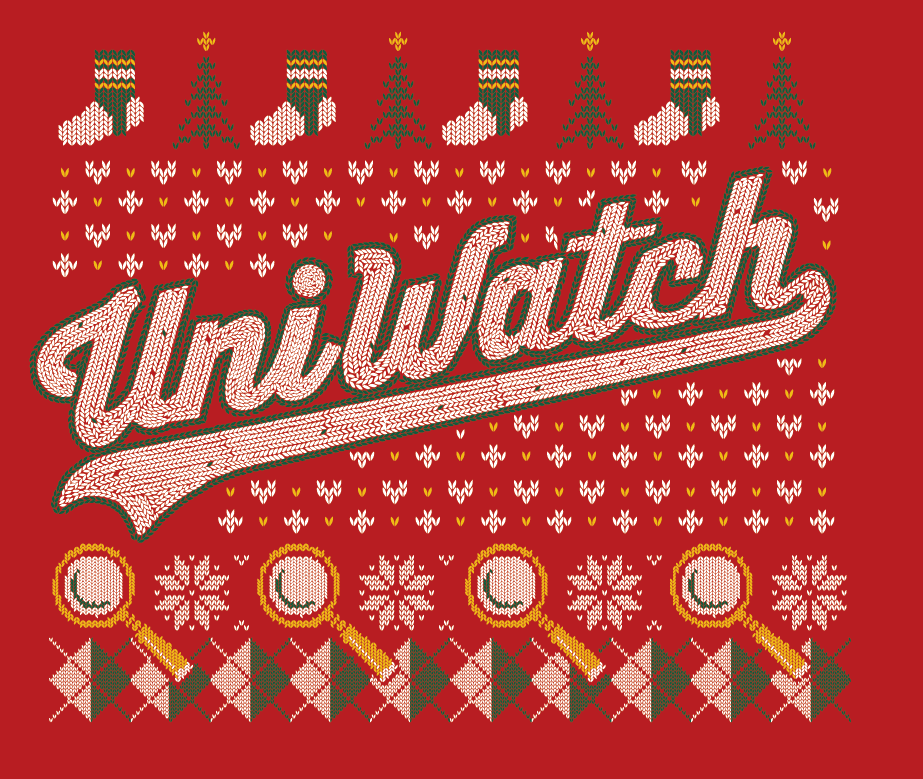 Pretty good, right? If we can finalize the last details of the design today, the shirt will launch tomorrow. Otherwise it'll launch either on Wednesday or else next week. Stay tuned.
Meanwhile, I have several other Club-related announcements to make:
1. As a result of all the problems with the November tequila sunrise shirts, the entire run is going to be reprinted. If you were told by Teespring's customer service people that a replacement shirt wasn't possible, forget that — it's possible, and it's happening. Everyone will get a new shirt. If you were sent the wrong size, you'll get the right one. If you weren't happy with your shirt's print quality, you'll get a new one. And if you loved your shirt and had no complaints, well, now you'll have two of them. Congrats!
If you requested and received a refund, I'm pretty sure you'll still get a new shirt anyway (I'm trying to confirm that). If you were thinking of asking for a refund but hadn't yet done so, please wait and let's see how the new print run turns out. If you're still not satisfied with the replacement shirt, you'll still be able to request a refund.
To everyone who's had a complaint: Please accept my apologies. I know how frustrating it is to order something you're excited about and then have it turn out to be a letdown. As the creative force behind this project, I've shared in both the excitement and the letdown — it's a drag. We're doing our best to make it right. Thanks for your patience.
2. We're going to offer some additional Uni Watch shirts for the holidays. Strictly speaking, these will not be part of the T-Shirt Club — there will be no sleeve patches, and you won't have to buy any of these to qualify for the "Collect 'Em All" bonus prize. Still, these shirts will be very much in keeping with the spirit of the Club, and I think you'll like them. More details later this week, I hope.
3. Many of you have asked if the 2015 T-Shirt Club shirts, all of which have been limited-edition, would be offered for sale again. After thinking about it, I've decided to go ahead and make all of the 2015 designs available, but with some provisos: (a) The 2015 designs will not be revived until 2016, probably around February or so. Only the people who bought the designs this year will get to enjoy them this year. (b) When the 2015 designs are revived, they will not have the T-Shirt Club sleeve patch. Only the people who bought the shirts the first time around will get to wear the patches. (c) The revived versions of the designs will not count toward the "Collect 'Em All" bonus prize. The only way to earn that prize is to have ordered all 12 of the 2015 designs when they were first offered.
4. Speaking of the prize, it's finally time to announce what it is. Everyone who's ordered all 12 shirts (and who can prove it, either by sending a photo of the 12 shirts or by sending copies of "Your order has been received" emails from Teespring) will receive an embroidered patch with this design: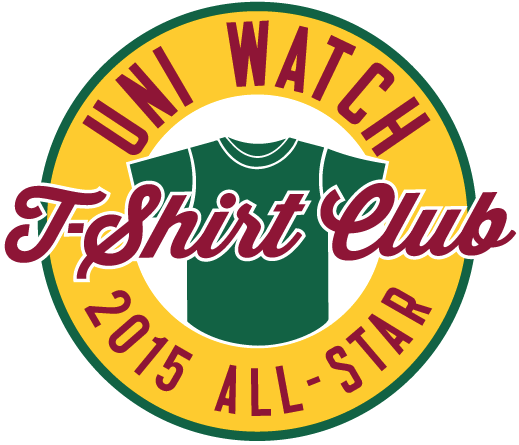 After having a representation of a patch on each shirt, I thought it would be cool to have a real patch as the bonus prize. The patch will be four inches across, just like the Uni Watch anniversary patches that I was selling last year. This patch will not be available for sale — the only way to get it is to purchase all 12 of this year's designs.
5. Finally, many of you have asked if the T-Shirt Club will continue in 2016. Answer: Probably, but not necessarily in the same format we used this year. I'm fairly certain we'll have some new shirt designs, but I'm not sure we'll come up with a new one every month, or on any specific schedule. Right now, I have several ideas that are still in flux. More details soon.
• • • • •
Photo by Mary Bakija; click to enlarge
Uni Watch party report: Big thanks to everyone who showed up for Saturday's Uni Watch gathering in Brooklyn, some of whom are shown above. From left to right in the front row: Keith Goggin, Doug Kalemba, Marc Rivlin, Heather McCabe, Marty Buccafusco, and Lou Sherwood. And in the top row: Brad Eckensberger, own own Phil Hecken, yours truly, Ben Fortney (a longtime Ticker contributor who I was happy to meet for the first time), and Chris Giorgio.
As you can see in the group photo, there were lots of excellent jerseys on hand, and I took some (really shitty) photos of a few of them. Let's start with Phil, who was wearing the new tequila sunrise T-shirt (for all of these, you can click to enlarge):
Keith Goggin was wearing an adult-sized reproduction of his old youth league jerseys. He brought along the original, which Heather McCabe modeled for this before/after shot:
Brad Eckensberger wore the old Uni Watch "charter member" T-shirt — always a favorite of mine (although I'd never wear it myself because, you know, the band should never wear its own shirt):
(Brad, incidentally, brought along a book that looks like it will force us to rewrite a key chapter in uniform history. More on that soon.)
And here I am with longtime Uni Watch reader/pal/neighbor Marty Buccafusco. I wore my vintage Delphos St. John's basketball warm-up top (more on that here), and Marty wore a 1970s Braves jersey and posed with his son, Gus (who wore a Georgia Bulldogs jersey), and his mom, Regina Buccafusco — three generations of uni watchers!
Several other people attended but weren't on hand for the group photo. My thanks to one and all, and doubleplusthanks to Morgan (sorry, can't recall your last name) for all the nice things you said about my work — meant a lot, really.
•  •  •  •  •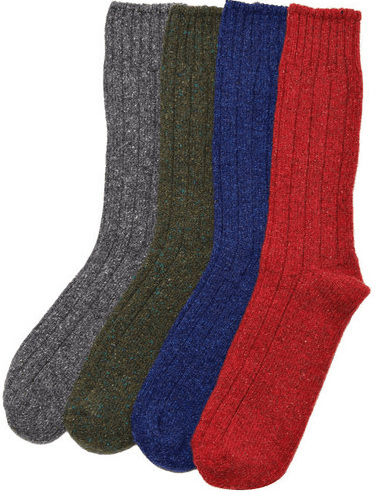 Sock discount: Longtime Uni Watch advertiser American Trench is offering a special deal: Order any of the wool/silk boot socks on this page and get 15% off by using the code WOOLSILK at checkout. I now wear American Trench socks almost every day, and I can honestly say they're among the best, most comfortable socks I've ever owned. I get lots of compliments on the colors and stripes, too. Best of all, American Trench honcho Jacob Hurwitz is a great guy — I'm proud to have him and his product line represented on Uni Watch.
As an aside, it turned out that three people at Saturday's Uni Watch party here in Brooklyn were wearing American Trench striped socks, so I'm not the only one who likes this product line. From left, that's Marty Buccafusco, myself, and Brad Eckensberger:
•  •  •  •  •
Membership update: A few new designs have been added to the membership card gallery (including Zak Jester's card, shown at right, which is based on an MLB umpire's sleeve number). I'm sending the current batch of cards to the printer today, so new and recent enrollees should have their cards by the end of this week.
As always, you can sign up for your own custom-designed card here, you can see all the cards we've designed so far here, and you can see how we produce the cards here. My continued thanks to everyone who's signed up.
• • • • •
The Ticker

Baseball News: The Giants have a pitching prospect who throws 100 mph and wears stirrups (from Chris Flinn). "¦ Good catch by Ferdinand Cesarano, who spotted Yankees C Thurman Munson wearing the wrong number font — standard block instead of varsity — in this 1976 shot. "¦ Uni designer/historian and longtime Uni Watch pal Todd Radom has created a really nice poster to commemorate the Royals' championship. It's part of a series of travel posters he's designed.

NFL News: According to the mighty Gridiron Uniform Database, the Broncos wore a patch promoting Colorado's upcoming centennial celebration on Dec. 14, 1975. I'm not sure I'd ever seen that patch on a jersey until Tyler Maun sent me this shot. That jersey is part of a series of uniform displays at SFO airport, part of the build-up to the Stupor Bowl next February. "¦ Speaking of airport displays: If you've ever been to the Pittsburgh airport, you know that there's a status of Franco Harris making the Immaculate Reception. Someone recently gave that statue a new accessory. "¦ Here's an absolutely spectacular article about the history of NFL injury carts. Wish I'd come up with this one myself. Highly, highly recommended reading (from Kurt Esposito).

College Football News: New BFBS jersey for Marshall (from C Dubya). "¦ Check out this 1970s Pitt photo. No. 44, Elliott Walker, is wearing a tearaway jersey with plain white numerals — no gold outlining. No. 33, Tony Dorsett, has a tearaway jersey that includes the gold outlining but has no sleeve stripes (also: hip pads!). The quarterback, Matt Cavanaugh, has a standard jersey. "At least the pants and helmets are consistent!," says Jeff Flynn.

Hockey News: This is pretty awesome: A 1907 team called the Sakatoon Bankers, which was sponsored by a local bank, wore a dollar sign crest (great find by Will Scheibler, who refers to this photo as "the money shot").

College and High School Hoops News: Oh baby, look at this spectacular 1940s girls' basketball warm-up top. Great Harv-Al label, too (big thanks to my pal Robin Edgerton). "¦ Everyone knows about Indiana's candy-striped warm-up pants, but Tennessee used to wear something very similar, which I didn't realize until Scott Gleason Blue clued me in. "¦ Man, there's a lot going on in this 1981 Tulsa shot — the carnival font, the Zubaz-style side panels, the green shoulder band (anyone know what that was for?). Good stuff (from Paul Dillon).

Soccer News: We've seen this type of thing before, but it's still funny: Seattle Sounders keeper Stephen Frei's team crest fell off of his jersey last night, revealing "Team Crest Here" wording (from Tim Stoops).

Grab Bag: Citi Field hosted its first cricket match on Saturday, and the uniforms were color on color (from David Dyte). "¦ "The linespeople at Sunday's Ivy Rugby Conference women's final used Colorado state flags to signal the referee (who's wearing yellow in this photo)," says Tris Wykes. "I asked why and he said he travels with his own flags and he's a Colorado native, hence the design." "¦ Oh baby, check out the 1938 Packard Motor Company bowling team (from our old pal Vince Grzegorek).