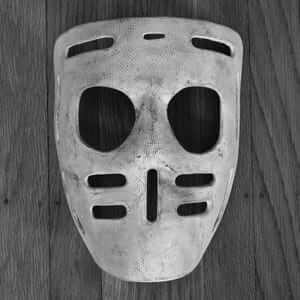 [Editor's Note: Paul is off on a short vacation, returning on Wednesday, but he left behind this piece for today's entry. Enjoy.]
A few Saturdays ago I ran the latest awesome DIY project by Anonymous, who's been featured on the site many times over the past couple of years. Today I'm pleased to announce that he will no longer be known as Anonymous — he is now Wafflebored (that's his avatar at right), and here are some updates on his latest activities:
• Wafflebored recently started a blog, where he's been documenting his assorted DIY projects. Some of the entries are basically repeats of projects that have already been featured on Uni Watch, but there's some original content as well. Good stuff.
• He also posted a three-part video series on how to make a DIY zippered baseball jersey. Here are the three videos:
• He also designed and made — get this — a jersey-based board game (if you can't see the slideshow below, click here):
Here's how he describes it:
Each player is a goalie who has lost his jersey. I painted the game pieces to be vintage goalies with mask and pants but no jersey — just their chest and arm pads showing. You pick your team (all loosely based on real vintage teams) and you pick your jersey number from three (starting goalie, backup, third string).

From there, it's a typical "roll the dice, pick up cards that tell you what to do" type of game with no skill involved. You can get traded, have to change your number because your team acquired a veteran who wants your number, lose points because your jersey is in the wash, etc. Win by landing on your own jersey three times. All hand-painted by me. Fun jersey bag to hold everything, as well.
I don't know about you, but I find all of this incredibly inspiring — a tremendous mix of creativity, playfulness, wit, and hands-on craftsmanship. By any name, Wafflebored is one intriguing cat. I asked if he'd consent to an email interview, and he agreed:
Uni Watch: How old are you and where do you live?
Wafflebored: 46, born in Vancouver and have never left.
UW: You've mentioned that you were once a goaltender. Could you tell us a bit more about your hockey career?
Wb: I was born to be a goaltender. An undersized, marginally talented one. But I didn't play until I was older, around 20, which is when all of my friends who didn't play when they were growing up decided to start. From there I played several times a week until I had to quit at the age of 36 due to wear and tear. I was a very dedicated student of the game and worked my way up to a reasonable level. The DIY projects are a great way of keeping me involved in the sport — I think that's a lot of the motivation for me.
UW: You've obviously very handy and appear to be skilled in a wide range of creative techniques (sewing, carpentry, graphic design, etc.). How did you acquire these skills? Are you formally trained in any/all of them, or self-taught, or what?
Wb: It must be my ability to hide goofs and poor craftsmanship in the photos, as I've never been accused of being skilled. Even my high school art teacher said I had great ideas but no ability to execute them. All self-taught, except for sewing, which I had my mom teach me when I was in high school, specifically so I could make jerseys. For the most part I just made modifications, like widening jerseys before you could buy goalie cut ones, and adding numbers and stuff like that. I credit age with giving me the patience and ability to see projects through.
UW: Do you pursue other creative projects that have nothing to do with sports?
Yes, I like things like wooden ship models and model railroads, anything to do with history, so I dabble in that a bit for fun. I have a music background and played bass in an awful band back in the '90s, plus I wrote songs and recorded, but I don't do much of that now.
UW: How long do these projects typically take? I realize it probably varies from project to project, but give us a few examples.
Wb: A jersey takes about a week, evenings and a little time on the weekend if available. The one-sleeved basketball jersey took three evenings. I like to work as fast as possible without sewing my fingers together.
UW: Do you wear the jerseys that you make? If not, what do you do with them? What about the non-apparel items you make — what happens to them?
Wb: I don't wear any sports apparel, except for the occasional vintage baseball cap from Ebbets or Nine O'Clock Gun here in Vancouver. Most projects I have kept, some I have thrown away if I didn't like them anymore or needed the space. They go into the closet or storage. I really focus more on what's next.
UW: I know you've had inquiries from people interested in purchasing your items (especially the hockey-themed neckties), but you've said no. Why?
Wb: I do this for fun and relaxation, so doing special orders and the administration of a small business is something I want to avoid. I also don't feel my stuff is at the point where it's really worthy of being sold. Some of the stuff is getting close, the quality is getting better. But there's also the problem that these things take a long time to make, but could only be sold for so much. So I might as well just keep it fun. But who knows, maybe one day I will come up with something that makes sense to sell.
UW: Why have you chosen not to disclose your name?
Wb: I'm a private person and I don't feel comfortable revealing everything about myself. I waffle back and forth about whether I like my stuff or think it's just stupid. Due to the permanence of the internet, I don't know if down the road I want to be known as the sports projects guy. I find even doing this anonymously is the cause of some anxiety. I just want to keep it fun.
UW: Anything to add?
Wb: I'm surprised there aren't more people making jerseys as a hobby, at least that I have been able to find. It's such a fun thing to do, and obviously people like jerseys. I don't know if it's because most sports fans are male and don't sew, or because people are really only interested in jerseys from major teams, but I think it would be great if more people did it. I encourage everyone to give it a try!
———
Great stuff. Big thanks to Wafflebored for sharing his story, and even bigger thanks for sharing so much wonderful content with us.
Colorize This!
Occasionally, I will be featuring wonderful, high-quality black and white photographs that are just begging to be colorized.
One more weekday colorization while Paul's away, and it comes from one of our more prolific colorizers, Bruce "Bee Smile" Menard; actually there are two today from Bruce.
Click photos to enlarge.
Enjoy!
~ ~ ~ ~ ~
Phil,

So here's two of my latest colorizations – with the accompanying text.

St. Louis Cardinals Rookie Daffy Dean No-Hits The Brooklyn Dodgers
âš¾ 81 Yrs Ago Today – Ebbets Field – September 21, 1934

~ (Wire Tag) "Paul Dean Pitches No-Hit, No-Run Game – Paul Dean, of the incomparable Dean brothers of St. Louis, elevated himself to everlasting baseball fame, Sept. 21st, by defeating the Brooklyn Dodgers 3 to 0 in a no-hit, no-run game, Sept. 21st in New York City. In the first game of the double header between the Cardinals and Brooklyn, his brother 'Dizzy' Dean allowed the Brooklyns but three hits to win 13-0."
Satchel Paige Is Back In A Big League Uniform With The A's
âš¾ 50 Yrs Ago Today In Kansas City – September 13, 1965

~ In what was essentially a Charlie Finley inspired promotional stunt, the A's signed Satchel in September "˜65 as a free agent. This picture is from a workout for the club. Note that he's wearing #24 for this session, a number that was retired many years later by the A's for Rickey Henderson. Paige would pitch just one game for the team on September 25th vs. the Boston Red Sox (when he wore #29). His last stint in major league baseball didn't feel like a stunt to the Red Sox that day, as the approximately 59 year old Satchel gave up only one hit in 3 scoreless innings. ~ (Wire Tag) "Satchel Hurls Again – Satchel Paige, of baseball vintage, is back in baseball – being signed by the Kansas City Athletics. He is shown during a workout at the ballpark today."

Cheers!
~Bruce
. . .
That's it for today. Great job B!
Collector's Corner
By Brinke Guthrie
Click to enlarge
Boy howdy! Check this out, a full set of 28 NFL mini helmet sharpeners. Looks like the Bucs and the New York Football Giants are missing their stickers, tho. This one ends tonight. Now for the rest of this week's finds:
• This 1960s MacGregor NFL leather wallet has been around the block a time or two. (Inflate it to 13 pounds.)
• "Did they have BFBS back in the 1950s?," wonders reader Douglas Ford? Looks like it, from the looks of this kids Milwaukee Braves jacket. Also from the Braves; "I love these old school ashtrays but fear the smell of one this old- but it's a beaut!"
• Haven't featured these classic 1970s NHL posters for awhile- doesn't get any better than this look for the NY Rangers.
• This 1970s Trail Blazers basketball bank looks to be in pretty good shape!
• I'd consider buying this 1970s 49ers plaque from Kentucky Arts, (A division of Wincraft, Inc.) if they hadn't had such a dreadful loss on Sunday.
• Here's a few more plaques for you- the classic half-shell design. This is the first Bucco Bruce helmet plaque I've ever seen, but they whiffed on the facemask, no? And what is the deal with the bolt on this Chargers helmet? Finally, this 1960s Vikings plaque is copper and made by Acrometal.
• Nice looking varsity jacket for the HBO Sports show "Inside The NFL."
• My first Reds game was either the 24th or 25th of April 1971 vs. the Mets at the then-new Riverfront Stadium, and I bet I wasn't inside the stadium 10 feet before I snagged one of these 1971 yearbooks.
• Doesn't get any better design-wise than this 1970s Dolphins poster from Stancraft.
• Look at this 1985 Sweetness Payton T; "Poetry and Power."
~~~~
Follow Brinke on Twitter @brinkeguthrie.
Uni Watch News Ticker
Compiled by Mike Chamernik

Baseball News: The Cardinals wore slightly modified St. Louis Blues jerseys for batting practice yesterday. Here's what the backs looked like. Plenty of photos here. The jerseys will be auctioned off for charity. … The Pirates dressed up as superheroes for their trip to Colorado after beating the Dodgers on Sunday night (from Brinke). … A reader named Jimmy saw these jerseys while at the Wisconsin Dells. Anyone know more about them? … Last evening, Jose Altuve slid into third with a triple, then quickly realized his pants just ripped (from Chris Flinn).

NFL News: Cowboys coaches wrote a note about their blue jerseys and silver pants on the team whiteboard before Sunday's game against the Eagles (from Louis DeGeorge). … Terrance Knighton and his fellow Redskins defensive linemen wore personalized Nationals jerseys to FedEx Field for their game on Sunday (from Tommy Turner). … Jameis Winston's dad wore a Bucco Bruce-esque T-shirt of his son on Sunday (from Phil). … "I was watching the Sunday Night game and noticed they showed Reggie White in a Packers jersey that, because of the sleeve logos, was as recent as 1988," says Alex Goldman. "Reggie didn't arrive in Green Bay until 1993, so the jersey is at least 5 years old. Packers would use old supply for practice as I'm sure others teams did." … A Bills fan has a creative Scott Norwood jersey (from Justin Kerr). … Joe Bailey went to the Pro Football Hall of Fame in Canton on Sunday. He saw a hand-painted Bucs helmet; Mick Tinglehoff's pro bowl helmet, with his Vikings colors underneath; and a photo of a color-vs.-color game from the 1994 season. … One of the drawbacks to dreds is that defenders are allowed to tackle players by them. A hither-to-fore unseen consequence of dreds: they can get caught in the facemask (h/t Doug Smith).

College Football News: Colorado will go white-black-white this weekend. … Arizona will wear red chrome helmets against UCLA on Saturday. … Florida is planning a blue out against Tennessee on Saturday (from @DaveDoop). … North Carolina, meanwhile, will have a white out on Saturday against Delaware. … Here's a ranking of the seven freshest uniforms worn in Week 3. Such dope terminology (from Phil). … "Georgetown's players are all wearing only the No. 2 on their helmets to honor injured teammate Ty Williams, who recently suffered partial paralysis during a game," says Tris Wykes. "Also, the school's athletic slogan, 'Hoya Saxa,' is on their pant leg stripes." … UW-Stevens Point wore pink this past weekend (from Michael Bialas). … An Albertsons in Boise had a soda display of a Boise State football player (from Brad Iverson-Long). … "I'm in Lowell, Mass., birthplace of Jack Kerouac," says Paul. "Didn't know he'd been a football player, but here he is in his high school gridder uni."

Hockey News: The Avalanche unveiled its Stadium Series uniforms. Here's the collar and reverse side. … Like we saw yesterday with the Red Wings, the Blues have gray Reebok boxes above their NOBs on their practice jerseys "" not preseason jerseys, as I assumed (from Ed Bauza). … The South Carolina Stingrays will wear "Charleston Strong" jerseys on opening night in memory of the Emanuel AME Church shootings. … NCAA won't allow Michigan State to paint its blue lines green at Munn Ice Arena (from Eric Romain).

Grab Bag: The Auburn women's soccer team wore orange ribbons on Monday. … Alison Lee wore star-spangled leggings for the Solheim Cup on Friday (from Steve Cook). … A few weeks ago, NASCAR Sprint Cup driver Josh Wise was going to run a Ricky Craven throwback scheme at Darlington but he didn't qualify for the race. On Sunday at Chicagoland, his drove a car with a similar paint scheme (from Chris H). … Iroquois played Canada in the World Indoor Lacrosse Championships on Sunday. Iroquois wears jerseys that have the Iroquois flag on them, and Canada's jerseys look like what the national hockey team wears (from Kevin Mueller). … At the FIVB, Italy as been taping over their uniform their uniforms above the flag (submitted by Jeremy Brahm). Not sure why.
And that's all for today — big thanks to Wafflebored (and Paul for setting the article up), Bruce, Brinke and Mike, and everyone who submitted for the ticker. I'm done on the weekdays for a while (or at least until Paul takes his next vacation), but he'll be back in the saddle tomorrow. I'll catch you guys on Saturday. Until then…
Follow me on Twitter @PhilHecken.
Peace.
.. … ..
"(W)hat in the hell is wrong with being different than every other NFL club? I kind of embrace the [Browns] wordmark and contrasting stitching and all the other stuff. If we can't (ever) have a decent team we can at least do SOMETHING to distinguish ourselves!"
— J. Clayton Davis