Click to enlarge
[Editor's Note: Today we have an absolutely spectacular DIY project from a reader who prefers to remain nameless. Enjoy — PL]
By Anonymous
I do a lot of jersey-related projects, and I'm often left with small, narrow scraps of mesh fabric. I hate throwing materials away and prefer to find a way to use them. After looking at these scraps, I decided to create some neckties.
The 1970s were my favorite era for jerseys and I'm an ex-goalie, so I decided the neckties would be based on 1970s NHL goalies (the ones shown above are for, from left to right, Rogie Vachon of the Kings, Bernie Parent of the WHA's Philadelphia Blazers, and
Gilles Meloche of the Seals). Some get stripes, others stay plain. I wound up loving the orange/yellow color combination, and I'm now thinking this could be one of the more underrated color schemes in sports — it really looks great to me.
Since I was going to be referencing 1970s jerseys, at first I thought I'd make the ties super-wide, 1970s-style. But I decided to go with a more conservative width, as it's more appropriate for weddings and job interviews (you have to think of these things).
I begin by sewing a straight but angled line to the width I want [for all these photos, you can click to enlarge]:
Then I turn the fabric inside-out and position the seam in the middle. This forms the traditional tapered tie shape:
At this point I (very) briefly feel like a bespoke tailor as opposed to some hack with a $59 sewing machine. I just turn up the corners at the bottom and hand-stitch them to create the point at the bottom of the tie. This is not a classic seven-fold tie design, but I figure no one will see the back anyway:
I cut the numbers from stiffened felt and then sew them onto the tie. If it's a two-layer number, I sew the top layer to a bigger piece of the second color and then cut it out after. Stiffened felt is better than the regular stuff, as you can do sharper edges that hold up under sewing:
The felt look isn't really era-appropriate for this project (it's more appropriate for early wool hockey jerseys or flannel baseball jerseys), but I wind up using it a lot because it's easy to find, inexpensive, comes in any color you can think of, and is easy to use. I also like the vintage look it provides, even though it may not be era-correct or even sport-correct in some cases.
If I'm adding a stripe, I use the same type of stripe/braid material you'd find on '70s-era track suits and uniforms. I've been able to source it as new old stock at some sewing supply stores.
For some of the ties, I don't have a long enough piece of mesh, so I add an extra strip of material — in this case, a strip of yellow and white striped fabric. This makes the tie more visually interesting, and nobody else has to know, since that end of the tie won't be visible when the tie is worn:
And here we have the finished product:
+ + + + +
Collector's Corner
By Brinke Guthrie
The Rayduhz have held onto their look for ages. It's fairly obvious they'll never change it — but what if they updated it a little? That's the thought that came to mind when I came across this black Raiders helmet on eBay. While it's sloppily done, it does pose an interesting question: How about an all-black helmet with the silver stripe? Toss a little of that Bucs-style chrome facemask in there and believe me when I say these would go over nicely in the 510.
A lot of this week's other picks are helmet-related, too. Why? Just sorta happened that way. Let's take a look:
• Going across the bay, here's a Niners mini-helmet with the Candlestick final-season logo on one side.
• Can't the Giants use this as a throwback helmet? Swap the logo and stripe, no repainting needed!
• This vintage L.A. Rams helmet plaque is in great shape.
• Check this out: a six-pack of the definitive 1960s NFL helmet plaque look. Simply gets no cooler or retro than this.
• Here's a helmet of another kind — a set of 600 MLB ice cream batting helmets!
• Okay, enough helmets. Get a set of seven 1970 Vikings portraits by Nick Volpe right here.
• I remember trading these in my 1970-71 class at Orville J. Stivers Elementary in Louisville: the complete set of Volpe's Kentucky Colonels Pro Star Portraits. I always wondered who Bobby Croft was. I felt bad for the guys who never played.
• Here's a terrific-looking 1969 NFL/Chiquita transistor radio! Listing doesn't say if it works, though!
• Learn all about "Exciting Plays and Formations" with this 1977 NFL Action Teammate Playbook.
• The cartoon cub on this early-1970s Chicago Cubs pennant looks a bit like their recently introduced (and widely disparaged) mascot, does it not?
• And here's a Jacksonville Jaguars beverage glass with the original/banned logo, priced to move.
Seen something on eBay or Etsy that you think would make good Collector's Corner fodder? Send your submissions here.
+ + + + +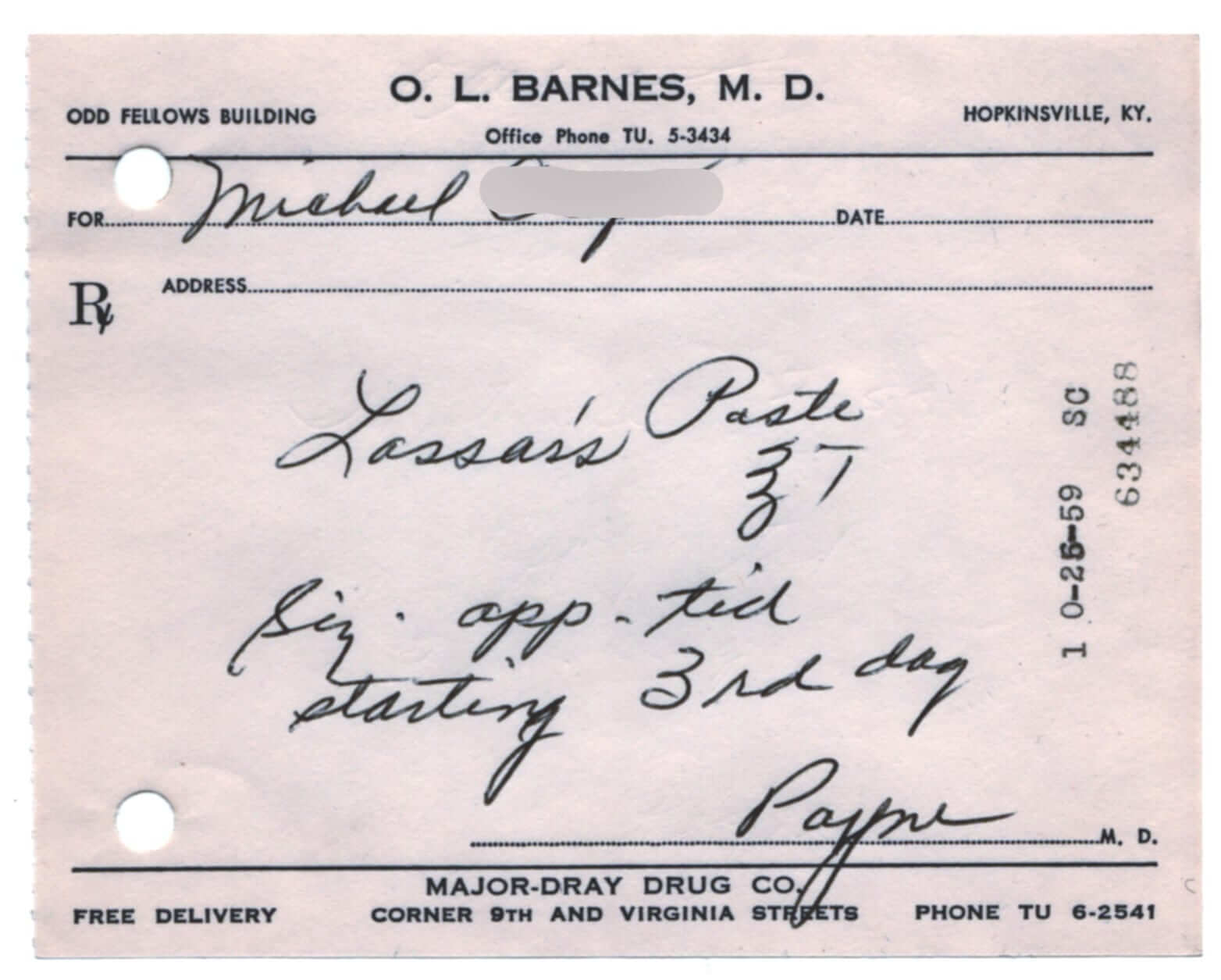 PermaRec update: The latest vintage ephemera that's caught my eye: old prescriptions (like the one shown at right). Read about them in the latest entry on Permanent Record.
+ + + + +
Tick-Tock: Today's Ticker was compiled and written by Garrett McGrath.

Baseball News: Oh no, Papi! President Obama is considering a ban on selfies with White House guests after David Ortiz's Samsung stunt last week. "Perhaps maybe this will be the end of all selfies," White House Senior Adviser Dan Pfiffer said on Face the Nation. One can only hope. … Here's as great a photo as you're likely to see these days of two MLB players from opposing teams, both wearing striped stirrups. That's from Sunday's Cards/Bucs game (from Rich Strayer). … The Rochester Red Wings (AAA affiliate of the Minnesota Twins) debuted their 2014 white home uniforms on Sunday, replacing the black home jerseys they've been using on and off since 1997 (from Paul Bielewicz). … Clemson wore camo jerseys and hats during their game last night (thanks, Phil). … Our Notre Dame expert Warren Junium sent in what the Fighting Irish were suppose to wear at their rained out Saturday game.

Football News: Not confirmed: One Reddit user is claiming to know what the 2015 Cleveland Browns uniform will look like (thanks, Phil and Matt Masuga). "¦ Miami is hinting at a BFBS move. … "Here is the story behind the picture you showed of Troy Akman's jersey with the 75th anniversary patch on Sunday," says John Hoyle. "Troy had the patch lowered because he likes to grab his jersey there and wipe his face. The patch was scratchy so he had it lowered. The league noticed he had moved it and made him return it to its proper place." … Not to be outdone by teammate RG3, Kirk Cousins told a reporter about his logo. "I can't say I'm a big Royals fan, but I've always kind of stockpiled Kansas City gear, just because it's my initials and I think it's a simple logo. It's fun to wear every now and then, and I've got a receding hairline, so I like to hide it." (from Yusuke Toyoda) … San Diego State University will be test-driving the new SpeedFlex helmets, and Alabama wore SpeedFlex helmets at their spring practice.

Soccer News: The Tampa Bay Rowdies of the NASL unveiled their 2014 kits. … Liverpool will wear a patch for the 25th Anniversary of the Hillsborough tragedy for their final three home matches. … In England's third tier, Tranmere Rovers were forced to play in Colchester's away kit after the referee thought Tranmere's sky blue away shirts clashed with Colchester's royal blue (both from Yusuke Toyoda). … The rest from Trevor Williams: Sneak peak at the Burkinao Faso 2014 home kit. … Puma also redesigned the 2014 home kit for Gabon. … Chelsea unveiled a new red goalie kit that Petr Cech and/or Thibault Courtois will wear next season. … Atlético Huracán released their alternative kit for 2014.

College Hoops News: Here is a look at championship shirt designs that were created for UConn and Kentucky. Congratulations to UConn (thanks, Mike Chamernik).

Grab Bag: The developer of the Barclays Center in Brooklyn is going to coat the arena's dome with a green roof. The rendering looks pretty interesting. … NASCAR news: Stewart-Haas cars added a decal honoring the Fort Hood victims (thanks, Phil). … Here's an article and visuals of the drug tax stamp designs from the 20 states that attempt to collect money on the illicit transactions (from Joseph Andersen). … The killer vehicles of James Bond are on display at London's Film Museum. … Last two from Brinke: 23 urban hacks made from New York City trash, and photos of NYC storefronts taken 10 years apart really show gentrification at an alarming rate.