If you can't see the slideshow above, click here
Man, what is it with these foreign geezer-rockers and their obsession with our sports imagery? First it was the Stones aping American sports logos, and now it's AC/DC selling MLB-, NHL-, and NFL-themed jerseys. (They have some CFL designs, too — you can see the full slate of offerings here.)
It might surprise you to learn that I like quite a bit of Aka Daka's 1970s and '80s material. Even saw the lads in 1988 at Madison Square Garden, don'tcha know. As for the jerseys, they're a mixed bag — just slapping the band's logo onto a jersey template works better in some cases than in others. I could say more, but nobody wants to get on Phil Rudd's bad side these days, am I right?
(Big thanks to reader Jeff Rinker for sending this one in.)
• • • • •
Click to enlarge
Clippers redesign sneak peek: The results of my recent Clippers-redesign challenge will be posted today on ESPN — link coming soon. are up now on ESPN. While you're waiting for that, you can see all of the submissions here. Shown above: One of the more interesting submissions, by reader Daniel Abela.
• • • • •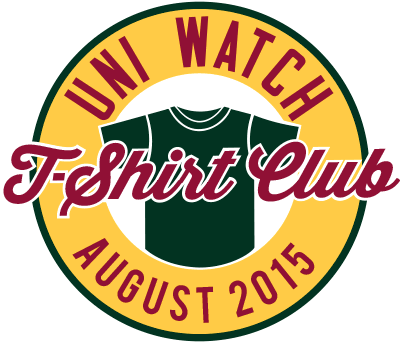 T-Shirt Club reminder: In case you missed it earlier this week, the Uni Watch T-Shirt Club's latest design — the green alternate shirt — is now available. And in response to reader requests, we've added a women's V-neck option, which comes in a slightly lighter shade of green. The men's crew neck and women's V-neck options are both shown below (click to enlarge):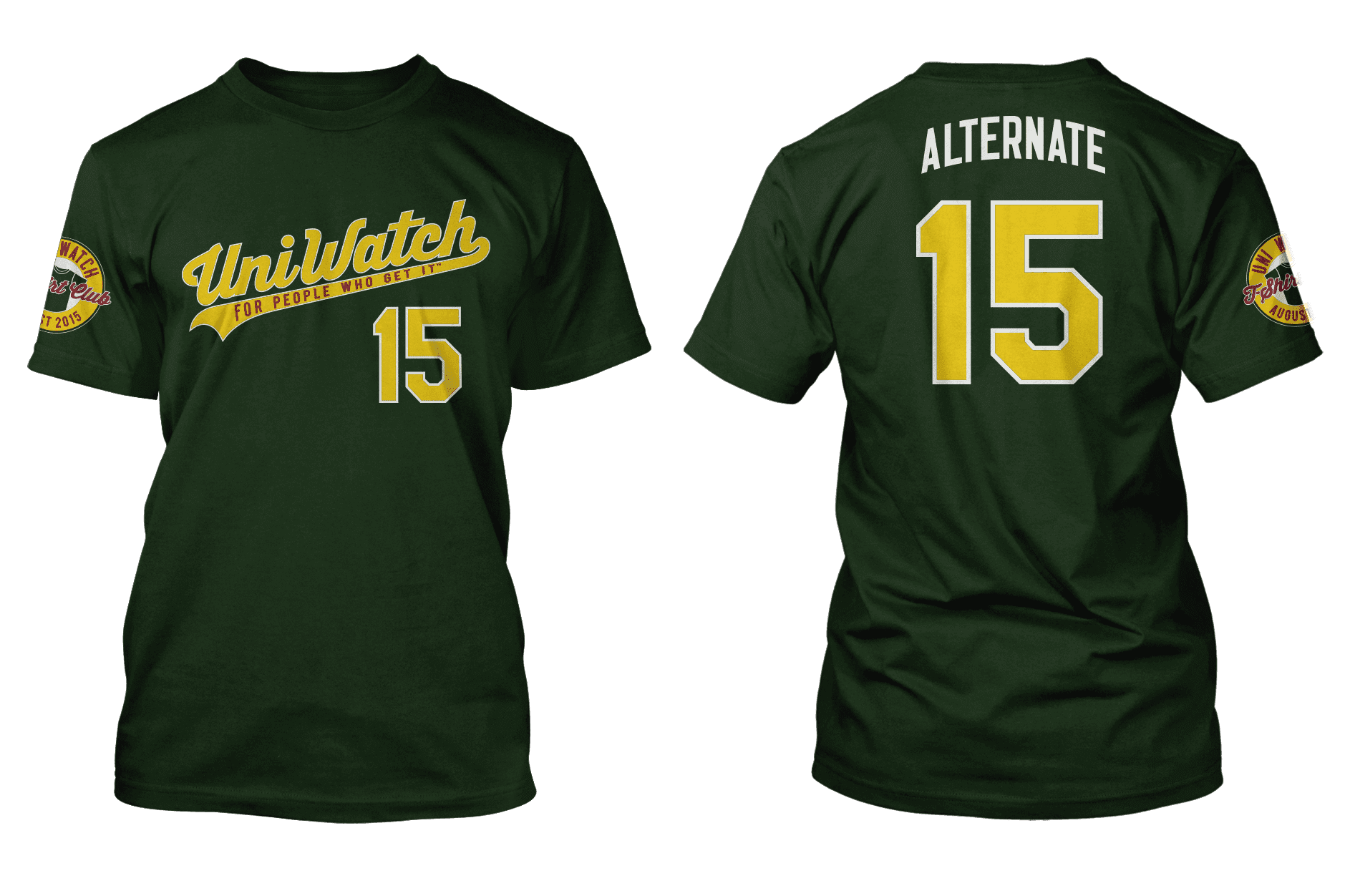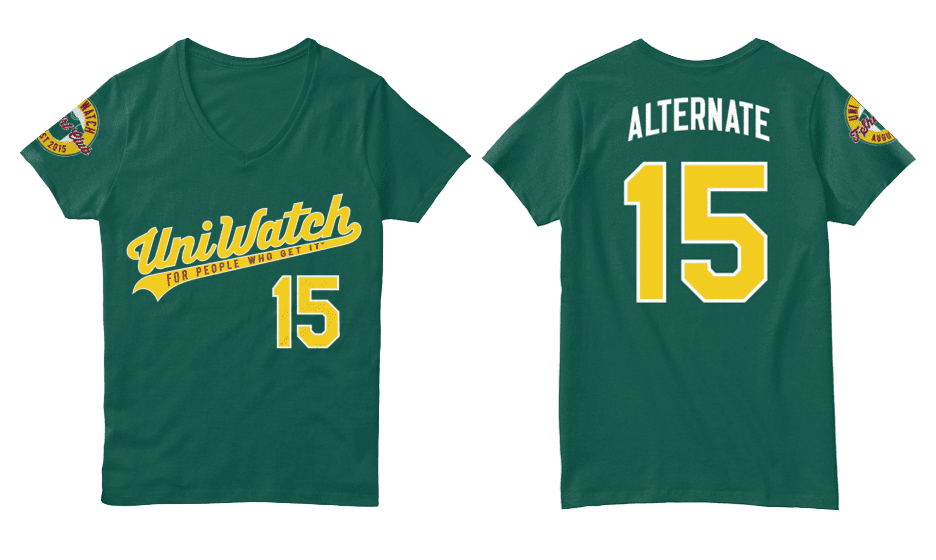 To order, go here, and you can get further info here.
• • • • •
If you can't see the slideshow above, click here
Too good for Catch of the Day: Our own Mike Chamernik recently pointed me toward a truly awesome web project: Tiny PMS Match, where designer Inka Mathew takes everyday objects — some found in nature, others manufactured or processed — and finds their exact Pantone color match. The resulting photos are simple, charming, ingenious, surprising, delightful (and Abrams Publishing apparently agrees, because they're turning the project into a book next year). I dare you not to love it.
• • • • •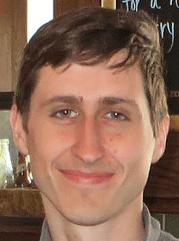 Mike's Question of the Week
By Mike Chamernik
The MLB All-Star break has been nice for me because I haven't had to think about my fantasy baseball team for the last few days. I'm in seventh place with a .500 record, and frankly I'm a little dismayed. Given the amount of time I've put in (like staying up until 2am to add/drop starting pitchers), I wish I were doing better.
One thing I do enjoy is my fantasy team name. I'm the Attack Crows, a reference to the old Loveline radio show. Okay, so even if I'm the only one who enjoys the homage, it's a strong name regardless. Crows are mean and really smart, and they look menacing. Also, a group of crows is called a murder — a murder of crows! Just a lot to like.
What are some of the best team names you've used, whether for fantasy teams or real teams (softball, bowling, whatever), and why did you choose them? As always, post your responses in today's comments.
•  •  •  •  •
The Ticker
By Mike Chamernik

Baseball News: The Angels will hand out Irish flag caps tomorrow (from Josh Claywell). … The Orioles will give away a Maryland-themed O's bobblehead on Aug. 1 (from Andrew Cosentino). … During last night's Triple-A All-Star Game, OF Dariel Alvarez of the Norfolk Tides wore a Louisville Bats batting helmet (from Tyler Stern). … Also during the All-Star Game, Jackie Bradley Jr. had some stickers or something on the bill of his cap. Anyone know what that is? I didn't see them on other players (from Brian Mazmanian). … Supermodel Christy Turlington helped show off the Giants' new jerseys at their 1994 unveil. … Umpires traditionally wore blue. That's not quite the case anymore (from Phil). … @dmoon sends in a cool shot of former outfielder Al Schacht leading a band while wearing a baseball uniform at the 1940 World Series. … Two minor league teams, the Durham Bulls and the Carolina Mudcats, have kept a consistent logo and look over the years but have still sold plenty of merchandise (from Ryan Burns). … When the Fort Wayne minor league team was renamed the TinCaps six and a half years ago, one of the nicknames considered was the Octane. So, the TinCaps held a "What Could've Been?" Night last Friday. … Andy Moursund wants help identifying both this object and what team might be depicted on it. A friend of his included this information: "At the Chantilly card show last weekend, some of the dealers who looked at it thought it was from the early 1900s. I think it is the top of a biscuit box." … Chris Kite found a nifty (and really small-looking) Little League uniform at an antique sale in Smithfield, Rhode Island.

Pro Football News: Here's a GIF of the evolution of the NFL's logos, displaying all the teams alterations in chronological order (from Josh Claywell). … The other night, Boltman, the Chargers' mascot, wore his full outfit and spoke in front of the San Diego City Council in favor of a proposed $2.1 million feasibility study for a new football stadium (from Kary Klismet). … New helmets for the Colorado Crush. … Testing out the old leatherhead helmets was a bit more primitive back in the day (from Aaron Husul).

College and High School Football News: What Woodward and Bernstein were to Watergate, Andrew Cosentino is to the new Virginia Tech practice facility. The place hung some new graphics and the field even has a name: Patrick D. Cupp field. … New uniforms for Montana State (from @HighImCody). … The Helix Highlanders, a high school team in California, have a trippy plaid endzone, designed by Brandiose (from Rich Cando). "¦ Miami's new uniforms, which will be unveiled this weekend, will be available at retail in only two numbers — 1 and 15 (from Mike McLaughlin). "¦ Check out this makeshift-looking jersey that Warren Sapp wore during the 1994 AP College Football All-American Team TV special. Like, did he lose his regular jersey on the way to the studio or what?

Hockey News: New logo and uniforms for the Milwaukee Admirals. It's a little bit of a mix of the team's old and most recent designs. Additional info here. … The new National Women's Hockey League is allowing fans to vote on all four teams' jersey designs (from Bill Erdek).

Soccer News: Bastian Schweinsteiger transfered to Manchester United. The customized replicas on sale now can't fit his full NOB (from Peter Schultz). … New kits for Everton (from Andrew Rader). … New uniforms for Panathinaikos FC Athens (from Zak Ioannidis). … New jerseys for Georgia State women's soccer (from @w_cafferatta). … Tottenham Hotspur's new away kit goes on sale tomorrow (from Shaun Sullivan). … New third jersey for West Virginia (from Matt Idleman).

Grab Bag: Michigan's contract with Nike is $169 million over 11 years, which will be the richest deal in college sports (from Phil). … The Mexican swim team wore sombreros at the Pan American Games last night (from Phil). … The FIVB World League Final Round in Rio de Janeiro will have an LED net. I guess a regular net just isn't acceptable (from Andrew Horne). … David Firestone examined a 26-year-old Colorado Lottery ball. Cool stuff! … I believe we've seen plenty of articles detailing the history of throwback sports clothier Mitchell & Ness, but here's another piece on how it's gotten to where it is (from Phil).