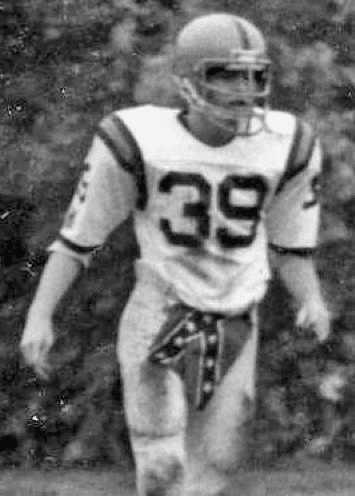 As I'm sure you're all aware, the nation is currently in the midst of a robust discussion about the Confederate battle flag. That discussion has spilled over into the sports world, as NASCAR chairman Brian France has said that he wants the flag eliminated at races. I wrote about the intersection of the flag and uniforms myself in 2011, when I wrote an ESPN piece about a Yankees minor league affiliate that wore the flag as a sleeve patch.
I realize that many high schools and colleges in the South have worn the Confederate flag in various capacities over the years. Maybe some of them still do — I'm not sure. But over the past few days I've learned of a new wrinkle: A surprising number of northern high schools — schools located in states that fought for the Union during the Civil War — have worn the flag. Here are three examples:
1. Great Neck South High School on Long Island, whose teams are called the Rebels, used the Confederate flag as its logo until 1981. (That's one of their players shown at the top of this entry.) According to that article, the mother of a black student even sewed Confederate flag patches onto the football team's uniforms.
2. From a reader who prefers to remain anonymous: "Walpole High in Massachusetts had the flag until the mid-1990s. A guy who graduated from the school in the 1960s and now lives next to the football field still flies it, even though town asked him to take it down."
3. Twitter user @holycalamity pointed me to this story about Willoughby South High School in Ohio, whose teams are called the Rebels. Key passage: "In the mid-'90s, the school board voted to ban the flag, removing the symbol some find offensive from school grounds and from all athletic apparel. However, fast forward more than 20 years, and you will still find some students with the controversial flag embroidered on their letterman jackets, despite the fact they're not able to wear them while at school."
Now, I'm aware that the Confederate battle flag is flown by people all over the country, not just in the South. I've traveled in 49 states and have probably seen the flag in about 35 of them, almost always in rural areas, where it serves as an all-purpose "Don't fuck with me, I'm living life by my own rules" symbol. (I'm also aware that "Rebels" is an appealing team name for some folks, although, as we've discussed before, that appeal is mostly predicated on bullshit.)
Still, there's a big difference between a person choosing to display a symbol and a school (which, as a civic institution and an agent of the state, is supposed to represent everyone) adopting that symbol as a logo, especially in a state whose citizens died while fighting against that symbol. Whether you think the Confederate battle flag is a symbol of Southern heritage or a symbol of racial oppression, it's pretty remarkable that it was adopted as a symbol for northern high schools. While all three of the above-listed schools have stopped using it, it's amazing to me that they ever used it at all. How about you?
Update: Some commenters are using this topic as an excuse to debate whether the Confederate battle flag is "offensive," whether it should be removed from the South Carolina statehouse grounds, and other tangential issues that have nothing to do with the topic at hand. I ask that you all respect these ground rules: We are not going to relitigate whether the flag is a symbol of Southern heritage or of racial oppression, nor are we going to debate the appropriateness of its place in South Carolina (or on license plates, etc.). The topic up for discussion is the surprising sight of a Southern symbol being used by schools and teams in the north. Please stick to that. Thanks.
•  •  •  •  •

Baseball News: "I had lunch in Columbia, Maryland on Sunday," says Andrew Hoenig. "In the hall outside the restrooms, they had this hooked rug. That's Ty Cobb, and the uni is correct, but I have no idea who the other guy is, or what team he plays for." "¦ Brewers OF Carlos Gomez has such a violent swing that his helmet pops off," says Mike. "It happened yesterday against the Twins, so C Martin Maldonado hooked Gomez up with a makeshift 'chinstrap' for his helmet." "¦ Also from Mike: "Robinson Cano was hit in the face by an errant warm-up throw while sitting in the dugout the other day. While in the dugout on Sunday, he put on a catcher's mask to prevent further injury." "¦ I've mentioned many times that Tigers P David Price usually doesn't have a squatchee, going back to his days with the Rays. Apparently this was discussed on the air during yesterday Tigers game, with the announcers saying Price doesn't like the feel of the squatchee, which he refers to as "the ouch button." How great is that?! (From @drmain5.) "¦ Lots of striped socks in Pittsburgh yesterday, although Andrew McCutchen went with two-in-ones). "¦ Mariners P Felix Hernandez, usually a dedicated pajamist, went high-cuffed yesterday. That's nice to see, but what's with the solid navy socks? Didn't the M's officially switch to striped hose this year? Reliever Mike Lowe also sported the navy socks. Further depressing confirmation that hosiery in today's MLB is just another player-customizable accessory, not a uniform element. Sigh. "¦ Speaking of socks, check out what the Salt Lake Bees wore yesterday. Yowza! (From Jason Stapley.) "¦ Last September Todd Radom created some updated versions of the Mets' logo. One of them replaced the bridge in the foreground with the High Line. That logo somehow made it onto a local TV news broadcast here in NYC yesterday (good catch by Matthew P. Hanes IV). … Here's a look at the history of the All-Star Game MVP trophy (from Brian Lorello).

Hockey News: Looks like the Coyotes' new uniforms (which Phil covered in depth on Saturday) will have captaincy letters on the right side of the jersey. "¦"Here's an observation from the NHL draft," says M.Q. Grimes. "All drafted players had the draft year — 15 — on their jerseys, except for Connor McDavid — the Oilers presented him with a No. 97 jersey, which is his number." "¦ Some beer league hockey team wears Astros tequila sunrise jerseys! (From Alvin Burk.)

Soccer News: New kit for Kawasaki Frontale (from @holycalamity). "¦ "I visited and toured Tottenham's White Hart Lane last week," says Morris Levin. "On the bulletin board in the home locker room (which did not actually have lockers) was this sheet of UEFA uni rules." "¦ Last week was MLS's Rivalry Week, and the league commissioned Futbol Artists Group to create cinematic posters for the five rivalry games (from Yusuke Toyoda). "¦ The Red Bulls and NYCFC went blue vs. blue. "¦ Someone gave rapper Pharrell Williams a Monaco jersey with a double-decker FNOB.

Grab Bag: New marching band uniforms for UT-Arlington. "¦ Many members of the Auburn Giants — that's a women's Australian rules football team — are Muslim, so they play while wearing a headscarf, long sleeves, and long pants (from Graham Clayton). "¦ Good story about how UNC started using argyle on its teams' uniforms (thanks, Phil). "¦ Here's a good look at how the Star Wars stormtrooper uniform has evolved (from Bob Kile). "¦ Some idiot in Arkansas went on a rant about his local NBC TV affiliate changing its logo to "gay colors," apparently not realizing that NBC's logo has had rainbow-ish peacock colors for years. "¦ In a related item, Yahoo really did change its logo to rainbow colors (as did many other sites on the web) after Friday's Supreme Court ruling affirmed a Constitutional right to same-sex marriage. When a Yahoo user objected and said he wanted to delete his Yahoo account, the company's tech support group sent him a link to help him delete the account as quickly as possible. … Convicted murderer and prison escapee David Sweat, who was shot and captured yesterday after several weeks on the run, was wearing some pretty nice striped socks when he was apprehended.