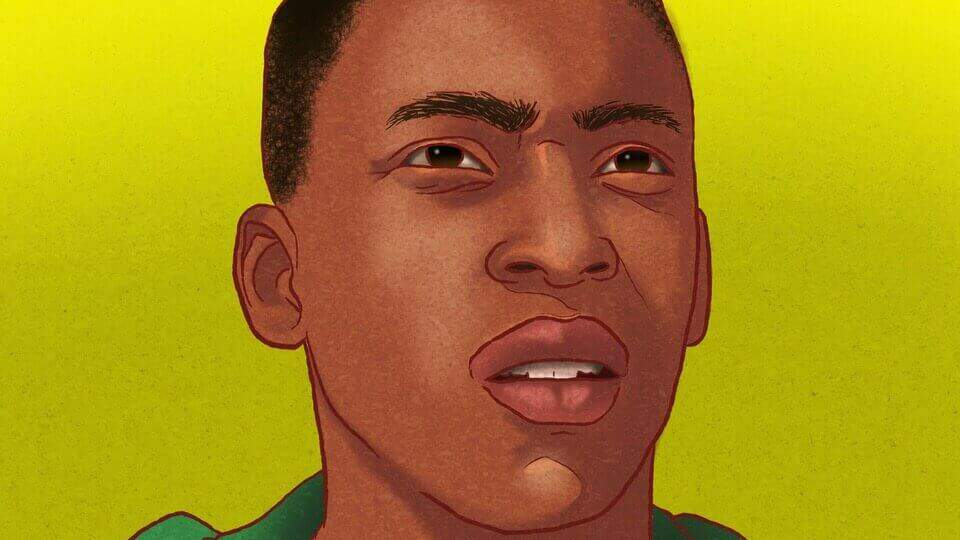 Greetings and a very good Saturday to all. I hope everyone has had a great week.
Several weekends ago, I introduced you to artist Anthony "Ant" Giaccone — if you missed that, click here. In that piece, we took a look at some of baseball's "Boys of Summer," and that was followed by this piece, which featured Ant's sketches of football greats from that sport's golden era.
Ant returns again today, with some looks at hockey, basketball and soccer greats — just some of the dozens of drawings Ant has sent me. Ant also sent me a "corrected" sketch of Otto Graham (some comments from that day led Ant to want to produce a new and improved version). Not only will we look at some additional uniform-based sports in today's piece, if you read Ant's introduction, you'll note he'll be taking reader suggestions for some more sports personalities — so if there's a player you'd like to see sketched, drop a suggestion in the comments and maybe Ant can make it happen!
Without further ado, please welcome back Anthony as today we cover…
• • • • •
Puck, Hoop and Footy Uni-based Art
by Anthony "Ant" Giaccone
Hello Uniwatchers!
Once again, I have been given an amazing opportunity on this fine website to showcase my work. With my love of art, sports, and of course, uniform aesthetics, I present another round of my illustrations. I hope you enjoy them…and now that you've seen my work (and with Phil's permission), I welcome any suggestions or requests you may have that can be showcased sometime in the future.
So let's get to it!
__________
Gordie Howe: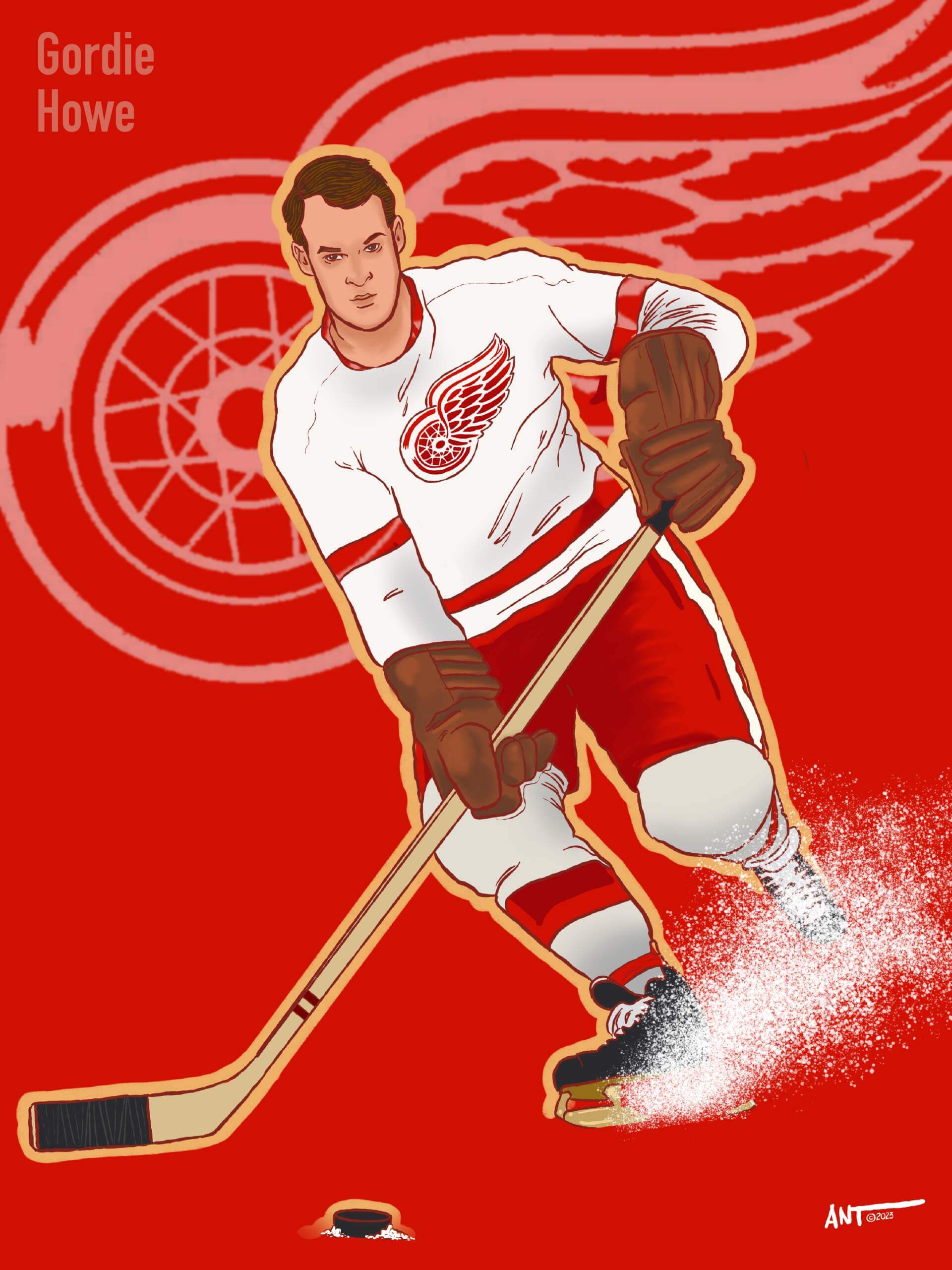 I love hockey jerseys. I have about a dozen of them. The first one I ever purchased was this one: a Detroit Red Wings away jersey. I love this logo. As an art school graduate and sports geek, this is perfection. The wing and wheel represents power and speed. This classic logo has remained almost unchanged since its debut in 1932. With that in mind, "Mr. Hockey" just had to be my first hockey illustration. He played 26 seasons — 1,767 games of which 1,687 were wearing this jersey.
__________
Wayne Gretzky: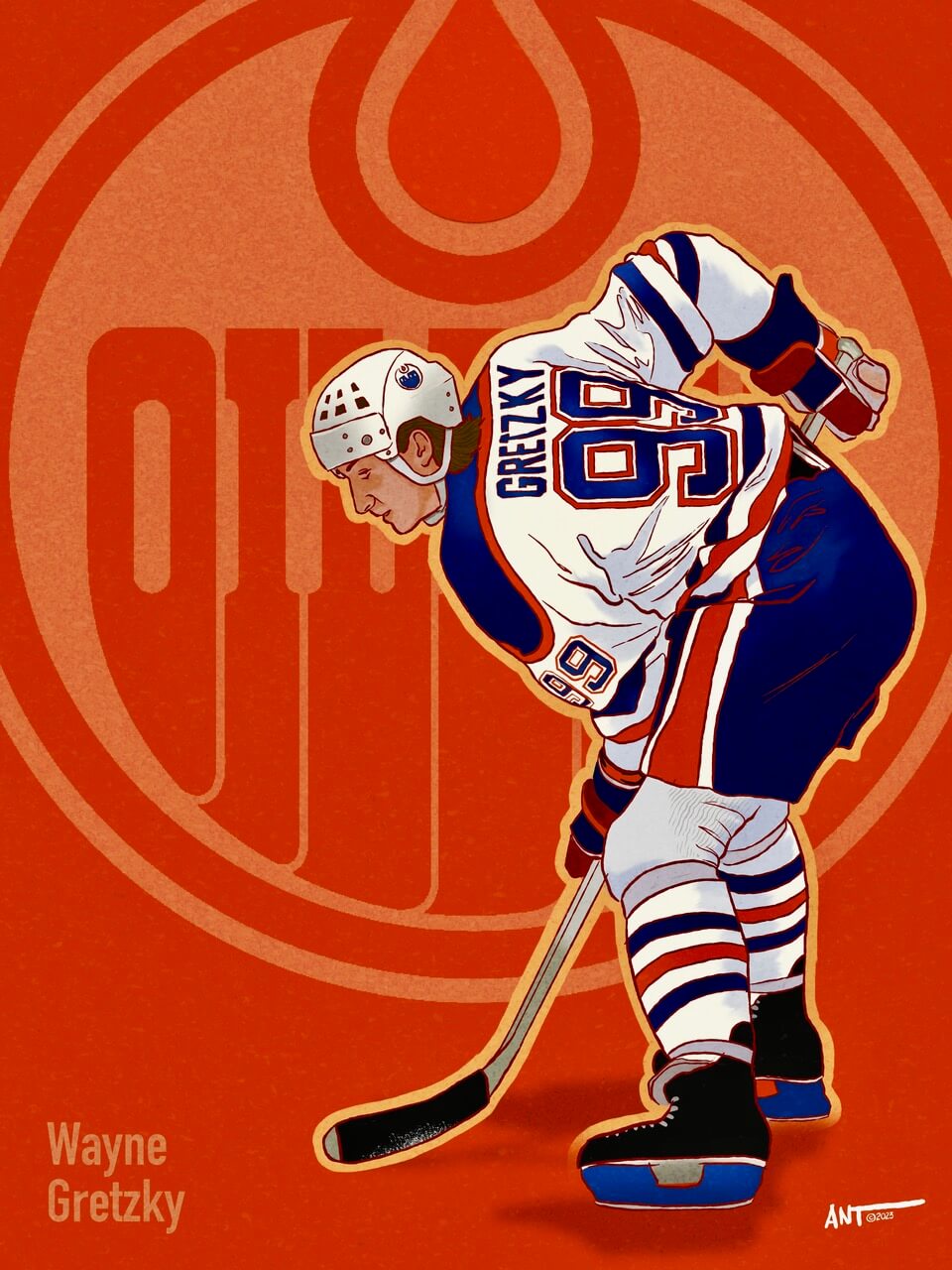 So how do you follow up "Mr Hockey"? …with the "Great One" of course! I chose to illustrate Gretzky in his prime wearing the Edmonton Oilers away jersey showcasing his iconic number 99. Wayne Gretzky started wearing the #99 when numbers higher than 30 were almost unheard of for pro hockey players. The now famous story of Gretzky wanting to wear the number of his idol, Gordie Howe's #9 was prohibited because of a teammate having that number took a turn when Phil Esposito and Ken Hodge were traded from Boston to New York and began wearing Nos. 77 and 88. Today it's a common sight to see hockey players wearing high digits — including a certain MVP outfielder for the Yankees.
__________
Brian Leetch: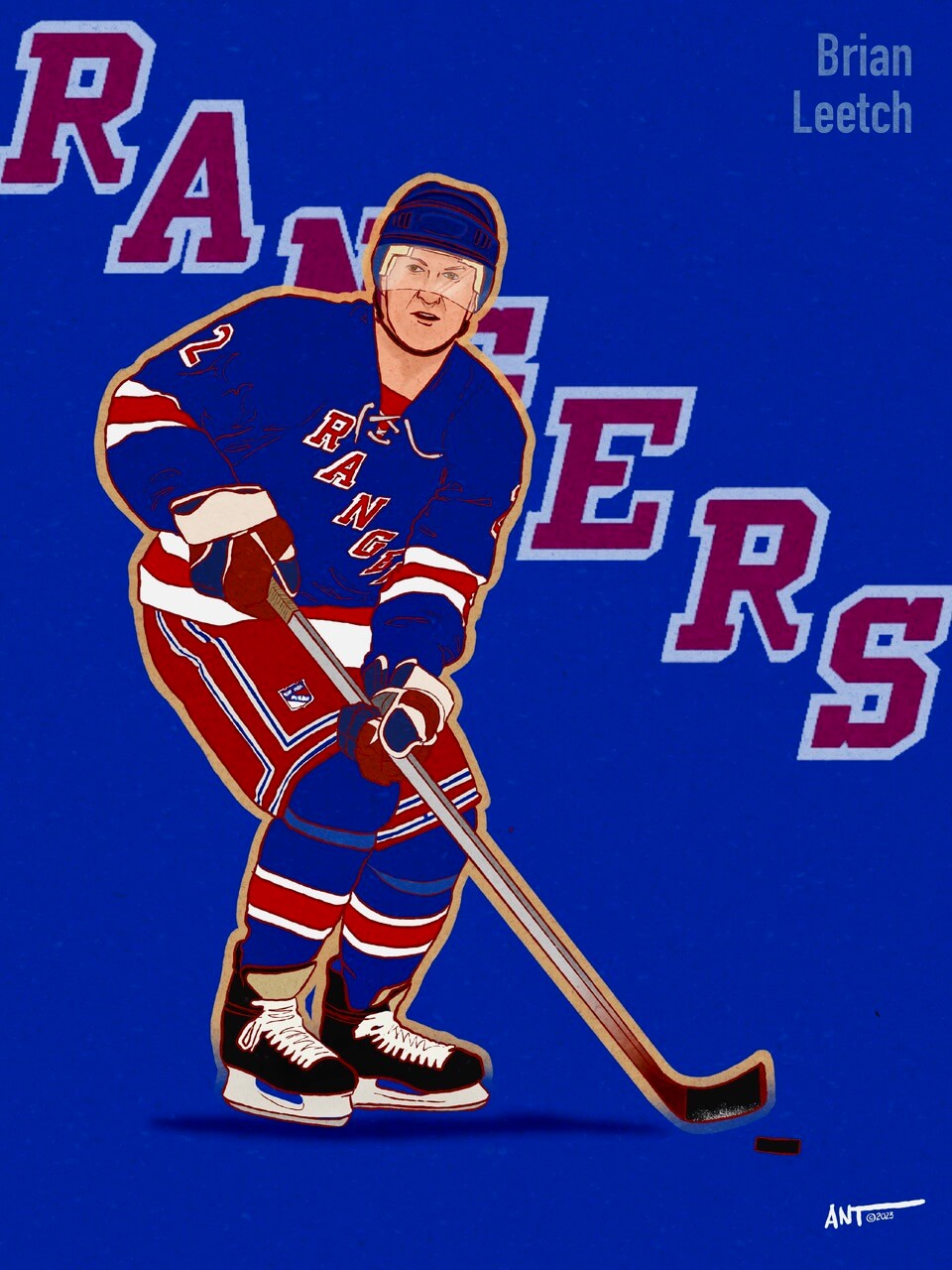 As a native New Yorker, I am a Rangers fan. Brian Leetch was called, "the Greatest Ranger of All-Time" by none other than Mark Messier. His number 2 was retired by the Rangers back in 2008. Historically, we tend to think of professional hockey players as being Canadian. But Brian Leetch was born in Texas — which makes it ironic that he became one of "Tex's" Rangers. (Look up the history of the name). I captured Leetch wearing his "Broadway Blueshift" home sweater. This jersey has remained pretty much the same since its introduction back in 1926.
__________
Ken Dryden: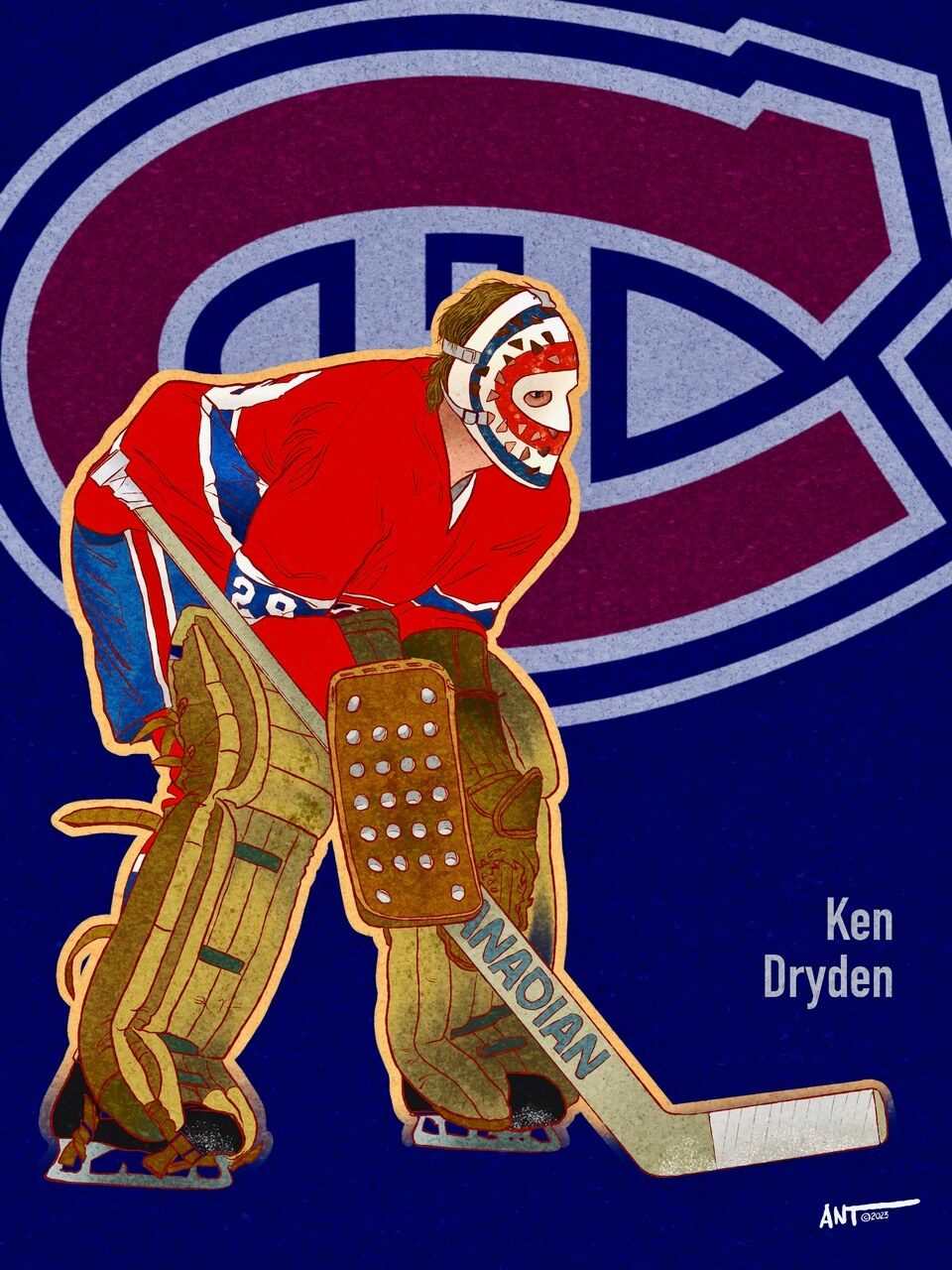 So I drew a few hall of fame hockey players but something was missing… One was a Canadien. And the other was a goalie. So to fix that, I chose to draw 6'4" "four-storey goalie" Ken Dryden. It has everything: the classic and still iconic Montreal Canadiens uniform, the seldom seen anymore old-school brown leather pads, and one of the most iconic hockey goalie masks ever. Ken Dryden's "target mask" was created by James Homuth, who was a professional firefighter and a recreational goaltender from Ottawa who made hockey masks as a hobby. Dryden felt a mask design should be simple and should be seen by fans from the top level seats of the arena or at home. He wore this model from 1975 to 1979, with the Habs winning four straight Stanley Cups.
__________
Basketball Series: Paul Bailey, an avid Uni-Watch reader, contacted me through instagram (IG: art_x_ant) and asked, "Do you draw any NBA Legends?" My first impression was, "Holy crap! Someone wrote me about my art! The second impression was to get to drawing a few of the legends Paul requested. Looking through his list I noticed a few of them had iconic nicknames. It was game on! (Note: each of these took about 60 minutes each. Like a shot clock, I tried to do these quickly as a drawing exercise)
__________
Walt Frazier: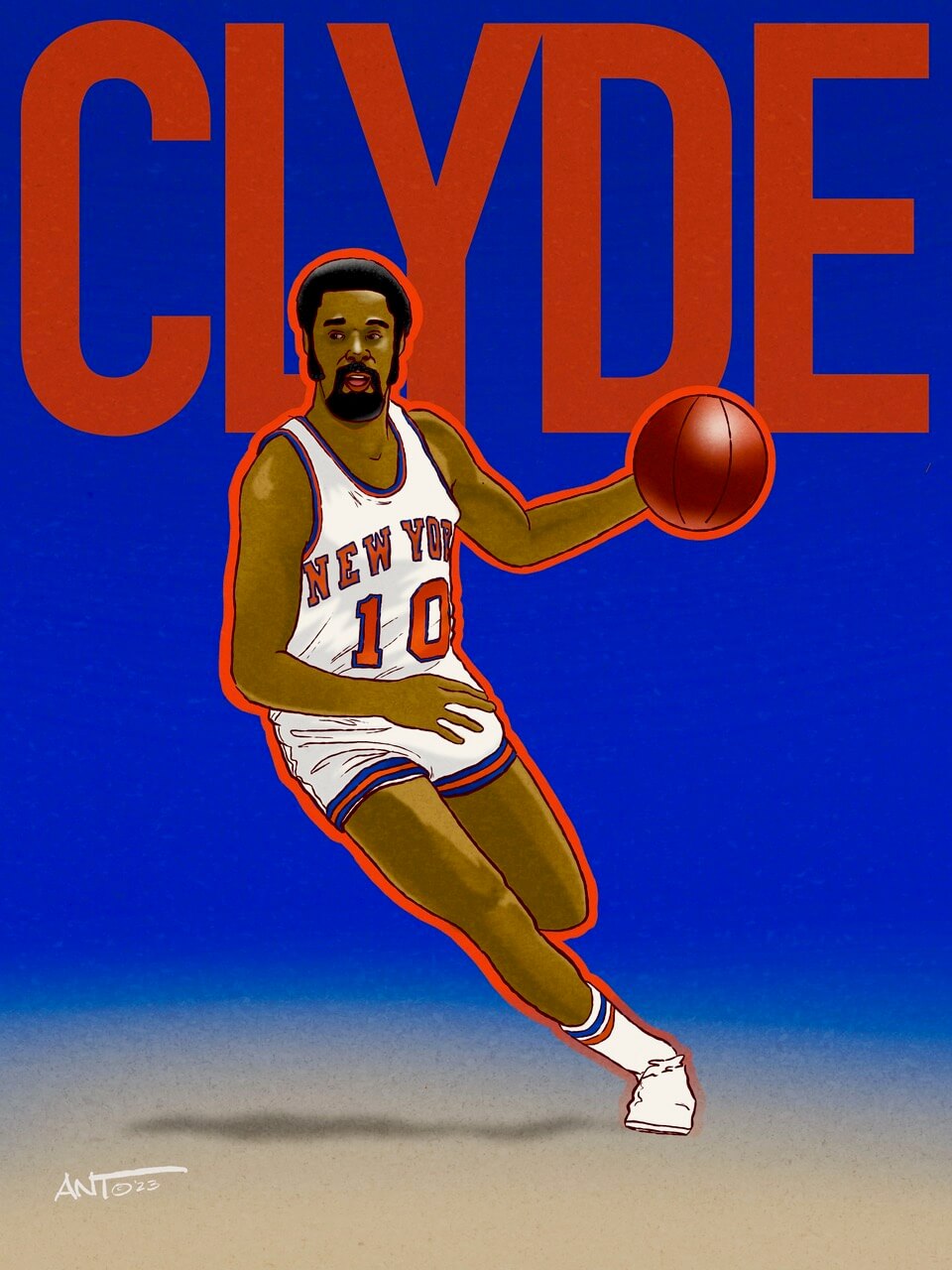 The first NBA legend I drew was none other than Walt "Clyde" Frazier: New York Knicks point guard from 1967-1977. Winner of two NBA titles with the Knicks. I thought I'd draw him in action wearing the classic mid 70s' home Knicks uniform. Clyde truly is poetry in motion. One day, I'll need to draw Mr. Frazier in his classic 70's outfits outside of the arena. …If you know, you know!
__________
Pete Maravich:
This was another of Paul Bailey's legends. "Pistol Pete" Maravich: One of the youngest players ever inducted into the Basketball Hall of Fame, and considered one of the best ball handlers ever. I drew Pistol in his classic New Orleans Jazz home uniform, where he played from 1974 to 1979. Sadly, Pete Maravich passed away at the age of 40 due to an undetected heart defect.
__________
Oscar Robertson: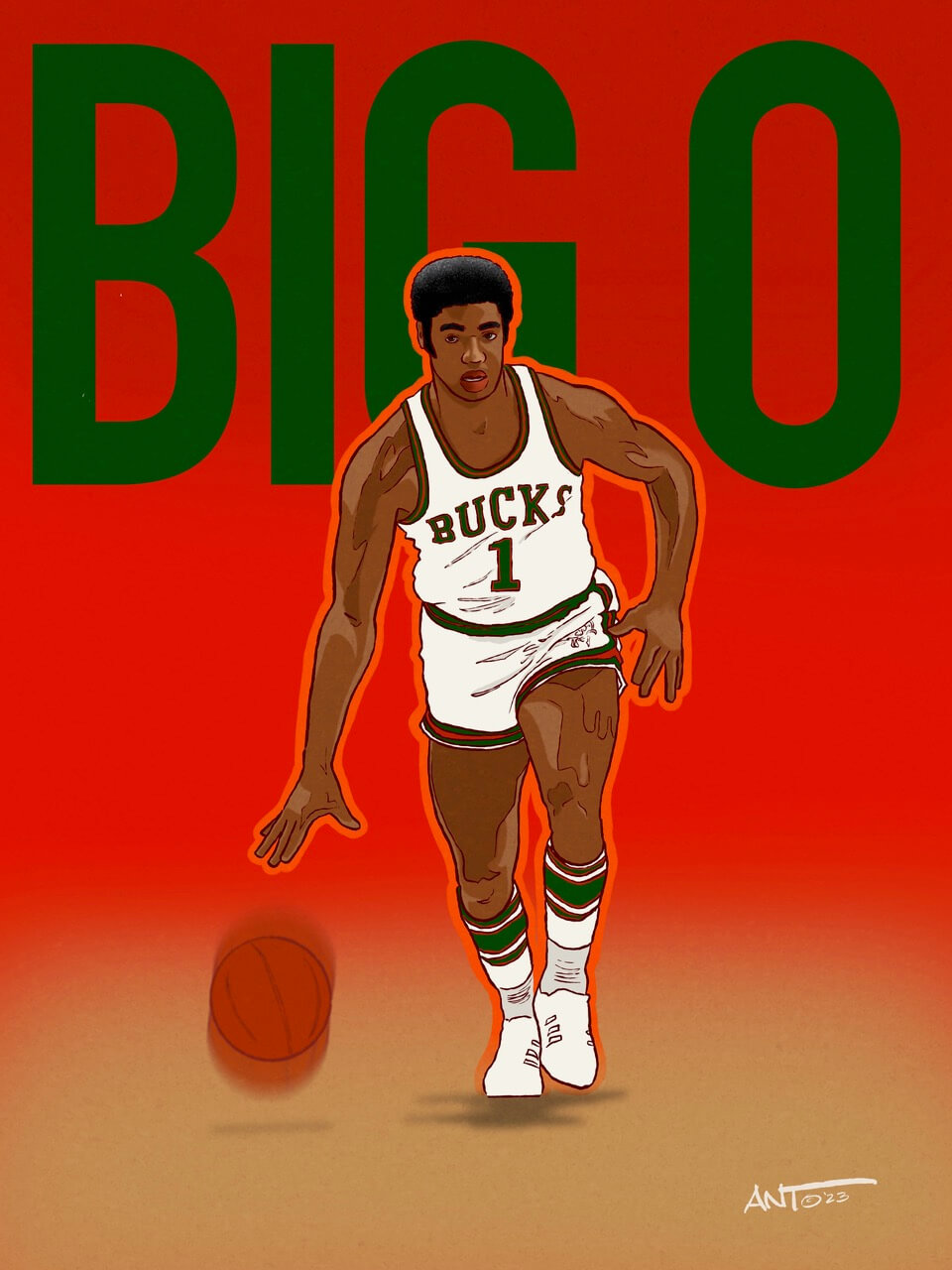 When I played basketball in High School, our coach would tell us — constantly — to play like Oscar Robertson. You have to remember, this was a player none of us had seen play. That being said, he is ingrained in me thanks to Coach Debenedetto. "The Big O" according to Coach D, was the greatest all-around player of his generation. He compared him to Willie Mays. He basically "created" the triple-double. I drew Mr. Robertson wearing his home Bucks uniform from circa 1971.
__________
Julius Erving: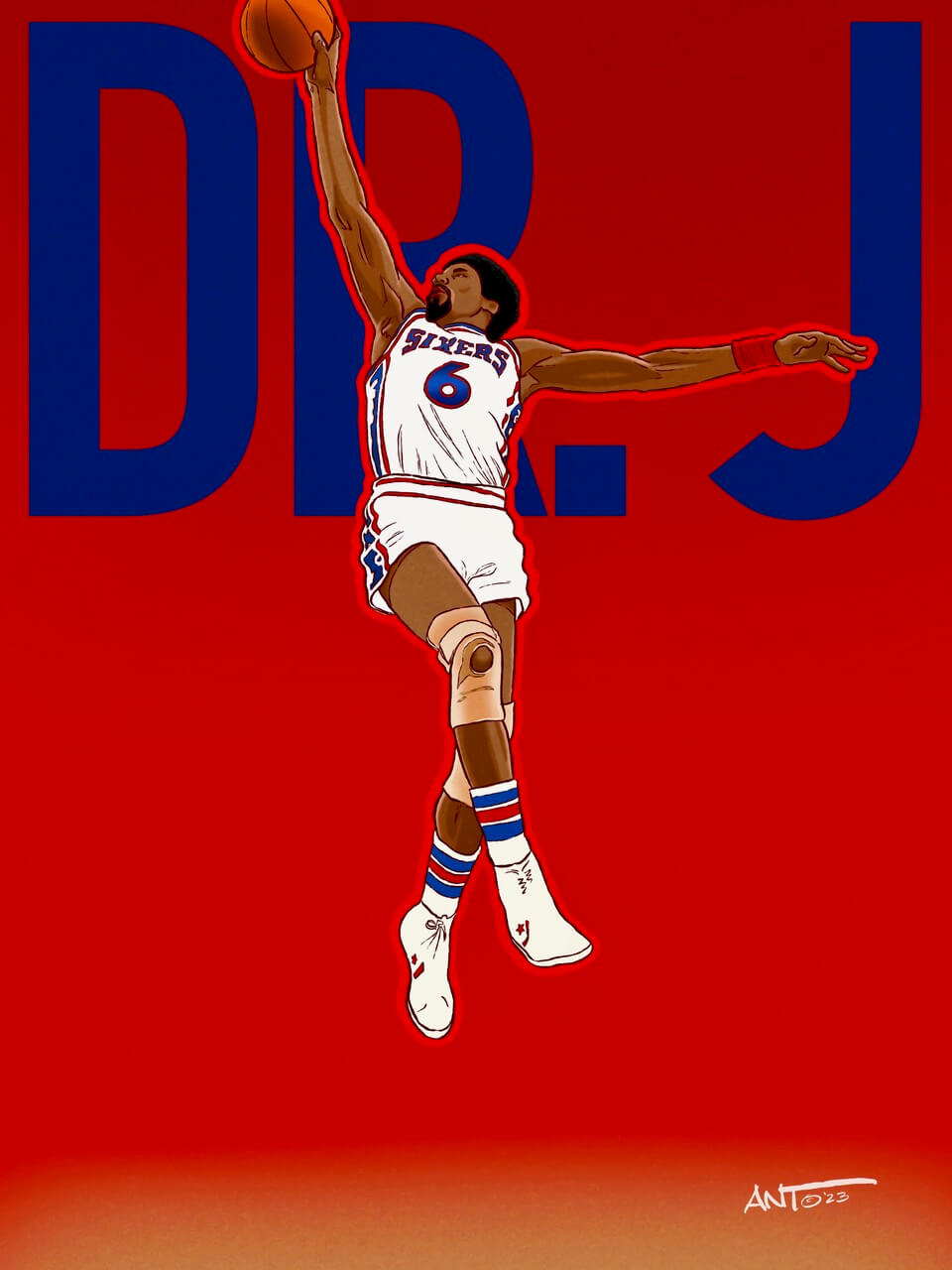 No legendary basketball nickname would be complete without mentioning the one and only "Dr. J". I could literally stop writing here and you could piece together his playing style, impact, and gravity defying dunks in your mind. According to Wikipedia, "Erving utilized the dunk more as a high-percentage shot made at the end of maneuvers generally starting well away from the basket and not necessarily a show of force helped to make the shot an acceptable tactic, especially in trying to avoid a blocked shot." And if you're gonna draw Dr. J, you gotta draw him doing two things: 1. Dunking. 2. Wearing the home Sixers jersey with the iconic #6. (Note: most people think he wore #6 because he was the star of the Sixers. No. He wore #6 because of his hero, Bill Russell.)
__________
I need to do a proper series on Soccer stars but here are two giants to whet the appetite.
Pelé: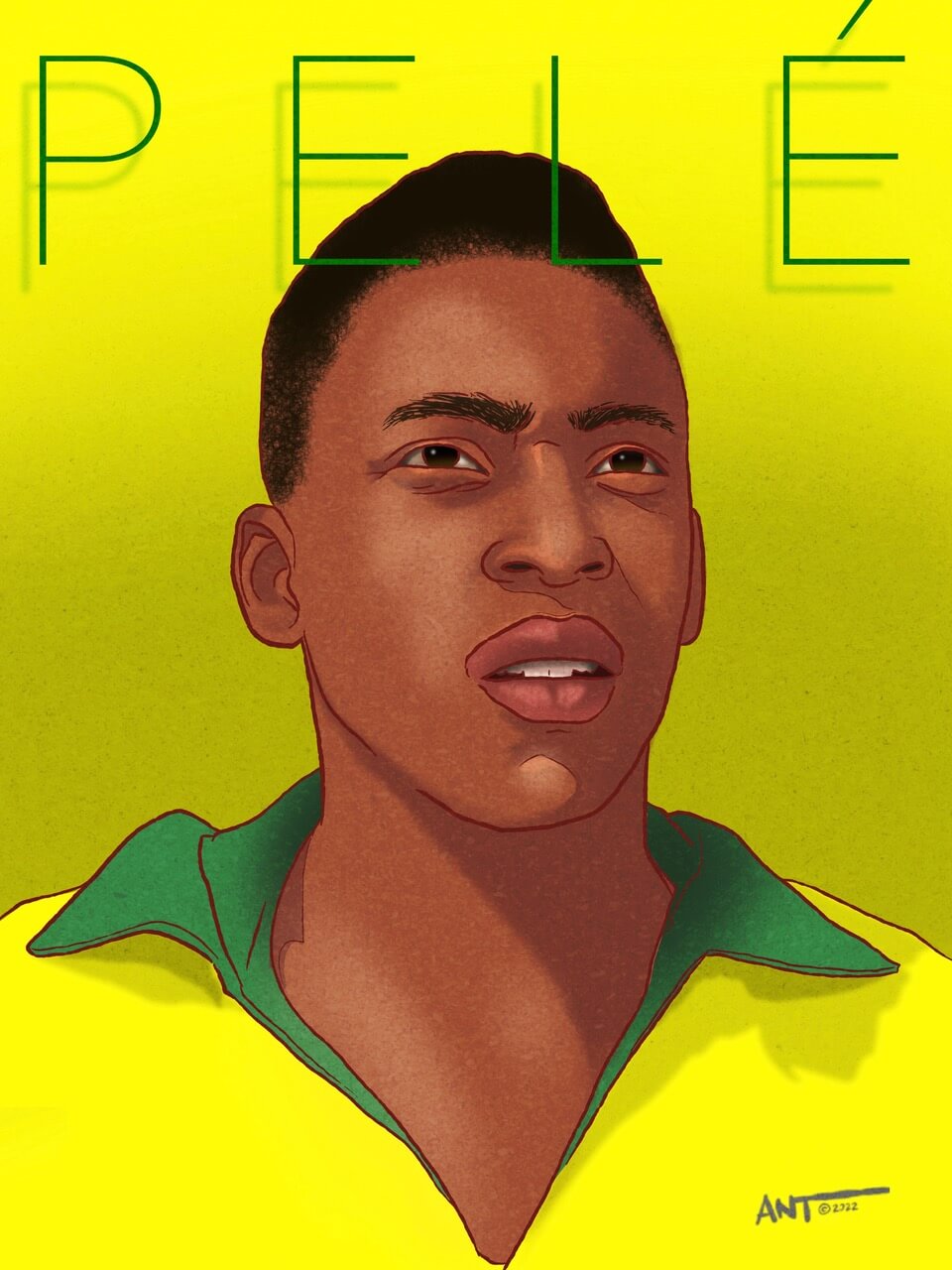 I wanted to pay respect to Pelé (one of the greatest, if not THE greatest football players ever) when he passed away. I was lucky enough to see Pelé play when I was a little kid. My dad took me to see him play for the New York Cosmos in 1975 at Downing Stadium on Randall's Island. There are maybe a handful of sports stars in the entire world that are known by just one name — He has got to be at the top of the list.
__________
The other person known by one name would be this guy…
Lionel Messi: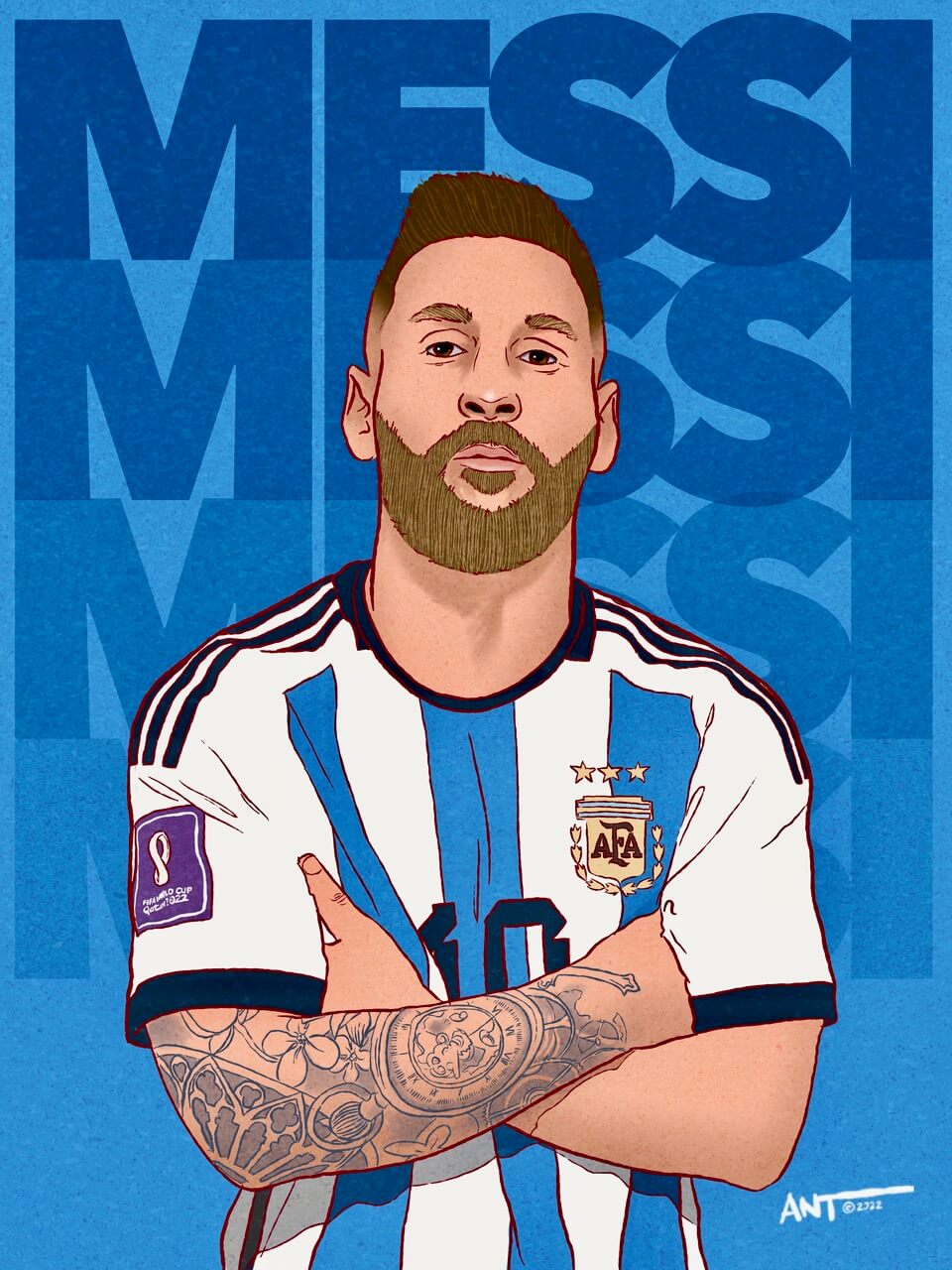 In celebration of Argentina's third World Cup win, I chose to draw the Great Messi in his national kit highlighting the three stars above the Argentinian crest. Like Pele, Messi wears "the sacred number" #10.
__________
MULLIGAN:
Mulligan (noun). an extra stroke allowed after a poor shot, not counted on the scorecard.
Sometimes in life, you do something you with you could take back or get a "mulligan" on. In the last series that Uni Watch showed of my work, I made a comment about how I felt about my illustration of NFL Legend Otto Graham. Well, in light of my comment, Phil was kind enough to let me fix that…and here it is. I feel it's much better than the one I did previously. But to represent the Cleveland Browns a little better for their fans, I need to do on of Jim Brown, Bernie Kosar, Clay Matthews, or Ozzie Newsome. What say you Uni-Watch fans?!?!?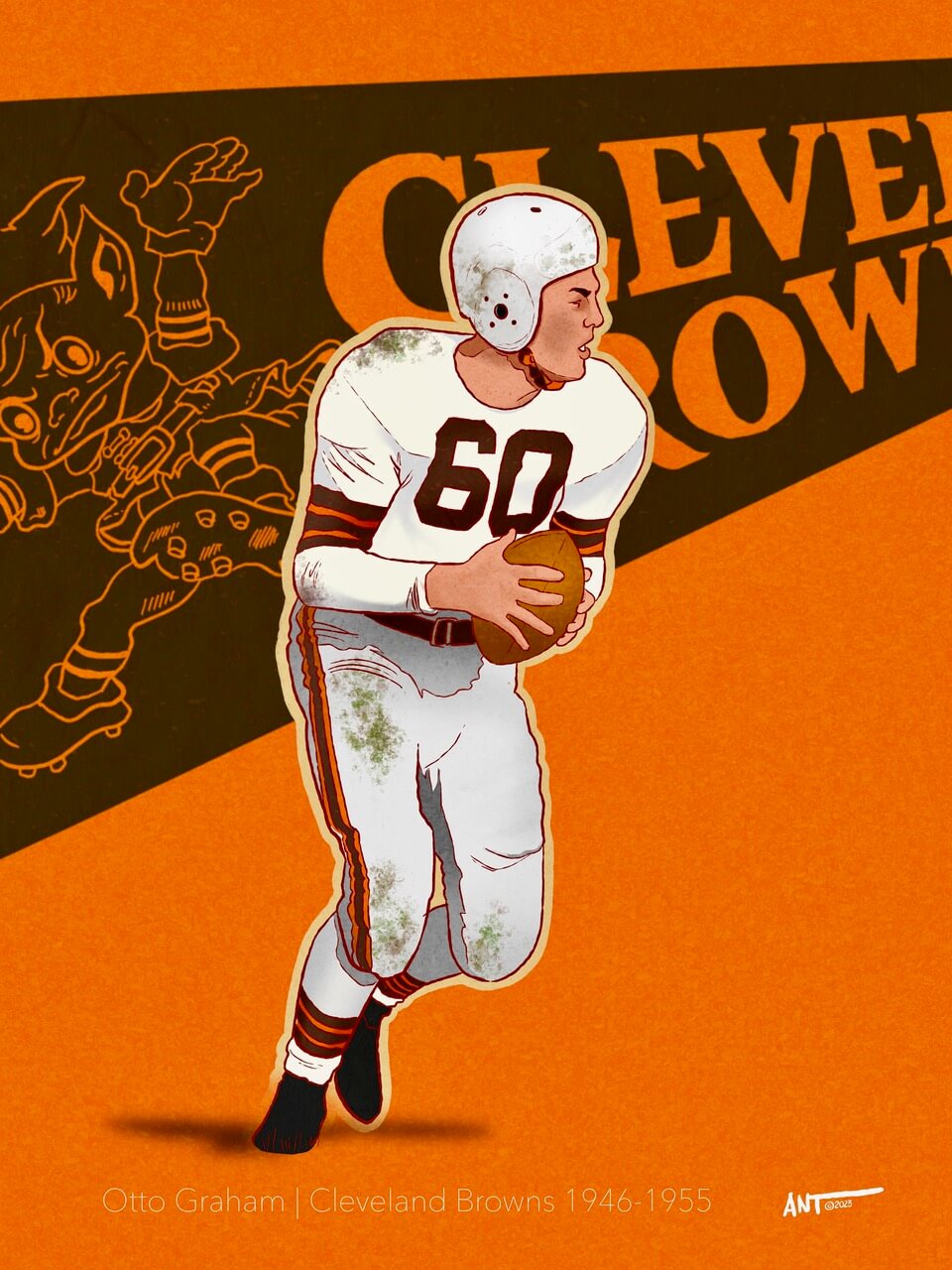 • • • • •
Thanks (again) Ant! Another great multi-sport uni-related art show. And thanks again for the offer to have readers pick an athlete in uniform for you to sketch — hopefully you'll get some great suggestions that we'll showcase at a later time! Readers — have at it!!!