[Editor's Note: Today we have an interesting thought experiment from longtime reader Bud Parks, who has a modest proposal for MLB that I think will spark some lively debate. Enjoy! — PL]
By Bud Parks
This may be an unpopular opinion around here, but I actually love what Uni Watch and others often derisively refer to as MLB "softball tops." Colored jerseys inject some visual interest into the game, and you can still tell the home team from the road team by looking at the pants.
With the Mariners and Rays both recently eliminating their road grey jerseys in order to fit within the new "four plus one" rule, I've been wondering which other MLB teams might follow in their footsteps by using one of their existing alternate jerseys as their primary road look. I realize that might sound like the apocalypse to some people reading this, but look at it this way: If softball tops become more widespread on the road, it might result in more frequent use of home whites!
So I looked at all 30 MLB teams and, for each of them, asked this question: Should they keep their road greys, or should they replace the greys with one of their existing softball tops? As I tried to determine the answer, here are some rules I tried to follow:
When looking at a team's inventory of existing alternate jerseys that might be redesignated as the primary road jersey, I only considered existing "normal" alternates — no City Connects, no jerseys from the past, no imaginary concepts.

I gave priority to preserving wordmarks or caps. For example, if the Orioles got rid of their grey jersey, they would no longer have any jerseys with their "Baltimore" script, so I decided to let them keep their greys. By contrast, the "Cleveland" wordmark on the Guardians' grey jersey is repeated on their navy alternates, so we can (and should!) scrap the greys without scrapping the wordmark.

None of my suggestions should be interpreted to mean that a team's other softball top(s) would be off-limits on the road, nor am I saying that my picks should be worn only on the road from now on. They are only meant to suggest a new primary road look.
With that in mind, here are my picks for what every MLB team's road uniform should be, based on their existing wardrobe. 
American League East
Baltimore Orioles
In this case, the road grey has to stay, because the O's don't have any other jerseys with a "Baltimore" wordmark.
———
Boston Red Sox
You could argue that the Red Sox already use their navy tops as their primary road look, because they wear them quite a bit. Eliminating the road greys from a team as traditional as Boston might seem unthinkable, but folks would eventually get used to it.
———
New York Yankees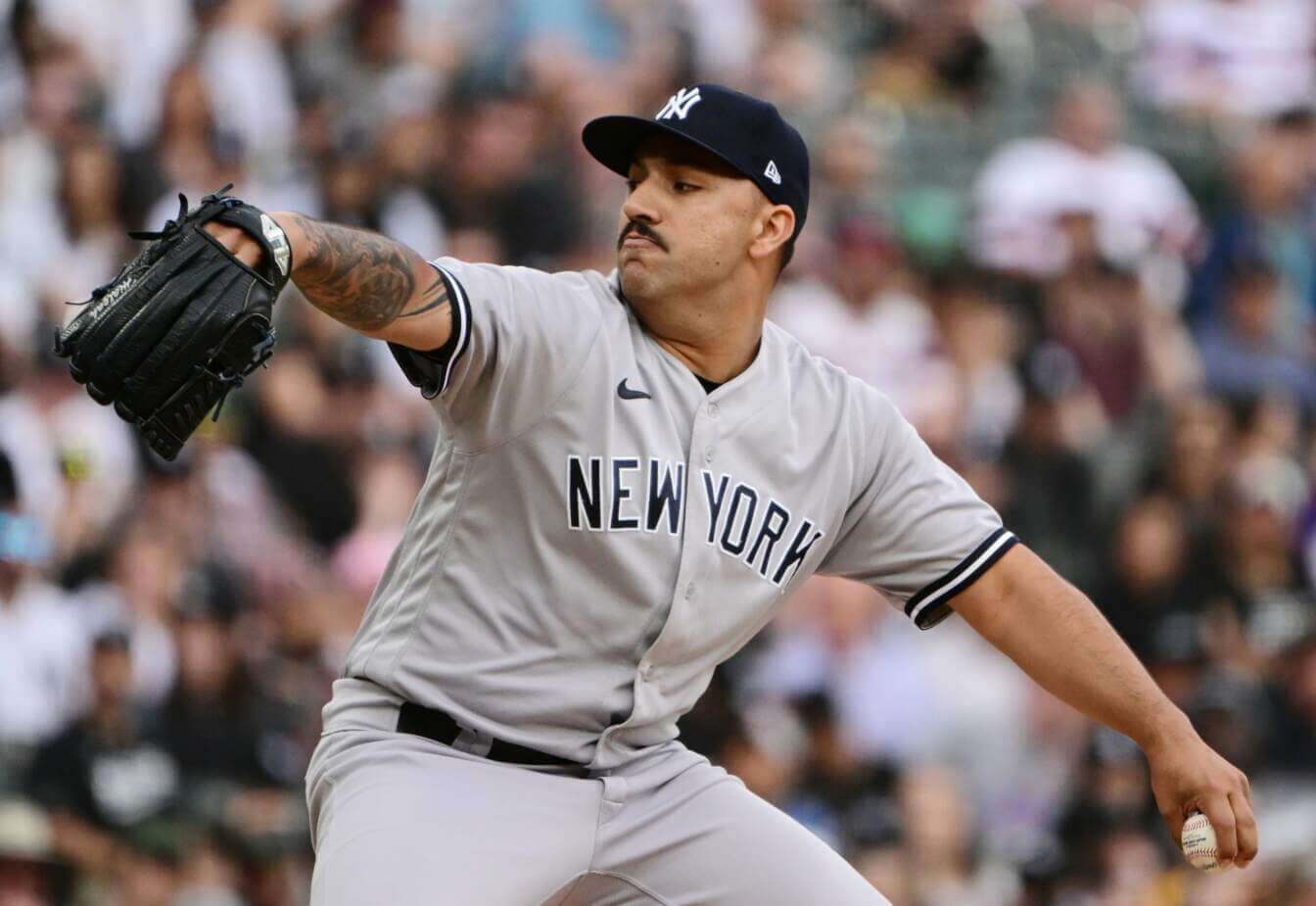 Theoretically, either of the Yanks' spring training jerseys would work just fine as a regular season road design. But since neither of them is an official game option, and with the Yankees being even more traditional than the Red Sox, we'll stick with the road greys.
———
Tampa Bay Rays
Easy to see why they eliminated the road greys, since they already wore navy tops on the road most of the time anyway, and no other design elements were sacrificed by getting rid of it.
Toronto Blue Jays
No other Jays jersey currently includes the word "Toronto," so the greys survive.
———
American League Central
Chicago White Sox
The Sox would probably do just fine with their black jersey on the road (and still wearing it occasionally at home, too). But if they did that, then their "Chicago" script would be eliminated, and we don't want that to happen, so the road greys should be kept.
———
Cleveland Guardians
A navy top, with the city name on the chest, worn only on the road. Textbook case of a team that could eliminate the road greys tomorrow.
———
Detroit Tigers
The navy top that Tigers wear for road spring training games could work, but then their gorgeous "Detroit" script gets eliminated. Therefore, the road look stays the same.
———
Kansas City Royals
Another easy option like Cleveland, where it's a city name on a dark jersey that's only worn on the road. Make it so!
———
Minnesota Twins
The Twins plan to wear their new navy jersey both at home and on the road, and they should! But if it ever becomes the only road option, it'd look plenty handsome in that role.
———
American League West
Houston Astros
Houston's two alternate jerseys currently have "Astros" on the chest, not "Houston," plus I've never liked their orange jerseys on the road anyway (it's way too bright to be paired with the grey pants), so we'll stick with the basic road greys.
———
Los Angeles Angels
Their road greys are basically dimmer carbon copies of their home whites. Easy choice to eliminate the greys in favor of their alternate red tops.
———
Oakland Athletics
The A's Kelly green alternate keeps the "Oakland" wordmark in circulation, and it's still a decent road option to wear every so often, though it looks better at home with the white pants. I like the darker green jersey for their primary road look, because it complements their current road hat even better than their grey uniform does. 
———
Seattle Mariners
The M's wore their navy tops for over 100 games last year, so eliminating the greys was an easy call for them and won't be visually jarring for their fan base.
———
Texas Rangers
The Rangers recently announced the elimination of their red tops to fit within the "four plus one" rule. Personally, I'd enjoy seeing them go back and forth between red and blue on the road. But since red no longer an option, then blue gets the nod.
———
National League East
Atlanta
Their greys have looked ridiculous ever since they started wearing the all-navy hat with them. Getting rid of them in favor of their navy softball tops full-time would not only look better from a jersey standpoint but would make the hats work a lot better, too.
———
Miami Marlins
Another team where the road greys aren't worn very often, which makes sense because they're basically a carbon copy of their home whites. Granted, it'd be pretty weird to have a team whose primary home jersey has the city name on it while the primary road jersey has the team name, but it would also be unique (although it would be nice if they could finally make the lettering on the black jersey more legible).
———
New York Mets
If the Mets hadn't eliminated their blue road alternates last year, they could have upgraded that design to be the road primary road look and eliminated the greys. As it stands now, though, their greys are their only jersey with the "New York" lettering, so they can keep wearing that.
———
Philadelphia Phillies
Another team where no design element is lost if the greys go away. Their alternate red top is one of MLB's more underappreciated looks.
———
Washington Nationals
They could probably get away with making their red curly-W jersey the main road look, especially since I don't think getting rid of their 'Washington' script would be a huge loss. But there's no doubt that the grey jersey pairs better with their current road cap than the red tops would.
———
National League Central
Chicago Cubs
True, no other jersey besides the road greys have the "Chicago" lettering, but I think that lettering is bland and uninspired, so let's go ahead and get rid of it. Addition by subtraction! They already wear the blues on the road a lot anyway, so let's go ahead and make it official.
———
Cincinnati Reds
Unlike the situation with the Cubs, I like Cincy's road lettering, so we'll keep it.
———
Milwaukee Brewers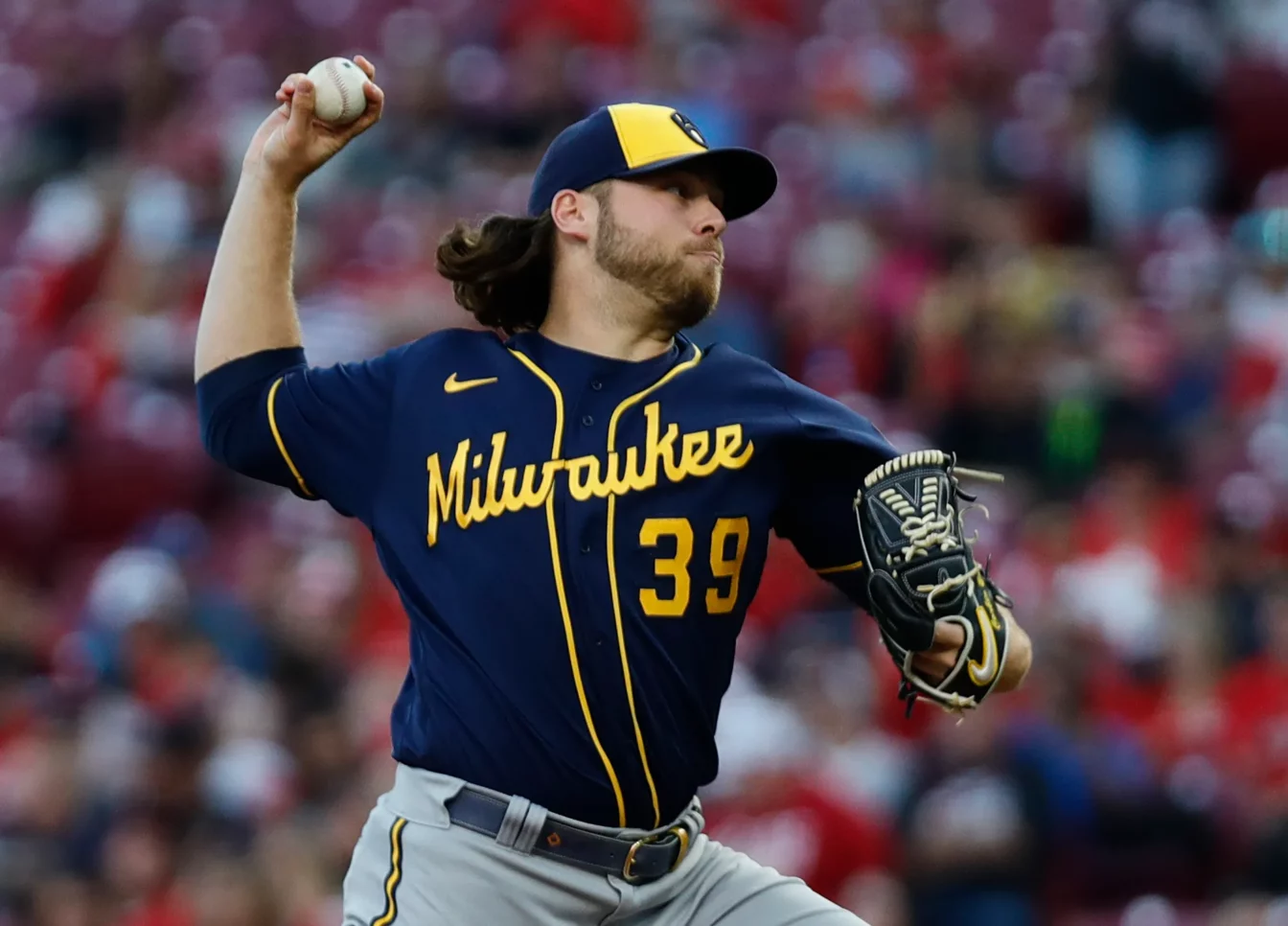 The Brew Crew already made their yellow-front cap their default road headwear. Might as well just go all the way in.
———
Pittsburgh Pirates
As unnecessary as their 2nd black jersey is, it's been one of my favorite uniform additions for any MLB team in recent years. The '90s script looks good on grey, but it looks fantastic black-on-black. But they could probably eliminate the alternate hat that goes with this jersey and just go with their primary cap.
———
St. Louis Cardinals
The Cardinals have no softball tops in their wardrobe, but they could go back to what they and so many other teams did in the 1970s and '80s by promoting their baby blue alts to primary road status. This would have the added benefit of eliminating a road jersey that has the team name and replacing it with one that has the city name!
———
National League West
Arizona Diamondbacks
Arizona recently scrapped their primary home whites in order to comply with the "four plus one" rule and redesignated their teal-trimmed whites as the new home primaries. If they had done it the other way around, they might have been able to rearrange some hat assignments and made their black alt their new road look. As it stands now, though, the only way for us to see their gorgeous red/black hat is with the road greys, so we'll keep those in the rotation.
———
Colorado Rockies
Only their home whites say "Rockies" while both of their alternates have "Colorado." I certainly like their purples more than their black vests, so that's my pick.
———
Los Angeles Dodgers
No softball top to choose from (other than their BP jersey), but they should at least pick a road grey going forward instead of having two options. I'm probably in the minority, but I like the "Dodgers" version (reminds me of the Jackie Robinson days), but I get why many people would want the "Los Angeles" option, since a city name on the road is usually preferable.
———
San Diego Padres
The Friars' brown tops are already their primary road look, while the "San Diego" pinstripes are technically an alternate. I say go brown all the time.
———
San Francisco Giants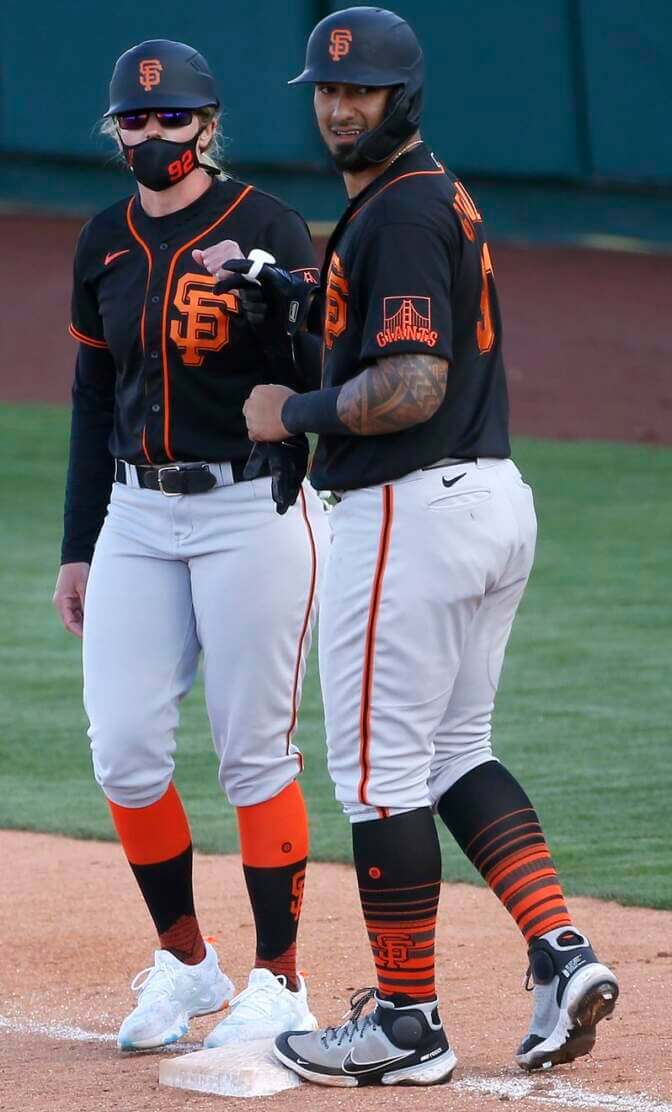 Let's face it: "San Francisco" is way too long to put on a jersey and have it look nice. The "SF" initials work much better, and their black jersey already is ready to go with that look.

———

Paul here. I'm one of those people who would rather see teams sticking with their road greys, but I still think this was a really fun exercise. Big thanks to Bud for coming up with it!