Have you ever watched a March Madness game and thought that the court design looked good enough to eat? Are you one of those people who think everything is better with a side order of bacon? Are you a sucker for clever marketing gimmicks?
If you answered, "Yes," "Yes," and "Yes," then you're going to love Hormel's new Hardcourt Smoked Bacon, which is smoked over maple wood trimmings salvaged from the production of this year's Final Four courts by Connor Sports.
But if you're already reaching for your jacket and heading to the supermarket, hold on — this product is not available for retail sale. Instead, Hormel is raffling off 68 prize packages. Each of the 68 winners will receive:
A pack of the bacon, as shown above. (Note that it is packaged in a "stack pack," rather than the more common "shingle pack." I wrote about those packaging formats for Bloomberg Businessweek back in 2016.)
A small jar of "collectible maple wood chips" (which perhaps could double as toothpicks for you to use after enjoying all of the bacon):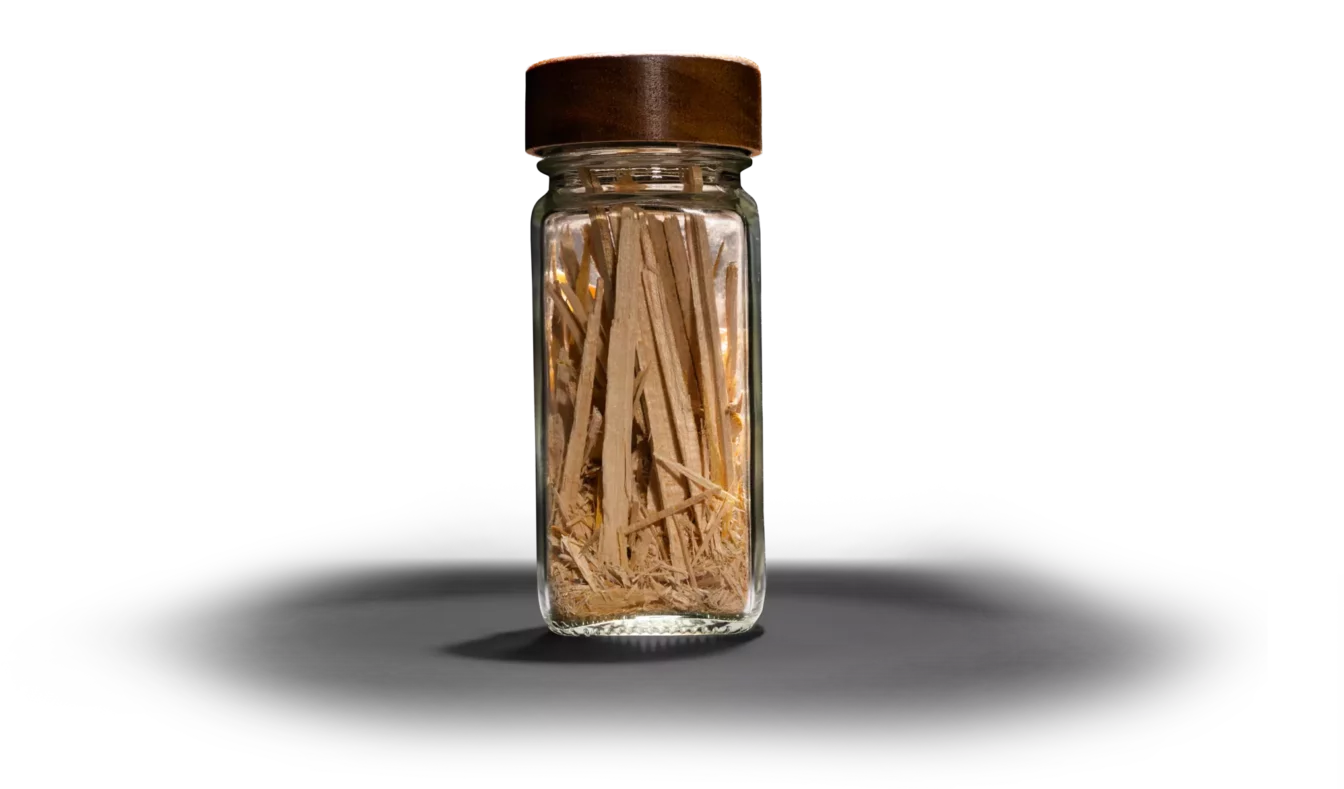 A certificate of authenticity: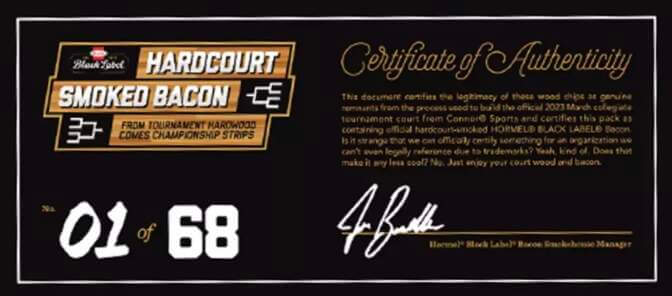 That certificate is hard to read, so I've transcribed it for you:
This document confirms the legitimacy of these wood chips as genuine remnants from the process used to build the official 2023 March collegiate tournament court from Connor® Sports and certifies this pack as containing official hardcourt-smoked HORMEL® BLACK LABEL® Bacon. Is it strange that we can officially certify something for an organization we can't even legally reference due to trademark? Yeah, kind of. Does that make it any less cool? No. Just enjoy your court wood and bacon.
That wording, which presumably refers to legal strictures preventing Hormel's use of terms like "March Madness" and "Final Four" and "NCAA," nicely captures the absurdist fun of this promotion. Hormel has also produced a video, which almost (but not quite) hits like a faux commercial from SNL:
———
Granted, I'm predisposed to like almost anything involving bacon, but I think this is all pretty hilarious. I do, however, have some questions, so on Monday morning I contacted Hormel and asked to interview someone connected to the project. They referred me to their PR agency, where a rep gave me the runaround before finally ghosting me yesterday (grrrr), so I wasn't able to speak with any Hormel folks. If I'd been able to interview someone, here are some of the questions I would have asked:
Did the idea for this promotion originate with Hormel or with Connor Sports? If Hormel, what was the brainstorming session like?
Did it take much convincing to get Connor Sports on board with the idea? What about the NCAA?
Overall, how many pounds of salvaged wood from Connor Sports was used by Hormel? Did Connor ship the wood directly to Hormel's smokehouse?
I assume the wood was set aside before it was lacquered, painted, and so on, right?
How does making bacon with this wood differ, if at all, from making bacon with Hormel's usual wood? Does does it take longer, does it burn differently, etc.?
Is this bacon smoked only with hardcourt wood, or is it a mix of woods that includes hardcourt wood?
How does this bacon's flavor profile differ from other Hormal Black Label bacon? If we set up a blind taste test, would you be able to single out this bacon?
The wording on the certificate of authenticity is very amusing. Tell me more about the trademark situation that Hormel had to deal with.
It's kind of killing me that I didn't get to do that interview. Dang.
Meanwhile: Broken MLB bats are often turned into chopsticks, but couldn't they also be used to smoke bacon? What other sports byproducts could be used to create absurdist foodstuffs?
(Special thanks to John Cerone for letting me know about this one.)