[Editor's Note: Today's lede is from our own Jamie Rathjen, who's turning his attention to soccer socks. Enjoy! — PL]
Reader Max Weintraub recently sent in an email, as follows:
Has resident soccer expert Jamie Rathjen written about the seemingly ever-increasing length of the socks worn by professional footballers, at least in the Premier League? Aside from trendbusters Luke Shaw and Jack Grealish (whose socks barely cover their mandatory shin pads), it seems that most players nowadays wear their socks over their knees.
Max may have been writing in reference to players like Liverpool's Darwin Núñez (shown above) and Harvey Elliott, who do indeed sport a long-socked look.
I looked at all of last weekend's Premier League games and found at least one long-socked player on every team. They're by no means a majority, but definitely a sizable minority. Of course, the Premier League is just one men's league in one country, but its players come from several dozen countries, so it's not a bad starting point when looking at this type of trend.
Max's point opens up the larger topic of soccer sock length, which is worth exploring. We tend to think of soccer socks as usually coming up to just below the knee, so it can look aesthetically jarring when they're either longer or shorter than that. They're traditionally meant to be worn folded over at the top and often have a contrasting top called a turnover. But if a player doesn't turn over the turnover, that effectively makes the socks longer.
The Premier League isn't the only circuit where that look can be found. Another prominent example is USWNT/Washington Spirit winger Trinity Rodman, who goes with the long socks pretty consistently, regardless of the team or kit:
This isn't really a new phenomenon — I can find examples going back to the NWSL's first season in 2013 — but it does seem to be growing.
Max is also right about the two short-socked players he cited: United left-back Shaw and Manchester City winger Grealish both fold their socks down basically to their shins, as seen here:
But shortened socks aren't a new trend either. D.C. United right-back Chris Korb, for example, was going low-socked the better part of a decade ago:
While a few players wore shortened socks in last week's EPL games, they weren't as common as the long-socked look.
One reason for the variation in sock length is that soccer's Laws of the Game require socks to be worn but are silent on the details and particulars. Much like we've seen in other sports, socks on the soccer pitch have started to become the least uniform part of the uniform (although at least there's team-wide color consistency). Instead, they're customized to players' preferences. It's especially common for players to cut out the bottoms and wear their own socks underneath, as seen here:
Equipment regulations don't really address the appearance of socks besides what logos or patterns can appear on them. The only rule on length is that socks must cover the shinguards. Short-socker Grealish accomplishes his look by wearing child-sized shinguards and it looks like Shaw might be doing the same. I've never seen any long-sockers speak publicly about why they do so, however.
The sport's current state of hosiery diversity was illustrated nicely by the image EA Sports used on Monday to announce the NWSL's addition to the FIFA 23 game: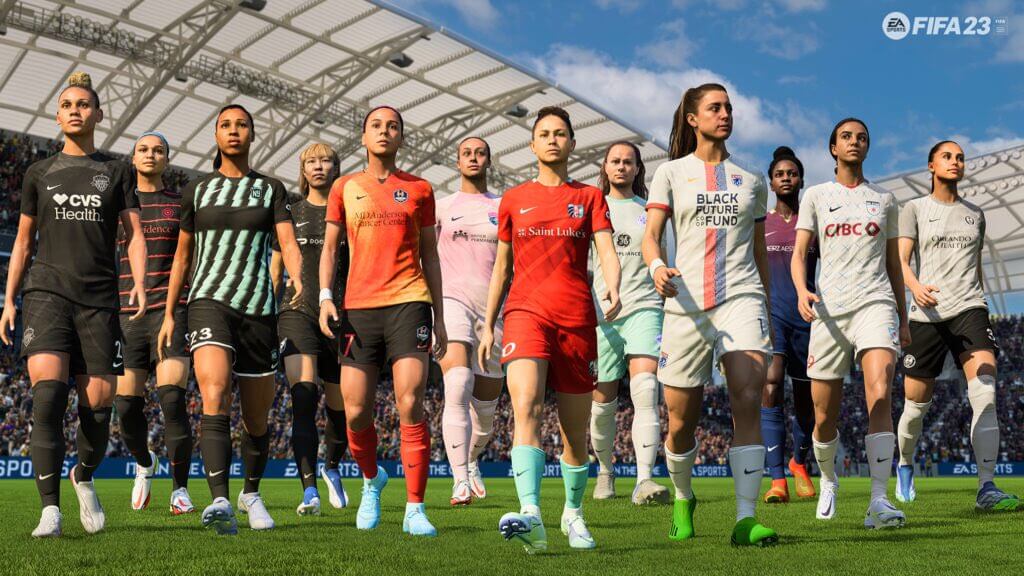 As you can see, six of the 12 players are long-socked (including Rodman, who's representing the Spirit), and three are at least somewhat short-socked.
Update: As if on cue, here's a new Twitter thread on how soccer socks often don't fit women.