Here's a new one: The Kraken, whose jerseys have so far been ad-free, announced yesterday that they'll begin wearing an ad patch next season — and in what is apparently the first deal of its kind, the advertiser is the Muckleshoot Indian Tribe.
The deal marks the first time that a Big Four pro team has worn the name of a Native tribe to promote the tribe itself, rather than to advertise a casino (as is the case on the Coyotes' home jerseys).
You can see the patch on the jerseys above. Here's a closer look: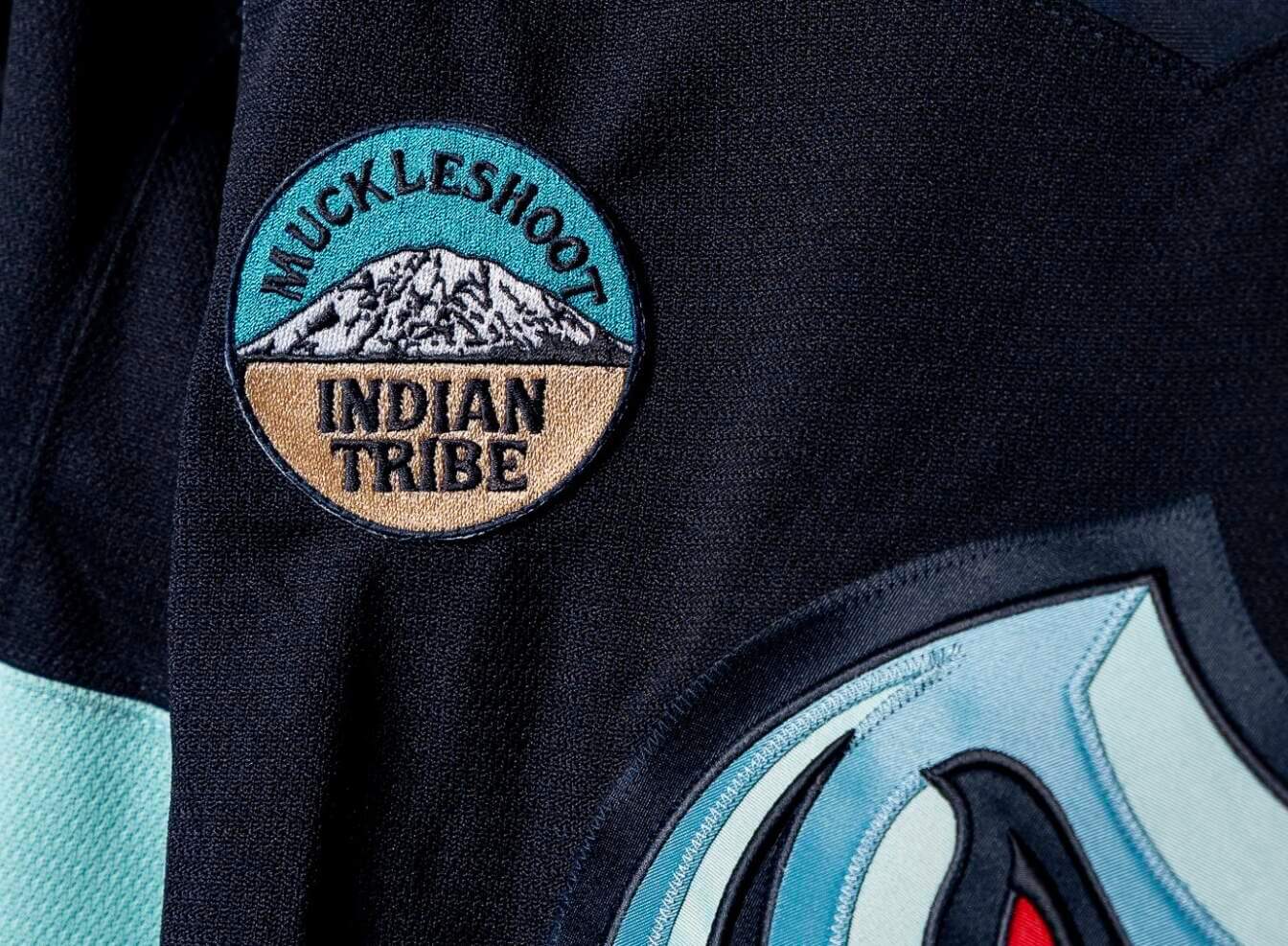 The Kraken had already established a relationship with the Muckleshoot tribe before the team played its first game, and before the name "Kraken" had even been chosen. In the summer of 2019 — more than two years before the team's on-ice debut, when the franchise was still known simply as NHL Seattle — team execs convened a listening session with 30 local Indigenous leaders. That same year, during the construction of the Kraken's arena, which lies on the ancestral lands of the Coast Salish people, members of the tribe blessed the grounds. The team also commissioned Native artwork for the arena, and a land-acknowledgment video is played before every Kraken home game. (If you're unfamilar with land acknowledgments, look here.)
As part of the new ad deal, additional artwork celebrating Indigenous people will be featured at the Kraken's arena, a multi-sport court will be built on the Muckleshoot reservation, and the team will create programs to increase hockey opportunities for Indigenous youth.
I still wish teams wouldn't sell space on their jerseys to outside interests, but this uni ad is clearly less distasteful than most of the others. It's not quite as high-minded as the Jazz's cancer charity patch (now appearing in its sixth consecutive season, and counting), but it definitely seems closer to that end of the spectrum than to, say, an ad for a sports book or a bank. Or to put it another way, it seems to be motivated at least as much by civic interests as by commercial ones.
Or at least that's how it seems to me, especially after reading more about the deal (there's good coverage here, here, and here). But I'd be interested in hearing how all of this is being received by Pacific Northwesterners, Kraken fans, and Native Americans. How do you feel about this ad patch?
Meanwhile: If, like me, you'd never even heard the word "Muckleshoot" until now, you can learn more about the tribe here and here.