A very good Saturday morning, Uni Watch readers. As the calendar ticks down towards the end-of-year Holidays, today I have a very special Christmas-themed article for you from my pal, and Uni Watch contributor, Jimmy Parker.
Whenever we discuss advertising on this blog, it's almost always in a negative context: and that's fair, because over the past several years, ads — and specifically ads on uniforms — have become a central focus. As Paul has always said, advertising in and of itself isn't bad … but there are certain places where ads should not exist. Places such as say, school buses, hospitals, body parts…and yes, uniforms. But there are certainly places where ads should exist, and newspapers and magazines certainly qualify. In fact, we often pine for ads-of-the-past, which treated consumer culture much differently than today.
And then you have Christmas ads of the past, particularly those targeted to young sports-minded boys, some of which (if one is old enough) may have indeed inspired us to ask our parents to have Santa bring us on Christmas morning. One need only watch A Christmas Story when Ralphie hides a Daisy "Red Ryder BB gun" ad in his mom's LOOK magazine to realize the power of suggestion. I confess I myself clipped an ad or two out of a magazine as a hint to my parents Santa for what might be on my wish list as a young 'un.
This confluence of events all adds up to today's lede from Jimmy. Let's take a stroll down memory lane as Jimmy visits the…
• • • • •
Ghosts of Christmas Ads Past
by Jimmy Parker
For several years in the late 70s and early 80s I was a Cub Scout and later a Boy Scout. One of the benefits of being a scout was a subscription to Boys' Life magazine. As the official magazine of scouting, Boys' Life boasted a circulation of over 1 million at its most popular. Issues were routinely packed with content aimed at scouts but also included a large mix of subject matter of interest to young boys in general. And the magazine's advertising reflected this, with game and toy makers and sporting goods manufacturers always having a strong presence. Each December the magazine would publish a special Christmas section spotlighting certain products and advertisers would often create ads specially for the holidays. Because of this the December issue of Boys' Life, along with the Sears Christmas Wishbook, formed the basis for any serious Christmas List preparation.
__________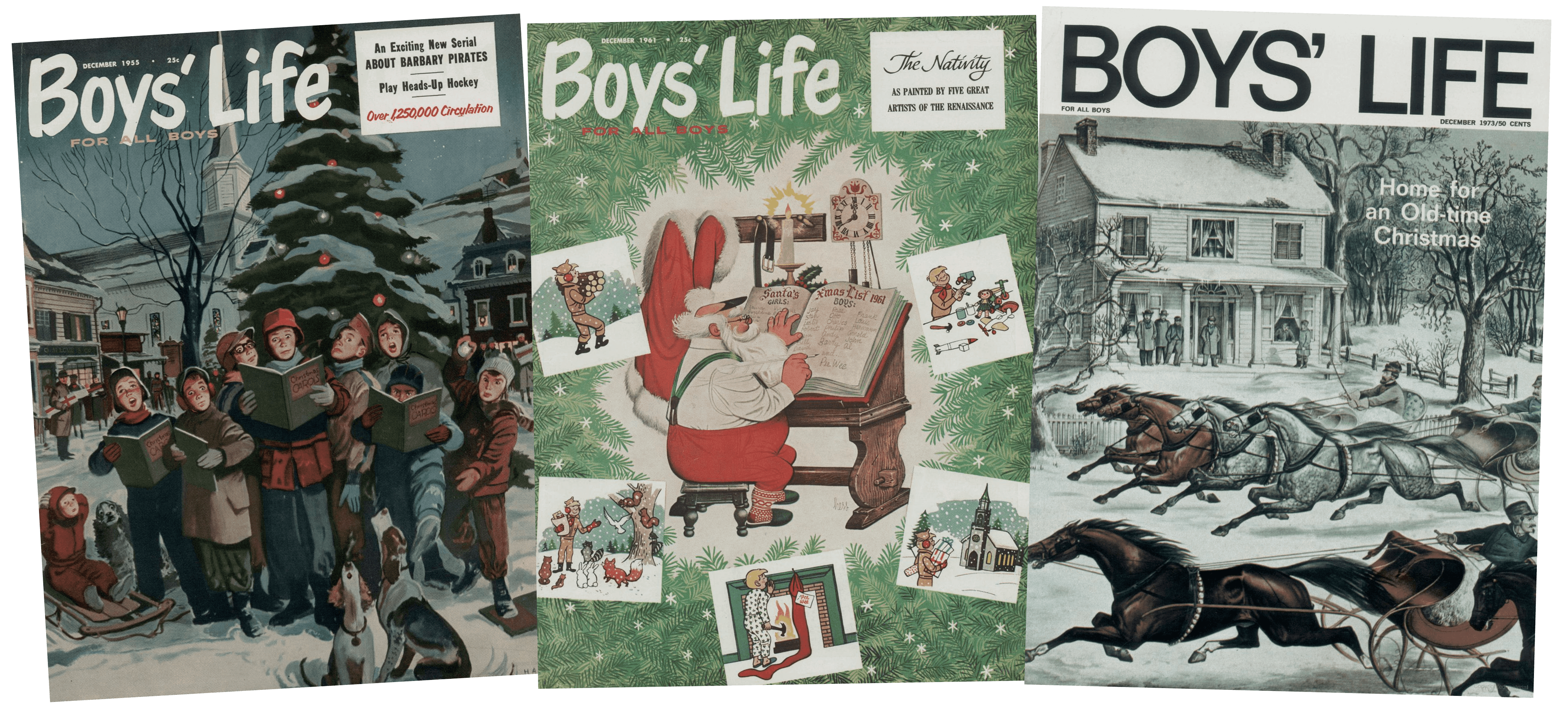 Taking a look back at December issues of the magazine throughout the years gives us a wonderful stroll down Memory Lane as well as insights into where sports and athletes stood in our nation's psyche at the time. Below are a few holiday ads, presented chronologically, that provide a brief overview of how advertisers used athletics and athletes to appeal to youngsters during the magazine's heyday.
__________

Sporting goods manufacturers were some of the earliest advertisers in the magazine and among the first to specifically advertise their products as potential Christmas gifts. While nothing especially noteworthy visually, this 1947 ad from Spalding uses copy that instructs the reader to "drop a hint to Dad" and "put a word in Mother's ear", a copy style that will be repeated often in coming years.
__________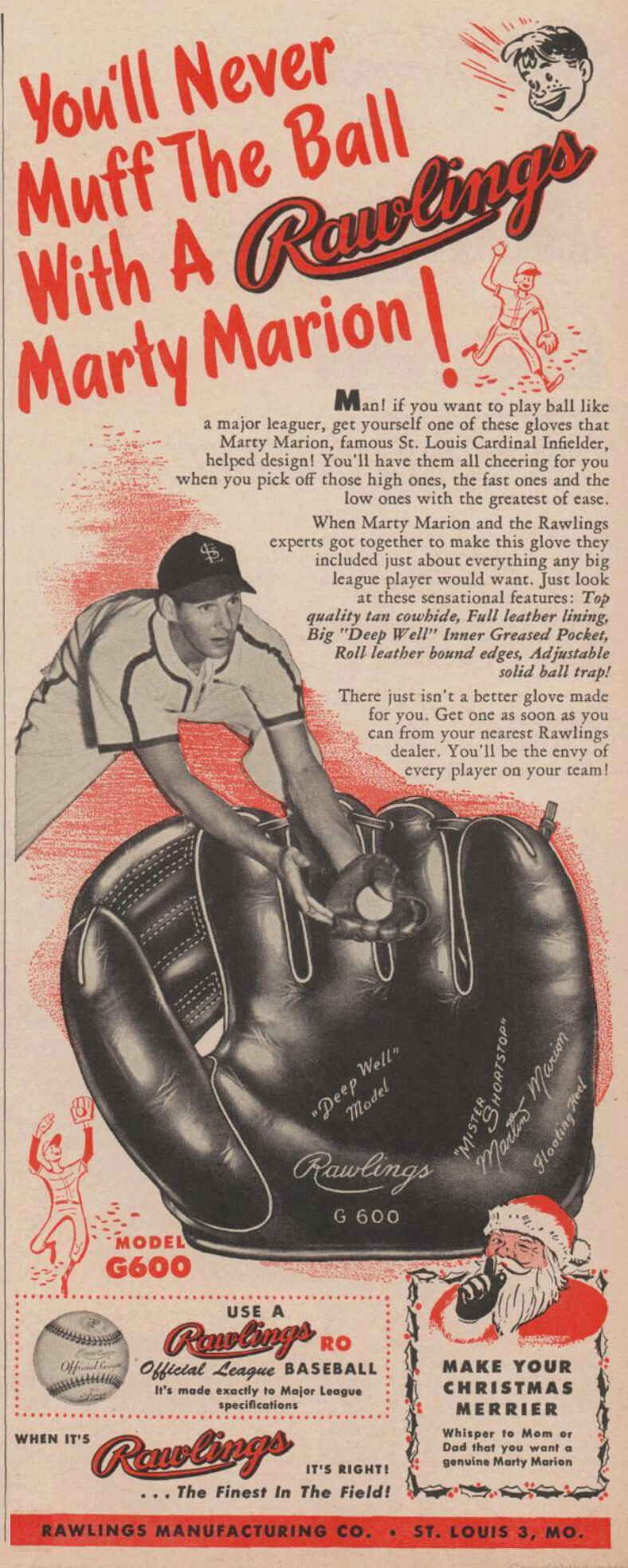 The magazine wasn't printed entirely in full color until the mid-1970s, although full-color sections have been used since the '50s. To provide some color to early issues, a staple of the magazine was printing a limited number of pages in 2 colors – black and one other color, usually either red, yellow or blue. In 1950, baseball glove manufacturer Rawlings livened things up a bit by using red as a secondary color on its ad. The red suited Rawlings well, as it is the color of the company's logo and also highlighted the ad's spokesman, St. Louis Cardinals shortstop Marty Marion. Look closely in the bottom right corner beneath Santa Claus and you'll see another directive to tell Mom or Dad what you'd like for Christmas.
__________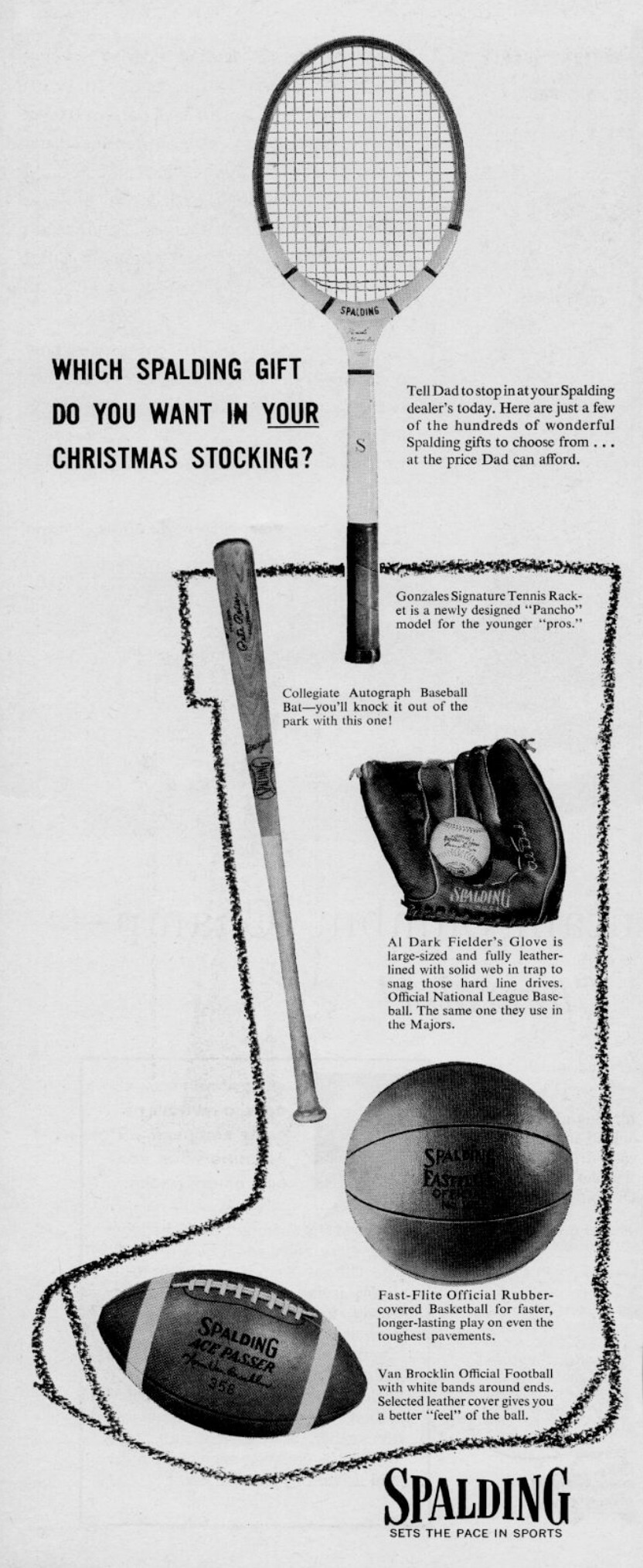 By 1955 Spalding was attempting to make their Christmas ad more visually appealing by placing their products in a line drawing of a stocking, but they were still all black and white. Still intact, however, is the suggestion to appeal to a parent – this time just Dad.
__________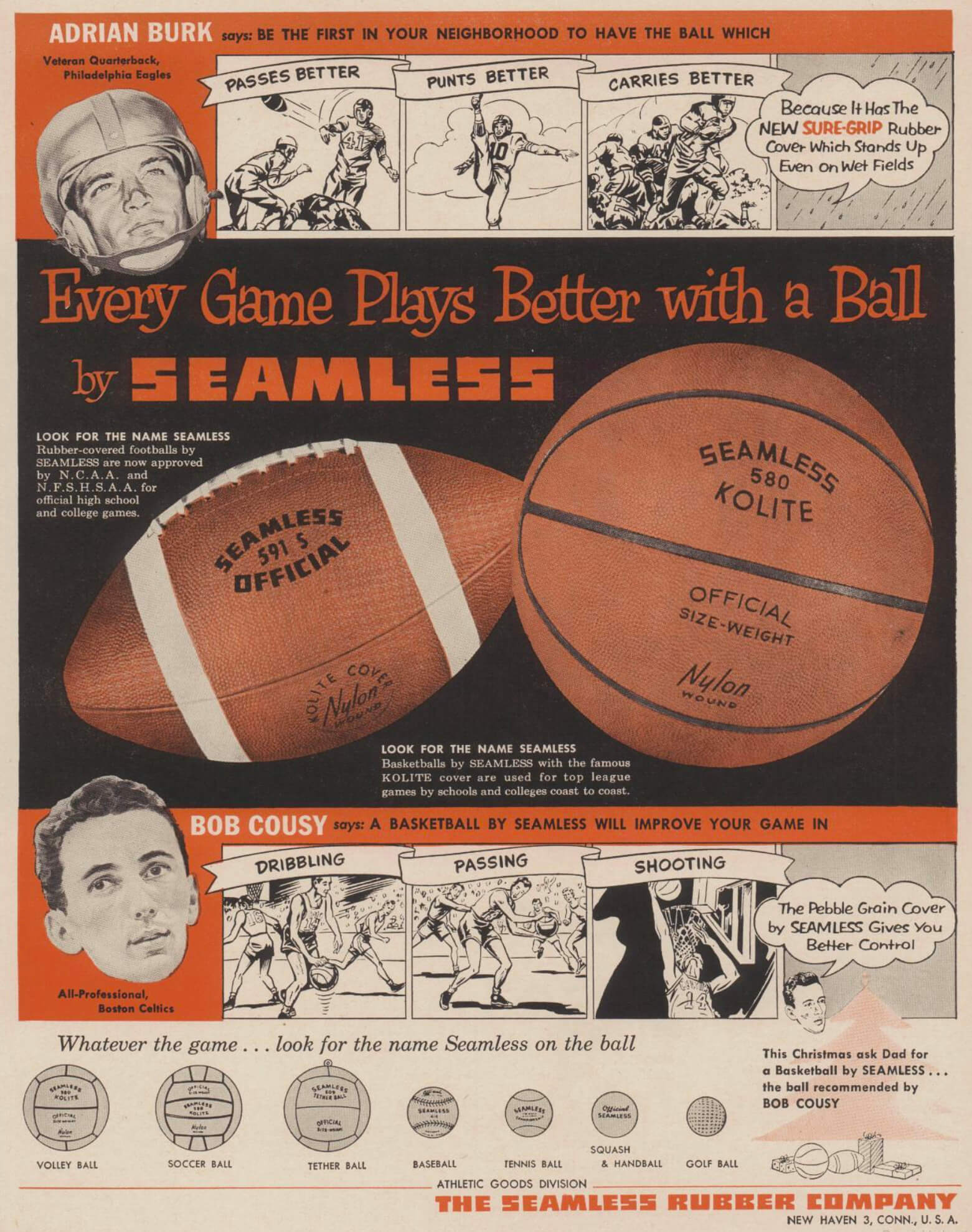 In 1956 the Seamless Rubber Company used two colors and two athletes in advertising their football and basketball offerings. Eagles QB Adrian Burk and Celtics PG Bob Cousy offer the reader reasons why Seamless balls are superior to other manufacturers. A close look in the bottom right corner reveals another appeal to ask Dad for the advertiser by name.
__________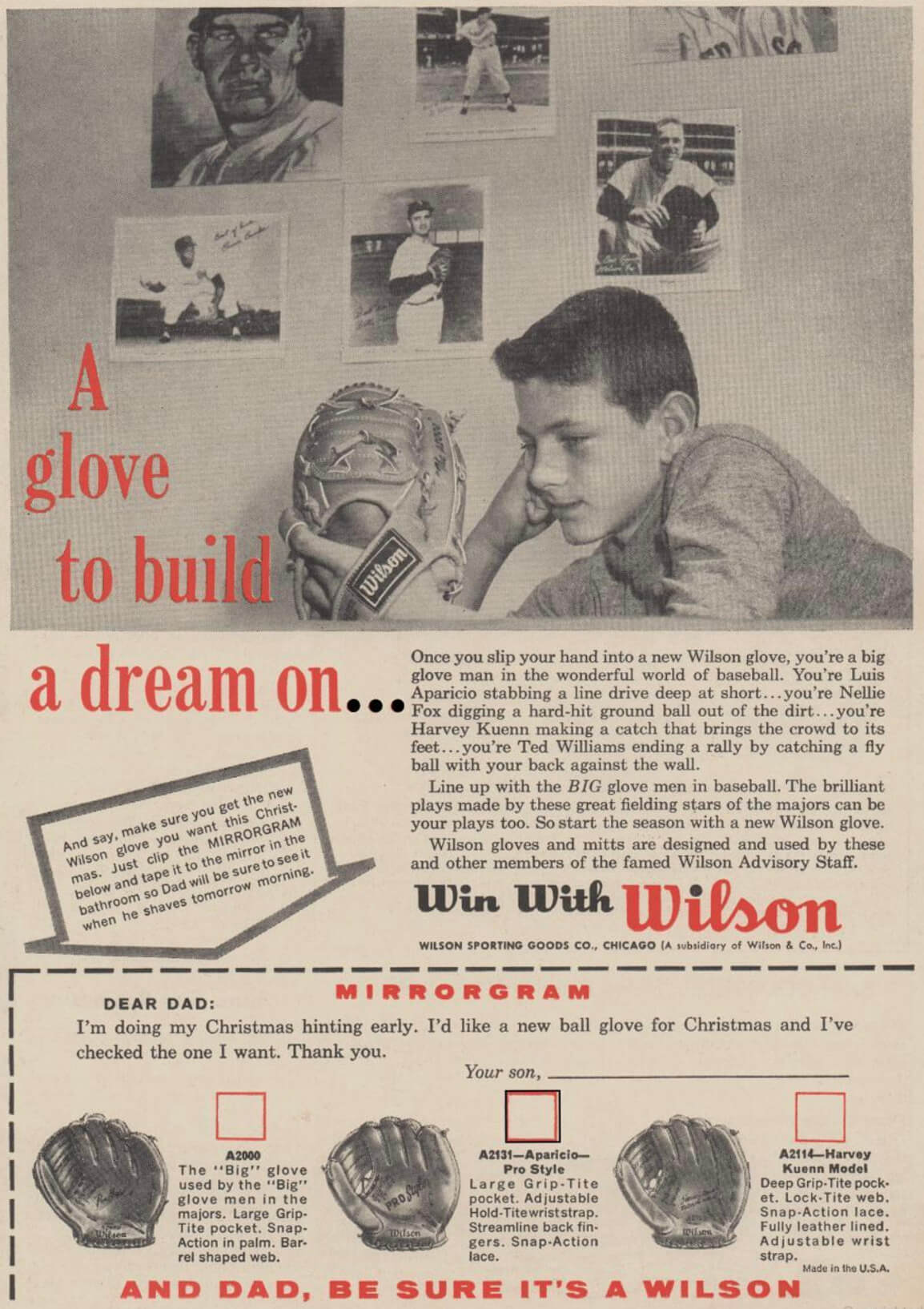 Wilson Sporting Goods took the "parental appeal" ad to new heights in 1959. To assist youngsters in letting their parents know exactly what they wanted for Christmas, the glove manufacturer designated part of their ad to be cut out and taped to the bathroom mirror so "Dad will be sure to see it when he shaves in the morning." In the ad we see a young kid, lovingly admiring his Wilson glove, with several photos of baseball players on the wall behind him. Among the recognizable players depicted are two Wilson spokesmen, Harvey Kuenn and Nellie Fox.
__________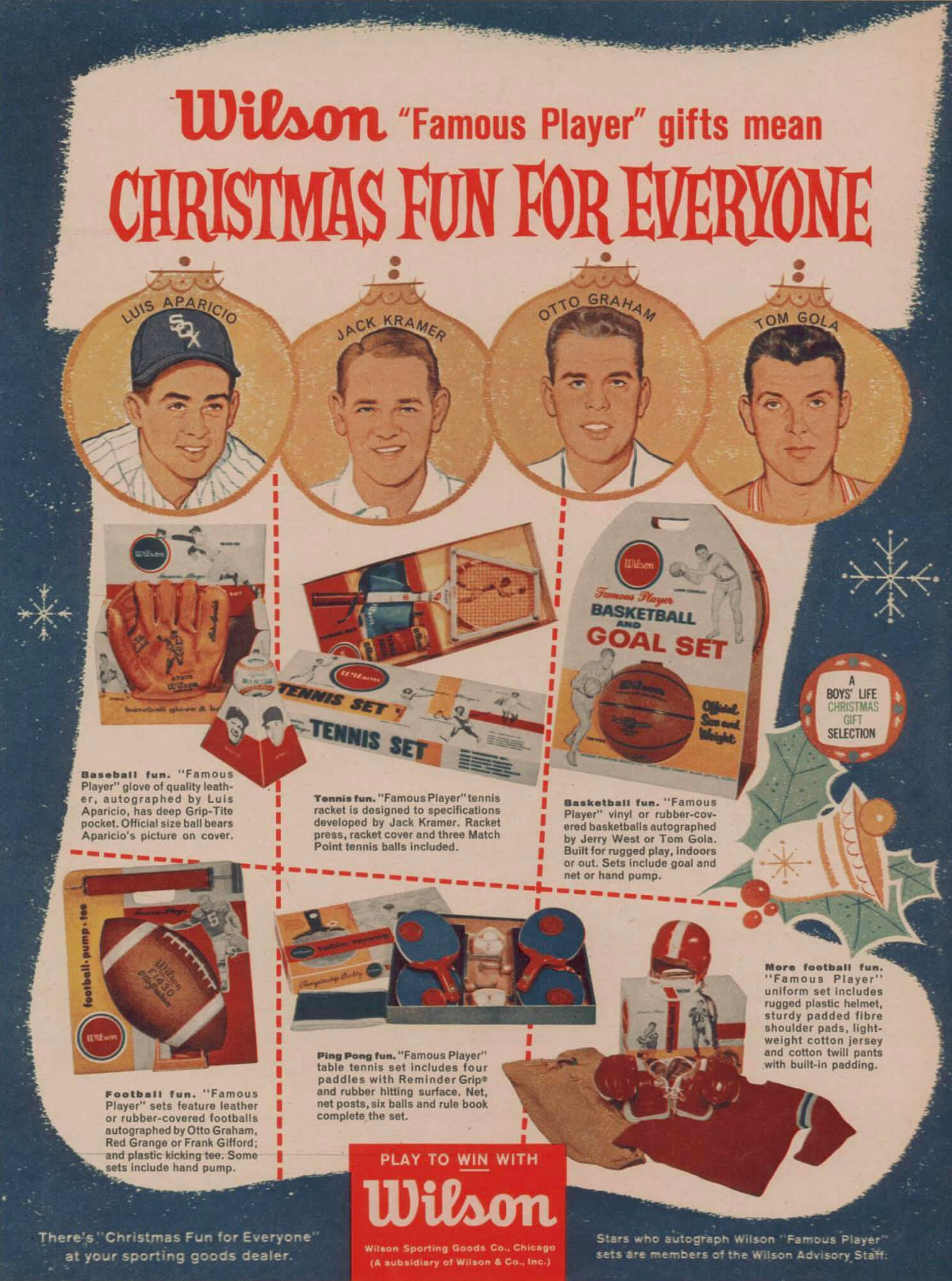 In 1961 Wilson advertised their variety of "Famous Player" sets by using the likenesses of 4 pro athletes – baseball player Luis Aparicio, tennis player Jack Kramer. football player Otto Graham and basketball player Tom Gola. Each athlete (members of the Wilson Advisory Staff, we are told) is depicted in an illustration on a Christmas tree ornament, while an assortment of the equipment sets are shown in an illustrated stocking. Being full-color, Wilson combines photographs, illustrations and whimsical typography to make for quite a beautiful, and memorable, Christmas ad.
__________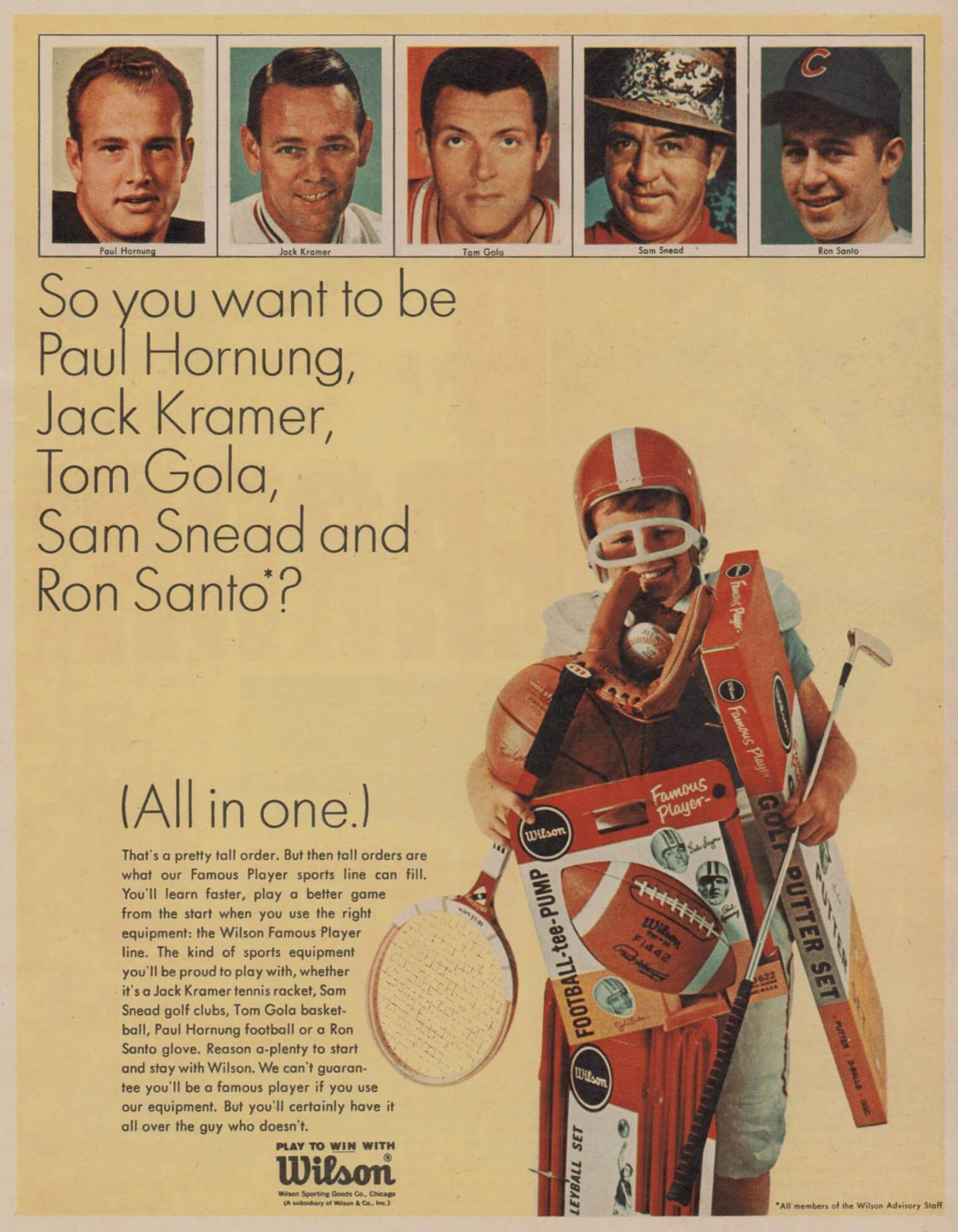 By 1966 changes in the Wilson Advisory Staff necessitated a new ad, with Paul Hornung taking over for Graham in football, Ron Santo subbing for Aparicio in baseball and golfer Sam Snead coming on board. The athlete illustrations on ornaments of the earlier ad are gone, replaced by simple photographs of each athlete. Overall, the new ad is simpler, using a single photo of a lone young boy loaded down with a variety of Wilson equipment.
__________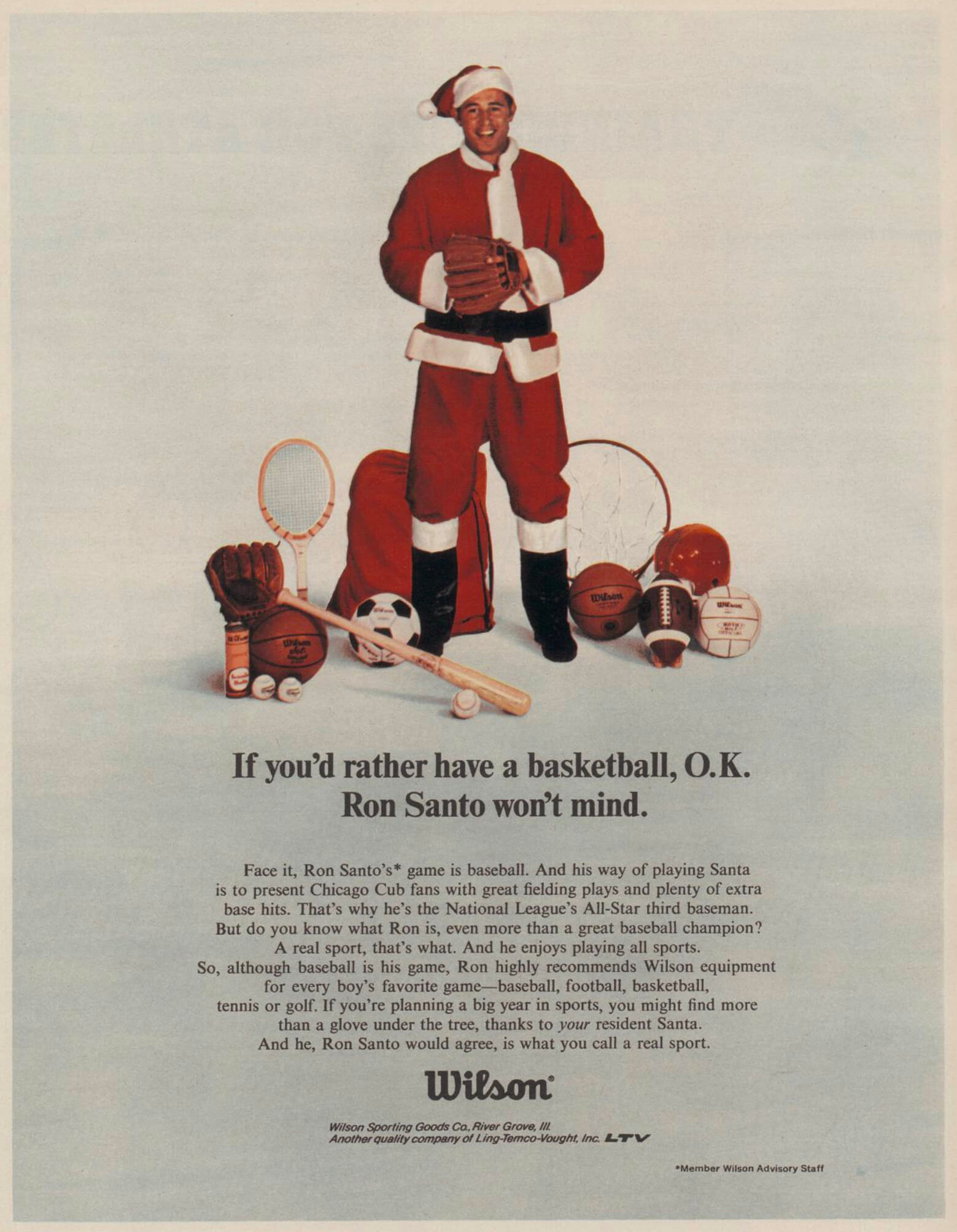 Now here's a uniform most fans don't associate Ron Santo with. For 1968 all the members of the Wilson Advisory Staff are replaced by a single photo of staff member Santo dressed as Santa Claus, surrounded by a variety of Wilson equipment. The ad is very simple visually and has a certain tongue-in-cheek quality to it, as styles in advertising and popular culture as a whole were starting to take hold. Sports, and the athletes we watched play, were starting to not take themselves quite so seriously.
__________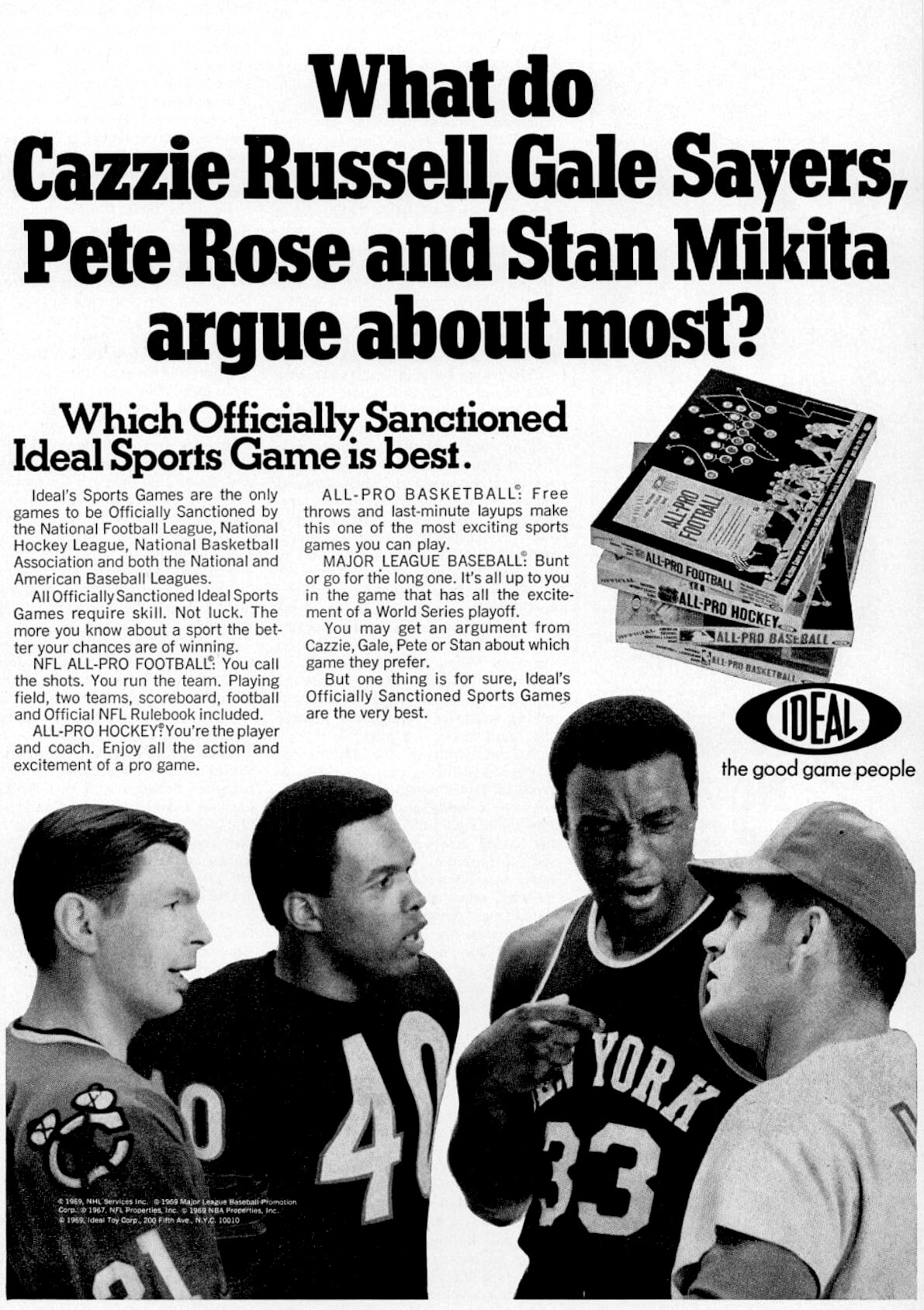 To advertise their line of "All-Pro" games, toymaker Ideal took the tried and true advertising concept of the advisory staff and turned it on its ear. Instead of simply promoting their games, hockey player Stan Mikita, football player Gale Sayers, basketball player Cazzie Russell and baseball player Pete Rose argue about which game is best. The ad's photo shows a tightly cropped photo of the athletes in discussion, doing a bit of acting on their part. It's a shame this was a black and white ad, as I would have loved to have seen the players and their uniforms in color.
__________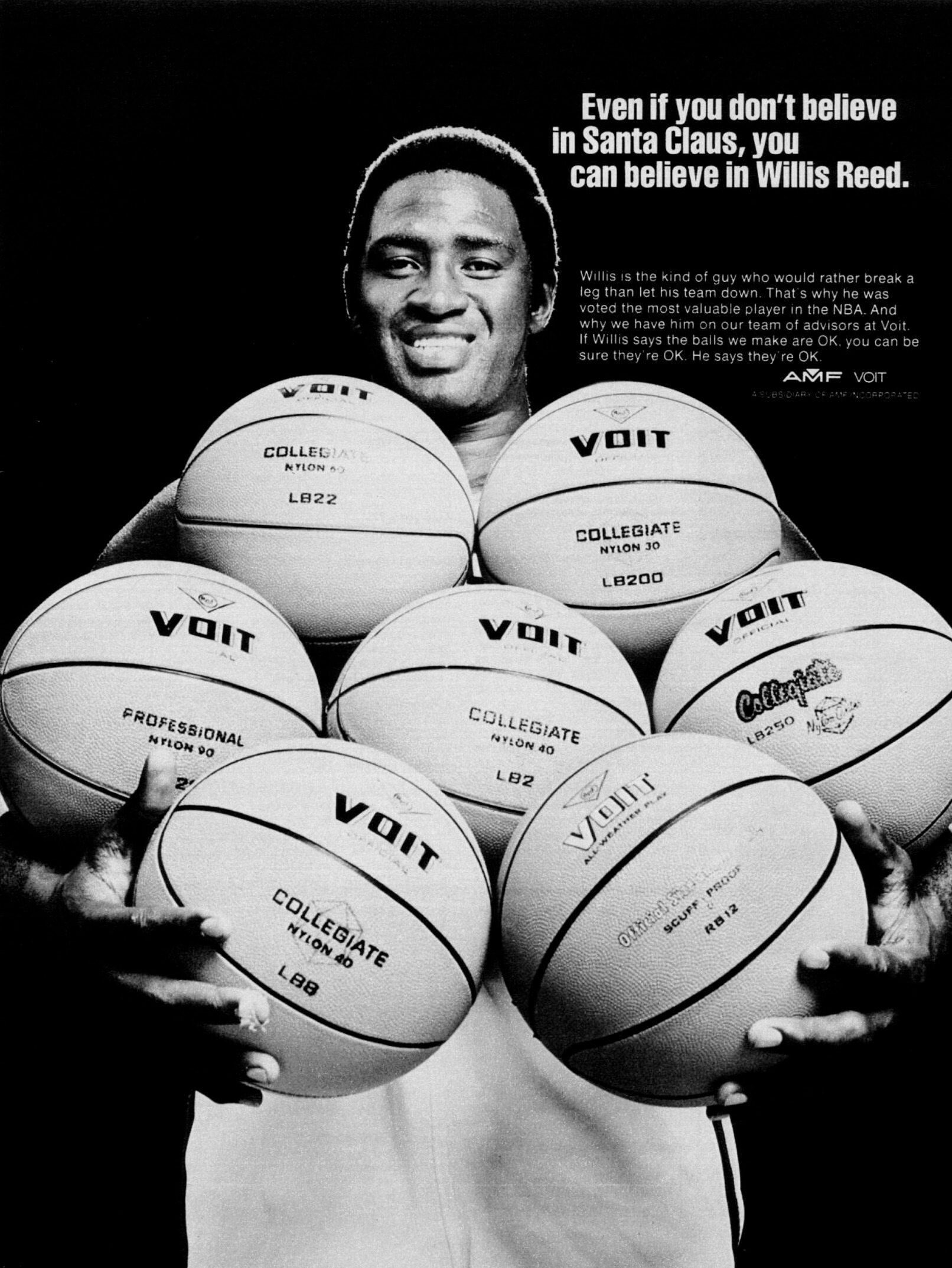 "Even if you don't believe in Santa Claus, you can believe in Willis Reed." Advertising copywriting reached its zenith in December of 1970 with this classic from Voit. Reed was just 7 months removed from his gutsy performance in Game 7 of the 1970 NBA Finals.
__________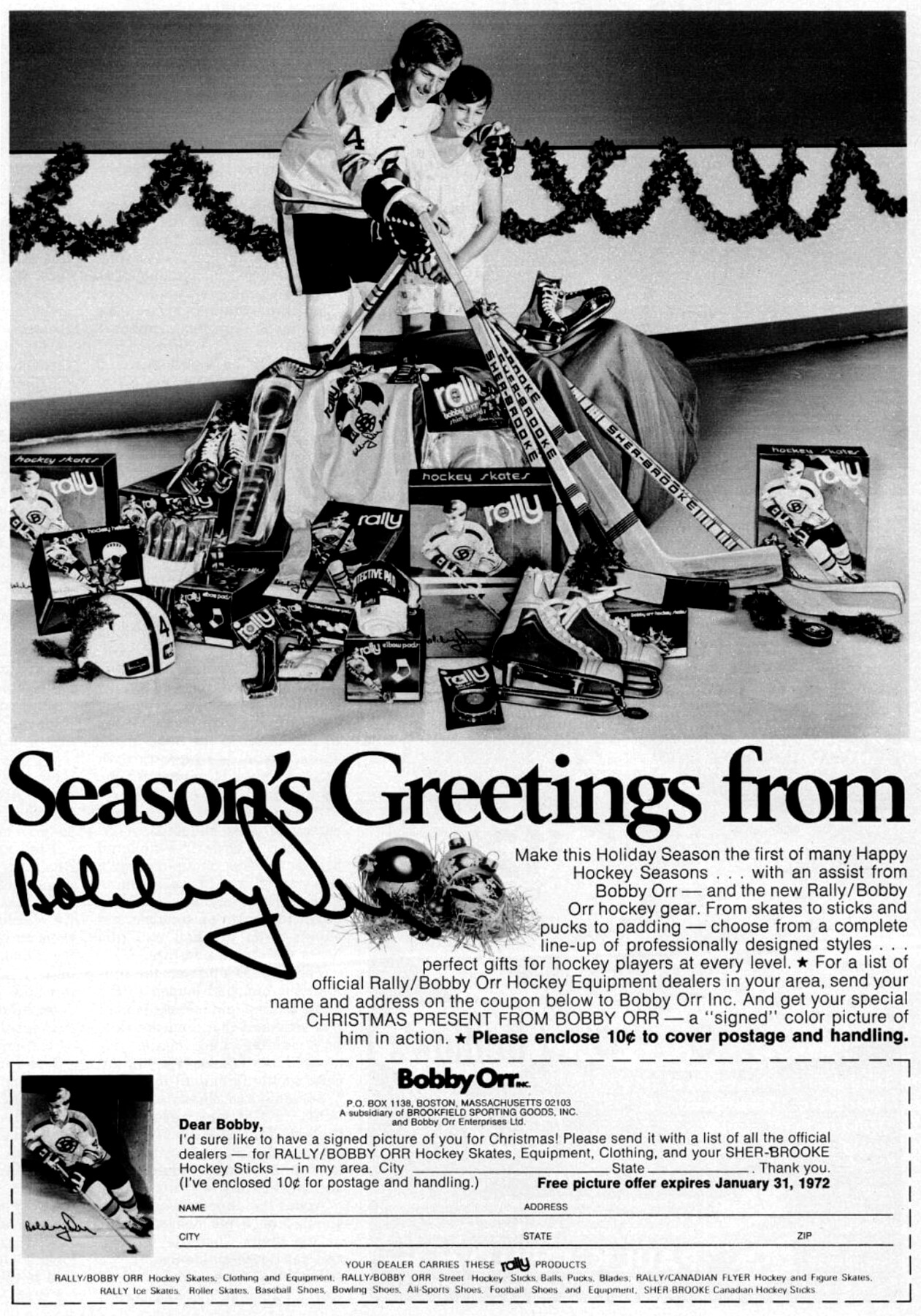 A year after scoring one of the most memorable goals in NHL history, Bruins defenseman Bobby Orr promoted a full line of Bobby Orr branded hockey equipment from Rally. The bottom of the ad was a coupon to be sent in to the company to receive a list of Rally dealers in your area as well as a "signed" photo of Orr.
__________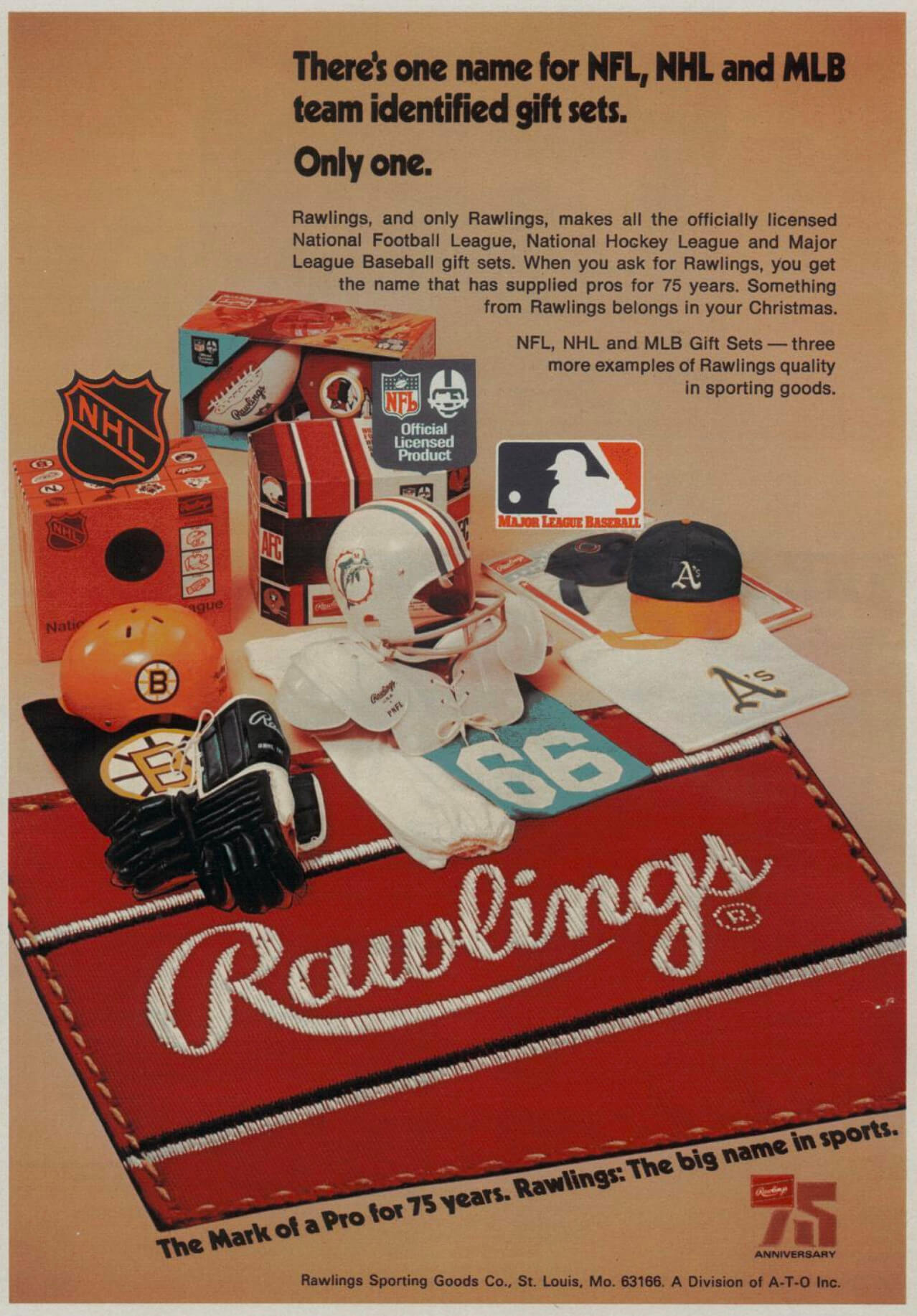 As the mid-1970s approached the major sports leagues were learning the value of their intellectual properties and equipment manufacturers were quick to capitalize on their respective licenses. This 1973 ad from Rawlings celebrates the company's 75th anniversary by touting their official licenses for NFL, NHL and MLB gift sets.
__________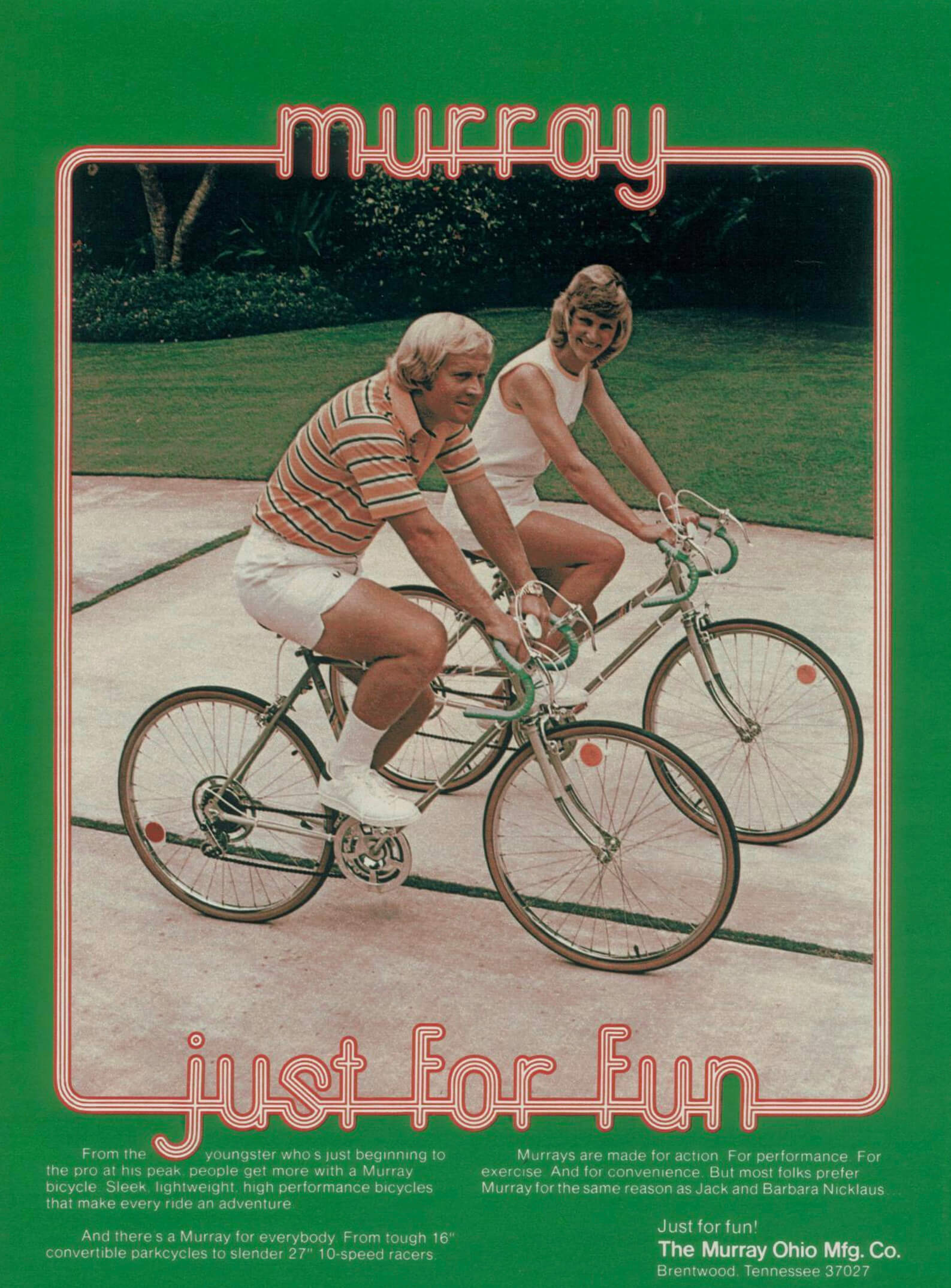 This 1974 ad for Murray bicycles takes the athlete endorsement to the extreme, featuring a large photo of golf legend Jack Nicklaus and his wife Barbara riding a couple of Murray 10-speeds and little else.
__________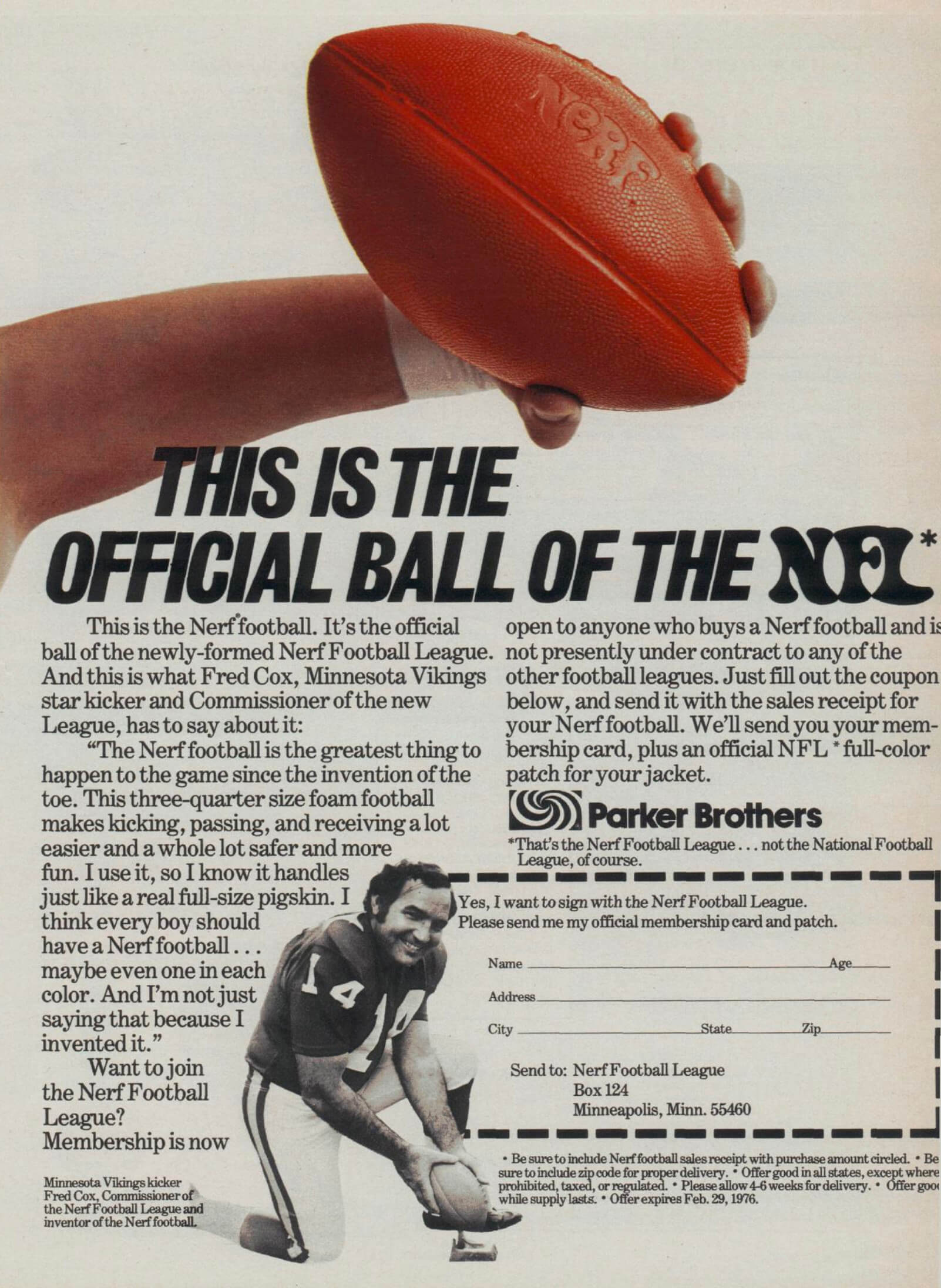 Having been introduced only 3 years earlier, in 1975 the Nerf Football was not yet the hall of fame toy it would become. So parent company Parker Brothers used Nerf football inventor, Minnesota Vikings kicker Fred Cox, to promote "The Official Ball of the NFL*" with N in this case standing for Nerf. The ad also included a coupon to join this version of the NFL and receive an official membership card and patch.
__________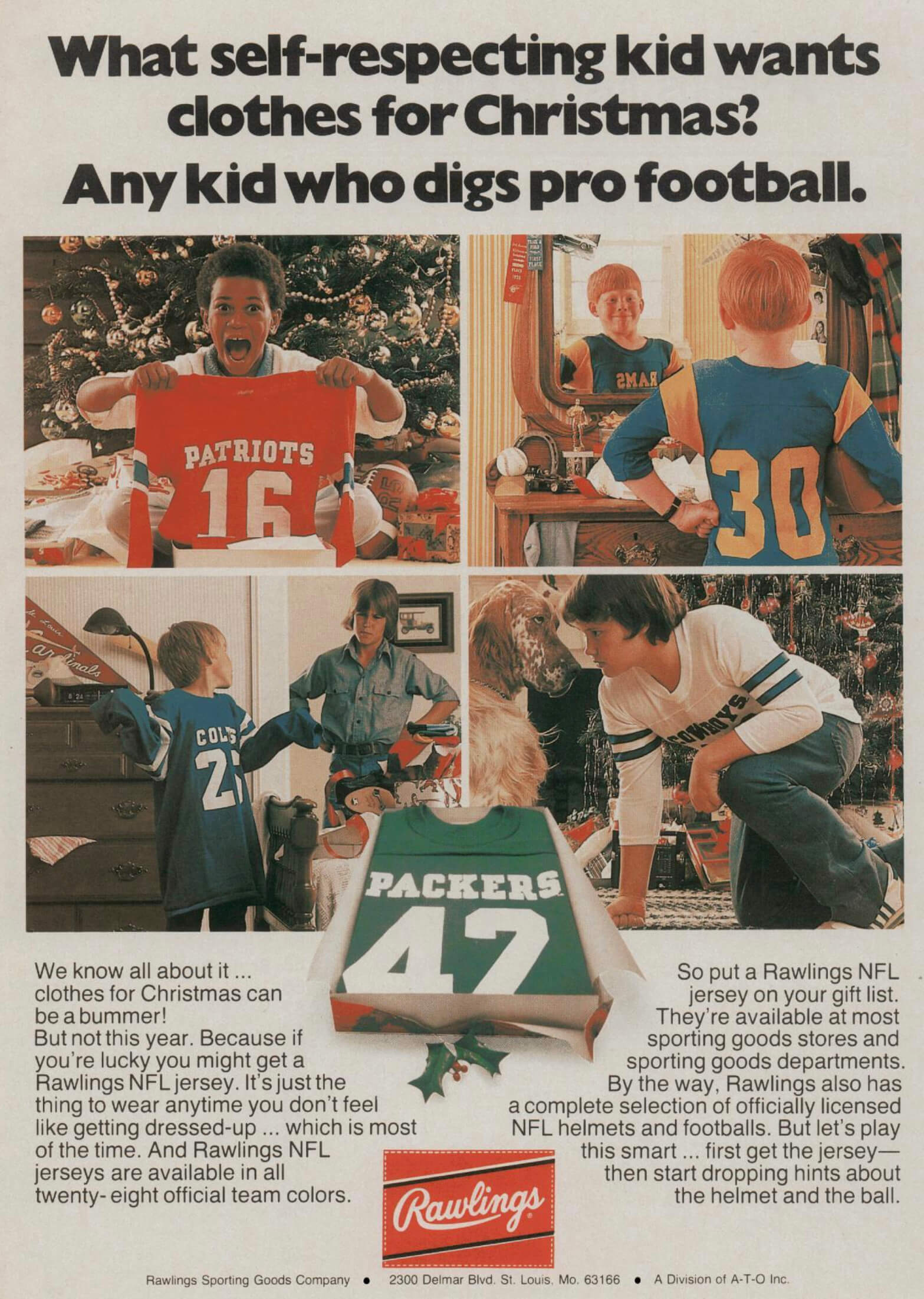 By the late '70s the major sports leagues were licensing their properties for a variety of items for fans and none of them was doing it better than the NFL. Making clothes seem like a welcome Christmas gift is a tall order but that's just what Rawlings was able to do here in promoting their NFL jerseys. Showing excited kids in slice of life photos, rather than suiting up ready to play, made football fandom as thrilling as football itself.
__________
Looking back at these ads shows us a small glimpse into how sports have been a part of Christmas and how that relationship has changed over the years. I hope that they brought back wonderful memories, as that's what often makes the Christmas Season, and sports, so beautiful.
• • • • •
Thanks, Jimmy! That was a wonderful look back at some of the classic Christmas holiday ads of decades past — I'm sure more than a few of us remember at least some of those, and perhaps they even served as the genesis for holiday wish lists for some of us. Thanks for the trip down memory lane, when ads had their proper place, and all we wanted for Christmas was an autographed glove, a football, or…an official Red Ryder, carbine action, 200-shot, range model air rifle, with a compass in the stock and this thing that tells time!