Good morning! Hope everyone had a good weekend, as I did.
Now then: These MMUW reports usually feature teams wearing something out of the ordinary, like a throwback uniform or an unusual uni combo. But sometimes the most notable thing is just a good-looking game between two teams wearing their traditional uniforms. That was the case yesterday in Chicago, where the Bears and Packers provided some nice eye candy. The uni combos, the grass field, the angle of the late-autumn sun — it all felt Just Right.
Obviously, there's nothing new about a Packers/Bears game in Chicago — it happens every single season — but it's still a visual treat. Here's a glimpse of how it looked in action:
.@justnfields 56 yard bomb to @Equanimeous 😮‍💨 #ProBowlVote

📺: #GBvsCHI on FOX pic.twitter.com/RFGLCk2F7U

— Chicago Bears (@ChicagoBears) December 4, 2022
Similarly, the Raiders host the Chargers every year, so there's nothing new on that front. But it sure was easy on the eyes yesterday:
Welcome to Allegiant Stadium, @JerryTillery 😊

📺 CBS pic.twitter.com/u52qENzz2t

— Las Vegas Raiders (@Raiders) December 4, 2022
In other news from around the league yesterday:
The Falcons wore their throwbacks, and also went with a throwback-style scoreboard: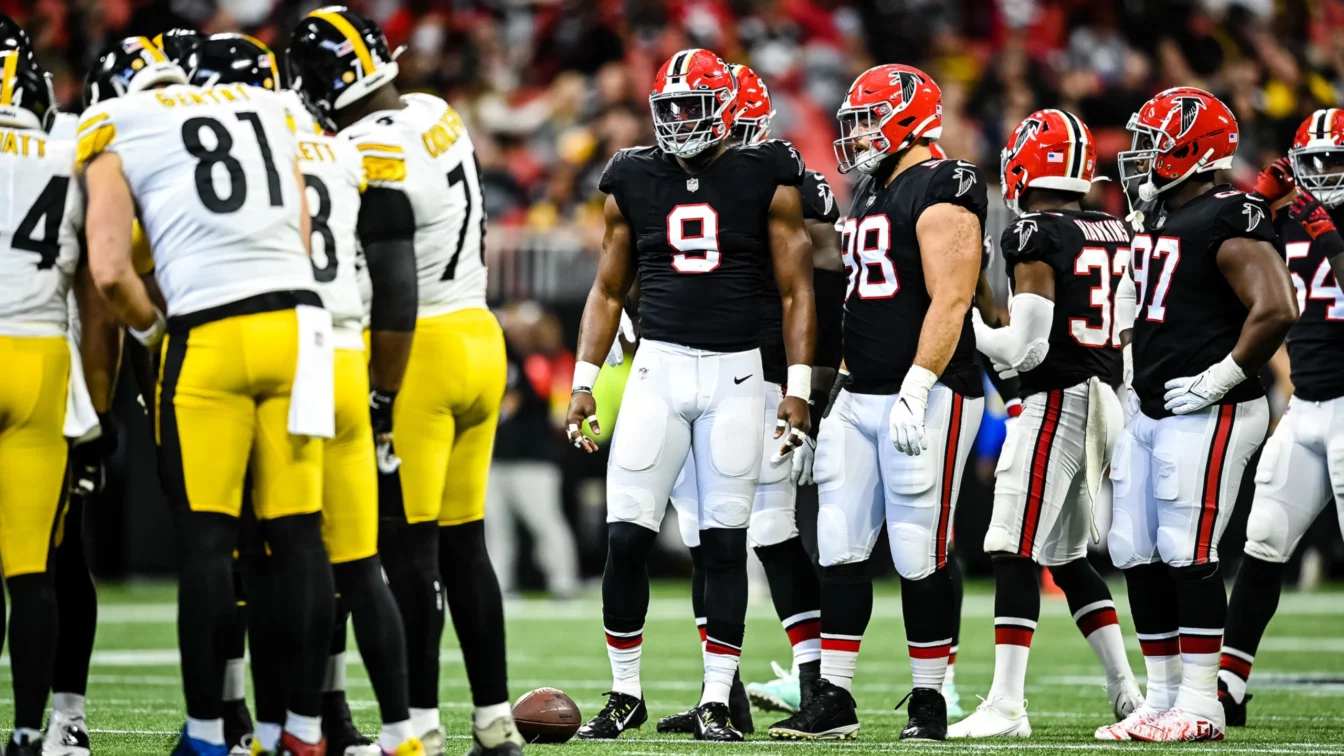 From that same game: As you probably know, if an official throws a flag and then needs to signal another infraction, he throws his cap. But it's really rare to see two hatless officials standing side by side:
The Giants wore their throwbacks and also had throwback end zones:
Special delivery 📦

📺: FOX pic.twitter.com/c0j4Vt8n9O

— New York Giants (@Giants) December 4, 2022
That Jints/Commies game featured a rarity, as both punters — New York's Jamie Gillan and Washington's Tress Way — were left-footed (these photos are not from yesterday, but obviously their dominant feet have not changed):
The Cowboys changed one of their helmet stripes from blue to red for military appreciation. They also did this for one game last season, so it now appears to be an annual thing (and of course they also did it for the entire 1976 season, but that was for the bicentennial, not for the military):
Another awful look for the Lions, who for some reason chose to wear blue over blue:
The Texans wore their mono-blue alternates:
The Bengals wore their orange alternate jerseys:
Jets quarterback Mike White is a big hockey fan, so he and some his teammates showed up for yesterday's game against the Vikings wearing Mighty Ducks jerseys:
Bet you didn't expect to see Mike White and crew wearing Mighty Ducks jerseys today pic.twitter.com/4cRVNIdOwc

— Jets Videos (@snyjets) December 4, 2022
Speaking of the Jets, they once again wore white over black, which means Gang Green still has not worn green jerseys or pants at all this season:
Sock shenanigans continue to spread, as Steelers cornerback Cam Sutton went rogue by wearing striped tube socks (with mismatched shoelace colors for good measure):
Speaking of the Steelers, defensive lineman Cam Heyward wore his father Craig "Ironhead" Heyward's old Falcons jersey for his postgame presser. He said he had visited his father's grave prior to the game.
If you noticed some particularly funky-looking footwear on the field yesterday, that's because this was the week for the annual "My Cause, My Cleats" promotion. You can see a lot of the custom footwear here and here.
Just one home team wore white: the aforementioned Cowboys, of course.
As for tonight: The Bucs are hosting the Saints, with New Orleans slated to wear their black alternate helmets.
(My thanks to all contributors, including David Clemons, Darrell Dawson,Alan Kreit, Steve MacLaughlin, and our own Jerry Wolper.)
---