Good morning Uni Watch, and welcome to Week 13 of your Sunday Morning Uni Watch. We're at the "end" of the regular season (with conference championships, Army/Navy and Bowls to drag out the season another month-plus). And with the last weekend of play that means lots and lots of rivalry games.
While many rivalry games have a deep history (well over 100 years), many consider the Ohio State/Michigan to be the "biggest" rivalry game there is, with the game simply referred to as, well, "The Game" (yes, Harvard/Yale and Cal/Stanford might disagree). But in terms of both rivalry and ranking (coming into the game, OSU was ranked #2 and UMich was #3), yesterday's 118th meeting between the two bitter rivals essentially served as a playoff game. To the Victors go the spoils: a trip to the B1G title game and a likely BCS berth. It's possible the Rose Bowl will be the consolation prize (which is not a bad consolation prize). And yesterday, Michigan emerged victorious, on the road, at the 'shoe.
Both Michigan and Ohio State have worn alternate uniforms for The Game, but neither team made big announcements about unis early in the week. OSU wore their normal (beautiful) scarlet and gray, while Michigan eschewed their maize britches, opting instead to wear their "throwback" white pants. Michigan Coach Jim Harbaugh loves the white pants look (although he himself has a thing for khaki). I may be one of the few who prefers Michigan in this look on the road — but they really need to go blue over maize at home. They've been sporting the blue pants a lot this year. Anyhoo… here's how the game looked yesterday, and it was just one of many gorgeous games: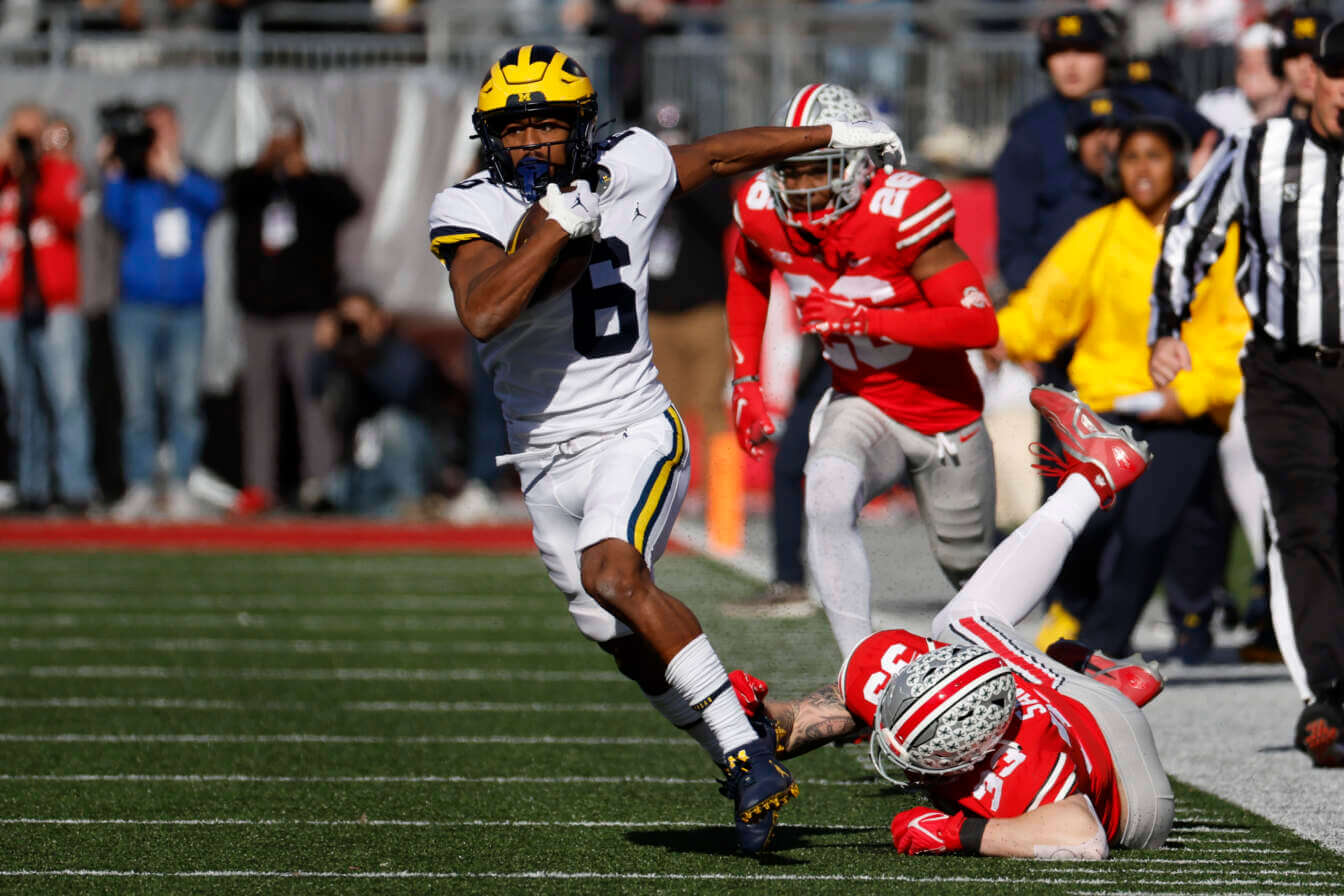 There's something about that scarlet jersey in the bright sun, with the gray hats and pants going against the classic winged helmet and white unis with beautiful blue/maize striped pants and jerseys.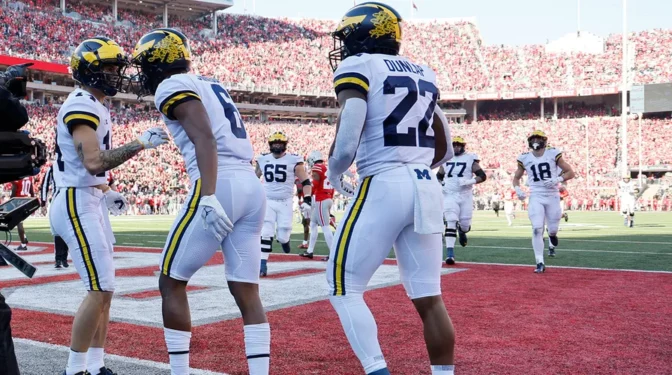 Lots more (glorious) photos here.
And with that, I'll turn the rest of this rivalry weekend over to TJ, who brings you your …
• • • • •
Sunday Morning Uni Watch
by Terry Duroncelet, Jr.
Rev up those trash-talking fingers for that one currently unstable social media platform, because it's RIVALRY WEEK. Not too much in the way of wild 'n' crazy, but just enough for the last big post until Bowl season. So without further ado, let's get into it.
From Friday:
• North Carolina/NC State: Contrast Matters: Close, but No Cigar Edition. As you can see, UNC broke out the (Carolina) blue chrome domes against NC State.
• Cal/UCLA: Cal dusted off their throwback uniforms for their yearly-ursine bout against UCLA.
• Cincinnati/Tulane: The Bearcats wore all-red against Tulane. This is apparently only the 2nd time in school history that they've done this, and their last time as a member of the American Athletic Conference, as they make the move to the Big XII for 2023.
• Mizzou/Arkansas: This Tigers look has Oklahoma State energy.
• Eastern Michigan/Central Michigan: I've always found EMU's field to be one of the weirdest displays of greyscale… ILLUSIONS??? I've ever come across (only one, really), but take a look at this reel. The contrast from the grey playing field (which perpetually has this dark light effect going. You know, when it's overcast and the clouds are super-dark, but the sun is also shining?), to the green endzones that look like a traditional hue field when the rest is cropped out of camera shot is ESPECIALLY jarring.
• Iowa/Nebraska: Contrast Matters: Gentlemen… behold: CORN!!! Edition. Funny enough, even though Nebraska isn't a "natural" B1G team, they seem to fit well, in my opinion. Especially when facing Iowa. It just feels right (also, here's the reference since I know people will ask).
From Saturday:
• Oregon State/Oregon: Kind of a nonargument at this point for this game, but what's a little life without some color?
• South Alabama/Old Dominion: it truly is the year of the script decal, innit?
• Buffalo/Kent State: Some more Saturday color-vs-color action. There's something about the stark colors that just feels very MAC Conference.
• North Texas/Rice: BFBS for the Mean Black.
• Duke/Wake Forest: BFBS for Duke.
• SMU/Memphis: BFDS (Black For Dallas's Sake) togs for SMU.
• USF/UCF: This year's I-4 bout was quite… VIBRANT.
• Texas A&M/LSU: Anybody know who this player is?
• Louisiana-Monroe/Southern Miss: Camo crud for Louisiana-Monroe. And how 'bout this: both head coaches wearing ties! (although I'm not keen on the button-down with a tie. It's just not as convenient as a point or spread collar with a tie). There's actually some cool lore behind the attire, which you can read about here.
• UNLV/Nevada: Color-vs-color for these two, and I find myself once again asking THE and OF why THEY CAN'T DO THE SAME THING
And THAT will do it for Week 13. This is around the time that we have our championship games, TOGIT, and is generally the quiet before the storm that is Bowl season. With that said, I'm gonna go sleep for a bit. This past week has been a lot work-wise. I've completely lost my concept of time. Just as well: time is a meme. I hope everyone had a happy, ITIS-induced, and safe Thanksgiving, and I'll see you all next time!
• • • • •
Thanks TJ! Superb job — as always — and another great regular season of helming the SMUW dash! And now, for his final installment of this season, I'm turning this over to Wade Heidt for one last…
---