So here's one I didn't see coming: Navy's uniform for this year's Army/Navy game, which will take place on Dec. 10, has an astronaut/NASA theme. That seems pretty weird, given that (a) NASA is not connected to the U.S. military, and (b) the navy specializes in, you know, water, not outer space.
But as explained in the press release, 54 Naval Academy graduates have gone on to become astronauts, the most of any institution. I had no idea, and would never have guessed that. So if nothing else, this uniform has taught me something interesting. (Also, the part of the moon where the first manned lunar landing took place is called the Sea of Tranquility — sea, get it? Amazingly, this is not referenced in the press release.)
Still, NASA connection or no NASA connection, they've gone a bit overboard with the helmet. Check it out (complete with faux-moonscape setting):
I mean, does that make you think of the Navy?
The rest of the uniform, though, is nice enough: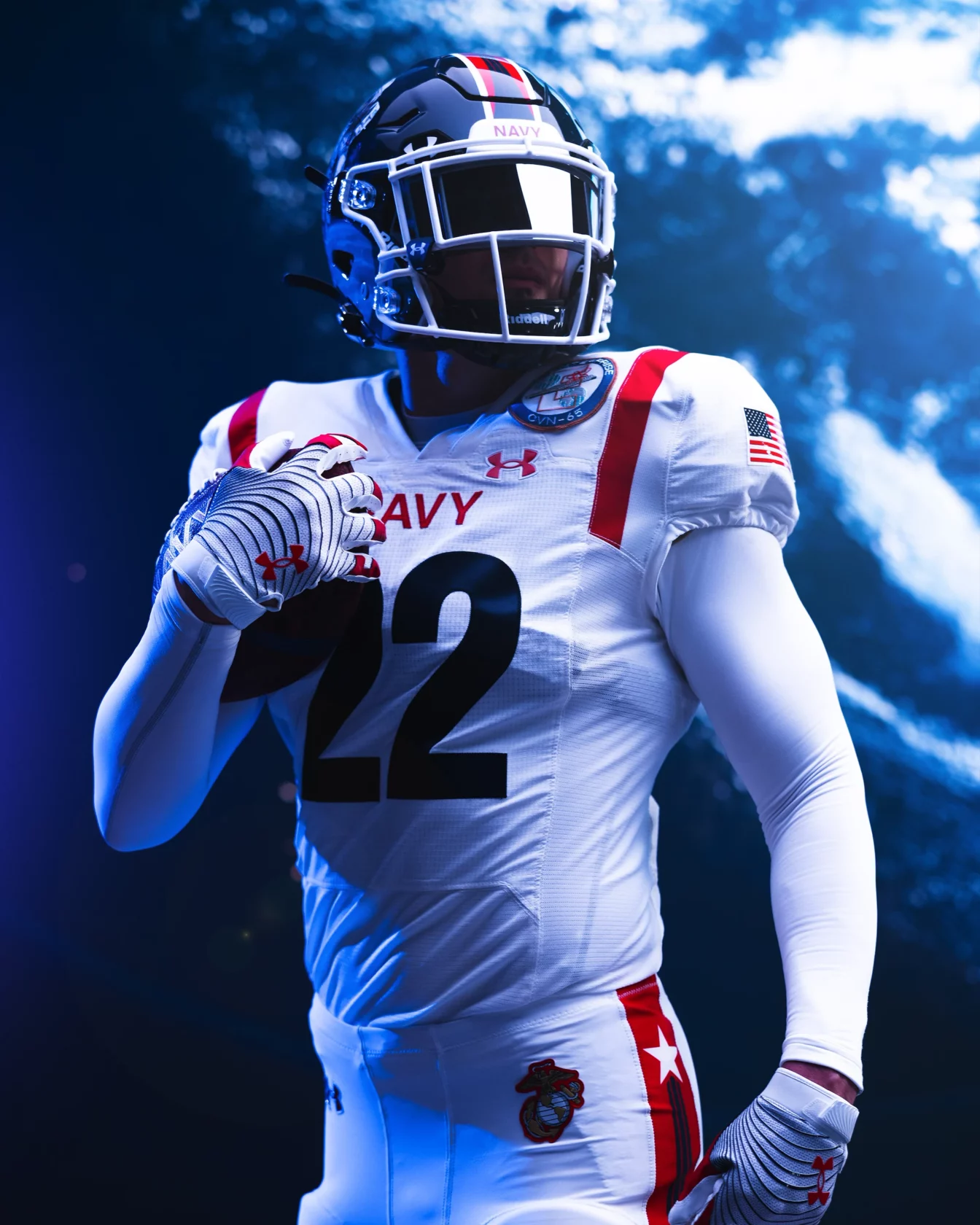 This is at least the third NASA-themed uniform to be unveiled by a top-level sports team this year (the other two one being UCF's latest "Space Game" uniform and the Houston Astros' City Connect uniform). You can see lots of additional photos of it here.
Naturally, there's also a lot of "storytelling" silliness. The best (read: worst) bit is about the footwear: "The cleats are all white to mimic astronaut moon boots with shiny dots to represent stars." Keep in mind that Navy routinely wears white cleats, so going ivory-footed isn't exactly a revolutionary thing for them. And what do these new lunar-inspired cleats look like? Let's see:
Wow — groundbreaking.
Phil will go into much more detail on this uniform, as well as the Army uniform (which hasn't yet been unveiled), in his annual Army/Navy preview, which will run in a few weeks, so stay tuned for that.
---