Good Saturday morning, Uni Watch readers. I hope everyone has had a pleasant week.
As you all are no doubt aware, the World Cup — this year taking place in Qatar — begins tomorrow, with the host country taking on Ecuador, and the United States beginning their Group stage (vs. Wales) on Monday, among other games. I'm once again joined by longtime readers and contributors Kyle Evans and CJ Fleck, who have returned to bring us their preview of this year's World Cup kits. There is a LOT to get to today; so much so that the WC Preview will be broken up into two parts — the first part is below, and Part II will follow later this morning. Let's get right to it. Here are Kyle and CJ with their preview of the …
• • • • •
2022 World Cup Kits, Part I
by Kyle Evans and CJ Fleck
Thanks Phil! Happy to be back to preview the World Cup, which is generally held in the summer but will take place from November 20th – December 18th due to Qatar's climate. This is the last tournament that will be held with only 32 countries, as the 2026 USA/Mexico/Canada edition will expand to 48 countries. There are plenty of kits to get to, so let's jump right in and let us know your favorite and least favorite designs!
__________
Group A
Qatar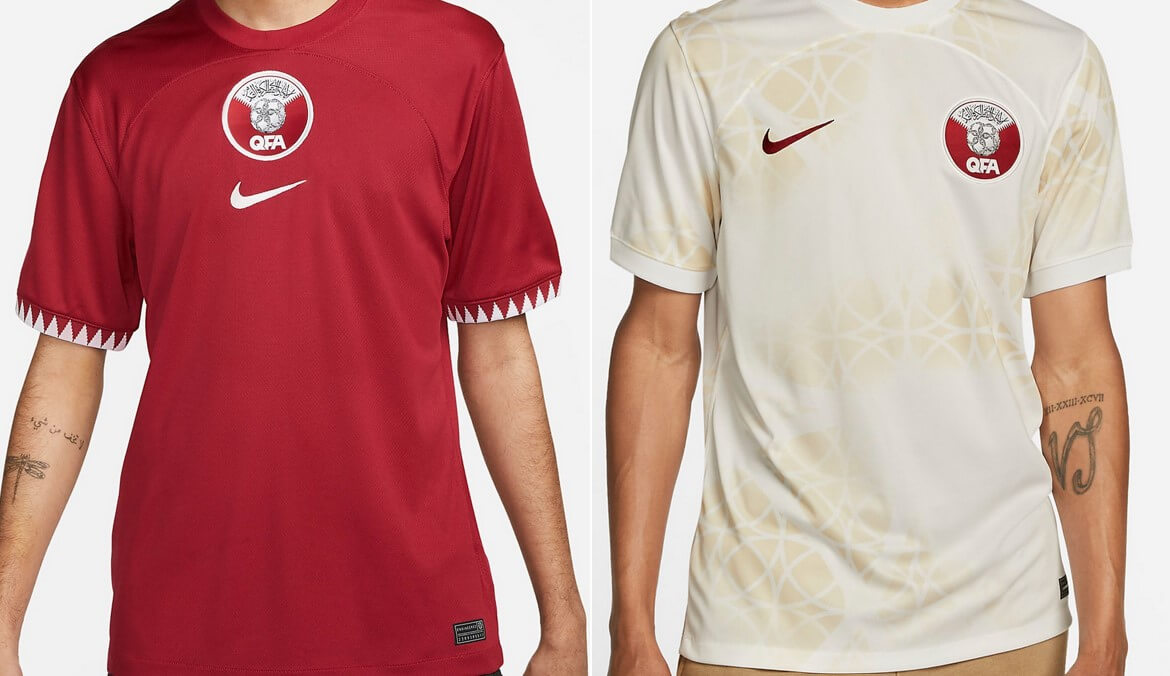 Primary: maroon with triangular pattern on sleeves based on country flag
Secondary: white with sublimated design based on pearls and sandstorms
Kyle: The hosts will look great as I'm almost always a fan of flag-based designs.
CJ: Not too shabby! I like the sleeve element from the flag as much as Kyle does.
__________
Ecuador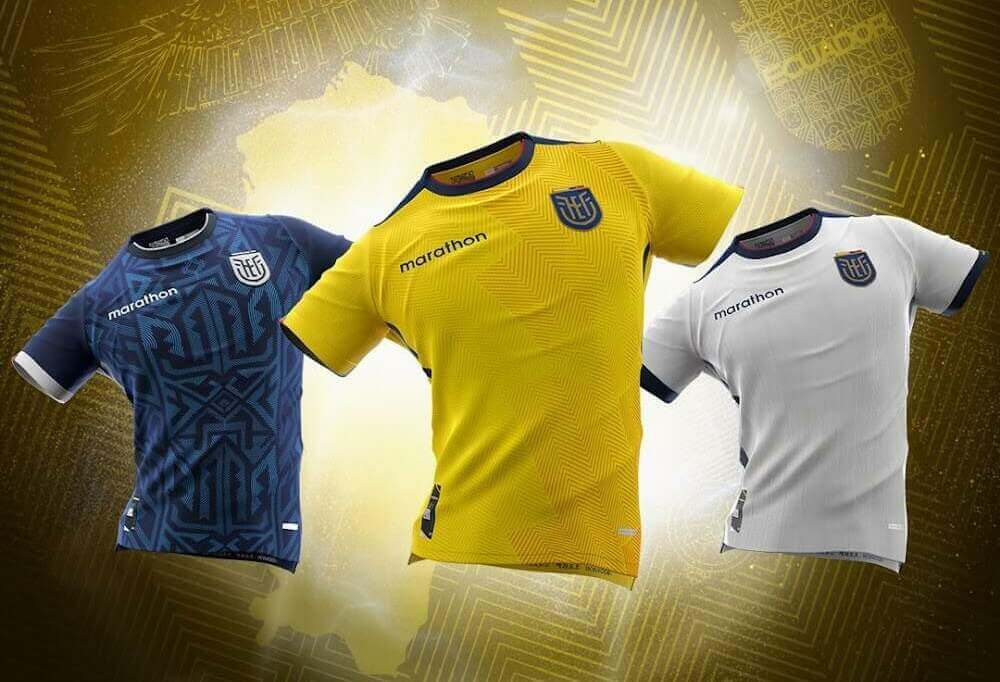 Primary: yellow with navy/red accents (flag-based) and sublimated zig-zag design
Secondary: navy with Incan-inspired geometric design
Third: white with subtle sublimated stripes
Kyle: I absolutely love these. Great connections to flag and history.
CJ: I'm not as enamored as Kyle, but I will say they're solid and could be much worse.
__________
Netherlands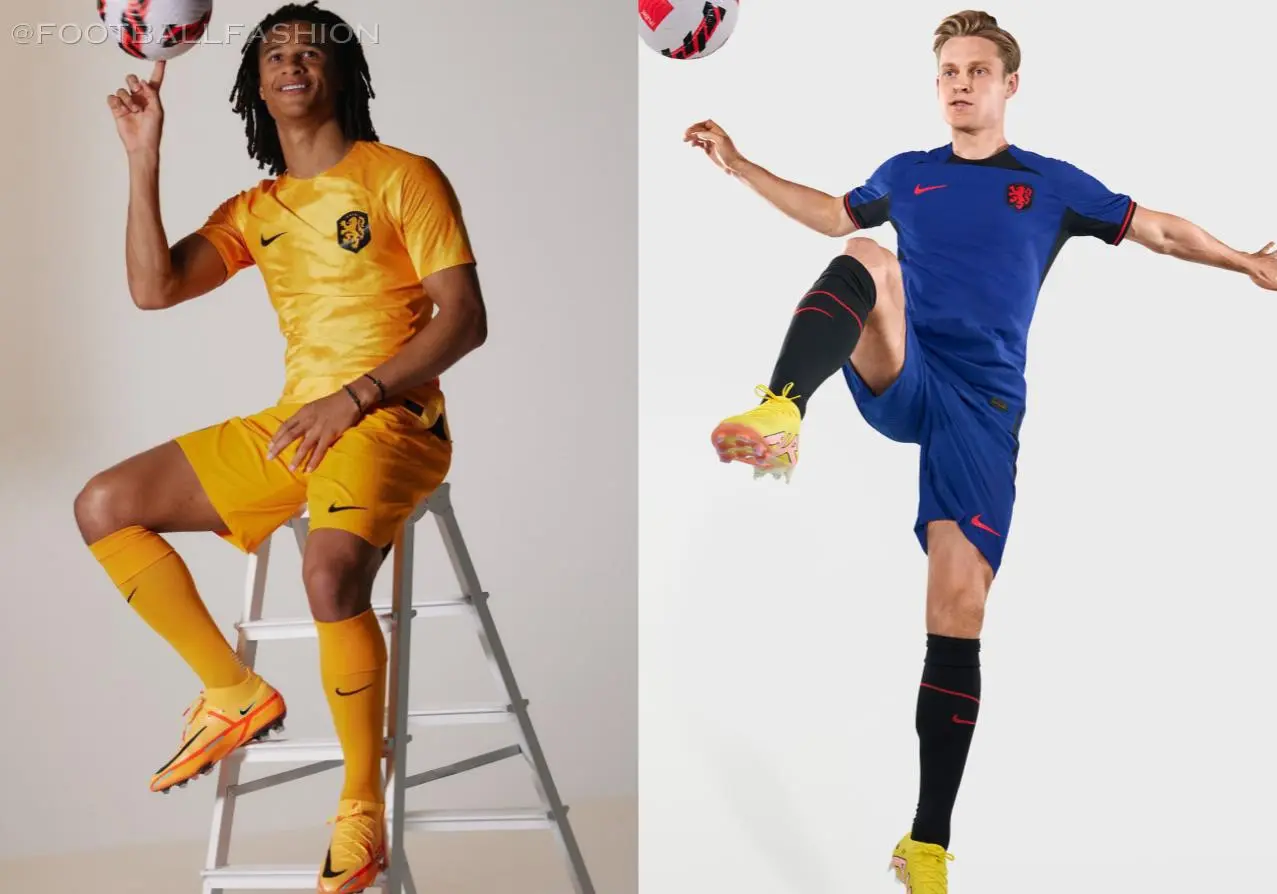 Primary: shiny orange
Secondary: purple (on new Nike template)
Kyle: No thanks to that shiny effect. Double no thanks to that Nike template (see USA).
CJ: The Dutch have a wonderful history of kits at major tournaments, in my opinion; these do not fit the history at all.
__________
Senegal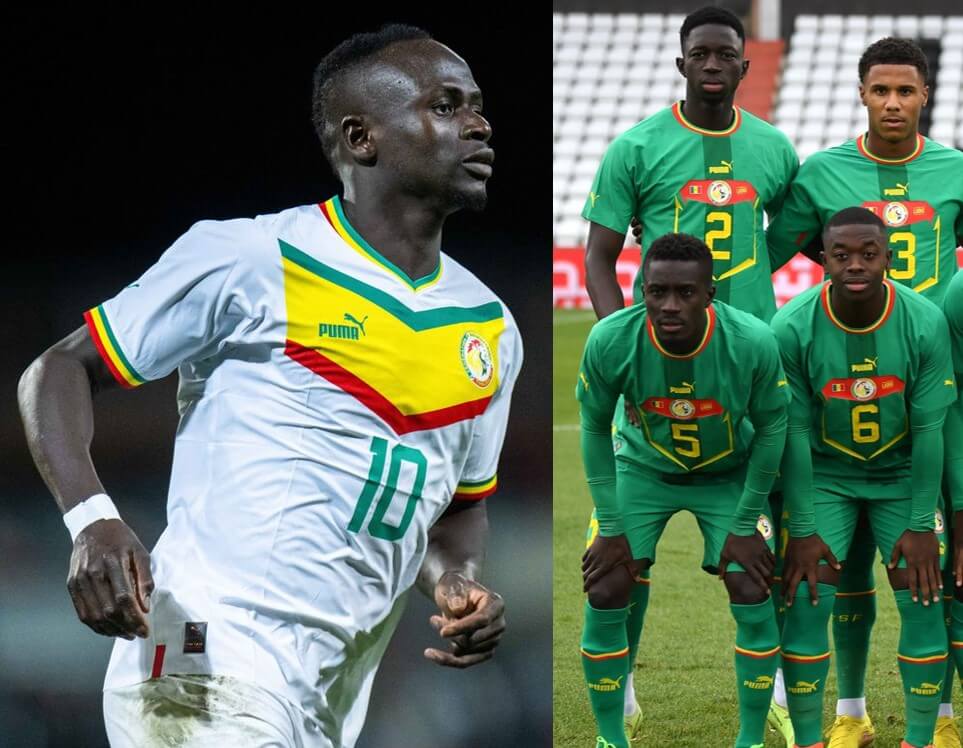 Primary: white with green/yellow/red chevron and sleeve/collar accents
Secondary: green with dark green center vertical stripe and Puma "shield" design
Kyle: The white kit is one of the top looks of the tournament for me. I'm not a fan of these "Puma shields" but the green design is arguably the strongest of them due to the way the colors pop.
CJ: Just copy and paste what Kyle said. 100%.
____________________
Group B
England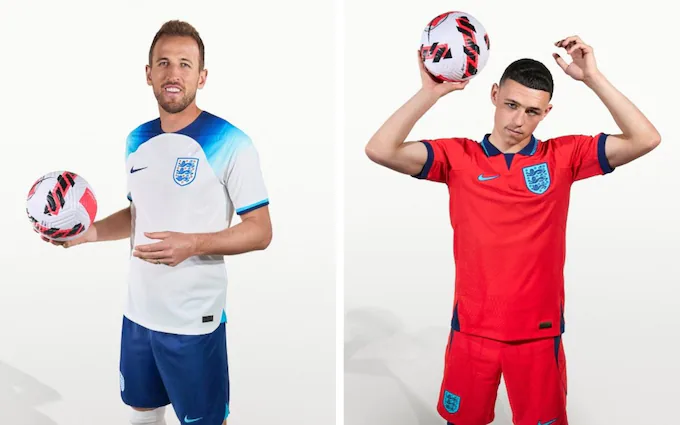 Primary: white with navy to light blue gradient shoulder design
Secondary: red with navy and light blue accents
Kyle: The white with navy shorts isn't terrible? My eyes don't appreciate the light blue and red combination and I'm not sure the collar will even save it for CJ.
CJ: I like the red kit, strangely enough. I don't think it fits England, exactly, but I like it. The navy shorts though? No thank you.
__________
Iran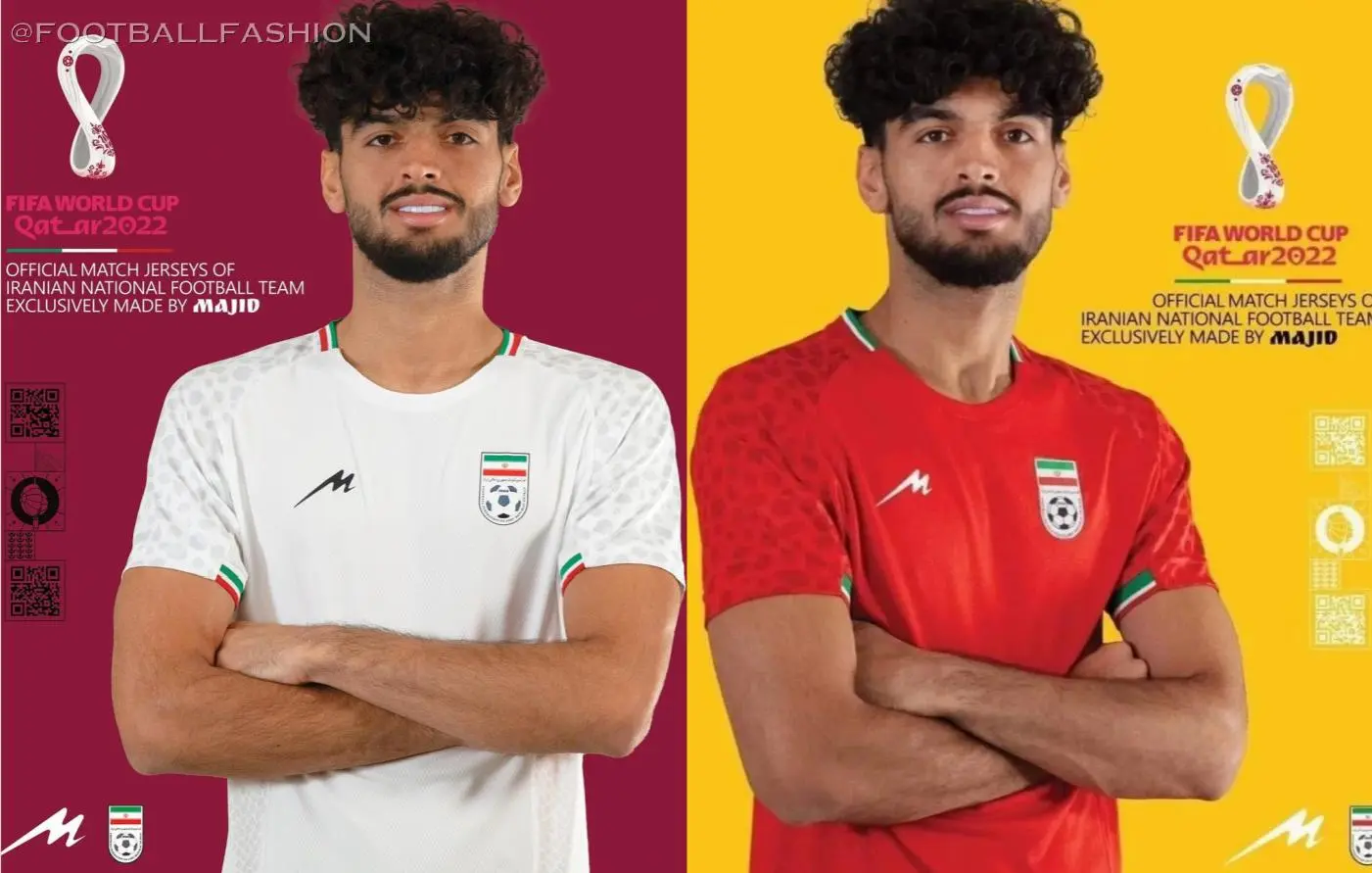 Primary: white with green/red collar and sleeve striping and cheetah print sleeves
Secondary: red with green/white collar and sleeve striping and cheetah print sleeves
Kyle: Identical designs, but the stripes pop more on the white. The cheetah design is subtle and a shoutout to an endangered species.
CJ: These certainly are a set of kits for a national team. This is a common criticism of mine.
__________
United States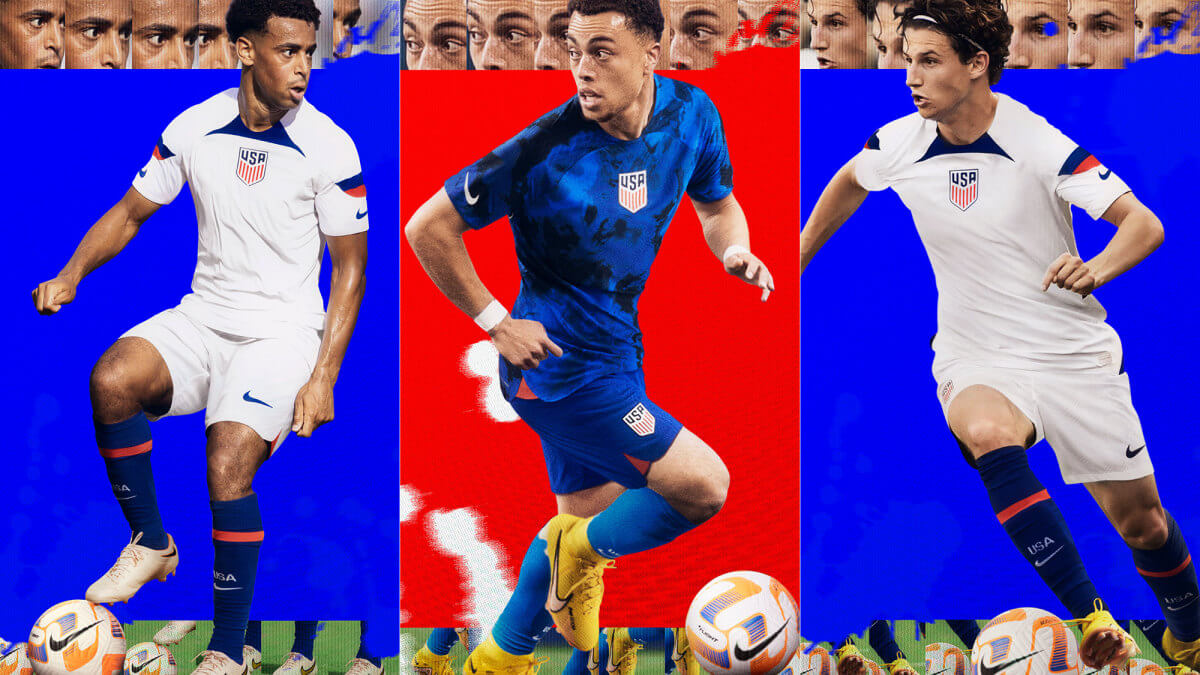 Primary: white with navy/red sleeve stripes and navy panel by the collar
Secondary: blue and navy tie-dye style pattern
Kyle: Centered crests still don't feel right to me. Not a fan of this Nike template but the whites are alright with the balance of the accent colors, and the blue kit is a real eyesore.
CJ: I think the US does the Nike template best, and it's because of Kyle's point about color balance. Or I'm supremely biased and patriotic, who knows.
__________
Wales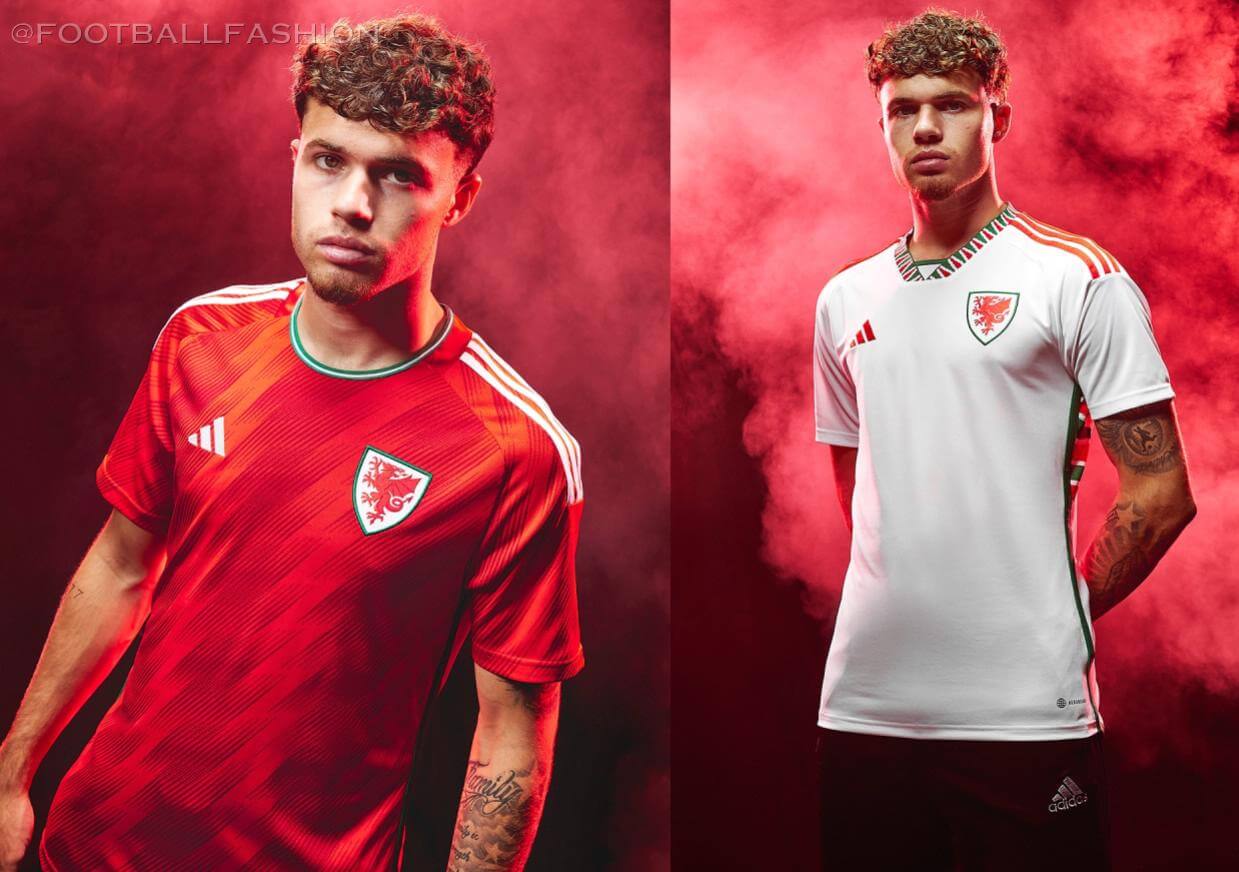 Primary: red with white and green accents and sublimated diagonal stripes
Secondary: white with red/green zigzag pattern on collar and side panels
Kyle: A great set of looks and a unique design element on the white.
CJ: Love these, especially the side panels! Probably won't look great on TV but the design effort cannot be overlooked.
____________________
Group C
Argentina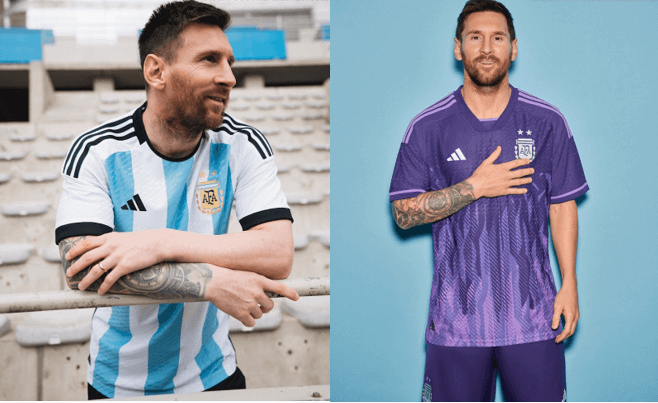 Primary: classic sky blue and white vertical stripes with black accents
Secondary: purple with purple gradient flame design based on the Sol de Mayo symbol
Kyle: One of the most recognizable and beautiful primary looks in the world and honestly I love the purple one too.
CJ: Some countries are classics that can't take a wrong step with certain design elements and colors. That does not absolve them of their subsequent mistakes, such as this purple monstrosity.
__________
Mexico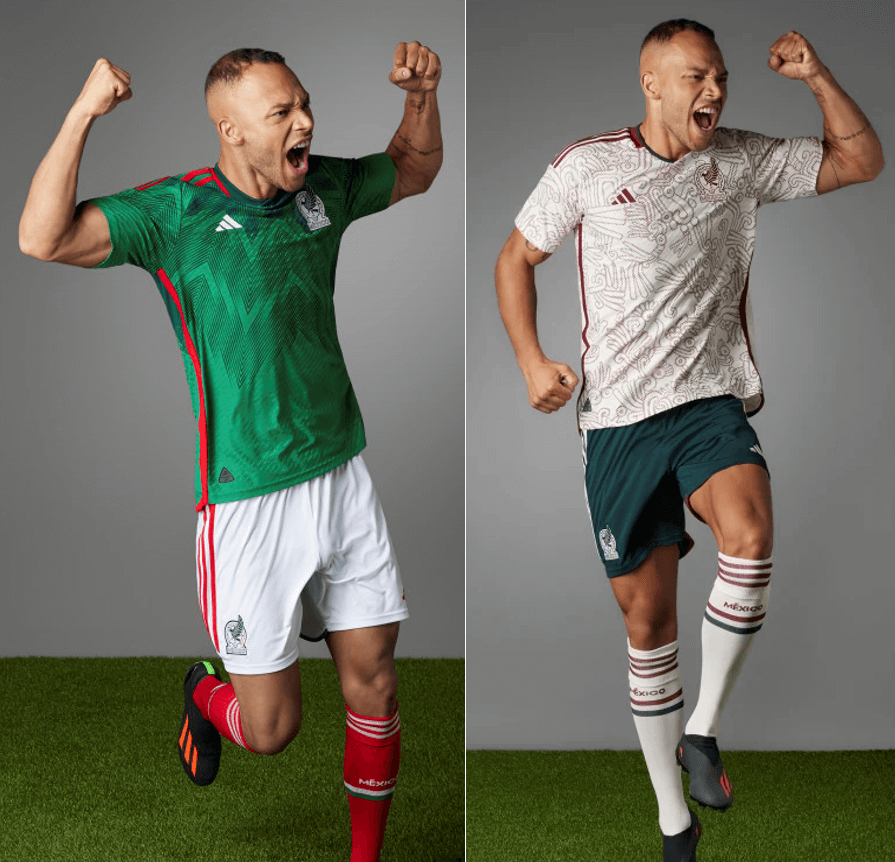 Primary: green with subtle graphic print inspired by Quetzalcoatl
Secondary: beige with red graphic pattern also inspired by Quetzalcoatl ("feathered serpent")
Kyle: Love the green and the cultural tie-in, but the beige is too busy for me.
CJ: Simple, but a big fan of the socks here. More stripes, please!
__________
Poland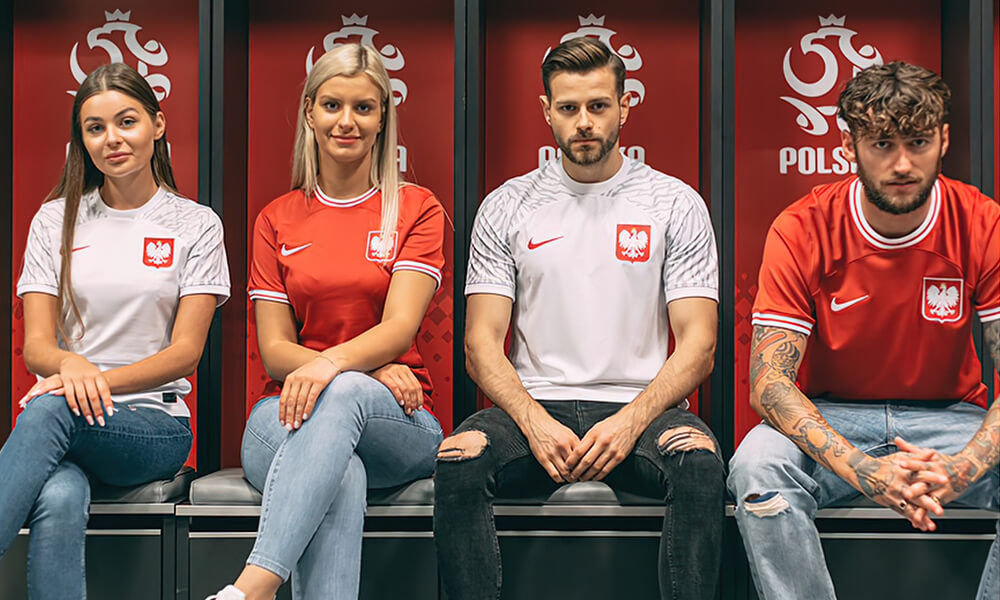 Primary: white with eagle feather pattern on sleeves
Secondary: red with white accents
Kyle: Classy looks and the sleeve pattern is subtle enough to not be distracting.
CJ: Shield crest cannot save these for me. Nike has been all over the place.
__________
Saudi Arabia
Primary: white with sublimated palm leaf pattern
Secondary: green and dark green mosaic style pattern
Kyle: I don't buy the associated marketing speak, but as designs these are nice.
CJ: What did I just say about Nike? I'm not sold, but there was an attempt.
___________________
Group D
Australia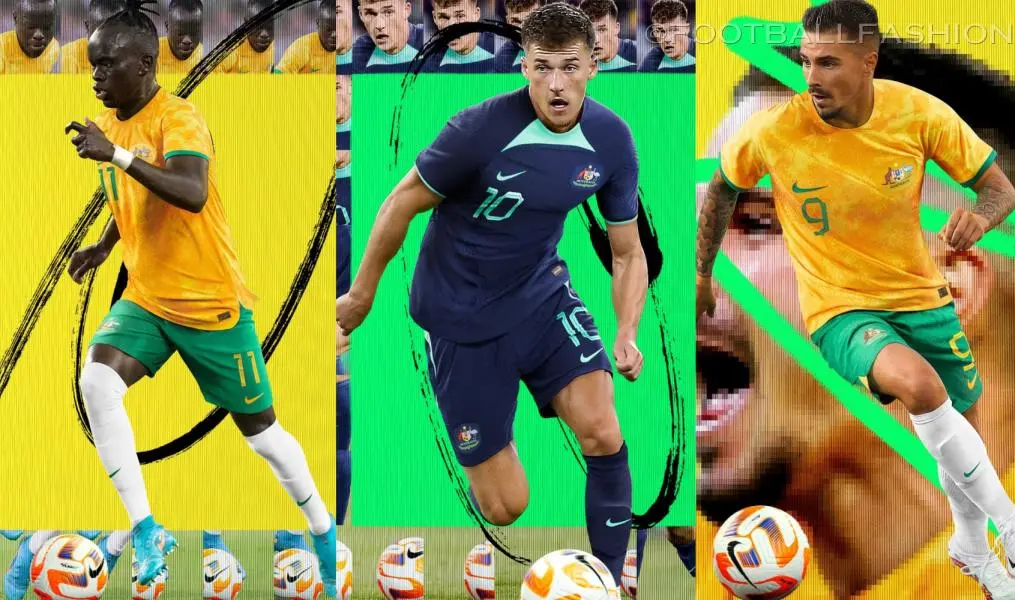 Primary: "splotchy" yellow with green accents
Secondary: navy with teal accents and front neck panel
Kyle: The secondary might be my least favorite of the tournament – makes me think of a generic Premier League third kit and certainly not the Australian national team.
CJ: See also: Argentina comments. Classic styles do not excuse experimentation gone wrong.
__________
Denmark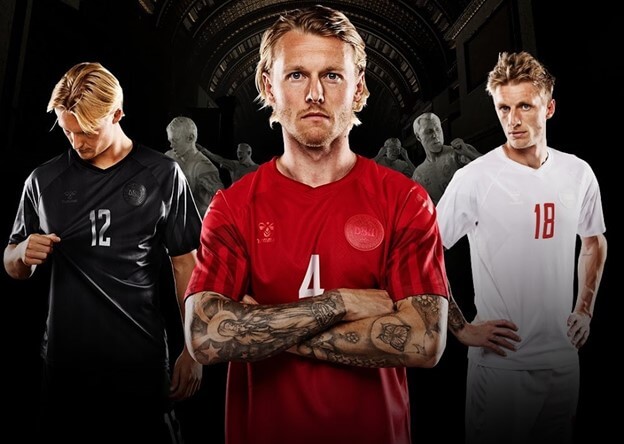 Primary: mono-red with subtle sleeve stripes from the 1992 kit
Secondary: mono-white with subtle sleeve stripes from the 1992 kit
Third: mono-black with subtle sleeve stripes from the 1992 kit
Note that the monochromatic kits are a form of protest against the human rights record of the host country.
Kyle: A unique form of protest that I fully support.
CJ: A striking look designed to turn heads.
__________
France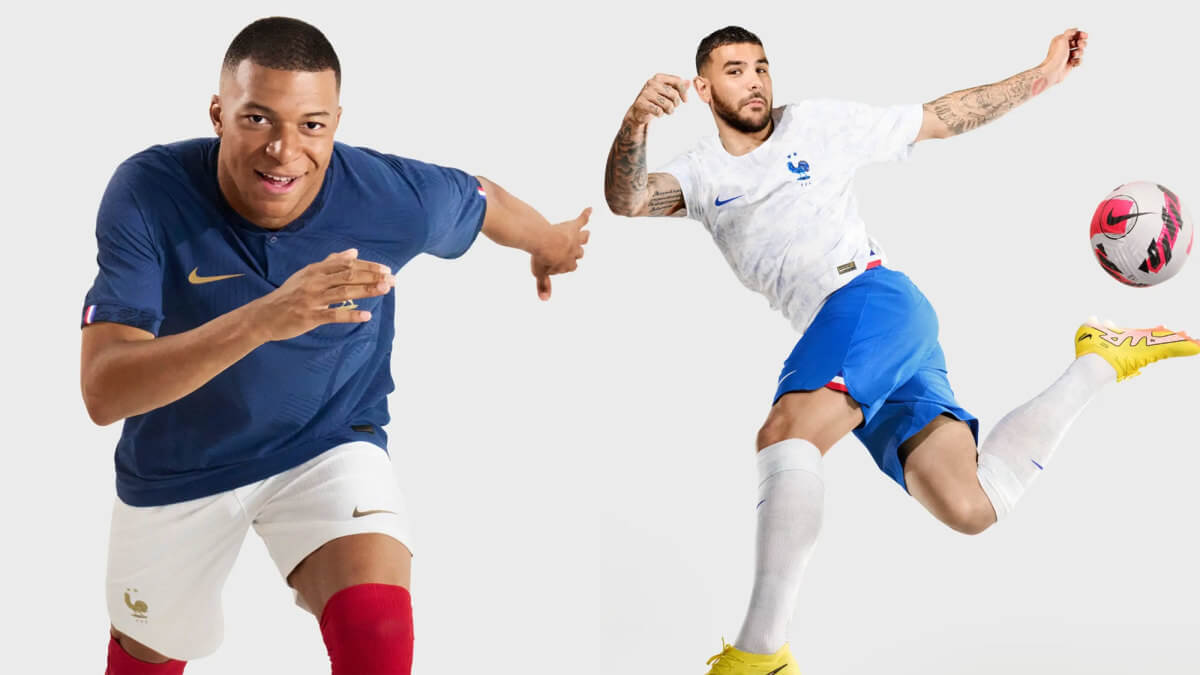 Primary: navy with gold accents (as defending champions), complete with white shorts and red socks
Secondary: white with sublimated design containing various French cultural symbols, moments, and landmarks
Kyle: The gold accents are the perfect touch to the classic primary look and fans will appreciate the cultural elements on the white if they purchase the jersey because they certainly won't be evident on television.
CJ: Where are the gaudy Nike problem designs for the French? But, I'll take a non-eyesore any day.
__________
Tunisia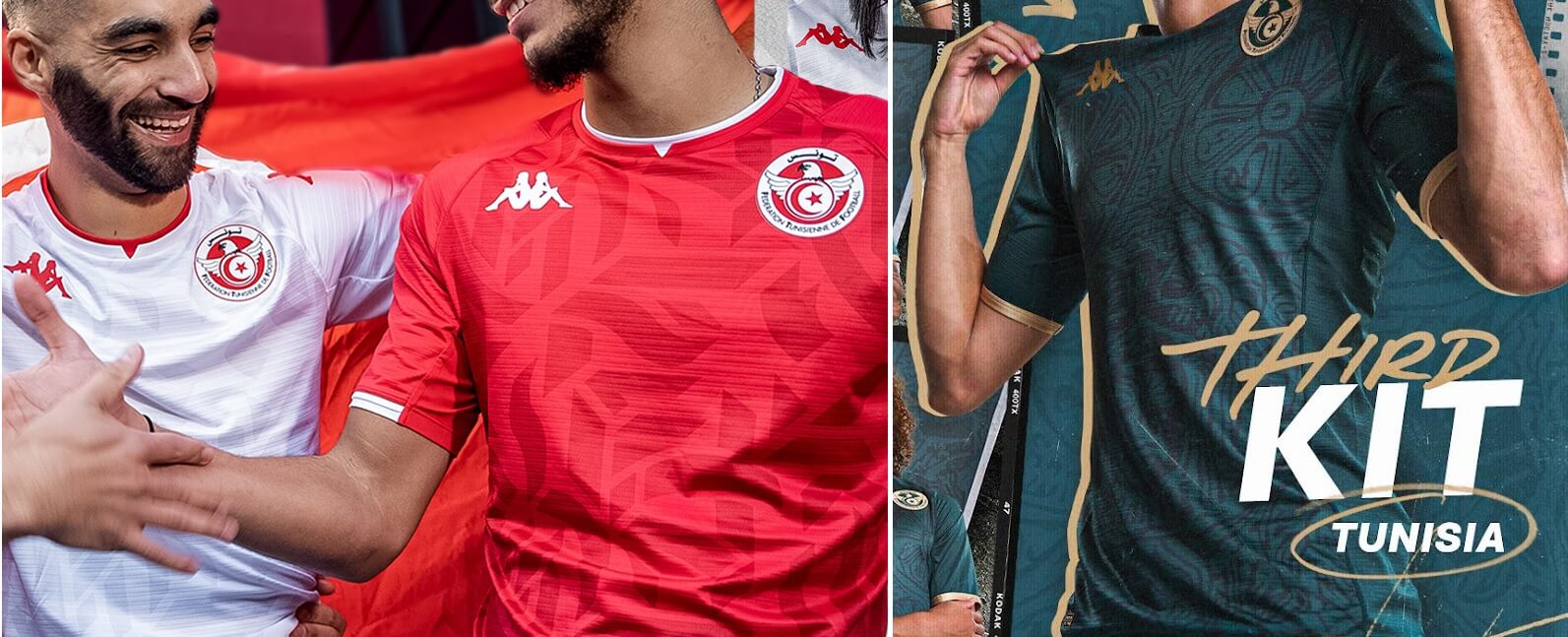 Primary: red with sublimated design based on the armor of Hannibal
Secondary: white with sublimated design based on the armor of Hannibal
Third: dark green with sublimated design based on the armor of Hannibal
Kyle: Consistent design and solid looks.
CJ: Consistency is key, I suppose. But just a touch too simple.
• • • • •
Thanks, lads! Nice rundown. We'll be back with more of their previews in Part II, which will be published later this morning!
Readers? What say you?
---