Good Sunday Morning Uni Watchers, and welcome to Week 10 of the Sunday Morning Uni Watch. I hope everyone is enjoying their "extra" hour of sleep today.
While there was plenty of uni shenanigans yesterday (it's S&S/GI Jokevember after all), today's splash photo is of a team that doesn't get much coverage 'round these parts: the University of North Texas, aka the "Mean Green." The team looked more like the neon green yesterday, as they wore throwback uniforms and helmets, with the logo lovingly referred to as the "Flying Worm."
According to Mean Green Sports, the logo
was a quintessential piece of 70s design, a child of 1960s psychedelic design with thick, curvilinear shapes; a long, thick body with equally thick wings coming off its back.

It was a stylized rendition of an eagle. However, to North Texas students of the era, it looked like a flying worm. And the name stuck.

But the 1970s uniforms were much more than the Flying Worm. North Texas has long changed the shade of green worn by its student-athletes, but this was easily the most bold: a bright, eye-catching, practially neon lime green.

Introduced in 1973, the Flying Worm and lime-green uniforms were retired in 1982-83. But more than any uniform or logo before or since, the Flying Worm continues to enjoy popularity.
The great Hayden Fry, who coached at North Texas from 1973-78, and artist Rick Spears designed the Flying Worm logo
The team had worn Flying Worm throwbacks before, but this was the first time they did so with a white jersey. Now, normally I'm not a yuge fan of neon colors on a football uniform, but it was used so sparingly (and the uniform itself was pretty plain), it really looked great.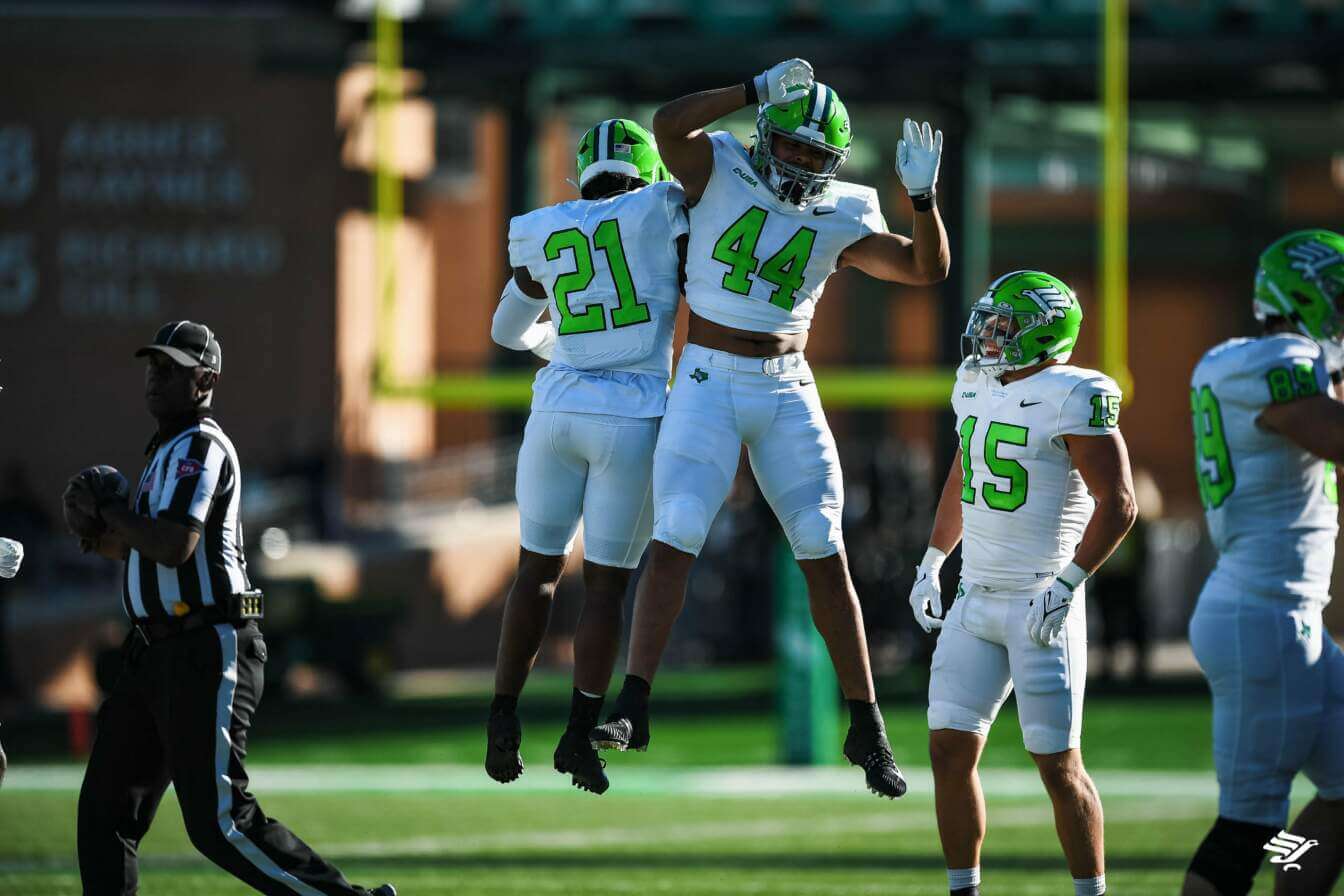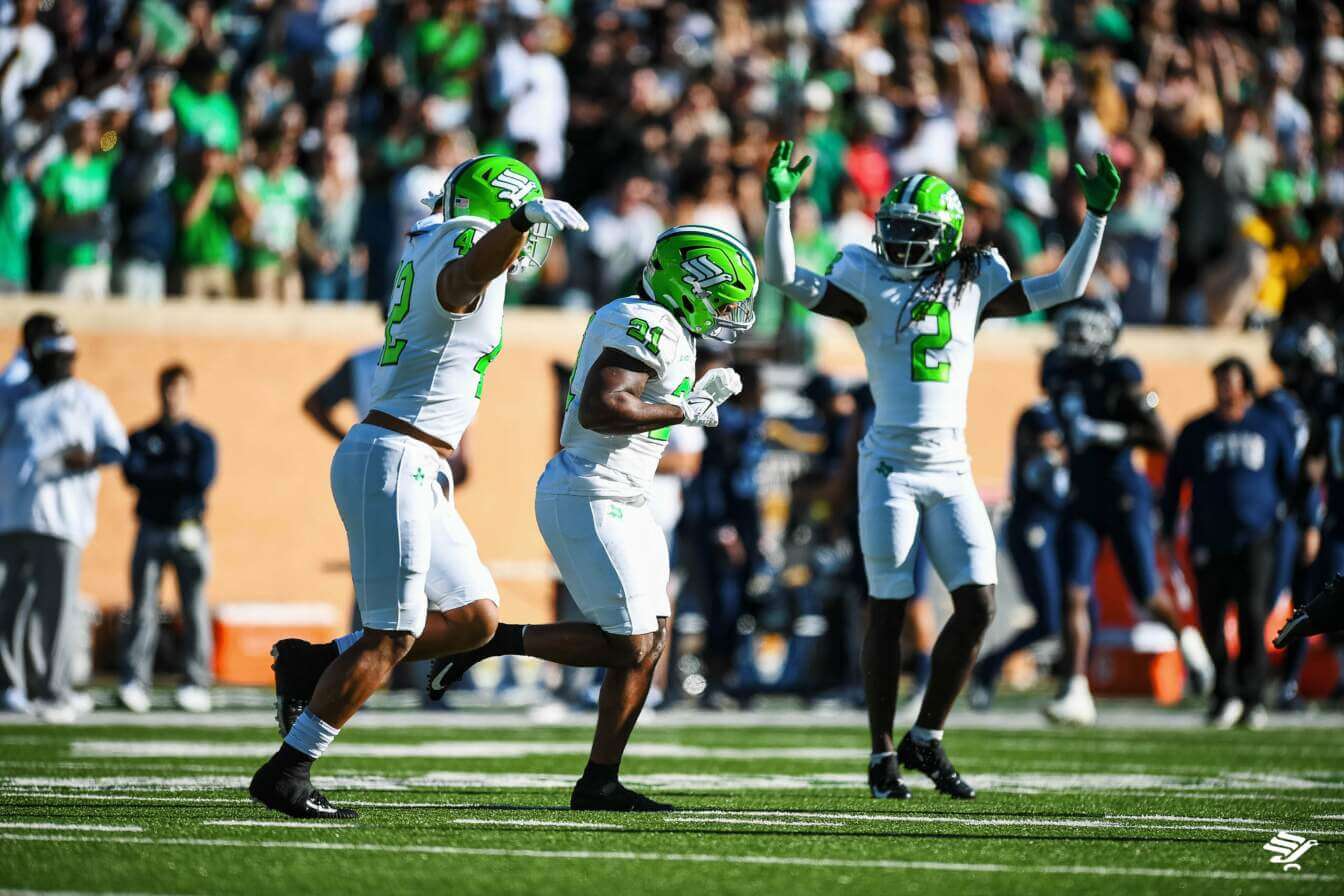 I wouldn't quite call the "neon" green chartreuse, but it's close…and chartreuse is a color that is sorely lacking in sports. When it's done right, like these are — the simple block numbers outlined in dark green, the green helmet with classic striping — it's all good. It would have looked even better with pants stripes matching those on the helmet, but other than that, I have no complaints. It didn't hurt that UNT's opponents, Florida International, went mono-blue, rendering the matchup both high-contrast and pleasing to the eye. A nice little mid-to-late season break from the usual "icy whites" and "blackout" uniforms so prevalent these days.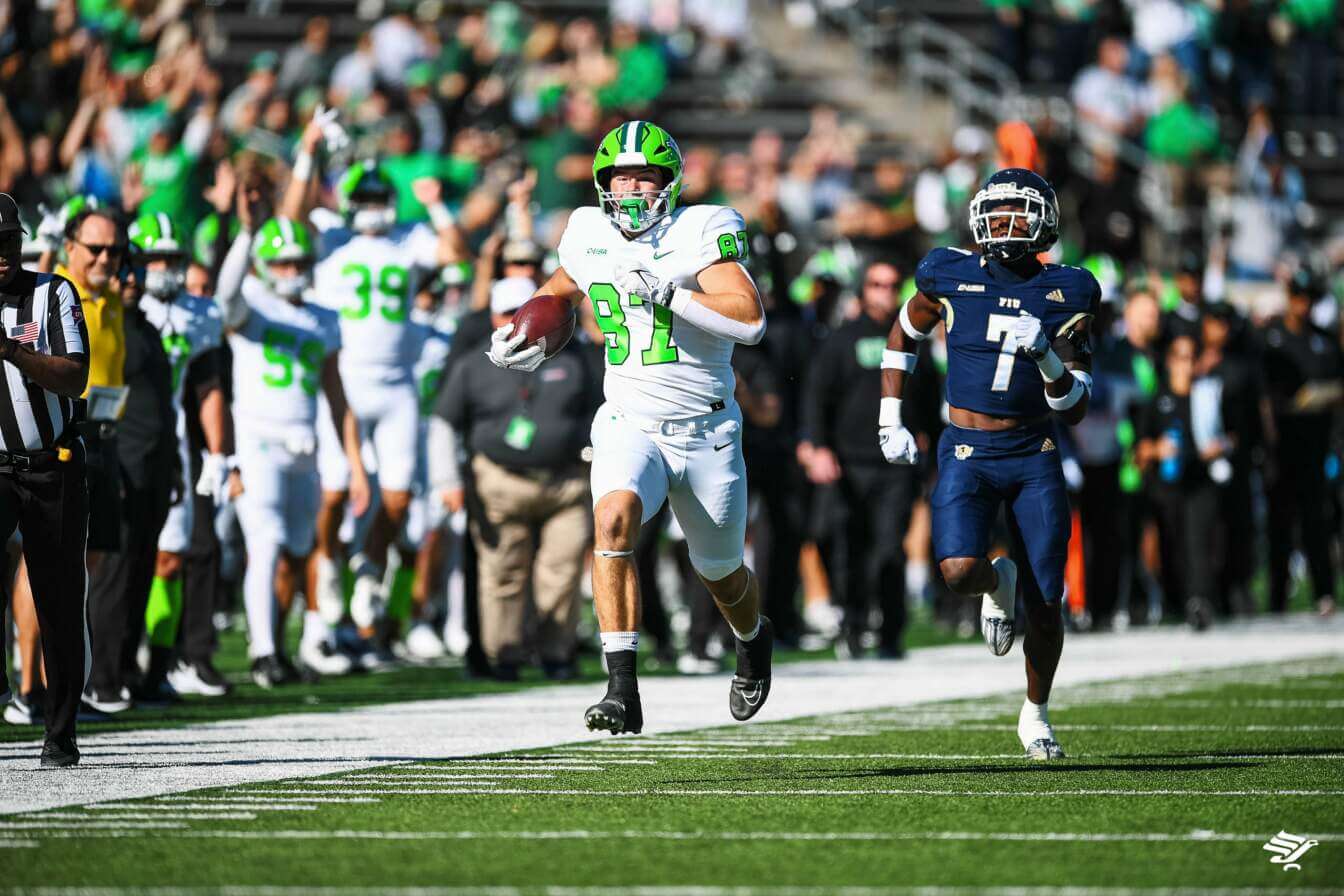 And with that, I'll now turn the rest of this portion of the SMUW to Terry who'll bring you your…
• • • • •
Sunday Morning Uni Watch
by Terry Duroncelet, Jr.
From Tuesday:
• Kent State/Ball State: Kent State kicked off G.I. Joevember by wearing their GFGS alts against Ball State (closer look at the helmets).
• Ohio/Buffalo: The Bobcats missed the Halloween invitation by a day, so the BFBS is completely out of place here.
__________
From Wednesday:
• Bowling Green/Western Michigan: Contrast Matters: Chocolate Cake and Whipped Cream Edition. Seriously, I've never seen so much brown and white concentrated in one football game in my LIFE.
__________
From Thursday:
• Rice/UTEP: Grey alts for Rice.
__________
From Friday:
• UConn/UMass: S&S decals for the Huskies.
__________
From Saturday:
• TCU/Texas Tech: Road throws for the Red Raiders, and would you look at how GOOD this game looks! This matchup was made for the afternoon sun!
• Illinois/Michigan State: Much like SEC matchups kind of have their own aesthetic that FEELS SEC, there are certain B1G matchups that FEEL like a proper Big 10 game.
• Wisconsin/Maryland: Mono-red for the Badgers (featuring a nice hole in the left pant leg of Wisconsin Senior RB Isaac Guerendo).
• Marshall/Old Dominion: Black lids and trou for Marshall.
• LA Tech/MTSU: Not much to talk about apart from the rare red tops for LA Tech, but check out this lad!
• Stanford/Washington State: The Stanford Black wore their BFBS alts to be "intimidating", I guess. How's that working for ya?
• UL Monroe/Texas State: G.I. Joevember unis for Louisiana-Monroe.
• Louisville/James Madison: "Steel Wings" G.I. Joevember unis for Louisville.
• Boise State/BYU: Why are SO MANY TEAMS not getting the memo that last Saturday was their LAST CHANCE FOR AN ENTIRE YEAR TO PULL THIS SHIT
• SMU(.)/Houston: …Apparently, a criminal amount, to answer the above question.
• Michigan/Rutgers: Turning to something pleasant for once, Michigan wore mono-white, but the exciting part were the maize sleeves, socks, and leggings that they wore alongside them. Meanwhile, Rutgers wore S&S decals on their white helmets.
• Vanderbilt/South Carolina: Full-black unis for Vandy, with some G.I. Joevember flair thrown in (closer look).
• USC/Cal: Road throws for UC Berkeley.
• • • • •
Thanks, TJ! And now we move onto the coverage from north of the border, as Wade Heidt brings us the CUUW.
---