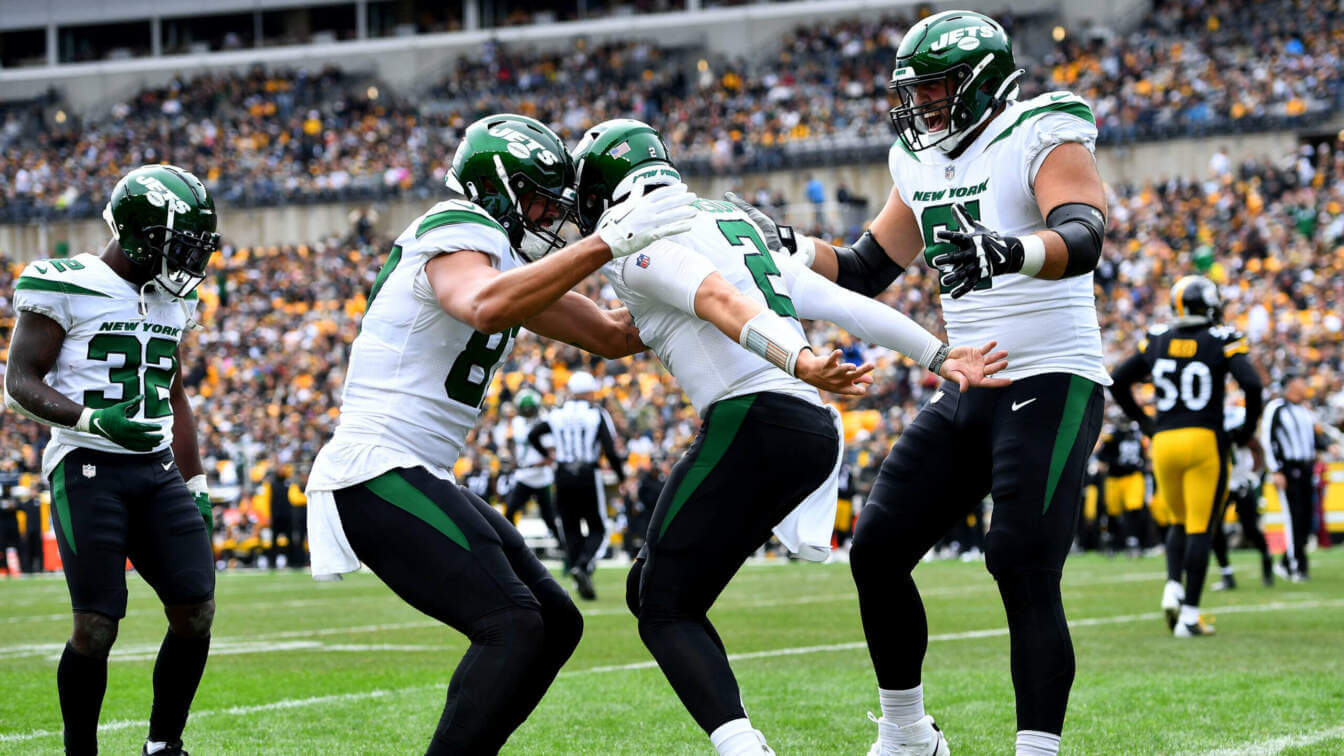 "If you believe you're playing well because you're getting laid, or because you're not getting laid, or because you wear women's underwear, then you are! And you should know that!"
— Crash Davis, Bull Durham
Good Saturday Morning, Uni Watch readers — I hope you've all had a pleasant week.
Most of you probably recognize the above quote, from the fantastic movie Bull Durham, and while it was referring to some unusual idiosyncrasies of one of the movie's protagonists — Ebby Calvin "Nuke" LaLoosh — it might just as easily be referring to the recent sartorial choices on the New York Jets.
Almost since the Titans of New York became the New York Jets in the early 1960s, the team has famously worn green; their informal nickname is "Gang Green," and they have been one of a handful of teams to have worn a single color (green) and white. That changed a bit during the 1990s, when the team added black face masks and black as an accent color on the uniforms. When the team went back to their "throwback" uniforms (1998-2018), black once again disappeared from the uniforms. However, when the team redesigned for the 2019 season, black came back as a uniform accent, the black facemask returned, and…of course…they joined the BFBS fad three decades too late by introducing an all-black alternate uniform.
But the team would largely keep the black as a separate entity, wearing the all-black uniform three times in 2019 and twice in 2020. I don't want to pick on the Jets, but they were pretty terrible then (7-9 in 2019, and an awful 2-14 in 2020). They weren't much better in 2021, going 4-13. However, during Week 8 against the Bengals (who would go to the Supe last season), the team somehow won, 34-31, while wearing their black alternate uniforms. Whether it was just to mix things up, or perhaps because they felt some mojo from the black pants, the Jets wore their black pants with their white jerseys, for the first time ever, the following week against the Colts. Unfortunately for the Jets, it didn't end well (they lost 45-30). They wouldn't wear black pants with the white jerseys again that season.
Fast forward to 2022. Gang Green wore their "classic" green jerseys over white pants in all three pre-season games (against Philadelphia, Atlanta, and finally against the Giants. Gang Green had returned.
Only, it hadn't quite returned. From Opening Day through Week Three, the Jets went mono-white three consecutive weeks — two of which were home games (against the Ravens and Bengals). They lost both games. Now, early season games frequently feature home teams wearing white jerseys, because it's pretty hot and some teams view that as an advantage. And it's understandable they'd wear white on the road, as most teams wear color at home, regardless of the weather. But through three games, Gang Green did not wear either their green jersey (despite two home games), nor their green road pants. Again, nothing too unusual, but a bit odd for a team nicknamed "Gang Green."
Their fourth game of the season was a road game against the Steelers — who always wear black jerseys at home — so that would mean a fourth consecutive week without a green jersey. But, perhaps thinking the white pants weren't quite providing them with the winning juju, the Jets decided to wear their alternate black pants, for only the second time in history. They won.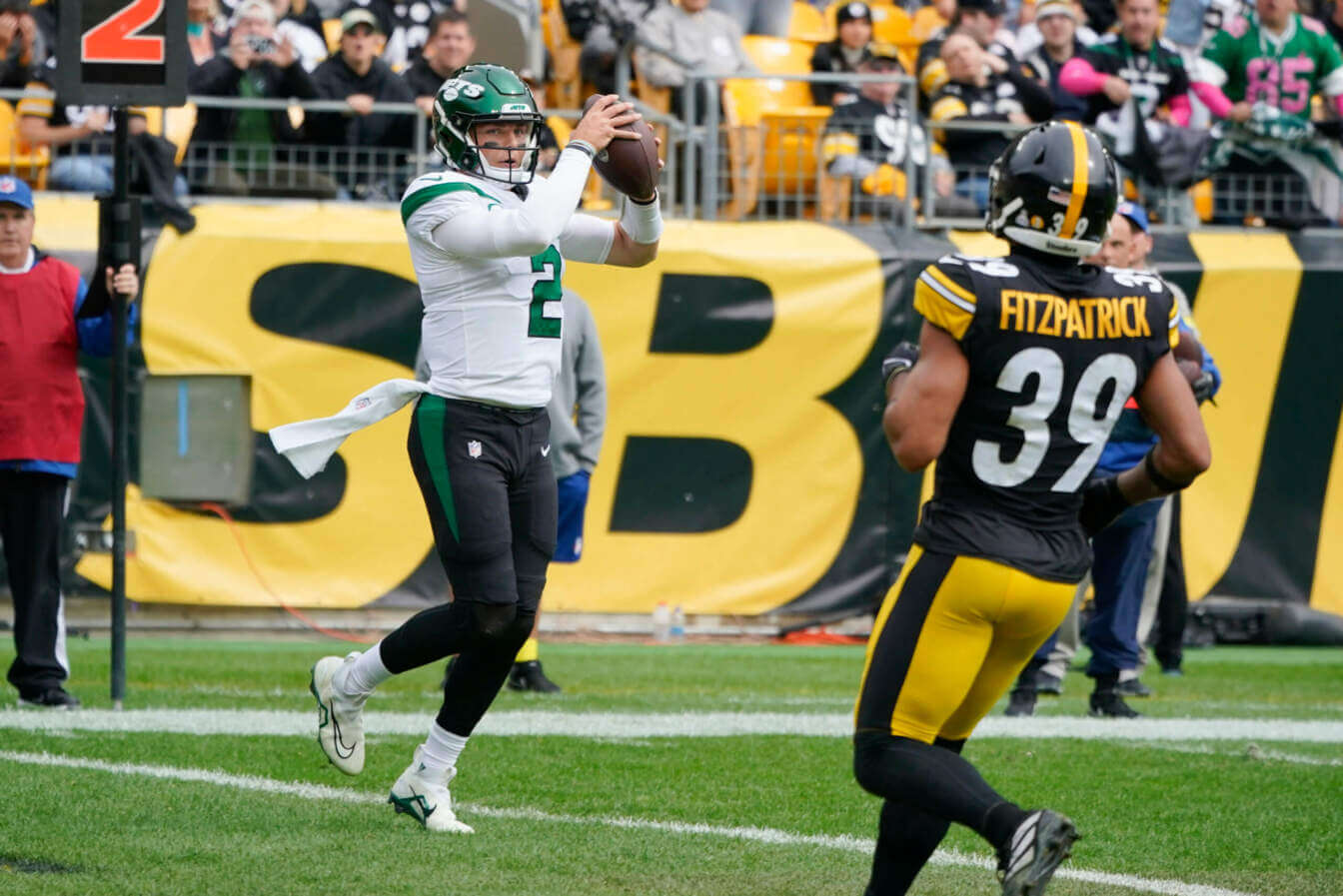 There are probably a dozen reasons the Jets won that game, but wearing black pants likely wasn't one of them. Still, sports figures (and teams) can be a superstitious lot, so with a Week Five game against the Dolphins, perhaps they sought to bottle up some of that Steeler-win-magic, and for their third consecutive regular season home game, the team again wore white jerseys. And, you guessed it, black pants.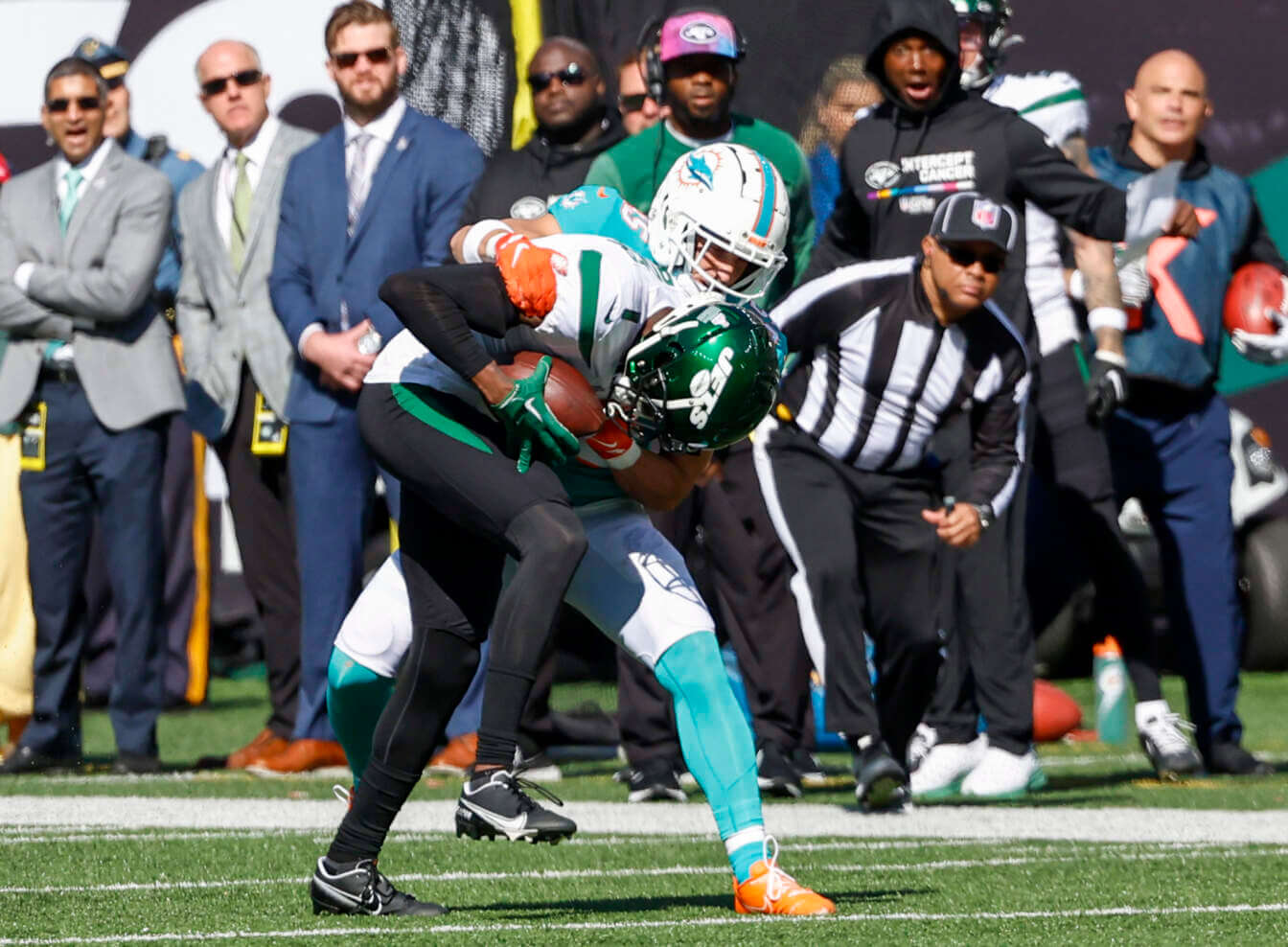 So, two straight victories, both in white over black. With the team scheduled to wear white jerseys against the Packers for Week Six (against the Green Bay Packers in their mono-green fauxbacks), would they try to keep the streak in white/black alive? Of course.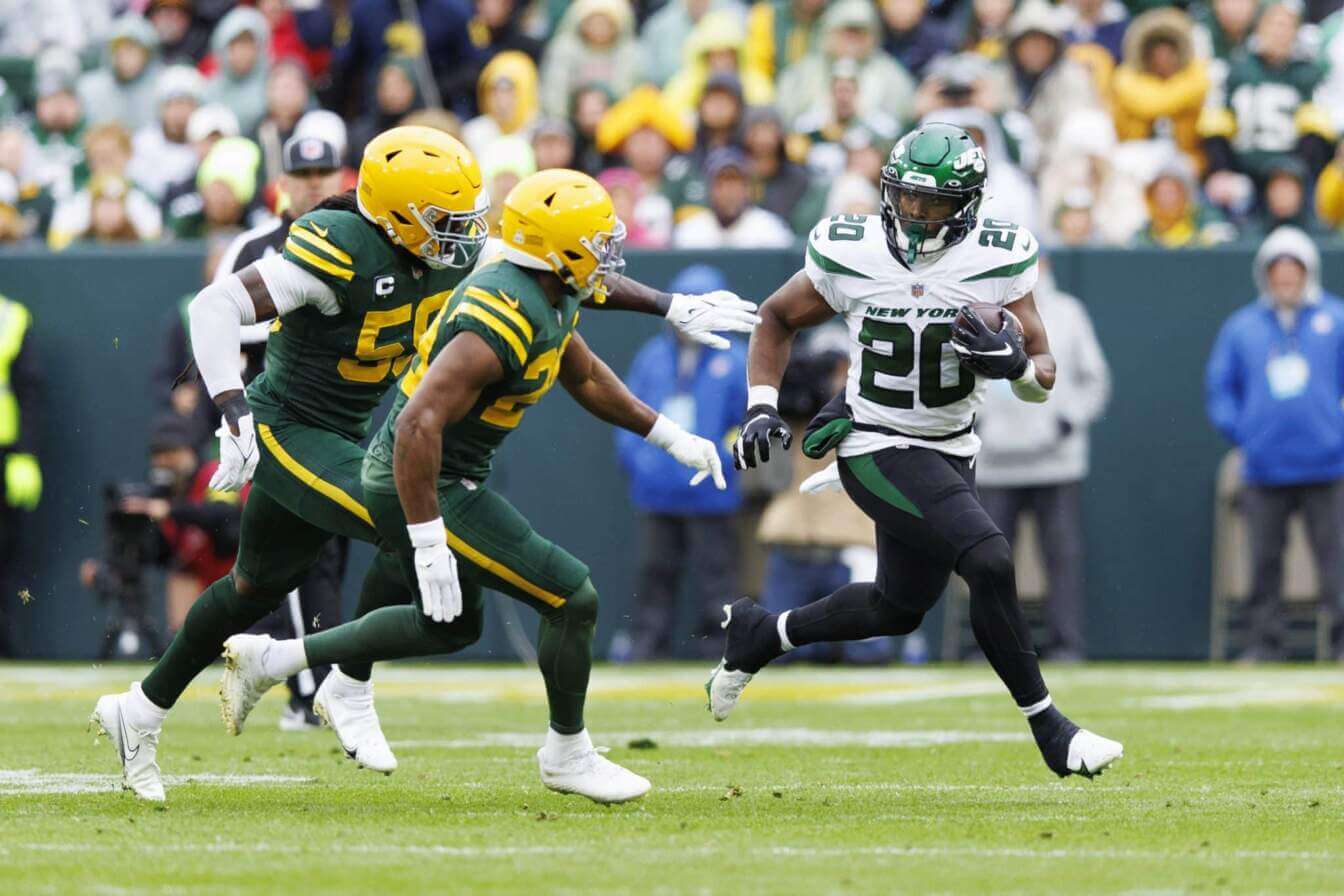 Week Seven is approaching and the Jets are playing the Broncos in Denver (who will be wearing orange jerseys). Will they seek to keep the white/black streak going? What do you think?
So that will be six consecutive weeks in white jerseys and four consecutive weeks wearing black pants, despite green being their primary color and with pant options of both green and white. No matter what happens this weekend, the Jets will again be wearing black pants at home against the Patriots in Week 8, as they'll be sporting their all-black alternate ensemble, this time complete with their new alternate black helmet. So that will be five consecutive weeks wearing black pants. Gang Green isn't very green these days, are they?
But a streak's a streak.
As Crash Davis and Annie Savoy (of Bull Durham fame) would argue…
Crash Davis: I never told him to stay out of your bed.
Annie Savoy: You most certainly did.
Crash Davis: I never told him to stay out of your bed.
Annie Savoy: Yes you did.
Crash Davis: I told him that a player on a streak has to respect the streak.
If the Jets believe in streaks, how long will they continue to both wear black pants and white tops, eschewing their primary green jerseys? According to the GUD, the Jets are "scheduled" to wear their green "home" jerseys twice — beginning in Week 9 and again in Week 15 — but the Jets aren't necessarily beholden to wearing green at home. They could continue to go white/black. They'll definitely be wearing black pants twice more after this weekend and next (Weeks 12 and 16, when they will wear their alternate black uniform & helmet). And what if some team decides to try to disrespect the Jets streak by wearing white at home? Will they go green/black? And what if they lose this weekend and next, while wearing black pants? Will that effectively ruin the black pants mojo?
This could all be moot in a couple weeks, but has there ever been a team who hasn't worn their primary "home" jersey at all at home for an entire season? (Yes, we know there have been several teams who've gone an entire season wearing white at home, and a few where a team has worn white jerseys all season, but those teams effectively declared their white jersey as their home jersey.) If the Jets continue to win in black pants (and white jerseys), will they continue to wear only white or black at home? Again, this could all become moot — and we may find out in Week 9. But so far Gang Green is more like Gang Black.
You have to respect the streak.
---