Sometimes things come in bunches.
Yesterday I wrote about how two Cleveland ballplayers, Rico Carty and Bill Gogolewski, may have worn the same uni number in the same 1974 game, and how Carty might even have worn Gogolewski's jersey. I'd never come across a situation like that before.
A few hours after that post went up, reader Jeff Sak alerted me to a tweet that a Tigers-centric Twitter-er had just posted:
50 years ago, the @Tigers acquired veteran slugger Frank Howard from the Rangers for the pennant drive. When he met the team in Oakland, Detroit didn't have a road jersey big enough to fit him. So he borrowed one from Mickey Lolich. #DetroitRoots pic.twitter.com/wQCEQxaNKK

— The Ghost of Ernie 🎙⚾️ (@ErnieHarwell1) September 28, 2022
There's a lot to unpack here. For starters, I have never seen that photo before or heard that story about Hondo wearing Lolich's jersey. Also, the guy who posted the tweet yesterday had no idea that I had just published that blog post about the two Cleveland ballplayers. What a weird coincidence that two such similar stories would float across the internet in the span of a few hours! Even better, when Jeff Sak showed me the tweet, I said, "Wow, that's really something, especially considering this morning's blog post." But it turned out that Jeff hadn't even seen that blog post when he showed me the tweet! When he went back and read it, his head exploded a little.
Coincidences and exploding crania notwithstanding, the photo in that tweet presents us with another history mystery to unravel. It's clearly a pregame photo, so here are our two big questions:
Did Frank Howard wear Mickey Lolich's uniform in an actual ballgame? Or was it strictly a pregame thing and then they provided him with something else to wear in time for the first pitch? Or maybe he wore Lolich's uniform in the dugout but never got into the actual game?
If Howard did indeed wear Lolich's uniform in a game, did Lolich also appear in that game?
Let's start with this: Howard was traded from the Rangers to the Tigers on Aug. 31, 1972. The Tigers were opening a three-game series in Oakland on Friday, Sept. 1, so Howard headed to Oakland to join the Tigers there — that's apparently when he suited up in the extra Lolich uni for pregame activities.
Did Howard end up playing in that game on Sept. 1? Yes — he played the entire game, going 1-for-3 with a walk, and also making an error in the field. Having worn Lolich's uniform prior to the game, did he keep wearing it during the game?
I went to Newspapers.com to find out. First, I found several papers that published the same pregame photo shown in the tweet. It was an AP photo, and the various papers all ran their own version of the caption. The captions all said pretty much the same thing as the tweet — i.e., that that the Tigers didn't have a big enough uni for Hondo, so he was forced to wear Lolich's uni — but none of the captions mentioned anything about him wearing Lolich's uni in the game.
I also found the AP and UPI game recaps. They both mentioned that it was Howard's first game with the Tigers but said nothing about his uniform: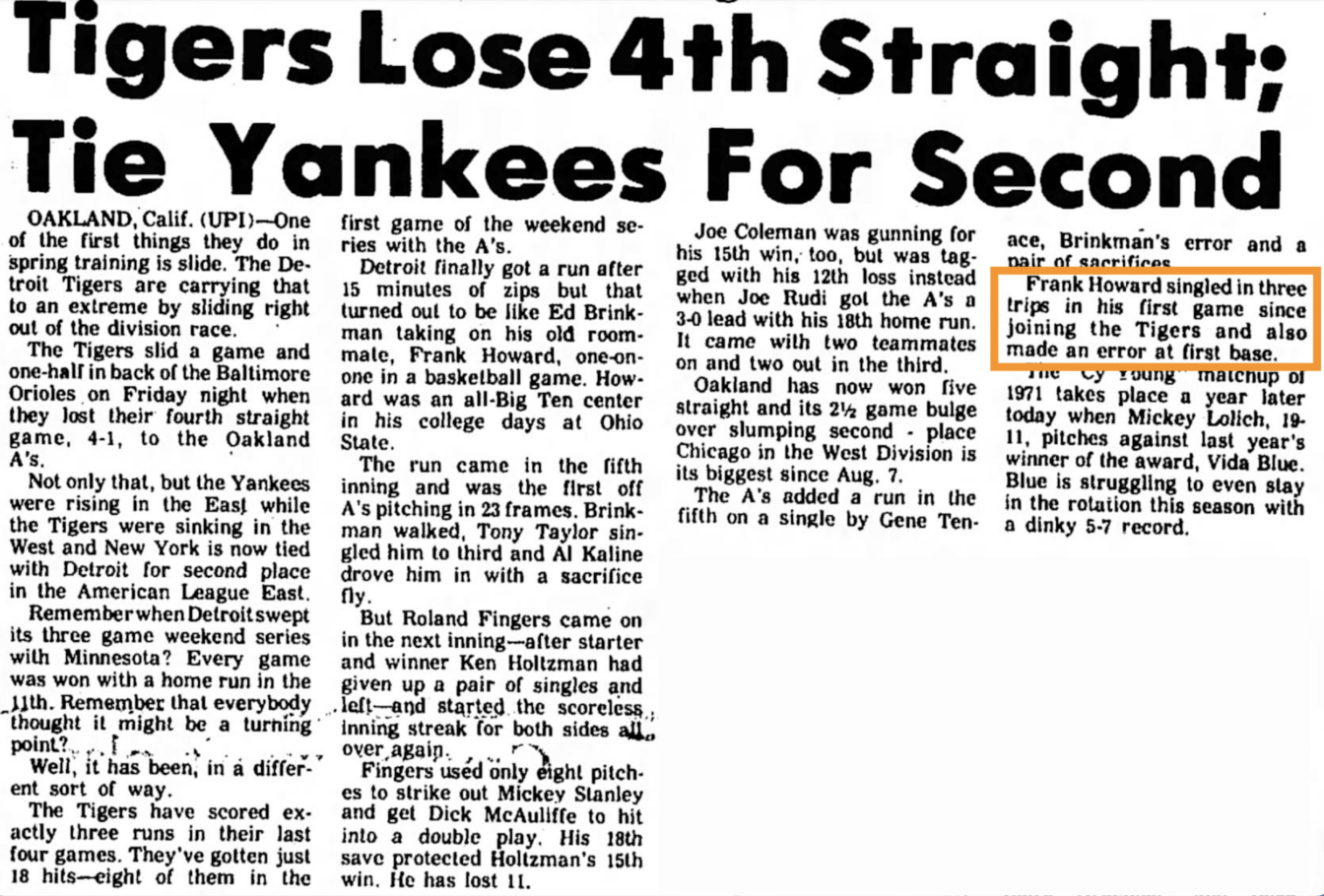 I also found a Detroit Free Press item that began, "The big news Friday for the Tigers was the arrival of Frank Howard," but it too said nothing about his uniform: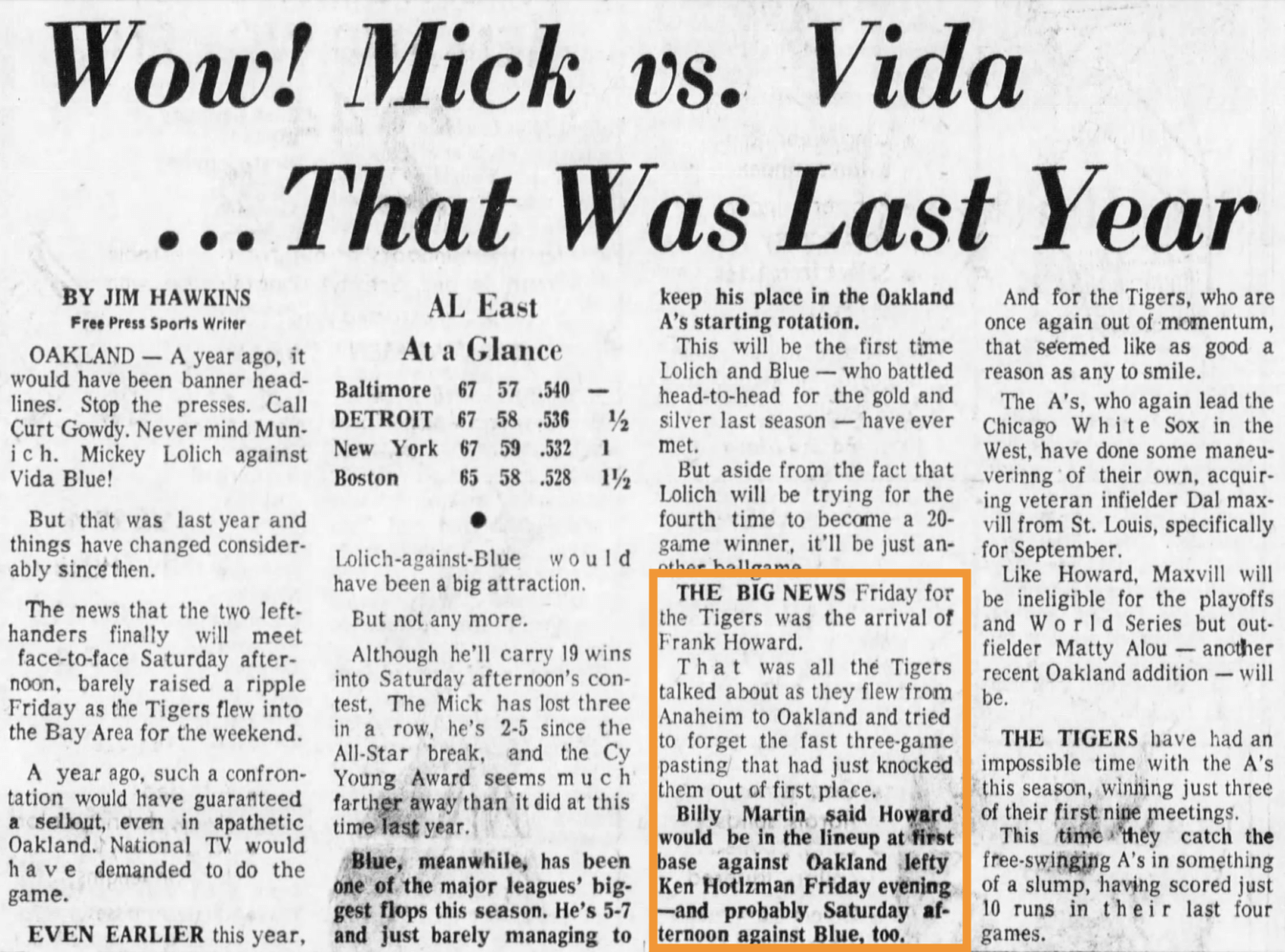 With all of this in mind, I'm inclined to believe that Hondo did not wear Lolich's uniform in the game. It strains credulity to think that so many writers covering the game would fail to mention something like this. And wouldn't the AP shutterbug who took the pregame photo also have gotten a shot of Hondo in the "wrong" uni during the game? Moreover, wouldn't this be a famous uni incident that we all would've heard about by now, especially since it involved two fairly high-profile players? I'm thinking it was just a pregame thing, and then they found a proper (or at least non-Lolich) uni for Hondo to wear in time for the game itself.
Meanwhile: Lolich did not pitch in that game. He did pitch in the next day's game, however, and Howard played in that game as well. But that all seems moot: Even if Howard wore the Lolich uni on Sept. 1 (which I doubt), they certainly would've gotten him a proper uni by the following day.
Frank Howard is now 86. This seems like something he might remember, especially since we have the pregame photo to jog his memory. I'll see if I can track him down. Meanwhile, the pregame photo is an instant classic — can't believe I'd never seen it until now!
(Big thanks to Jeff Sak for letting me know about that tweet and sending me down this latest rabbit hole.)
---