Good morning! Hope everyone had a good weekend.
Yesterday was the third Sunday of the NFL season, and also the first weekend during which we started seeing alternates and throwbacks. Case in point: The Bears broke out their 1936 throwbacks for yesterday's home game against the Texans. Man, I can't get enough of that uniform. Lots of additional photos here.
Speaking of which: I assume this is due to different helmet models having different shapes and contours and such, but there were some major inconsistencies in the Bears' helmet striping:
Not sure how they measure the stripes on the Bears helmets, but some look off (some meet above the GSH decal, others below), but the worse was in a DL where they don't even meet on the back.@UniWatch pic.twitter.com/ah7zqRQa0E

— Omar Jalife (@ojalife13) September 25, 2022
In other uni news from around the league yesterday:
Bizarre situation in Tampa, where one of the goalposts was infested by a swarm of bees (additional info here)!
Bee hive inside the goalpost in Tampa pic.twitter.com/YLcGI4m6B9

— Picks With Friends (@PicksWFriends) September 25, 2022
In that same game, there was a weird blemish running across the field at about the six yard line at one end of the field. I assume they were covering up a chalk line from a soccer game or something like that, but I don't know for sure.
The Titans wore their light-blue alternate jerseys:
We knew the Broncos would be wearing their navy alternate jerseys last night, but we didn't know (or at least I didn't know) that they'd be going full-on mono-navy:
The Jets — whose owner's wife is of Ukrainian descent — added rear-helmet Ukrainian flag decals (just a one-game thing, not intended for the rest of the season):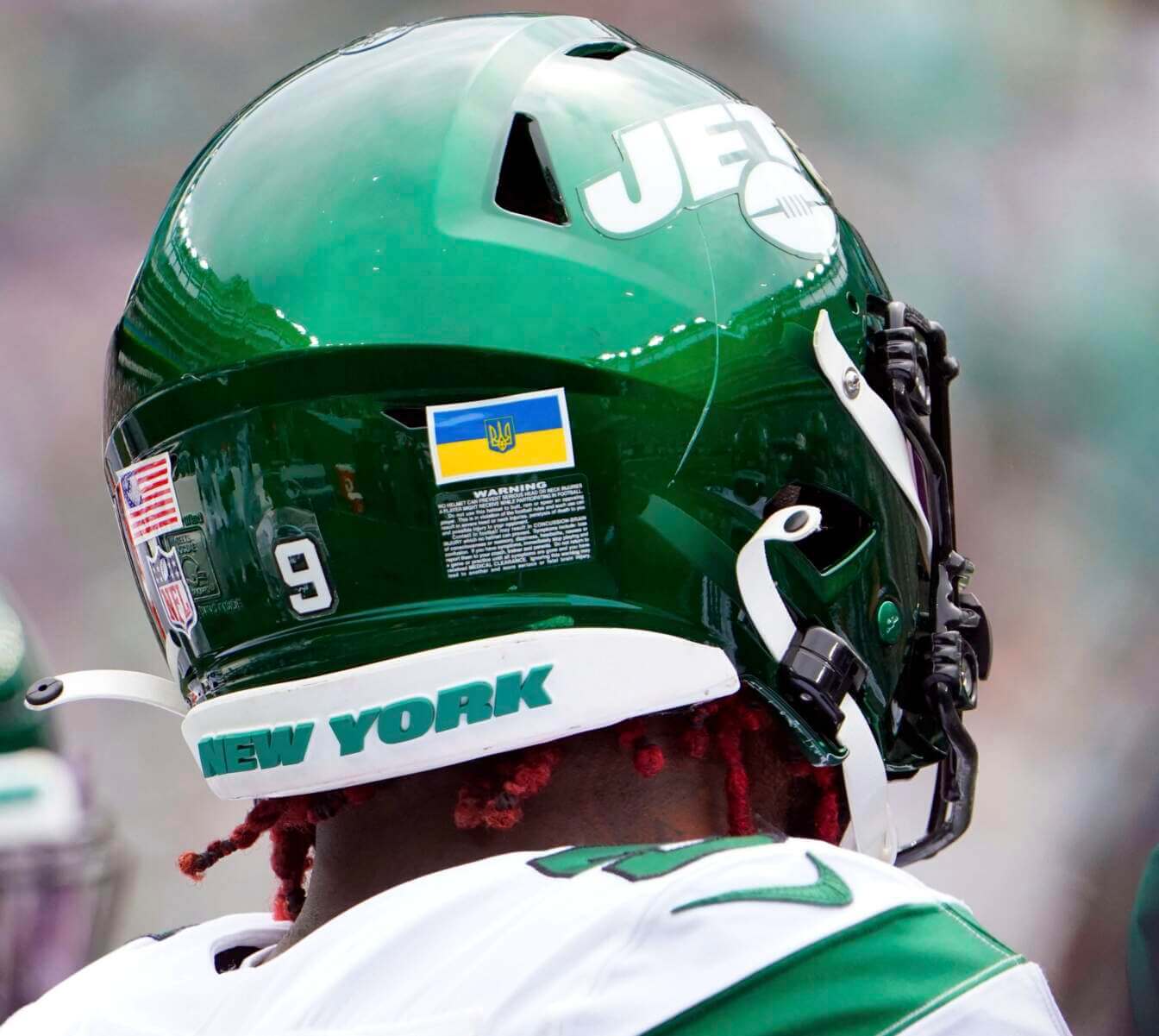 Speaking of the Jets, they inducted former center Nick Mangold into their Ring of Honor. Mangold got to wear a green blazer with a pretty cool logo on the pocket: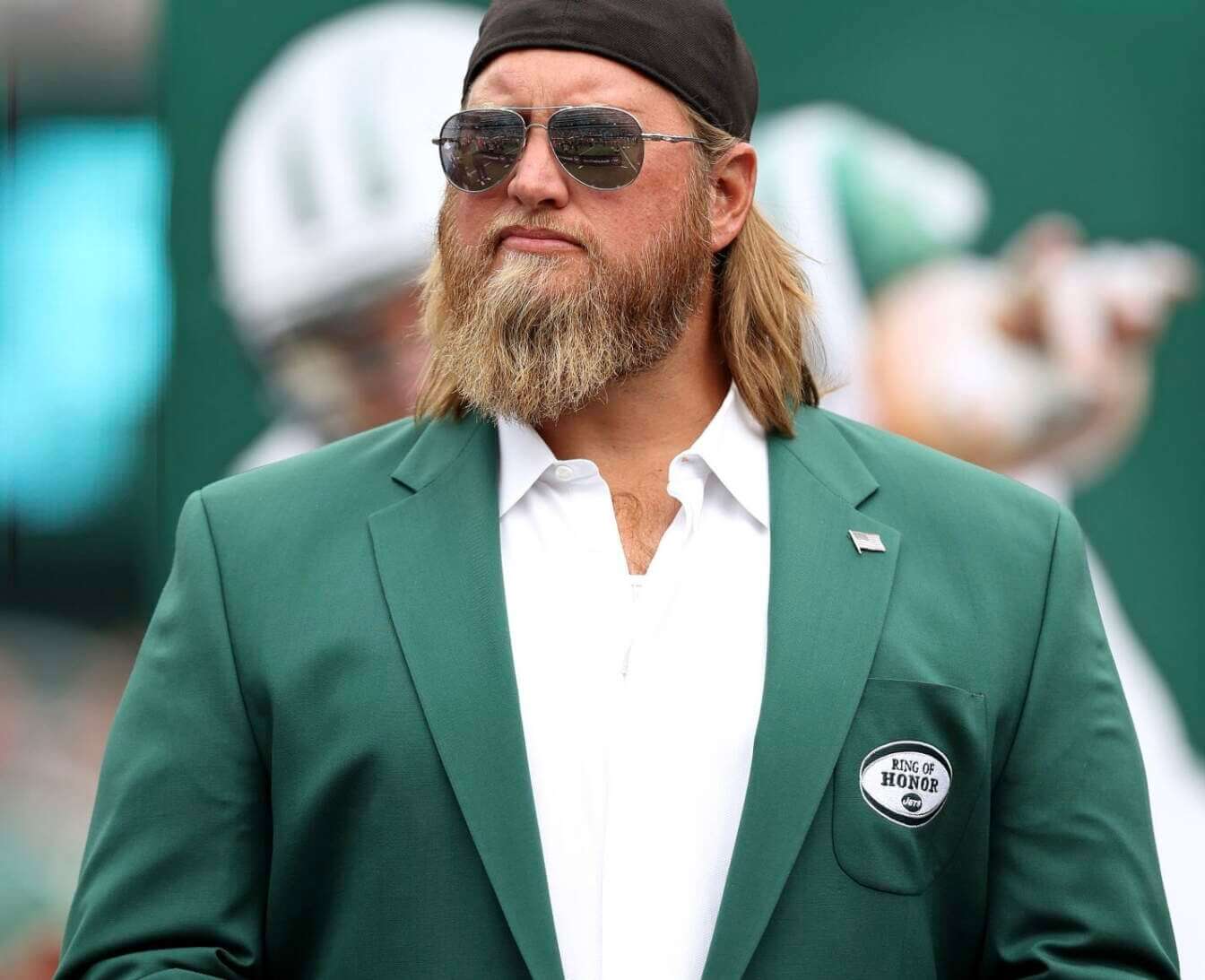 The Panthers wore white over black. According to the generally reliable Panthers Uniform Tracker, it's the first time they've ever worn this combo at home.
Yesterday was the Colts' first home game, confirming that they're still using their old wordmark in the end zone, even though they don't use it anywhere else in their visual program:
Chargers linebacker Drue Tranquill wore something called a Q-Collar, which looks sort of like a miniature neck roll. It's supposed to lessen the effect of big hits. (Turns out he also wore this during the team's first and second games, but I wasn't aware of it until now.)
Bills wideout Gabe Davis wore The Office-themed cleats. Players often wear this type of custom-painted shoe for pregame warm-ups, but Davis wore these in the actual game: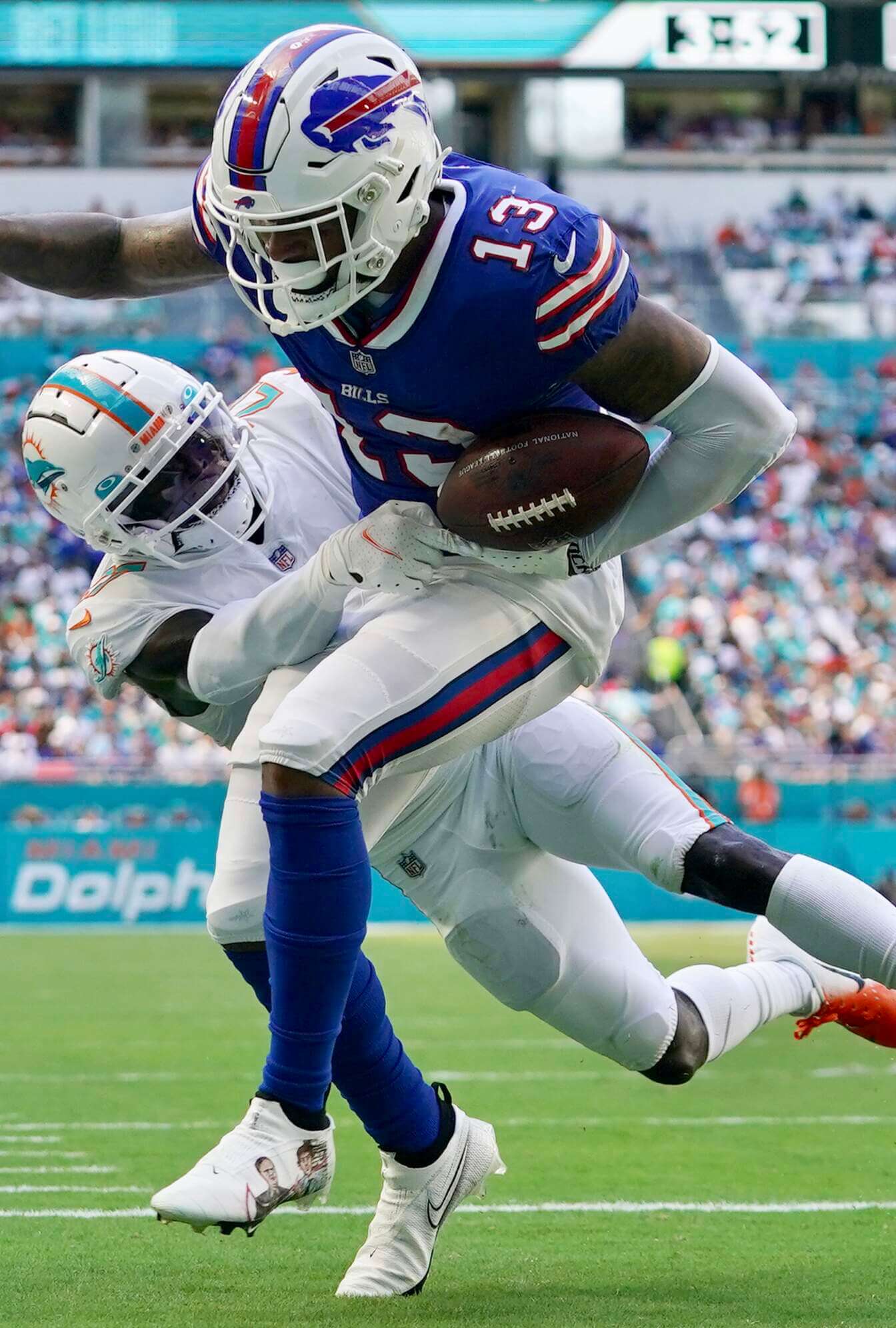 Eagles quarterback Jalen Hurts once again changed shoes during the game, switching from green to white. He also removed his visor, because it had started raining and he didn't want the visor to fog up. It's not clear if the footwear switcheroo was based on turf conditions, since he also changed shoes during the team's previous two games.
We've seen this type of thing plenty of times before, but I never get tired of these super-stretchy photos, as seen here with Pats running back Damien Harris:
Six teams wore white at home: the aforementioned Panthers and Bears, and also the Jets, Dolphins, Bucs, and Commies. (Tonight's game will feature the Giants wearing their Color Rush unis at home against Dallas, so that will be a seventh home team wearing white this week.)
(My thanks to all contributors, including Andy Blank, Patrick Bourque, Mike Chamernik, Aric Crehan, Marcus Hall, Chris Hanson, Omar Jalife, David Raglin, and @drnatation.)
---