It's pretty much been an open secret for a while now that the Edmonton Oilers will be bringing back their Todd McFarlane-designed "oil drip" uni as their Reverse Retro entry this season. Now we have a fuller picture of what the jersey will look like.
Here's the deal: As noted in today's Ticker, TSN reporter Tom Gazzola provided a partial peek at the jersey yesterday:
— Tom Gazzola (@TomGazzola) September 20, 2022
Then this morning, a Twitter-er named Eric Andrews posted a photo purportedly showing the full jersey, which he said he saw on a Facebook group devoted to hockey uniforms:
Not my photo, but here's a full look at the Oilers' reverse retro jersey. @icethetics @UniWatch @sportslogosnet pic.twitter.com/jjVovyqHNP

— Eric Andrews (@WALaxer19) September 21, 2022
It turns out that those two tweets show the same photo. To demonstrate that, I converted Gazzola's tightly cropped photo (which we know is legit) to black-and-white and overlaid it onto Andrews's Facebook photo: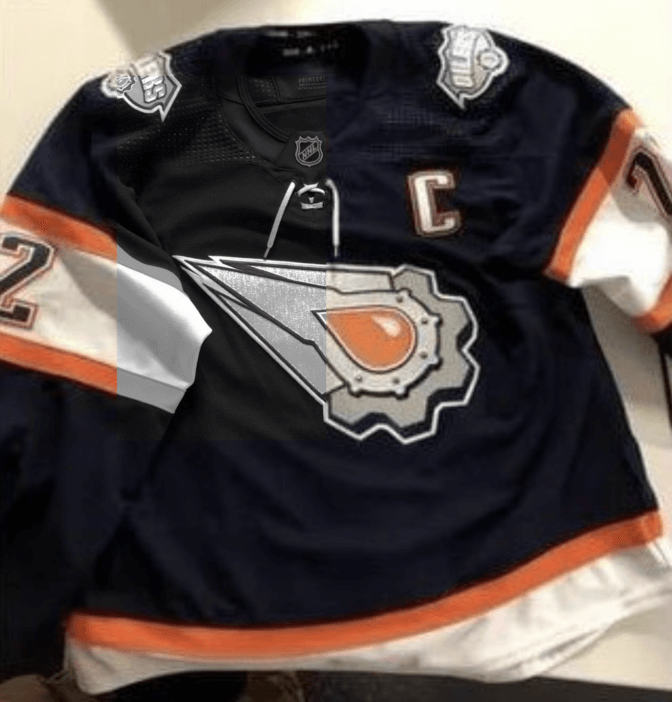 As you can see, they match up perfectly. There's no reason to doubt Gazolla's tightly cropped pic (he's a legit reporter with insider access, etc.), and that means the full pic that appeared on Facebook is also the real deal. Case closed!
The original McFarlane design was worn as an alternate uni from 2001 through 2007 and had a different color scheme than the new version. Here's a look at the original:
I always liked this design, but I like the newly recolored version even better!
The full slate of Reverse Retro designs is slated to be officially released on Oct. 20.
(Big thanks to Eric Andrews for sharing that Facebook photo with me.)