A good Sunday Morning Uni Watch. That means it's time for Sunday Morning Uni Watch! Yesterday, we kicked off the season with a special Saturday edition of SMUW, which reviewed all the college football gridiron action for Weeks "0" and 1, and today we kick it into high gear with the first new SUNDAY Morning UW for 2022, with all the uni machinations for this weeks games. As always, I'm joined by the one and only Terry Duroncelet, Jr., who breaks down those games in minute detail.
As you can see from today's splash photo, Sparty is back to wearing their neon-alternates, but this year they introduced a slight (and improved, IMO) twist. The helmet, which when worn with the neon "STATE" jersey, had featured a solid neon Spartan. For this iteration, the team went with a neon outlined spartan head, which I think looks much better.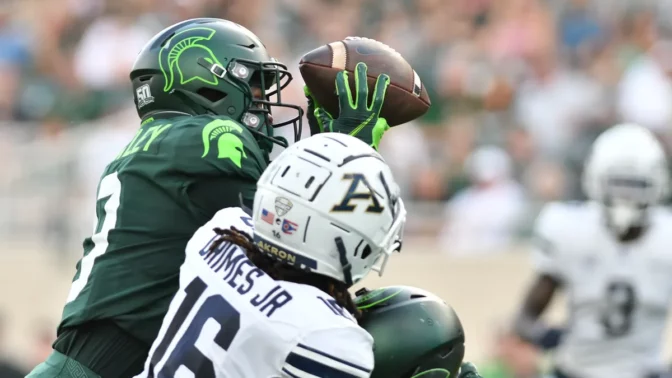 Here's a closeup of that lid:
Normally, I'm not necessarily a fan of outline logos, as they tend not to show up as well (and are harder to see at distance). But with that logo being a neon outline, it was plenty easy to see, and lets face it — the less neon the better. Sparty insists on busting these alternates out at least once a season, and while the neon green in and of itself isn't so terrible, the fact that they wear it in a giant bold font (which sometimes barely fits the jersey), coupled with the solid neon Sparty logo on the sleeve caps — and of course the B1G and MOTB are in neon green as well — makes this a less than appealing use of the bright color.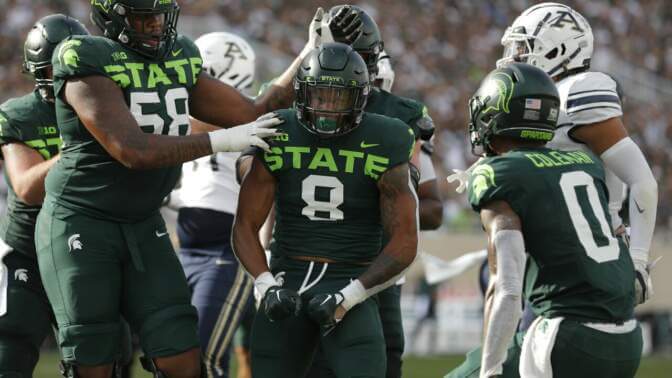 But at least the past couple times they've gone with the neon jerseys, they've paired them with solid dark green pants. Who amongst us can forget when Michigan State thought wearing neon pants would look good?
Ah, college football. It's back.
This is one of a number of alternate helmets the Spartans have worn over the years. You can check out the entire collection at Blaise D'Sylva's incredible site.
And with that, I'll turn this over to TJ, who'll take you through the remainder of your …
• • • • •
Sunday Morning Uni Watch
by Terry Duroncelet, Jr.
I can't believe some of the outcomes I saw yesterday! Narrow escapes, two Top 10ners face-planting, and your typical video game score gaps. As always, second verse, same as the first:
__________
From Friday:
• UCF/Louisville: Louisville is the first among squillions of other teams to wear S&S (Stars & Stripes) helmet decals this week/season, with 9/11 being today. Here's a closer look. Also, UCF's new font makes this NOB read as "YATES III", and I find that hilarious for some reason (original image by ty, who's on Twitter as TheTDJ).
__________
From Saturday:
• Rice/McNeese State: Rice wore an ACTUALLY-DECENT UNIFORM in their game against McNeese State (hype vid for those who missed it).
• Texas St./FIU: I'm sensing a trend here of Texan teams wearing some type of neat script on their uniforms in some capacity. At any rate, I can dig it (so long as it's not the dreaded Brush Script, that shit's ugly). Here's a better look at the sparkle job, via Blaise D'Sylva.
• Minnesota/Western Illinois: What the heck are the Gophers wearing? Why are the helmets like that? Why must they choose violence?
• Indiana/Idaho: Indiana wore all-red for the first time in 3 years against Idaho.
• Temple/Lafayette: Color-vs-color matchup between these two.
• Nebraska/Georgia Southern: The Huskers wore their throwbacks Saturday night.
• Washington/Portland State: The PNW looking wonderful, and I'm not just talking about the scenery.
• Pitt/Tennessee: Both squads wore a decal honoring their mutual coach, Johnny Majors (Tenn. from 1957-1959, 1977-1992, Pitt from 1973-1976, 1993-1996).
• Vanderbilt/Wake Forest: I've always felt like these two schools would be cousins in another universe. Also, I like this trend of teams with mirror image color schemes wearing an absolutely different uni from top-to-bottom.
• LSU/Southern: Watching this game, I noticed that LSU changed the font of their yard markers to mimic what they use on their uniforms, which is on the more specific side.
• WVU/Kansas: Yellow tops for West Virginia, and I must say, for a uni pairing that's on the not-so-high-contrast side, this game from a visual standpoint is perfectly cromulent.
• USF/Howard: The Bulls are looking like The Legendary Super Saiyan with all of that neon green. It's grown on me at this point after all these years.
• I didn't see many teams apart from Northwestern with S&S decals, although I'm more-than-sure that there were plenty of demonstrations (you know who to call).
• Texas/Bama: Can't exactly Hook 'em Horns when there isn't anything you can use to hook 'em with. This decal malfunction was sent my way by several readers, thank you guys!
• • • • •
Thanks, TJ! Awesome rundown, as usual. We'll see you next Sunday with all the uni hijinx from Week 3 of the College Football Season!