When I was in college in the early 1980s, I was hanging around my dorm room one day reading Rolling Stone. There was a record review for a live album by a hard rock band whose identity I no longer recall — Triumph, maybe..? Anyway, the review, which gave the live album only one star out of five, began something like this:
About halfway through this album, lead singer [John Doe] tells the crowd, "By the way, we're recording this show for our next live album! That's right, you're making a live album right now!!"

Not so fast, guys — you can't blame the crowd for this dreck.
That's kinda how I feel about the Pistons' new Statement alternate, which was unveiled yesterday. It was supposedly "inspired" by a voicemail that a fan left at the team's offices nearly two years ago. You can hear it in this tweet (additional info here):
Even a random voicemail from a fan can make a statement.

Isn't that right, @PlanetMarsEnte1? pic.twitter.com/jUXyf4ZdqK

— Detroit Pistons (@DetroitPistons) September 7, 2022
It's a nice story, but the team shouldn't be allowed to dodge the blame for this mess. I suppose it's arguably better than their previous Statement alt, but only because it's not grey. I don't like the BFBS, don't like the outlined black-on-black typography, don't like the flush-left number, and don't like how the whole thing feels like a bunch of stacked layers (maker's mark and ad are the first layer, then the lettering, then the stripes, then the number). Pfeh.
The team didn't release any rear-view photos, but here's a retail mock-up: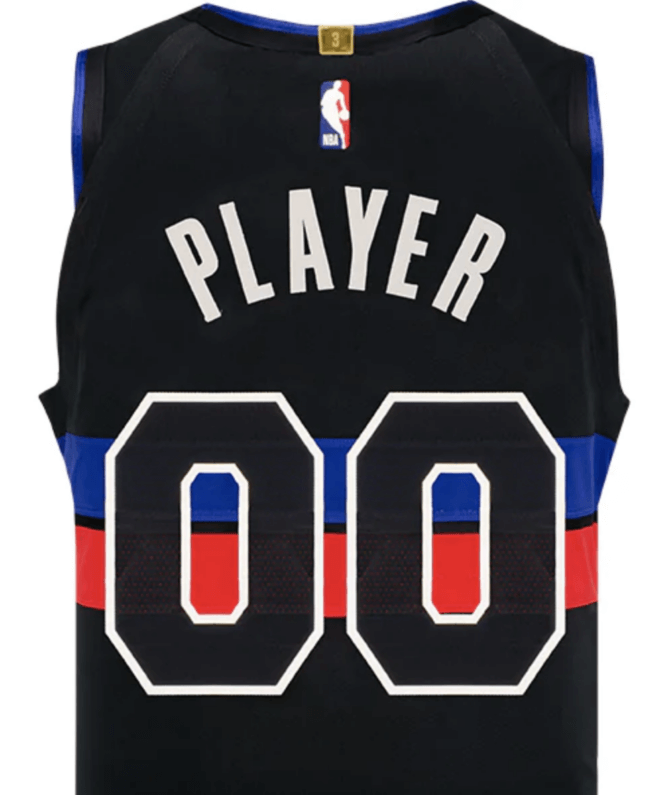 Meanwhile, if you want to be an NBA designer, we now know that there's no need to go to design school or strain your brain coming up with absurd "storytelling" concepts. Just leave an incoherent rant on your favorite team's voicemail and you too can be a designer! (And then in two years you can watch your design get discarded and forgotten when they roll out the next Statement alternate.) And hey, pro teams, no need to hire design brand consultants and marketing staffs! Just give out that phone number and you'll have some great uni ideas in no time. Why didn't everyone figure this out years ago?
Still, there has to be some accountability here, right? The team can't just pass this off on the fan. Nuh-uh, Pistons — this one's on you.