[Editor's Note: Paul is on his annual August break from site (although he's still writing his weekly Bulletin column and may pop up here on the blog occasionally). Deputy editor Phil Hecken is in charge from now through the end of the month.]
Good Monday morning, Uni Watchers. I hope everyone had a good last weekend in August.
The US Open starts today — the final "Grand Slam" of the year for tennis, and arguably the greatest of all the majors. With the news of Serena Williams' impending retirement, every match she plays here could be her last, lending to some must-watch tennis. Also noteworthy is the absence of Novax Djokovic, who won't be permitted to play in this year's tourney. Such a shame.
As always, I'm joined by my doubles partner, Brinke Guthrie, who also provides us with his weekly "Collector's Corner" segments, and who will give us the run-down on all the gear you'll be seeing at the 2022 Open. I know Brinke's been working on this one for a long time, and it's probably the biggest grand slam preview he's ever assembled. So please give him a nice "thanks" in the comments below for all his efforts on this one. And without further ado, here is your…
• • • • •
2022 US Open Tennis Gear Preview
by Brinke Guthrie
Following last month's "predominantly white attire" Wimbledon comes the colorful US Open and our final Uni Watch Grand Slam tennis gear preview of the year! Want to see what all pros use? Here's a good site.
🍎🎾Adidas This rather unconventional look was designed by South African designer Thebe Magugu, emphasizing her cultural heritage. Shown below, Félix Auger-Aliassime, Daria Katsakina, Garbiñe Muguruza, and Stefanos Tsitsipas.
🍎🎾Artengo A French brand for a French player. Gaël Monfils signed a head to toe deal with them earlier this year, for clothing, shoes and racquets. Artengo is the racquet sports division of French sporting goods maker Decathalon, and this shoe, the TS960, is just now making its debut. I've read really nice things about this tennis brand- very high quality at a reasonable price, which is a combo you don't often see. Here's more on the Monfils line.
🍎🎾Asics The Japanese brand is a true powerhouse on the men's and women's tours. (And did you know what "Asics" stands for? Wikipedia says "the name is an acronym for the Latin phrase anima sana in corpore sano (translated by Asics as "a sound mind, in a sound body.")
Here are three of the top Asics pros in their clean, crisp USO look: from top to bottom, David Goffin, Iga Swiatek, and Matteo Berrettini. Goffin and Swiatek have what are called "head to toe" deals, IE both clothing and shoes, which is generally the way these things go. Some companies also make racquets. (Asics makes frames, but I'm not aware of a top pro using one.) Berrettini wears apparel from Italian designer Hugo Boss. Thanks to Malherbe for the images!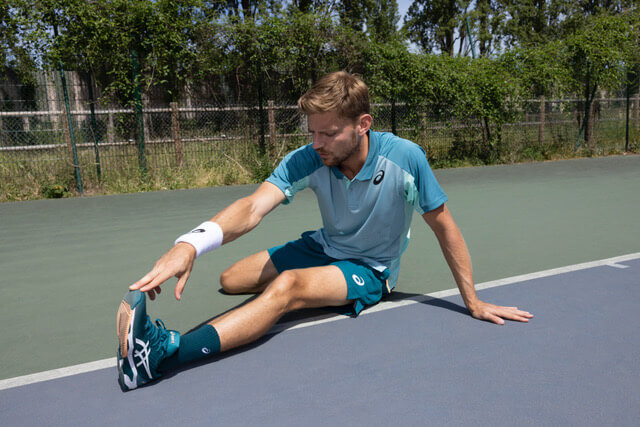 🍎🎾Fila The "Heritage" line will be worn by pros Reilly Opelka, Diego Schwartzman, and John Isner, shown below. Thanks to Sara for the Fila art!
There's another Fila line debuting at the Open; this one will be worn by Karolina Pliskova, shown below:
…and Shelby Rogers. It's called "Fila by Brandon Maxwell." Really like that plaid styling.
Press release time: "Fila's signature navy and archival green appear alongside the combination of pink and red, which are among the designer's staple colors. The line features artful and attention-grabbing details, perfectly placed pleats, and unexpected executions such as a classic polo shirt served up with a twist."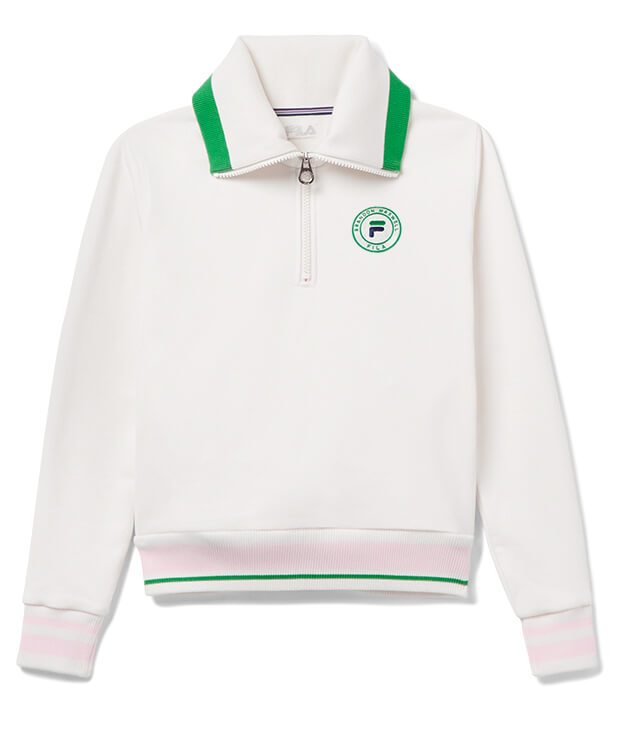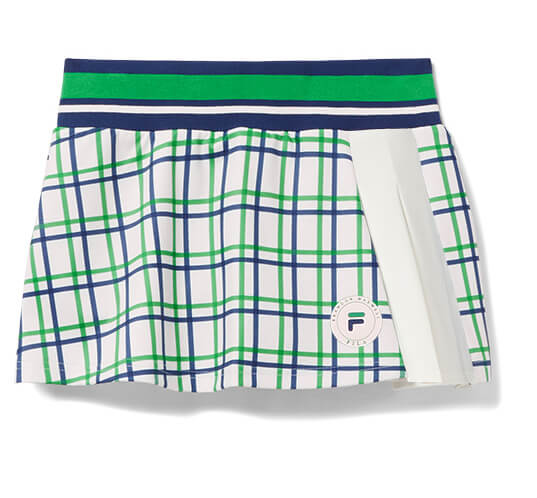 PS- While not strictly tennis, Fila has whipped up this "Pizza Collection" sold only at Foot Locker. Pizza and New York go together! The five styles represent the five boroughs: Rubirosa Ristorante in Manhattan, Roberta's in Brooklyn, sLICe Astoria in Queens, Louie & Ernie's in The Bronx (below), and Lee's Tavern in Staten Island. Yo Vinnie! Order's up!
🍎🎾Lacoste Anett Kontaveit is shown wearing Le Croc's latest tennis collection.
🍎🎾New Balance You know you're big-time when you get your own signature shoe- and Coco Gauff's New Balance shoe, the CG1, is rolling out now. It comes in two color schemes, DigiCoCo and also Pompey, shown below. The right toe includes a quote from her dad and coach Corey Gauff, "You can change the world with your racket." The left toe shows the coordinates of the park where Coco grew up playing tennis.
🍎🎾Nike The Instagram page Tennis_Street posted these shots of Rafa Nadal's Nike look, for day and night sessions, with sneakers to match:
Another Nike player of note is the mercurial Nick Kyrgios. Rather than sport the standard Nike kit for the current season, he favors a basketball pickup game look.
Indeed, he's a big-time NBA fan and he's worn a basketball-tennis hybrid shoe in the past.
An SI.com reader asked their tennis writer Jon Wertheim about this:
"Any thought on why Kyrgios has been wearing random mis-matched Nike on the court this entire season? And random basketball gear during interviews? Really has piqued my interest. Nike is known for its strict guidelines for sponsored athletes. I doubt they would have dropped someone like Nick, who courts (no pun intended) controversy on a regular basis. But I also doubt his contract says he can wear whatever he wants to. Everyone else is in their Nike "uniforms" and Kyrgios is wearing whatever he found on the floor of his room. Inquiring minds want to know." – Betty Scott, San Francisco
Wertheim responded that this look is part of his Nike deal. "I was told that Nick Kyrgios has special dispensation from Nike and freedom to depart from tennis attire in some cases and contexts (e.g., press conferences and practice courts). There's a recognition that his NBA attire—often Jordan brand, which is Nike anyway—is part of his appeal."
(Guess he just decides he'll wear it for matches, too. I think his massive on-court meltdowns are also part of the appeal. Worked for this guy.)
Two time USO winner Naomi Osaka posted this shot on Twitter two days ago- notice her puppy "Butta" shown inside and on the heel of her signature shoe:
Naruto/Butta shoes for NY 🍥🧈💙 pic.twitter.com/D92ComPQb1

— NaomiOsaka大坂なおみ (@naomiosaka) August 27, 2022
Another bit of info on Swoosh; here's a good Tim Newcomb article on Racquet about "the shoe that refuses to die."
🍎🎾On The pricey minimalist Swiss running shoe company has a signature tennis shoe line for one of their investors, some guy named Federer. There's a new special edition two-pack out today at 11am ET, called the "(RF)²" from On and Kith's Ronnie Fieg. (Notice they both have "RF" as initials, you see.) You get the totally new Clubhouse Mid along with the Kith-ized version of Fed's flagship shoe, the Roger Pro, shown below. I'll never have a pair of these due to wide feet and the stratospheric cost- but I can dream, no?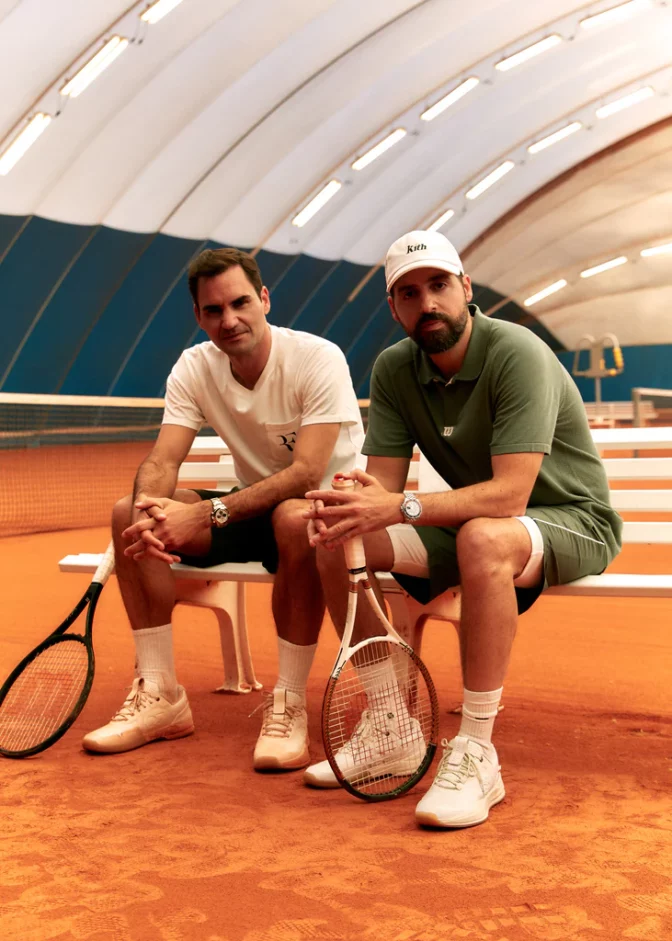 "While THE ROGER Clubhouse Mid comes pre-rubbed in red clay with an autograph by Roger Federer, THE ROGER Pro is packaged with a bag of clay for the ultimate customization, and features an autograph by Ronnie Fieg. Included is an instruction manual on how owners of the sneaker can apply the clay themselves. Lastly, this two-pair set comes in custom co-branded double packaging as both models are sold together. Inside the special double box are 3 spare laces and dust bags for both styles."
You get a bag of clay! And an instruction manual! Here's the indigo/white colorway of the 1990s inspired Clubhouse Mid all nice and clean if clay's not your thing:
OK, moving on, so to speak. Leylah Fernandez was a women's singles finalist in 2021, and wore a head to toe Asics kit. She then signed with Lululemon for on-court attire, (more of an athleisure style than traditional tennis wear) and is wearing the previously mentioned Roger Pro: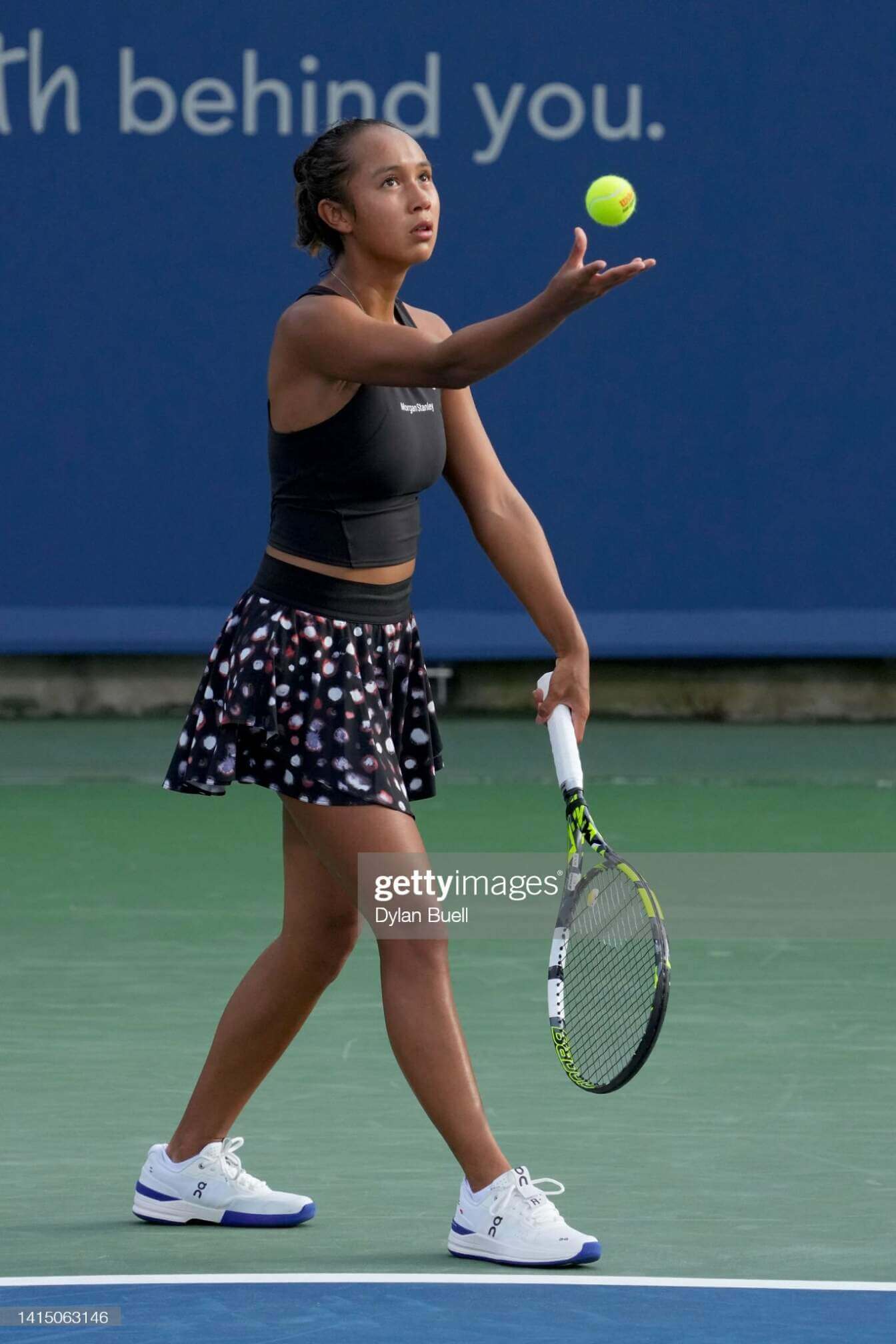 🍎🎾Uniqlo The Japanese clothing company released this new polo for Kei Nishikori- and he's not even playing due to injury. I'm not playing in the Open, either- can I have my own design?
🍎🎾Yonex Two time Open winner Naomi Osaka and her sister Mari have designed this new cosmetic for Naomi's EZONE model racquet, complete with a matching bag.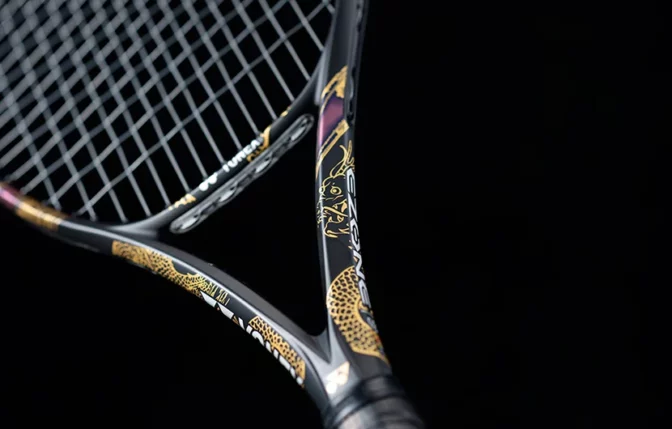 That's all for this year's Slam coverage; see you here in January for the Australian Open, mates.
• • • • •
Thanks, Brinke! Great job on this year's 2022 US Open gear preview! Looking forward to seeing the action on the courts for the next two weeks.